---
This article was written by HaXXspetten and Zee530.
---
Introduction
---
Although opinions tend to vary greatly within the anime community regarding which shows are good or not, if there is one thing we can all agree on it is that honest statistics do not lie. The Seasonal Quarterly is a new article series where actual statistics regarding currently airing anime are showcased to the public. Four times per season, a report just like this one will be published containing summaries and data regarding anime scores, their current trends, favorites numbers and more. So without further ado, welcome to the first edition of The Seasonal Quarterly!
First Quarter News (April 25)
---
Coming into the Spring 2018 anime season, the shows that were on most people's minds were the third season of the heavily praised and popular shounen Boku no Hero Academia, the long-awaited "sequel" to the time travel thriller Steins;Gate, as well as the return of the psychological horror franchise that is Tokyo Ghoul. While these series are already attracting a lot of viewers as one would expect, there are plenty of other new anime that are leaving a mark already too.
For one, Hinamatsuri is a new series based on a quite high-rated but not too well-known manga about a yakuza member and his strange supernatural lodger, and while it didn't seem to make a huge splash in its opening week, its score shot up after its second episode (from 7.70 in its first week all the way up to 7.87 after episode two) and it is still the fastest climbing anime of the season as a result. The new franchise to make the biggest initial impact, however, is Megalo Box—living up to the name of its classic predecessor Ashita no Joe—which is already far ahead of the rest of the non-sequels this season at a solid 8.45. Whether it will actually be able to maintain this momentum in the coming weeks remains to be seen.
Even amongst shows which are maybe a bit more under the radar, there are some interesting things to note. Kakuriyo no Yadomeshi—a supernatural story about a female college student forced to pay off a debt to an ayakashi by seeking employment—may not be very popular or have a particularly high MAL score as of yet, but it is going straight upwards in score at a fast and consistent pace, going from 6.93 up to 7.07 during its opening weeks. A similar situation can be found in an even more underground show called Rokuhoudou Yotsuiro Biyori, a slice of life anime about four men running a Japanese tea shop, which jumped up from 6.96 to 7.06 in just its second episode alone. Elsewhere, Uma Musume: Pretty Derby (TV) seems to be a literal frontrunner this season as it is not just an anime about anthropomorphic horse girls racing each other, but in addition it had the honor of being the first anime of the season to start airing and is also going straight upwards on the rankings thus far, having gone from 7.07 to 7.18.
On the other hand, whenever there's a rise, there's also a fall. Perhaps the most notable show of which is the anime adaptation of the widely popular video game Persona 5, which despite a respectable initial score is now plummeting like a stone. It started out at an impressive 7.86 in its first week but had already fallen down to 7.68 by the time its third episode aired. Maybe fans of the game had a lot of expectations on the anime coming into it but are rapidly finding themselves let down by it.
In general though, the numbers for the Spring 2018 shows are already quite impressive compared to what has been documented in previous seasons. We already have 20 different anime with a MAL score of 7.60 or higher, and several of them look set to only climb even higher in the coming weeks, so this is already showing signs of being an unusually strong season in the eyes of the general public audience.


Weekly Score Change
---
A shortlist of which anime that has had the biggest positive and negative scores changes across the last three weeks (scores are recorded every Tuesday).
The most significant score drops are generally found in less popular shows as can be seen below, with the one big outlier being the aforementioned plummet of Persona 5. Amongst the anime on the way up there are a lot more notable entries however, with several shows rated 8.00 or higher still showing significant positive trends.

MAL Score
---
Since we are only in the beginning of the season, it is difficult to see too much in the way of patterns yet, but every trend has to start somewhere. Steins;Gate 0 is sitting pretty far above the rest of the pack, and although Boku no Hero Academia 3rd Season started out a bit lower than its second season, this can presumably be explained by the fact that it kicked things off with a recap episode this time around, but it is most likely going to keep climbing the ranks at a good pace from here, so don't sleep on it. Tokyo Ghoul:re started off with an impressive boost in its second episode but seems to have lost that momentum right away.


The second graph showcases the progression of the leftovers from Winter 2018, which demonstrates pretty clearly that in general, early trends in score tend to remain fairly consistent throughout. The main exception on this list would be Darling in the FranXX which is having a fairly bumpy ride, perhaps in relation to its recent online controversies regarding certain plot developments in its story.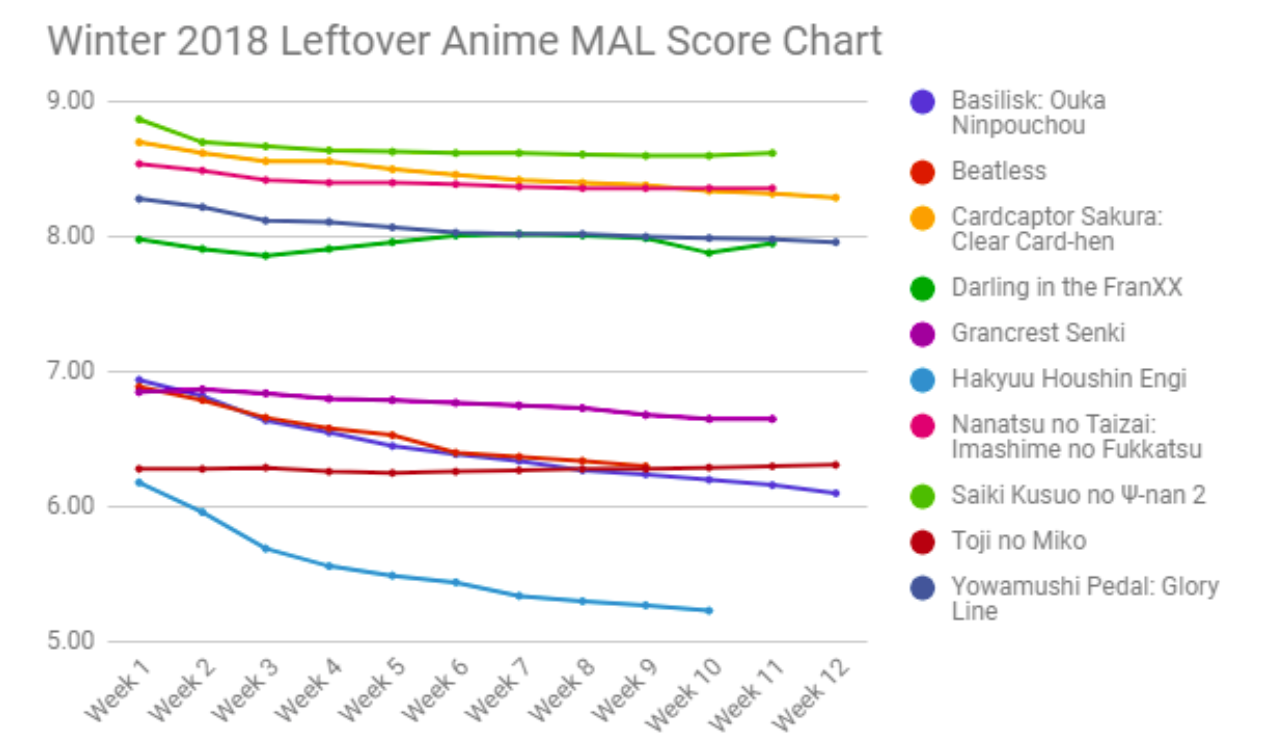 Anime Favorites
---
Here you can see the number of people that have added every seasonal show to their favorite anime list on their MAL profiles. The chart showcases both the current total sum per entry as well as how much it has grown for each individual episode. Despite its mixed reception, Tokyo Ghoul:re is leading in the number of user favorites with Steins;Gate 0 slightly behind it despite the disparity in score between them. High School DxD Hero is perhaps the surprise package here by showing that it can already play with the big boys, but the franchise has always had a very loyal and devoted fan base so it is probably not that strange after all.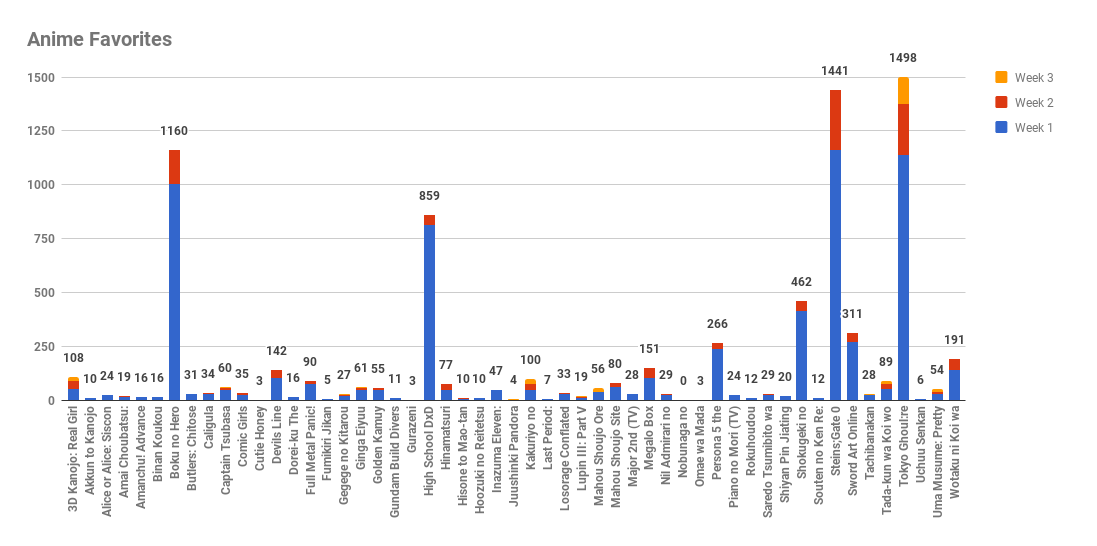 Member Breakdown
---
Last but not least, these two charts represent the number of people that are currently watching a seasonal anime and how many have dropped it, as well as how that has changed for every episode. As can be seen in the first graph, Boku no Hero Academia 3rd Season and Tokyo Ghoul:re have easily the most viewers, whereas the second graph provides a decent indication for what shows you might be better off avoiding this season.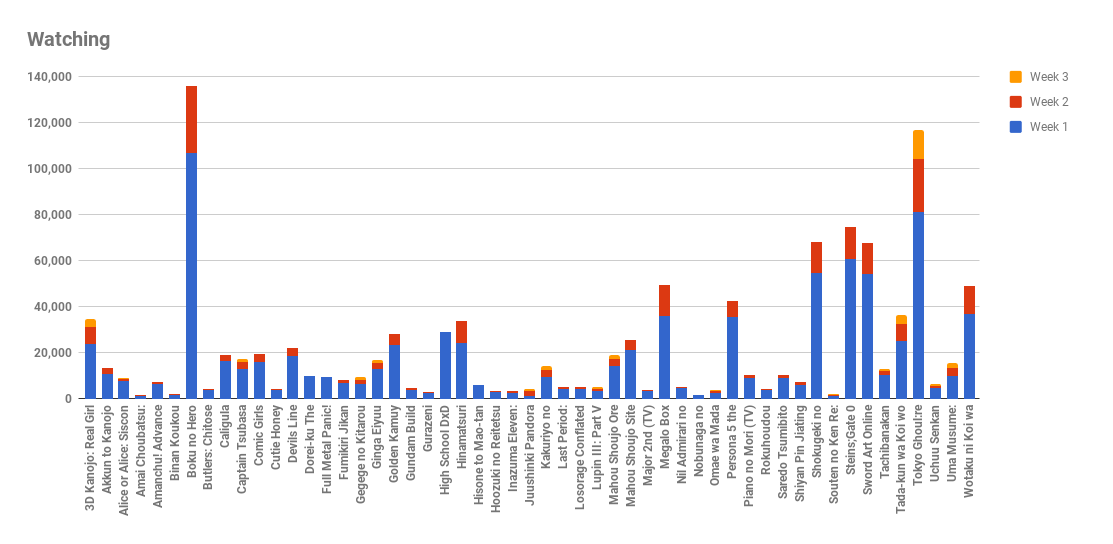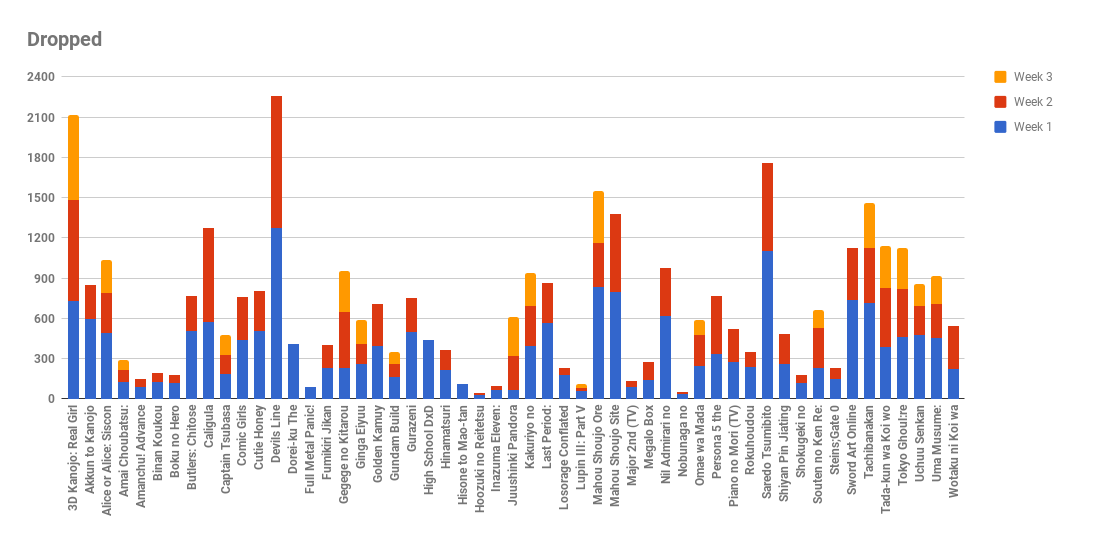 Conclusion
---
Overall, the Spring 2018 anime season is off to a strong start according to the numbers, with many shows already having high scores and climbing even higher every week. As usual, sequels make up most of the top rated anime in these opening weeks, but the rest of the pack will most likely start to catch up when given more time to develop. Since this is merely the first edition of The Seasonal Quarterly for this season, there is only a limited amount of data to analyse yet, but in the coming weeks there should be a lot more interesting statistics to showcase.
For more detailed data and statistics regarding this season's currently airing anime, check out the MAL Score Progressions club!