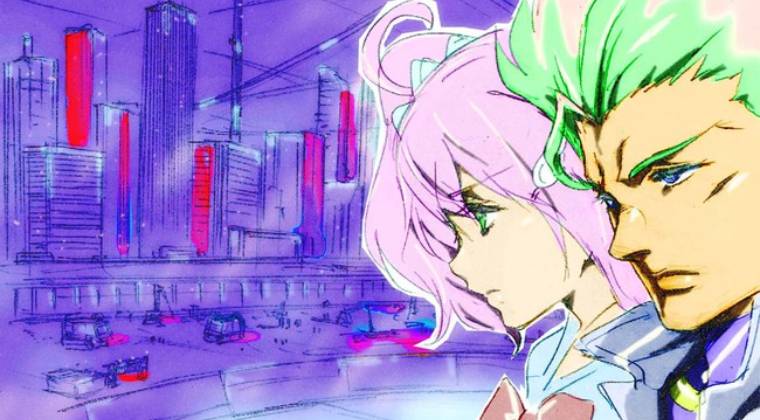 Character art of Megazone 23 XI. [Source]
It's tough being a fan of the mecha genre. There's a dearth of mecha anime lately, apart from the regular injection of Gundam installments. So, what's a mecha fanboy (or fangirl) to do? Well, one can pray to the mecha gods to grant them a killer new show. And some fans might have been doing just that, given that a premier mecha anime project was recently announced.

AIC has launched a crowdfunding campaign for their tentatively titled project - Megazone 23 XI. It's based on the cult-classic anime OVA from 1985, Megazone 23, which is renowned for its hard sci-fi themes and cool transforming motorcycle mecha. In fact, this series laid the groundwork for some core themes that later appeared in the Matrix trilogy and helped establish the OVA market.

The goal of the production team behind Megazone 23 XI is to produce a TV series by raising 10 million yen (approximately 92,000 USD) no later than 30th of June. It places a heroine in the lead role, Sakura, who is designed by Akio Watanabe responsible for The Fruit of Grisaia and Monogatari series. Masahiko Komino of JoJo's Bizarre Adventure: Stardust Crusaders fame designs most of the remaining characters. It's great that these designers were chosen, mainly because luminaries such as Haruhiko Mikimoto (Gunbuster, Macross) was the character designer and Shinji Aramaki (Bubblegum Crisis, Genesis Climber Mospeada) was the mechanical designer of the original series.

The main protagonist, Sakura, is a middle school student who resides aboard a satellite ship that's part of a space colony fleet known as Megazone 11. She leads a double life as she's part of a singing duo after befriending, Eve, who she met online. However, trouble is brewing in one of the main ships as a resistance movement is seeking independence from the government. Both factions are looking for a key that controls Tiamat, which is the system that controls the entire fleet. On one fateful day, Sakura experiences a terrorist attack while waiting for Eve at the train station.

Will Sakura pilot the Garland XI to safety and deal with the unfolding chaos? Well, let's hope so and let's hope that Megazone 23 is successfully funded so that we can enjoy more of AIC's "Anime Reboot Projects." The company is celebrating its 35th anniversary and has launched two other remake projects of Pretty Sammy and Tenchi Muyo!