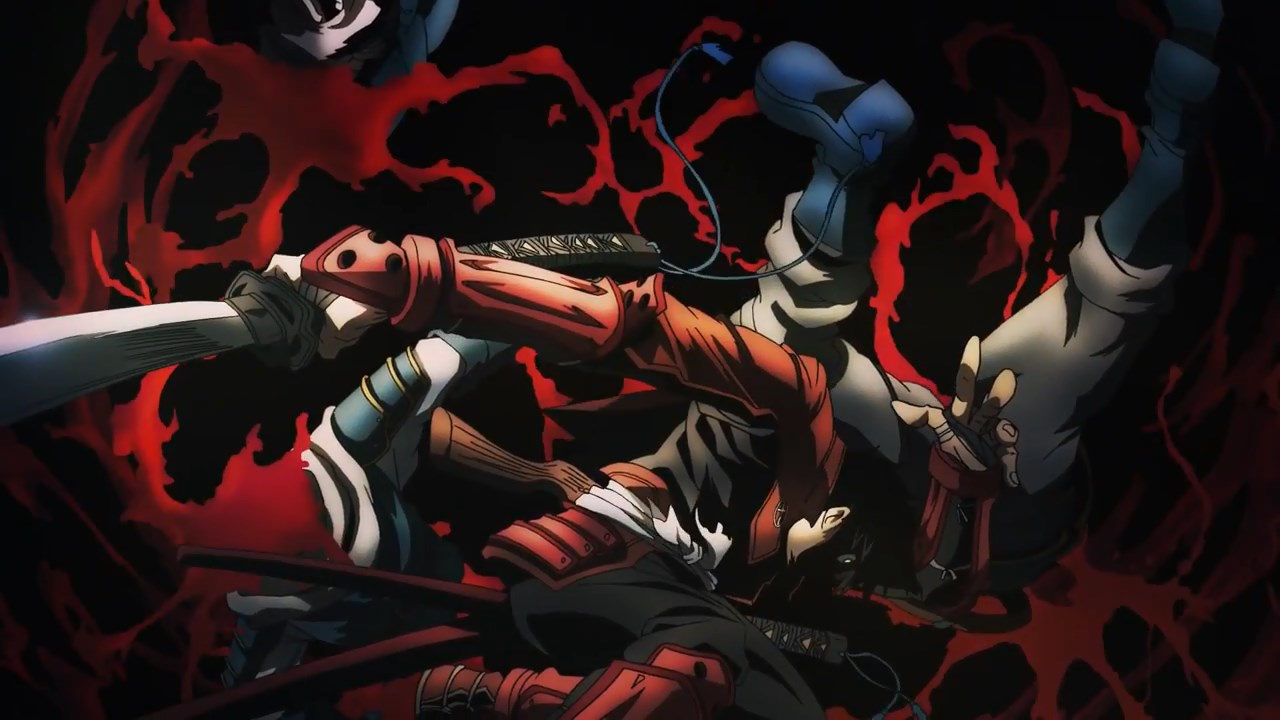 Toyohisa Shimazu from the Drifters franchise slicing and dicing


---
About Kouta Hirano
---

Some photographs of the creator behind Hellsing and Drifters, Kouta Hirano


Kouta Hirano was born in 1973 in Adachi, Tokyo. He began his career as a manga assistant and later began producing hentai doujinshi (pornographic self-published work) as well as published manga with various publishing companies. Out of his early work, Angel Dust and Coyote: Hangyaku no Resistance were his most popular. He used many of the Hellsing characters in his previous manga such as Pip Bernadette in Coyote, and Father Anderson in Angel Dust. Much of his earlier works are very difficult to obtain due to their limited publication and are thus thought of as collectors items. Even finding his earlier work online is a challenge... not that I've looked. He made a proto-type or oneshot for Hellsing back in 1996 also known as The Legend of a Vampire Hunter which features the main character Alucard facing off against the Valentine brothers, who would also make their way into the main series.

Kouta Hirano as a person seems to be very laid back, funny and also quite lewd. The last bit shouldn't come as so much of a surprise considering his past with hentai doujins. When interviewed about the Hellsing Ultimate OVA, he thought OVA stood for Oppai (boobs), Vagina, Anal. He also jokes about Sera's boobs growing bigger as the series progresses. Hirano also seems to be a big fan of mecha anime, during his interviews he makes allusions to Gundam, Macross, Space Runaway Ideon and Getter Robo just to name a few.

Also a fun fact, there is a character named Kouta Hirano in Highschool of the Dead which is very likely based off of Mr. Hirano. Interestingly, the mangaka behind Highschool of the Dead also publishes hentai doujinshi under the pseudonym Inazuma.
---
Hellsing: The big hit!
---

A few of my favorite characters from the Hellsing franchise. From left to right Alucard, Seras, Walter and Father Anderson


Kouta's big break as a mangaka came in 1997 when he began publishing Hellsing with Young King OURs magazine. The story is about a secret British government agency that keeps the citizens safe from supernatural entities led by Sir Integra Wingates Hellsing. The manga follows Alucard, the organization's most trusted and ruthless assassin and his minion Seras Victoria as they take on supernatural threats ranging from regular old ghouls and vampires, to the Vatican and even Nazi Vampires! Hellsing ended its publication in 2008 after 10 volumes.

As a supernatural, action horror, Hellsing oozed style and often spurted endless rivers of blood. It's infamous for its use of graphic violence and gore during the action scenes as well as the intricate and detailed character designs and art in general. During interviews he mentions that Hellsing is set in the same universe as Bram Stoker's Dracula, and hopefully most readers will be able to see the connection (hint: spell Alucard backwards). As for influences he was inspired by manga such as Geobreeders,Trigun and the novel series Vampire Hunter D. If you are familiar with these series you might be able to see the influences, from gun slinging, red trench coats and vampires. All of these have also received anime adaptations.
---
Anime adaptations
---

From left to right, images from Hellsing TV, Hellsing Ultimate, the original 2013 Drifters PV and the new Drifters T.V anime


Like many great mangaka, Hirano's work has also been adapted into anime. In 2001 Gonzo made a T.V Hellsing anime which ran until 2002 and consisted of 13 episodes. Unfortunately since the manga had not yet been finished, the studio had to make up an original ending, which is also often referred to as a "filler ending". The gore and violence in the series also had to be toned down the for the T.V broadcast, which left a lot of fans feeling unsatisfied.

Luckily fans were not left unsatisfied for long as Hellsing Ultimate began airing in 2006. It was produced by Madhouse and Satelight and was released in OVA format over the course of 6 years, finishing in 2012 and consisting of ten 50 minute episodes. The OVA followed the manga much more closely than the T.V series including some of the bizarre comedic elements of the manga as well as the infamous violence and gore. The animation was also vastly improved and the OVA was generally met with overwhelming positive feedback.

There was also a prequel anime called Hellsing: The Dawn featuring a young female Alucard and a much younger Walter. With regards to Alucard's character, Hirano believes that Alucard actually has no gender or age after consuming so many human lives. Thus the 14 year old "girlycard" character in Hellsing the Dawn.

In 2013 a teaser PV for Drifters was released by the same team that did Hellsing Ultimate. Two years later a Drifters anime was confirmed and we received another trailer. The Drifters TV anime will be airing this fall anime season in October 2016. An OVA based on the manga had already been released which aired in June. The anime will be directed by Kenichi Suzuki who directed the first three seasons of Jojo's Bizarre Adventure, and Yasushi Ishii who did the original music for the Hellsing T.V anime will be returning to compose the OST for Drifters.


---
Final Thoughts and Current Projects
---

Kouta Hirano worked his way from doing porn comics to making one of the most recognizable and successful horror manga/anime out there. I think that should be enough proof of his talent. He is an amazing artist and seems like a pretty funny, albeit somewhat lewd guy. I'm overjoyed that another one of his works is receiving an anime adaptation after so many years. His unique visual style and penchant for graphic violence has also been a huge draw for me. Hirano is currently continuing to work on the Drifters manga which has been in publication since 2009 in Young King OURs magazine and is currently on its 5th volume in Japan.


---
MFA_Community is the official publishing arm of the MAL Featured Articles club. This article was written by LoneWolf, one of the club's writers, in collaboration with the official Featured Articles team.