What Makes Love Triangle Anime so Irresistible and Interesting?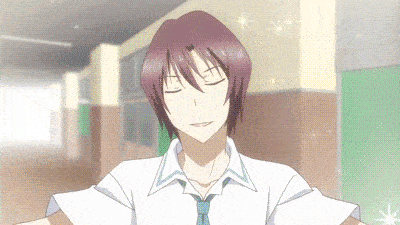 Love triangles are pretty much one of the most frequently deployed themes in the anime world, used as a way to spice up the story and give more depth to the characters. However, love is almost never simple, so when two or more people become interested in the same person, their love problems get significantly magnified which affects their lives and everyone around them.
---
15 Best Love Triangle Anime
---
---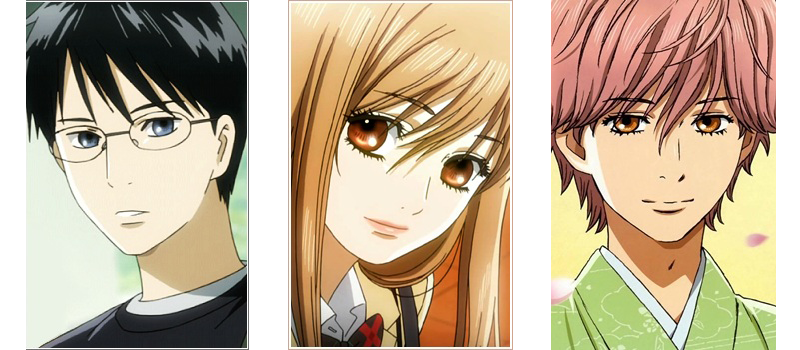 Chihaya Ayase has known Taichi Mashima since childhood, and although it is pretty obvious that he has always liked her, everything changes when the transfer student Arata Wataya appears. He changes their lives by introducing karuta, a traditional card game, to them.


---
---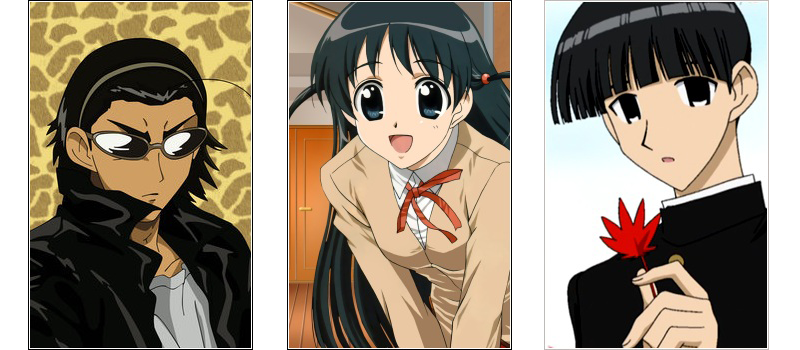 Kenji Harima may be the biggest delinquent of his school, but he has always adored the good girl Tenma. However, Tenma has already fallen for the enigmatic Ouji Karasuma. This love triangle triggers a series of hilarious moments and events.


---
---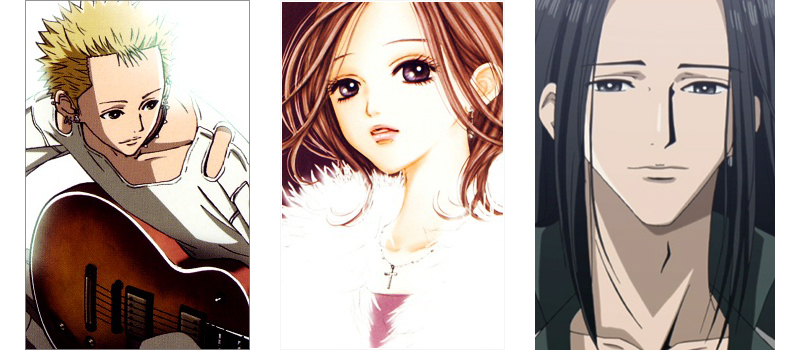 This is not the only love triangle in Nana, but probably the most famous and 'durable' one. Nana Komatsu has always been known as someone who easily falls in love, but her infatuation for both Nobu and Takumi seems to become harder to comprehend over time.


---
---

Hagumi is a very petite and cute girl who disrupts the lives of three poor students - Yuuta, Takumi, and Shinobu. It appears that she is very talented and also has a very nice personality. Yuuta and Shinobu both start having feelings for her; however, she seems uncertain as to which one of them she likes. Additionally, her good friend Ayumi also starts having feelings for one of the boys and things get complicated. Can we still call this one a love triangle?


---
---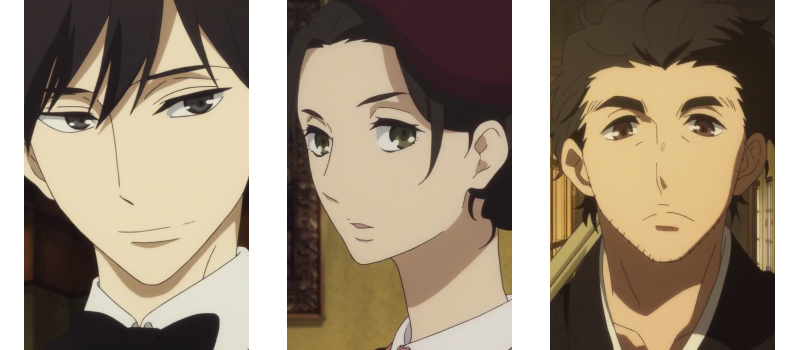 Yakumo and Sukeroku have been friends ever since their rakugou master took them in, which happened when they were children. Although their personalities are completely the opposite, they managed to stay close during the years, until one woman, Miyokichi, comes into their lives.


---
---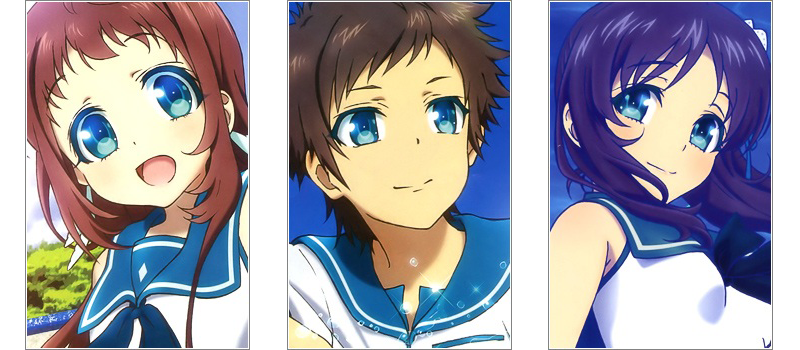 Another beautiful and heart-warming love story that takes place both under the sea and on land. The story follows a group of friends and how their feelings change after they come in contact with the humans from the surface.


---
---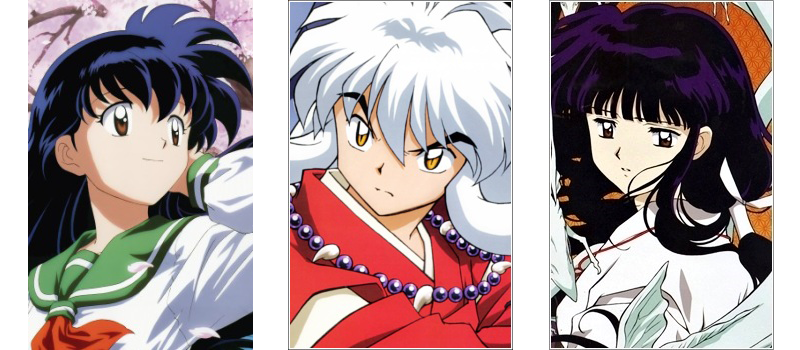 Kagome is the reincarnation of Kikyou, who was a priestess and Inuyasha's master 50 years ago. That is why they look almost identical. However, Kagome becomes attached to Inuyasha and problems arise when it becomes apparent that Inuyasha hasn't really forgotten Kikyou.


---
---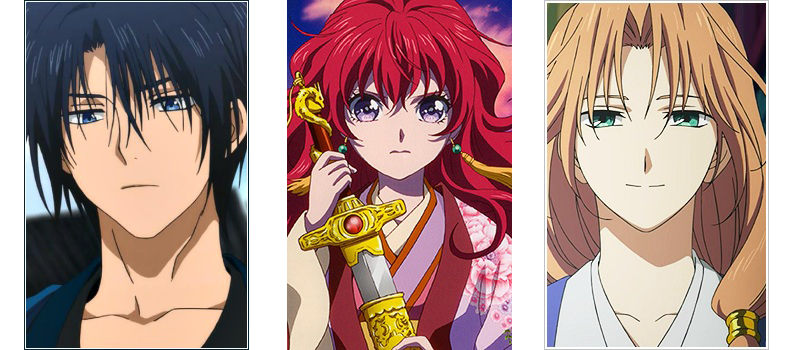 Hak Son has been Yona's bodyguard ever since they were children and he has obviously always loved her. Yona on the other hand has always liked Su-won who ends up betraying her. Will Hak heal her broken heart so she can forget about Su-won who betrayed her in the worst way possible?


---
---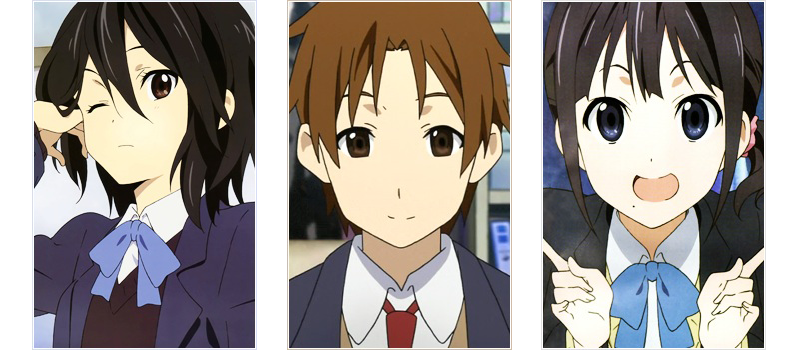 What would happen if you swapped bodies with the person you like? Kokoro Connect explores the theme of becoming close to the someone you like in a bizarre and extremely awkward way. This kind of situation is perfect for the birth of love triangles as well.


---
---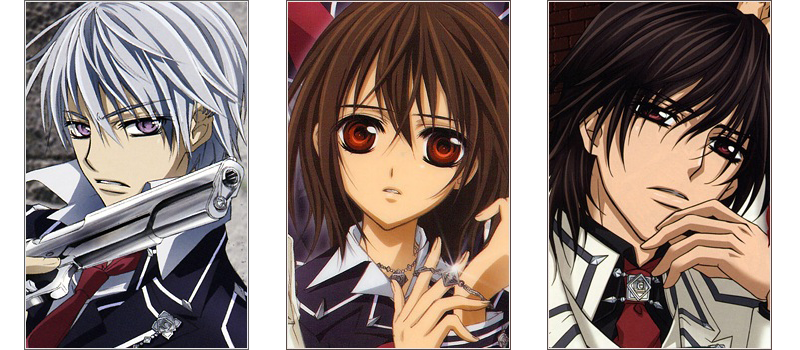 Yuuki, one of the guardians of the Cross Academy, becomes entangled with the powerful vampire Kaname. However, she also feels affection towards her childhood friend Zero Kiryuu.


---
---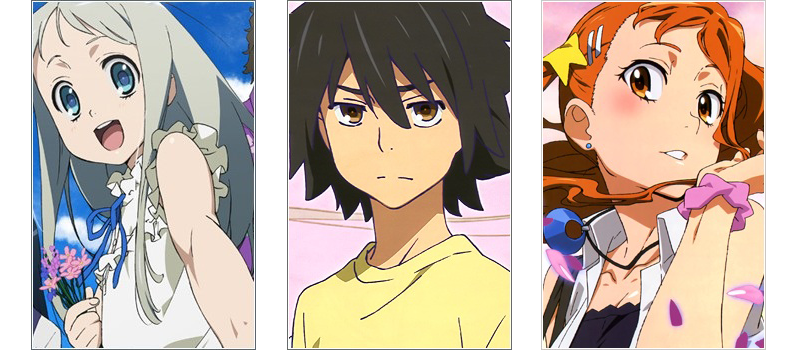 Another childhood-friends-fall-in-love scenario, except this one is sadder and explores the theme of growing up and dealing with death as well. Jinta has taken it hard that his childhood love Menma died, and Naruko who is their friend as well, cannot hold back her feelings for Jinta anymore.


---
---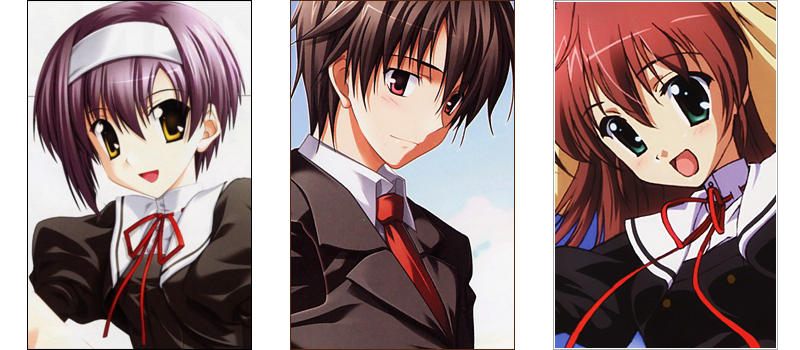 ef: A Tale of Memories contains a couple of heart-warming love stories and one of them is a love triangle between Hiro, a girl he meets by a twist of fate and his childhood friend.


---
---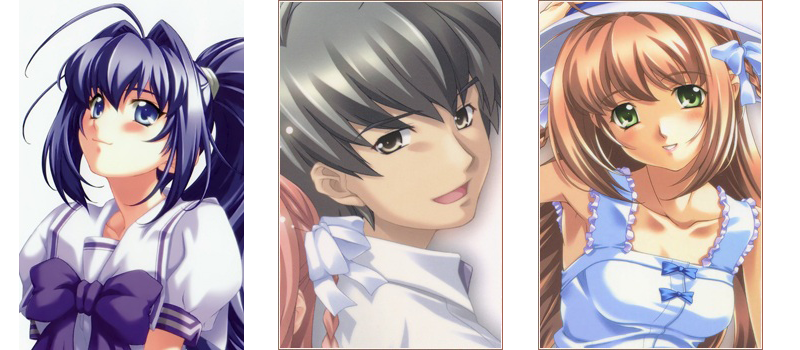 Kimi ga Nozomu Eien is probably one of the most famous love triangles in anime, mostly because the whole plot focuses on the drama related to these three characters. While they are trying to sort their feelings out, the tragedy strikes and it becomes uncertain who is who anymore.


---
---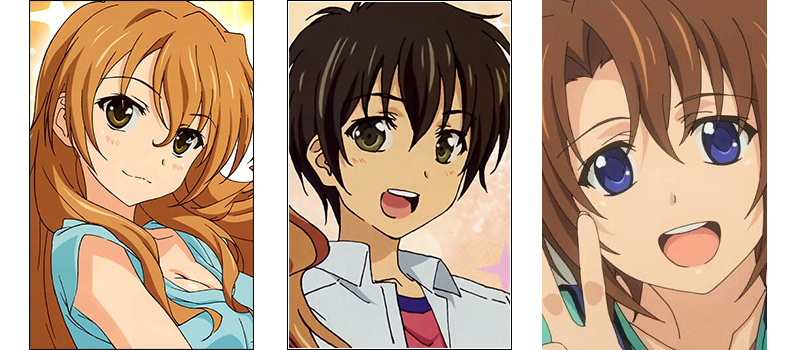 Banri Tada and Kouko Kada fall for each other and start a relationship, but what will happen when Banri's past catches up to him and his long forgotten friend and childhood love interest reappears? Have the forgotten feelings disappeared or or just been buried deep down?


---
---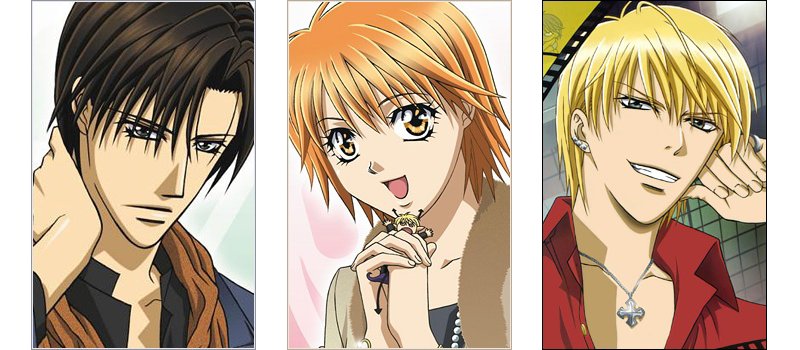 Keeping in mind that Kyouko's boyfriend betrayed her and admitted to being with her only so he can use her, her obvious choice should be the new and hot guy who is the complete opposite from her ex, right? However, it seems that forgetting your childhood love isn't so simple, and the more the characters mature, the more complicated this love triangle seems to get.


---
If you enjoyed reading about love triangles, then you might like the Top 25 Best Romance Anime of All Time, Top 20 Most Passionate Anime Kisses and Top 20 Cute Couples in Anime articles as well!
All ranking information was taken on the date of publication.