---
Make a splash with 20 hot anime bikini and swimsuit characters!
---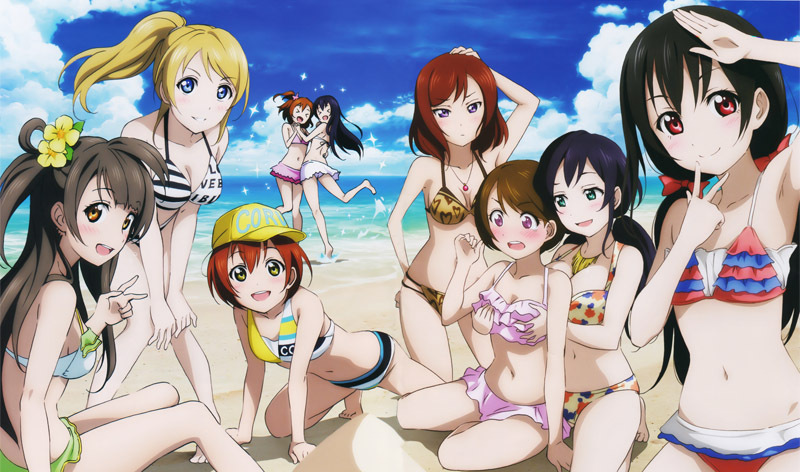 "Welcome to paradise!" - Anime Bikini Babes from Love Live! School Idol Project
We still have a long time to go before summertime. In the meantime though, why not warm up with some good old anime beach fun? Here are some anime swimsuit shots - some cute, some sexy, some hilarious - that are sure to take you to the tropical paradise that you can't help but fantasize about in this cold winter season.
---
---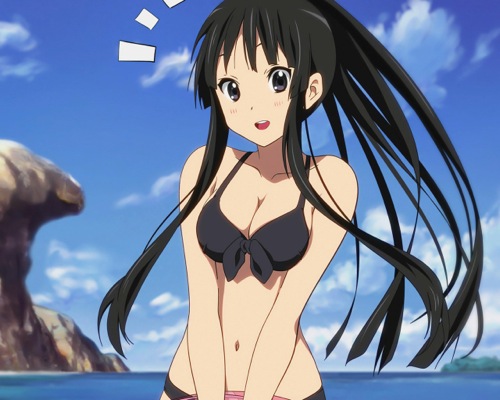 The usually timid bassist Mio Akiyama looks stunning in her anime bikini. Mio need not feel insecure today because with this sexy swimsuit complementing her long, black hair and slender figure perfectly, she is definitely one of the hottest babes at the beach.
---
---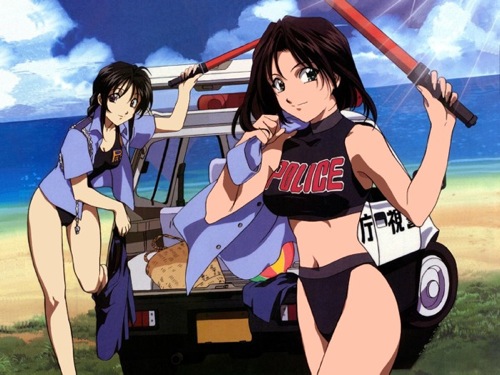 Never let criminals forget who's boss. Police officers Natsumi Tsujimoto and Miyuki Kobayakawa are so good at their job, they can wear anime swimsuits and convey authority, at the same time. Besides, everything they need to detain a criminal is stored safely in their patrol car.
---
---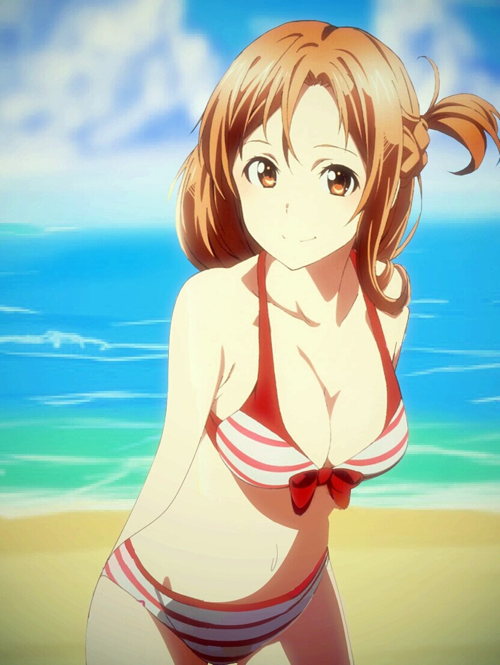 Ever notice that tsundere girls tend to look great in anime swimsuits? Asuna Yuuki takes a dip in the pool after escaping the Sword Art Online's digital battlefield. After years of wearing different uniforms into battle (and even different faces in the form of various in-game avatars), the anime bikini girl look is a welcome change of pace. Kirito, her in-game husband and real life boyfriend, certainly appreciates it.
---
---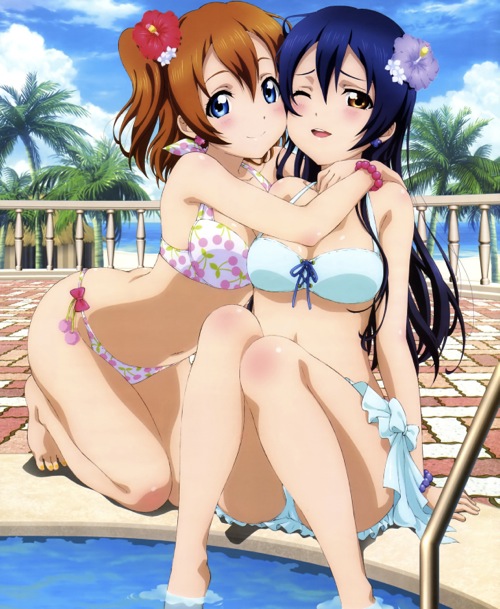 Ever since they were little girls, these two have had distinct personalities - Kousaka was the pushy one while Umi was the shy one. Even years later, the defining aspects of these two childhood friends' personalities shine through during a day at the pool. Though their idol group is the only thing standing in the way of their beloved school closing forever, these two hardworking friends definitely deserve a little R&R between practicing and performing at concerts.
---
---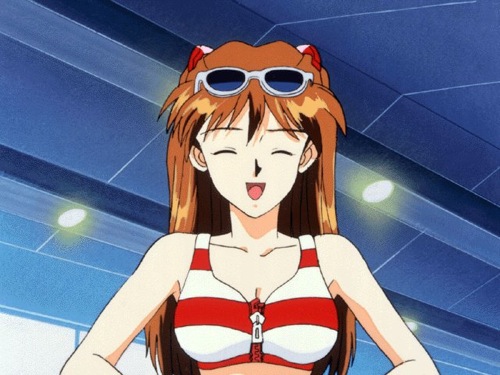 Asuka is sure bummed to hear that she can't go on the class trip to Okinawa, especially after spending so long picking out a swimsuit with her crush, Kaji. Oh well, at least she gets to use it to practice scuba diving at the NERV pool, endlessly teasing Shinji with her good looks.


---
---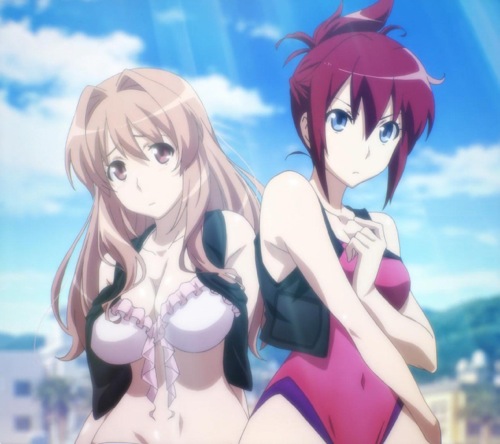 Even while at the beach, the ladies of the Railways Security Force are still on duty. Their skimpy accessories (and anime swimsuits) make it very unlikely that they'll be able to catch any real criminals.
---
The Girls of Bleach
---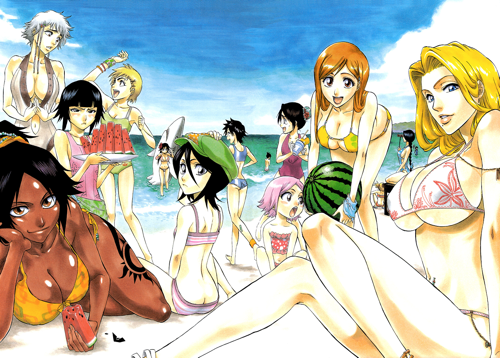 Is it possible to pick just one? For such a long running series, Bleach takes advantage of many opportunities to put its female characters in the skimpiest of anime swimsuits. Even so, these spiritual warriors/anime bikini babes need functional swimwear, as a trip to the beach is never peaceful when there are evil demons to defeat.
---
---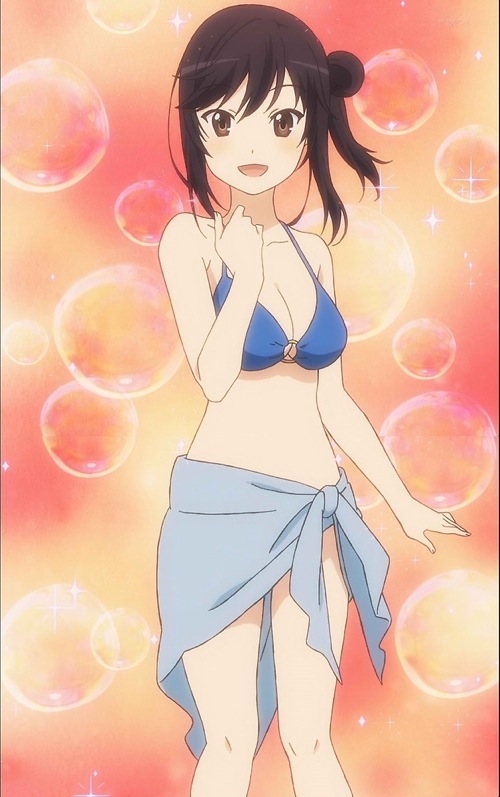 What's an anime bikini babe without accessories? For Hotaru Ichijo, anime bubbles go a long way to accent her blue anime swimsuit. The wrap around her waist adds a hint of modesty, as well. After all, she is only eleven years old.


---
---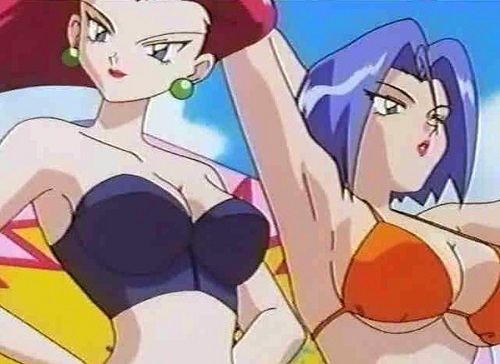 Though not an anime bikini babe per se, James's desire to win the Beach Beauty and Pokemon Costume Contest forces him to do a little gender bending. The final effect gives him a more generous figure than his sister, Jessie.


---
---
Even wanted pirate Nami still has time to look stunning as she soaks up the sun. Changing her style many times throughout the series, Nami's anime swimsuit is never the same twice. Bet you wouldn't mind being plundered by this anime bikini babe, eh?


---
---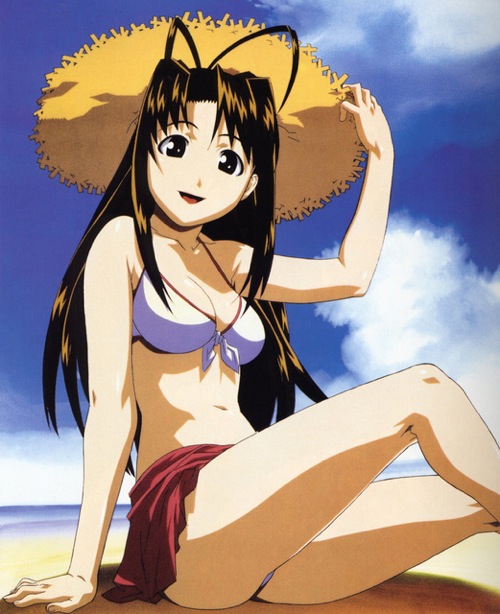 Naru Narusegawa looks good in just about anything she wears, but her white anime bikini and straw hat really bring out her true beauty. It's easy to see why Keitaro is so infatuated with her.


---
---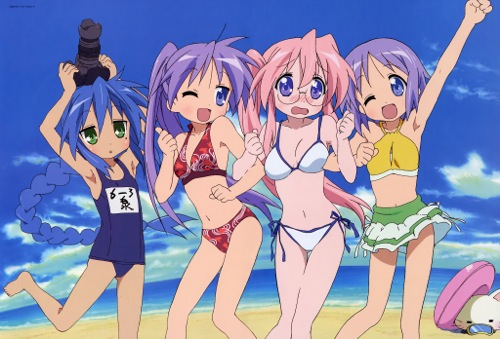 Never growing up (physically, at least) has a few perks. For high school student Konata Izumi, it means she can continue wearing her sixth grade school swimsuit. An otaku through and through, Konata is overjoyed that she can still enjoy this symbol of Japanese childhood. Kagami Hiiragi, Konata's friend, wonders if a teenager should still be wearing such a thing.


---
---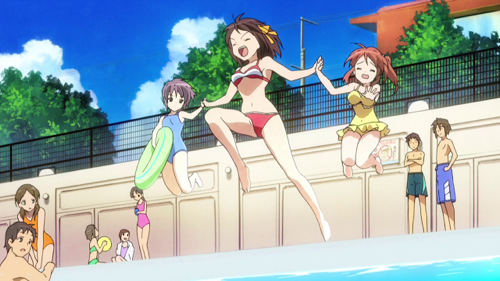 The "Endless Eight" episodes of Suzumiya Haruhi no Yuuutsu (2009) (The Melancholy of Haruhi Suzumiya (2009)) tried the patience of many fans. At least the animators at Kyoto Animation provided good fan service in the form of new anime swimsuits for each episode. Those scenes never got old.


---
---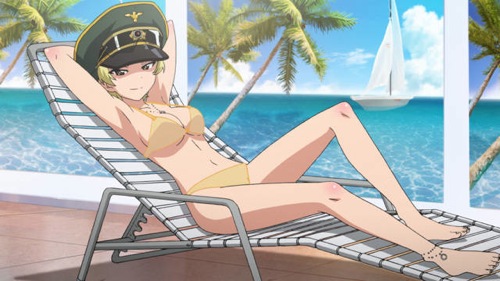 Even tank commanders need a swim break. For Riko Matsumoto, she accessorizes her anime bikini with a commander's hat resembling Erwin Rommel's. As Riko explains, the Germans invented her "special" anime swimsuit, which apparently dissolves in water. Too bad she doesn't wear it long enough for viewers to find out if that was true or not.


---
---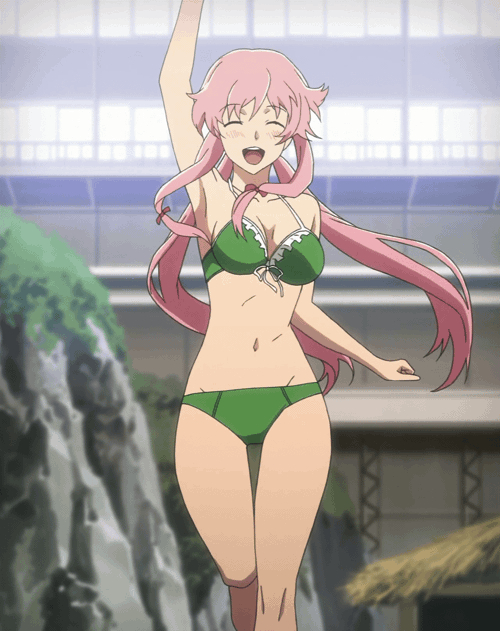 Being homicidal doesn't stop Yuno Gasai from looking great in her green anime bikini. Besides ruthlessly murdering anyone standing between her and her one true love, Yukiteru, how else would she get his attention?


---
---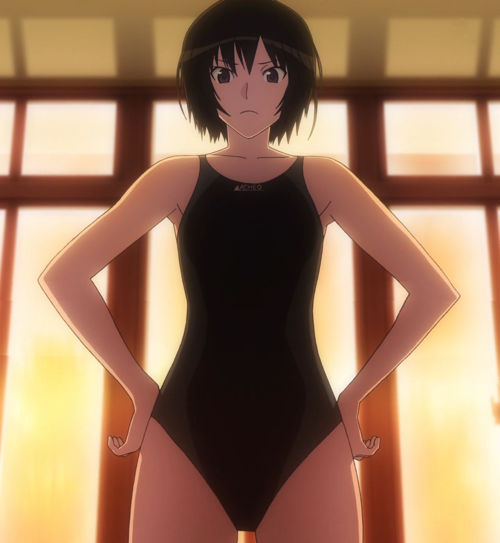 Ai Nanasaki wins the award for having the most practical anime swimsuit. As a serious member of the Girls' Swimming Team, she relies on her swimsuit to help her win matches. It is such an essential part of her identity that she even wears it under her school uniform.
---
---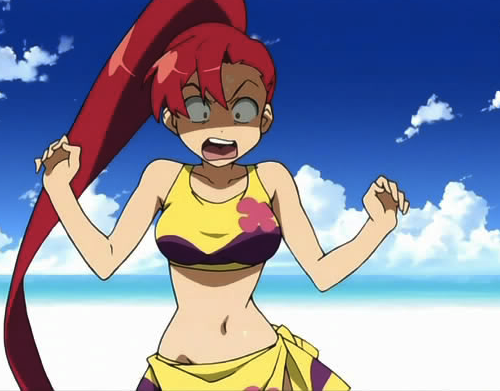 When the ragtag group of human survivors in Tengen Toppa Gurren Lagann come across a body of water, it's a good enough excuse for an impromptu beach episode. Yoko Littner, the sniper usually clad in short shorts and a bikini top, quickly loses the attention of the group's men when she dons a conservative anime bikini. Hers is the most subversive anime swimsuit.


---
---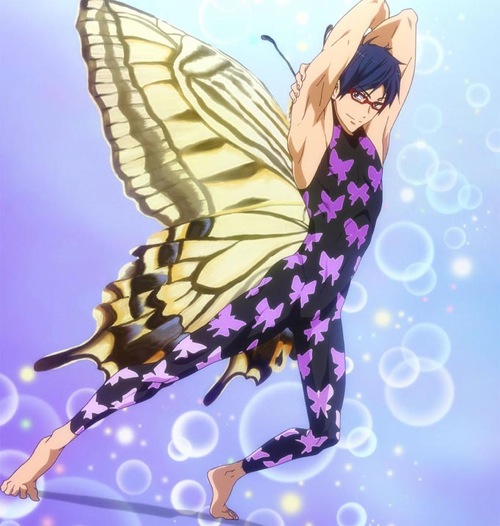 It. Is. Glorious. Though not the usual swimsuit Rei Ryugazaki wears to swim meets, this butterfly ensemble no doubt psyches out his competition. The sheer audacity of wearing such an outfit in the pool forever makes his anime swimsuit one of the most unforgettable.


---
---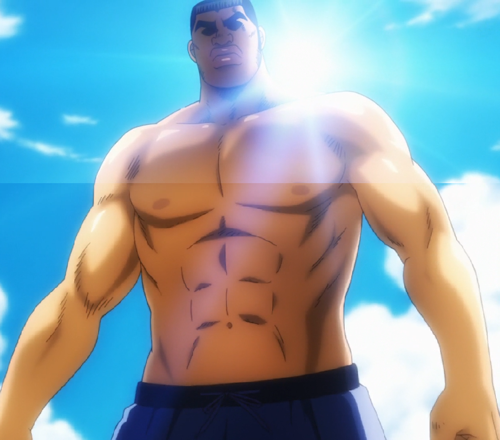 It's no secret that Takeo Gouda is big and burly. His appearance frightens many people who don't know him. Yet for his girlfriend, Rinko Yamamoto, it is what's on the inside that counts. Even so, Takeo doesn't mind showing off his hot body and sexy anime swimsuit at the beach every once in a while. Sun's out, guns out.


---
---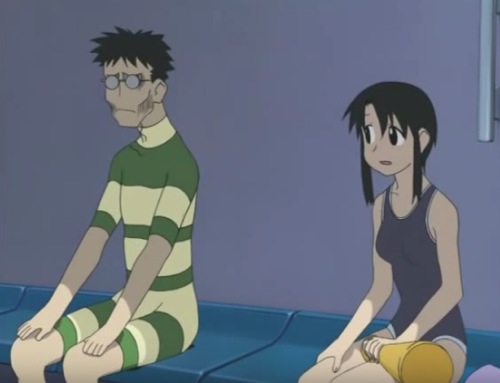 Poor Kimura-sensei thought he would be unassuming in his anime swimsuit, a striped one-piece, straight out of the early 1900s. Even so, the students and teachers of Azumanga Daioh aren't fooled. No matter how modestly he dresses, Kimura cannot hide his inner lecherous pervert.


---
Not quite ready to wake up from the fantasy of an anime tropical paradise?
---

If you enjoyed these anime swimsuits, please be sure to check out the 20 Must-Watch Anime Beach Episodes for more fun in the sun!