All ranking information was taken on the date of publication.
---
---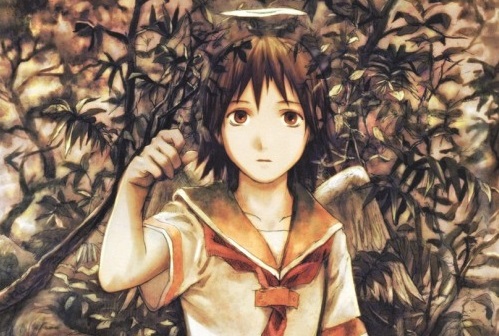 The Haibane (gray feathers) in Haibane Renmei have wings and shiny halos. They enter and depart the town of Glie in unexplained ways. Though accepted by Glie's human residents, the Haibane's otherworldly nature sets them apart. The angelic elements, though, are only a backdrop to a greater story of redemption familiar to multiple religions and cultures.


---
---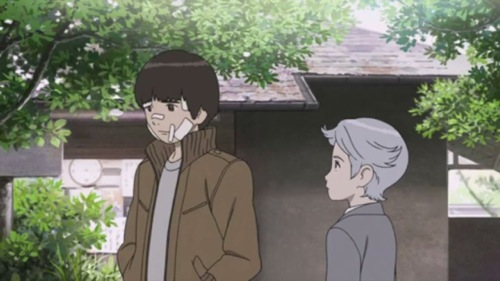 Movies from all over the world feature guardian angels. In Colorful (Movie), an anime angel named Purapura must guide a lost soul towards a second chance at life. Outside of its supernatural elements, Colorful realistically portrays adolescent life in contemporary Japan.


---
---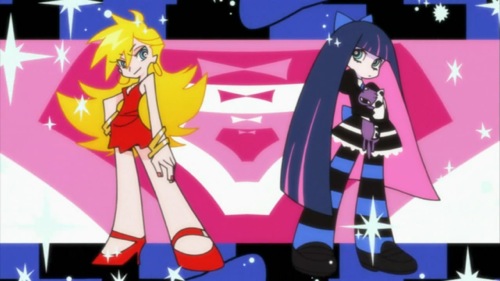 There is probably no other angel anime that is as gleefully sacrilegious as Panty & Stocking with Garterbelt. Panty and Stocking are two anime angel sisters kicked out of Heaven due to their misbehavior. More concerned about enjoying human delights such as sex and sugar, they must defeat the forces of evil on Earth in order to buy their way back into Heaven.


---
---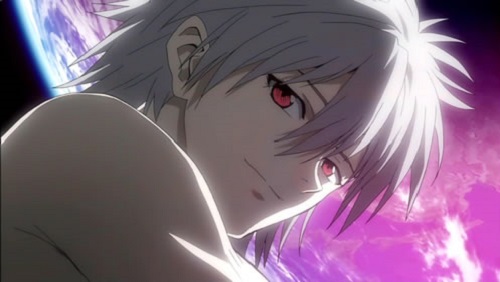 Can an angel be your best friend, even if he is the harbinger of doom? The protagonist of Shinseiki Evangelion (Neon Genesis Evangelion), Shinji Ikari, has had a rough time battling the "angels" who wish to destroy the human race. Then comes Kaworu Nagisa, an anime angel in disguise who quickly befriends Shinji. Shinji must decide whether it is better to save the world or kill his best friend.


---
---
Boasting an English name eerily similar to Neon Genesis Evangelion, this mecha anime also features angelic antagonists, named... Shadow Angels. They are much more similar to humans than the Angels of NGA, however, both in appearance and psychology. Unfortunately they don't register these similarities themselves, believing humans to be little better than livestock.
---
---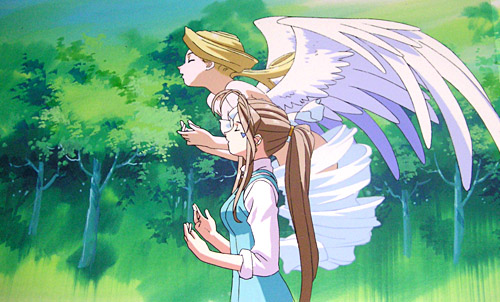 Even goddesses need angels. For Belldandy, faithful servant of the Goddess Help Line, working her magic on Earth would be near impossible without the help of Holy Bell, her personal angel. Throughout the series, Holy Bell enhances Belldandy's powers while also personifying Belldandy's mental state.


---
---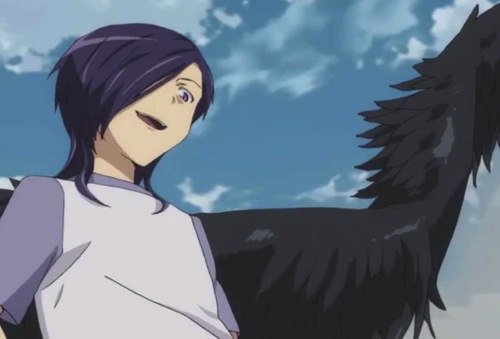 Lucifer (aka The Devil) is no doubt the most famous of the fallen angels. Though the ruler of Hell and punisher of the wicked in many belief systems, this anime angel takes a back seat in Hataraku Maou-sama!. Though still rightfully evil, he becomes addicted to Earth's most tempting vice: video games.


---
---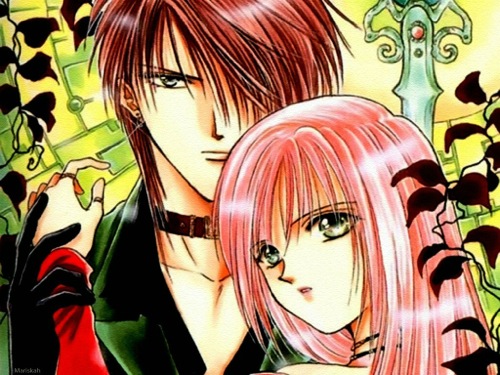 The fraternal twins of this angel anime, Aki and Aya Mikage, discover that they are reincarnations of celestial beings. Though they come into the possession of amazing powers, their angelic nature may mean the destruction of their entire family.


---
---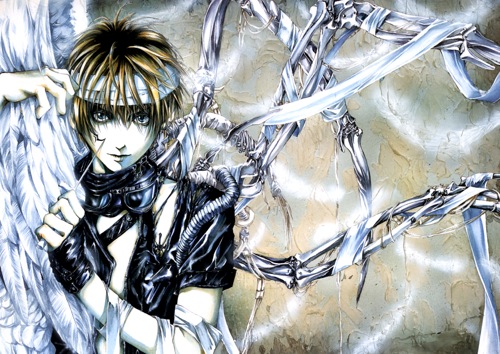 Tenshi Kinryouku is another anime where seemingly normal humans are the reincarnations of angels. When compared to the other anime on this list, Tenshi Kinryouku is unique in that its creator applied many tenets of Christian mythology regarding angels into the narrative.
---
---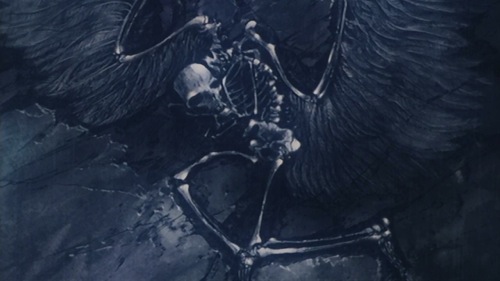 In Tenshi no Tamago, an anime angel does not need to speak, let alone be alive, to influence the lives of the film's characters. A young girl's promise to the long dead creature compels her to care for a large egg until the creature inside hatches. Her journey, in this angel anime, takes her through a surreal, dream-like world that contains various biblical allusions.


---
---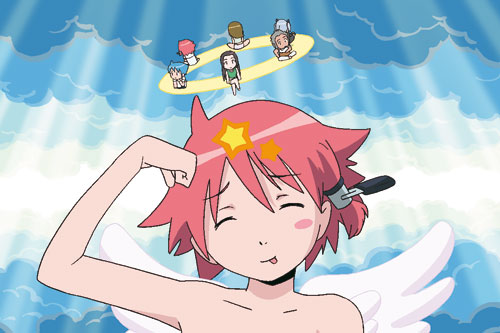 What happens when a guardian angel falls in love with the person she is supposed to protect? In this lighthearted angel anime, the son of a god must live with a human family so that he may become a better god when his father retires. When he falls in love with a human girl, his guardian anime angel, Tenko, discovers her own feelings for the future god. Lighthearted hilarity ensues.
---
---

Sometimes angels aren't very angelic. Krad, pictured above, only looks like an angel, as he is the rather violent, vengeful physical manifestation of half of a painting. He and his counterpart, Dark Mousy, are constantly fighting one another.
---
---

Angels can be in sc-fi harem anime too! Tomoki Sakurai becomes the envy of any straight male when he meets the beautiful (and barely-clothed) Icarus, a self-proclaimed Angeloid, who insists on waiting on Tomoki hand and foot! The angels in this series are not angels of the religious sort, as basically only their wings resemble anything like the familiar biblical servants of God.
---
---

This angel is an angel in every sense of the word. She's got a halo, has magic powers, and was sent by God himself on a mission to Earth. Oh, by the way, Dokuro's mission is to kill the main character. But don't worry, Dokuro is trying to avoid having to do that, and can revive him instantly anyways if she does so on accident with her angelic spiky club of death.
---
---

Ange isn't an angel in the strictest sense of the word. She just shines like one, and is the legendary Etoile who is tasked with saving the galaxy. Also, the star guardians of the galaxy are nine handsome young men who are accompany her on her journey. Sounds like a sweet life for this regular girl-turned angel!