---
History
---
The first Corpse Party game came into existence in 1996 when a 22-year-old college student and amateur developer, Makoto Kedouin, submitted his first 16-bit horror game for the annual competition ASCII where it won first place. Several years later, the game was remade under the new titles: Corpse Party: New Chapter (mobile phones) and Corpse Party BloodCovered (computers). The PSP version was released in 2010 by Team GrisGris and had several improvements done since the PC remake, such as redesigned characters, maps and a professional voice cast.
---
Storyline
---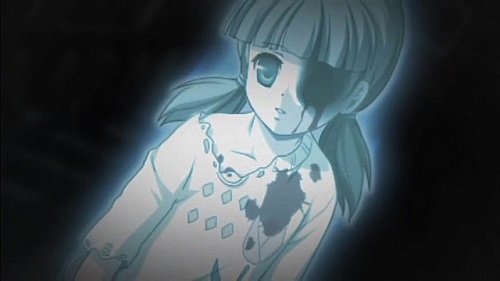 For those of you who have seen the adapted anime Corpse Party, you are surely familiar with the haunted plot of the series. Both the anime and game follow a group of young students from Kisaragi Academy who decide to perform an old ritual that will make their bonds unbreakable. Once the charm is done, a sudden earthquake transports them to an old Heavenly Host Elementary School torn down many years ago after a series of vicious murders. As they try to find their way out of the hellish realm, they discover the horrific past behind it and realize that something in the haunted school wants them dead.
---
Game Features
---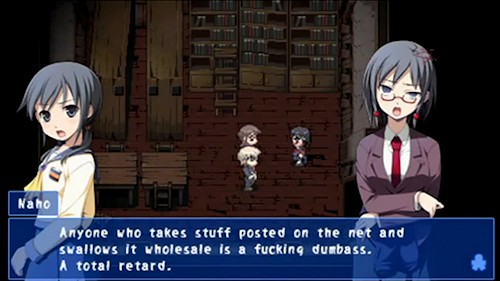 Corpse Party is a story-driven survival game where you explore the area and solve puzzles to proceed. While its narrative is linear, there are multiple ways it can play out, and your decisions can impact the plot. The game atmosphere is dark, and the long walks down the creepy school corridors can really put you on the edge. The rundown school you are navigating is a truly horrible place packed with rotting floorboards, pulsing flesh and hideous corpses. Numerous traps are hidden everywhere, so if you do not want your chibi-styled characters to die, you should proceed with caution. An immersive sound design also gives a palpable sense of dread. The faint whispers and squeaking doors will make you feel like something creepy is lurking in the shadows. Get your headphones ready!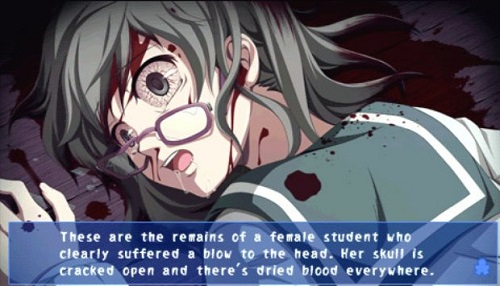 The latest version of the Corpse Party game is divided into several main chapters, and in each one you play different characters. The main story can take up to eight hours if you manage to avoid many hazards lying around and stay alive. However, there is bonus content to extend your play time. If you successfully complete all chapters and pick up necessary items, you will unlock extra chapters that will give you an idea of other victims whose ghosts are wandering around the old school.
Corpse Party is a game that will grasp your attention until the bitter end. If you are a diehard fan of the anime version of Corpse Party or are simply looking for a good scare, this game is definitely worth checking out!