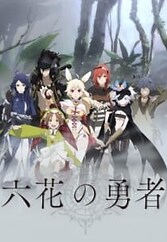 Rokka no Yuusha
An ancient legend states that with the revival of the Demon God, six heroes—the Braves of the Six Flowers—will be chosen by the Goddess of Fate, granting them power to rise up against the fiends attempting to turn the world into a living hell. Adlet Mayer, self-proclaimed "Strongest Man in the World," has arrived at the continent of Piena in hopes of becoming a Brave. Although it doesn't go as smoothly as he had planned, Adlet is ultimately chosen as one of the six heroes shortly after being greeted by Nashetania Loei Piena Augustra, crown princess and fellow Brave. Rokka no Yuusha follows the two as they embark upon their destined journey to fight the Demon God, intending to meet up with their fellow heroes at a small temple outside of the Land of the Howling Demons, the fiends' domain. However, when they finally unite, seven heroes are present, and soon the others begin to suspect Adlet to be a fraud. Now on the run, Adlet must utilize his unique skill set and wit in a fight for his life to identify which member of the group is the true impostor before it's too late! [Written by MAL Rewrite]
TV -
Jul 5, 2015, 02:58 (JST)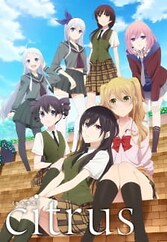 Citrus
During the summer of her freshman year of high school, Yuzu Aihara's mother remarried, forcing her to transfer to a new school. To a fashionable socialite like Yuzu, this inconvenient event is just another opportunity to make new friends, fall in love, and finally experience a first kiss. Unfortunately, Yuzu's dreams and style do not conform with her new ultrastrict, all-girls school, filled with obedient shut-ins and overachieving grade-skippers. Her gaudy appearance manages to grab the attention of Mei Aihara, the beautiful and imposing student council president, who immediately proceeds to sensually caress Yuzu's body in an effort to confiscate her cellphone. Thoroughly exhausted from her first day, Yuzu arrives home and discovers a shocking truth—Mei is actually her new step-sister! Though Yuzu initially tries to be friendly with her, Mei's cold shoulder routine forces Yuzu to begin teasing her. But before Yuzu can finish her sentence, Mei forces her to the ground and kisses her, with Yuzu desperately trying to break free. Once done, Mei storms out of the room, leaving Yuzu to ponder the true nature of her first kiss, and the secrets behind the tortured expression in the eyes of her new sister. [Written by MAL Rewrite]
TV -
Jan 6, 2018, 23:30 (JST)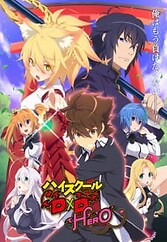 High School DxD Hero
The fourth season of High School DxD.
TV -
Apr 17, 2018, 23:00 (JST)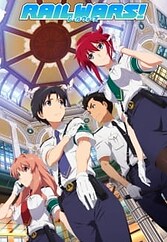 Rail Wars!
Rail Wars! takes place in an alternate universe where the Japanese government remains in control of the nation's railway systems. Because of the stability afforded by the leadership of the government, the railway system is allowed to flourish. Naoto Takayama aspires to become an employee for Japan National Railways because of the comfortable life that it will enable him to live. In order to accomplish this he enters its training program, where students must demonstrate their knowledge of trains as well as their ability to be ready for any challenge that might arise. During this time period he will encounter other students such as the athletically gifted Aoi Sakura, the constantly hungry Sho Iwaizumi, and the human encyclopedia Haruka Komi. Together they will work towards surviving their trainee period, all the while taking on purse snatchers, bomb threats, and the looming specter of the extremist "RJ" group who wants to privatize the railway system.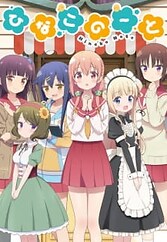 Hinako Note
Hinako lives in the countryside and is poor at speaking. She wants to improve her speech to be able to talk to people fluently, so she moves to Tokyo and plans to join the drama club in high school. When she arrives, however, it turns out her boarding house is a secondhand bookstore, and a beautiful girl who eats books lives there. (Source: MAL News)
TV -
Apr 7, 2017, 21:00 (JST)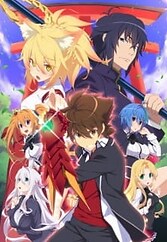 High School DxD Hero: Taiikukan-ura no Holy
Alternative version of final three episodes of High School DxD BorN.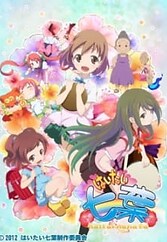 Haitai Nanafa
Nanafa Kyan lives in Okinawa with her grandmother who runs the "Kame Soba" soba shop, her beautiful older sister Nao who is in high school, and her younger sister Kokona, who is in elementary school and has a strong ability to sense the supernatural. One day, Nanafa witnesses a seal fall off of a Chinese banyan tree, and three spirits who live in that tree are unleashed. These spirits include Niina and Raana, who are "jimunaa" spirits. The third spirit is Iina, who is an incarnation of an Okinawan lion statue. As spirits start appearing one after another, the peaceful life of Nanafa and her family begins to change. (Source: ANN)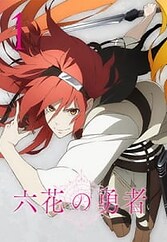 Rokka no Yuusha Picture Drama
Picture dramas bundled with the Blu-ray and DVD volumes.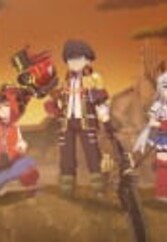 God Eater Reso Nantoka Gekijou: Nagerareta Shokupan
Short anime inspired by the iOS and Android mobile game God Eater Resonant Ops. Introduces the characters through their first day of school. Resonant Ops continues the story of God Eater 2 Rage Burst, which in turn is a sequel to God Eater Burst, and is set 4 years after the latter's story, moving the setting "at long last" toward the Fenrir Headquarters in the year 2078.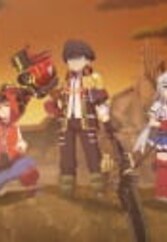 God Eater Reso Nantoka Gekijou
Short anime inspired by the iOS and Android mobile game God Eater Resonant Ops.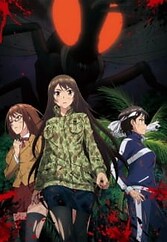 Kyochuu Rettou
After an airplane crash during a school trip, Oribe Mutsumi and her classmates were stranded on a seemingly deserted island. Mutsumi found the other survivors, and used her wilderness knowledge to help them. She expects that they will be rescued in about three days, which doesn't seem so long to endure. However, she didn't account for the fact that the island is populated with gigantic killer insects. Her knowledge of butterflies, wasps, and more may be the only thing that will help any of her classmates survive to be rescued! (Source: MangaHelpers)
Haitai Nanafa 2nd Season
Continuation of the first season.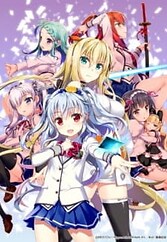 Z/X: Code Reunion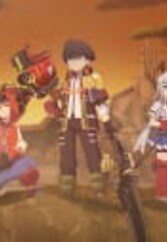 God Eater Reso Nantoka Gekijou: Episode EX
Short anime inspired by the iOS and Android mobile game God Eater Resonant Ops.