This is the third and final part of the interview.
Check out Part 1
and Part 2!
---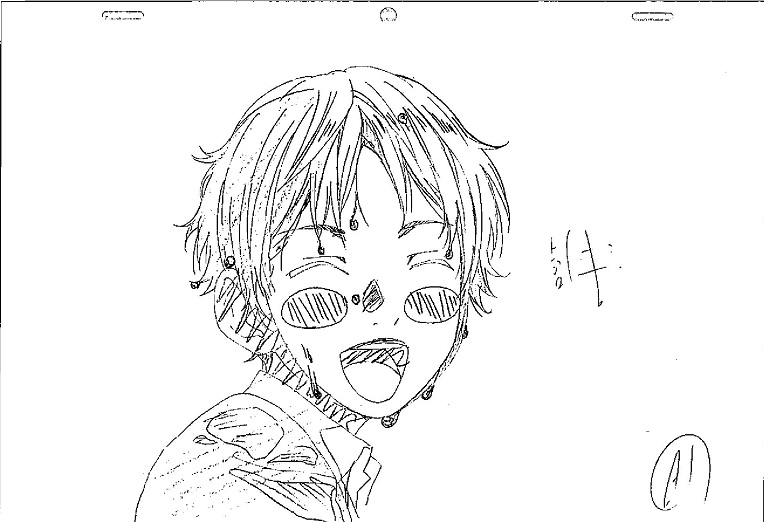 Oguro: You entered Sunrise with the aim of becoming a producer. Why did you switch from production to direction?
Ishiguro: I was brimming with the desire to produce when I entered this industry, actually. I didn't want to draw or act myself- but wanted to gather different people in order to showcase their talent. But isn't it overdoing it if a producer examines every single frame individually? I was used to making my own music with my band, so I started developing the desire to make anime myself too. Thankfully, Sunrise set up a path for me to start directing, and two years later I switched contracts to that of an assistant director's.
Oguro: When you decided to become a director, did you have any sense of direction on what kind of director you'd like to be, or what kind of works you'd like to make?
Ishiguro: Not at all. Actually, I still don't have any now. I don't have anything besides a strong urge to direct and make anime. This is where I'm different from those that wanted to work in the anime industry ever since they were young. But because of this, I think that "I can do anything."
Oguro: I got the impression that the technical aspects of your work were distinctly artful.
Ishiguro: Really? That's not something I was conscious of myself. The contents of the first episode took me two months, but I didn't worry about anything besides drawing the storyboard. The artfulness you see might be thanks to the original work. Arakawa-sensei's scenes have a lot of finesse. They draw your eyes to the important bits. I thought of how to best bring that out in the anime.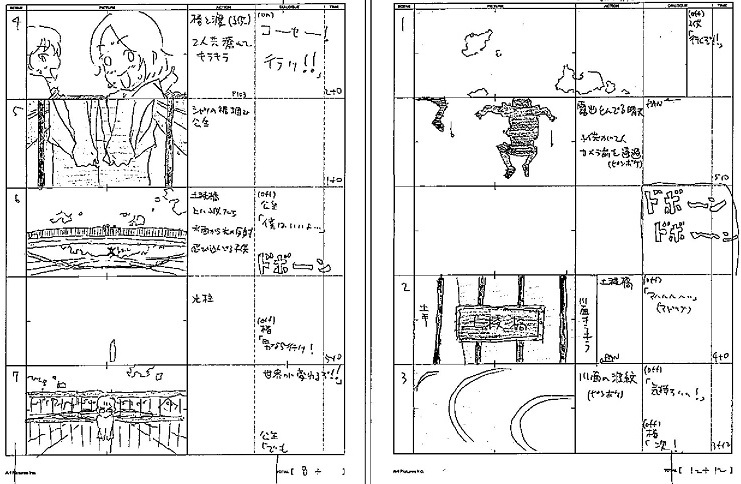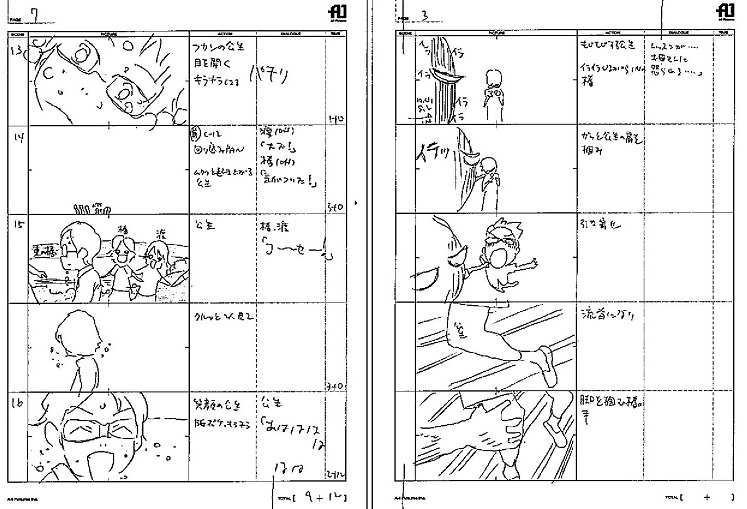 Oguro: It became artful because of how you decided to translate the dramatic scenes in the manga into animated form.
Ishiguro: Perhaps. On a related note, there was a problem involving dealing with the monologues. There are lots of times where Kousei and Kaori are in a conversation, and a monologue gets inserted in the middle. In these cases Kaori can't hear Kousei, but still has to wait for Kousei to finish his aside. I was very conscious about trying to portray these conversations naturally and believably.
Oguro: There really are many monologues.
Ishiguro: Yeah, it come from the manga. But I like these kinds of scenes, so I tried to stick as many of them as I could in the anime. It's hard to deal with monologues in the middle of a conversation scene. For example, Kousei often stops to think about his mental scenery or have a flashback in the middle of a conversation. I drew the storyboard with the mindset that Kousei gets lost in thought and forgets Kaori is next to him for a moment. This probably contributes to why you think the work is artistic.
Oguro: So you didn't really aim to make it feel like a live-action drama?
Ishiguro: I didn't use a lot of wide shot cuts like you'd see in many anime, but that doesn't mean I was consciously trying to make it look more like a live-action.
Oguro: Let me ask about something a little specific. When I watched the first episode, I was surprised, and thought, "Wow, so TV anime can be done this well.*
Ishiguro: (Laughs) Thank you.
Oguro: Until now, I've never seen an anime that transmitted the feeling of being in Spring so well.
Ishiguro: I was blessed with a great staff. The color palette and transparent, sparkly feeling where in no small part thanks to the artist Usui Hisayo, and color coordinator Nakashima Kazuko.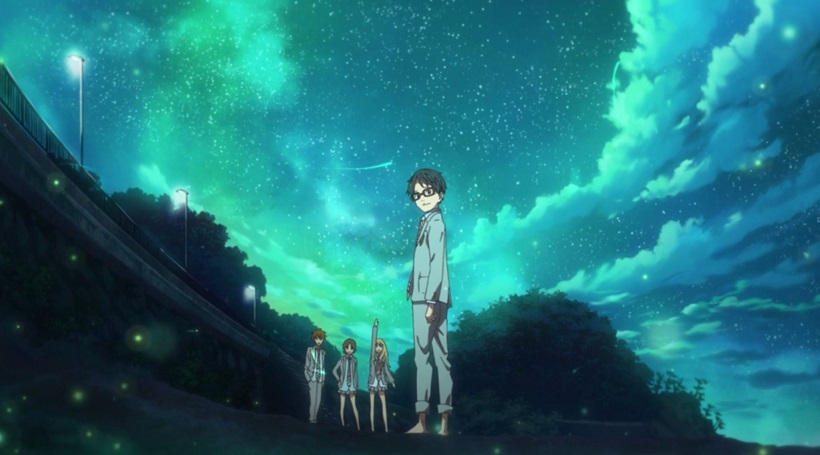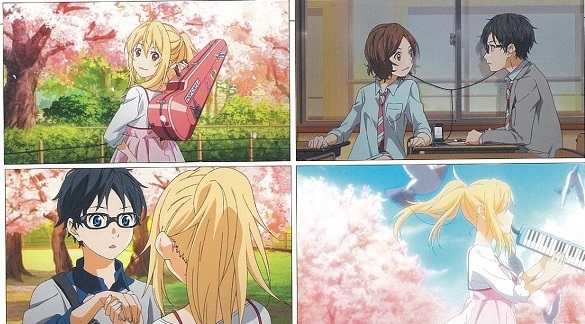 Oguro: There's a line in the original, "the world became filled with color." But because it was black and white manga, the readers have to imagine the colors. But in the anime, there has to be color.
Ishiguro: Yeah, I said as much to the staff. We aimed to make it a colorful work.
Oguro: But around the middle, there's some depressing scenes, so it's not as if the entire work was colorful.
Ishiguro: The first thing we did was figure out the color palette for each part of the storyline in order to convey those feelings. It's not like you make the whole anime colorful just because color is one of the strong suits of anime. We experimented lots with toning down colors for dark scenes, or even making some monochromatic.
Oguro: This is off topic, but did you go location hunting in Nerima?
Ishiguro: Yes, we did.
Oguro: Leaving off the topic of "why Nerima," for now, it seems that "Your Lie in April" does not make much use of photograph layouts.
Ishiguro: Actually, we used them quite often.
Oguro: Oh, I see. It was hard to notice because of the bright, fantasy-like color scheme.
Ishiguro: Ahh, I see. That's because of the aforementioned Usui-san. For most works, you can take a look at a scene and immediately think, "oh, this is a photograph reference," but Usui's very skilled at backgrounds.
Oguro: Sometimes I think "this can't be a drawing- it's definitely a photograph!"
Ishiguro: Yes. It's definitely to do with the artist. Usui-san is very skilled with his tools. I don't know how to explain it well, but Usui-san is the kind that goes into things with the mindset of "making them into art." We hadn't talked about this now, but for us the location that we would use as reference for this work was very important. We wanted a setting that could connect our characters to the real world. We wanted to have the events that occur in the show seem real. So we went a real location, with real places that people could go to. We got lucky because the original work has many backgrounds taken from the Oizumi Gakuen area in Nerima. It was close to our studio in Suginami, so it was super easy to find locations.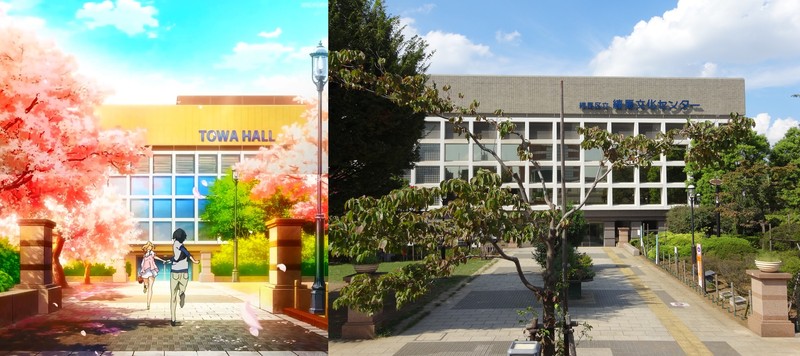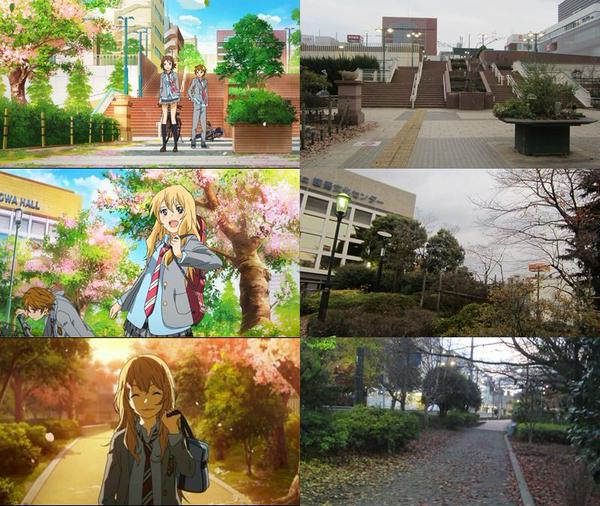 Oguro: I see. Now for one last question: What did you think about your first time directing?
Ishiguro: Well, there were many things I got lucky with this time, so I don't think I feel overconfident or anything. But I'm satisfied with my ability to create a work. I'm glad I picked the hard path, because I got rewarded for it. (laughs)