---
1. ARTFX J - Tokyo Ghoul: Ken Kaneki AWAKENED
---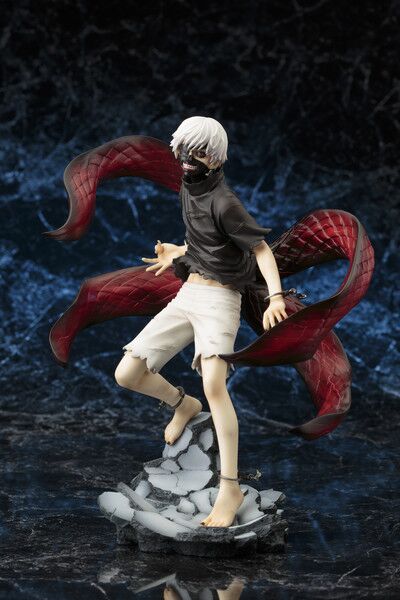 Our first figure for you is ARTFX J - Tokyo Ghoul: Ken Kaneki AWAKENED. This figure of the main character was released in September 2015 by Kotobukiya. This is a complete pre-painted figure made from a mix of non-phthalate PVC and ABS. Ken stands over 22 cm (nearly 9 inches) tall and was sculpted by master sculptor Shin Tanabe. He is positioned on a rubble base with his kagune ready for battle. This is the masked version of the figure, and can cost you up to 30,000 yen (around 248 US dollars).
---
2. Tokyo Ghoul: Uta Complete Figure
---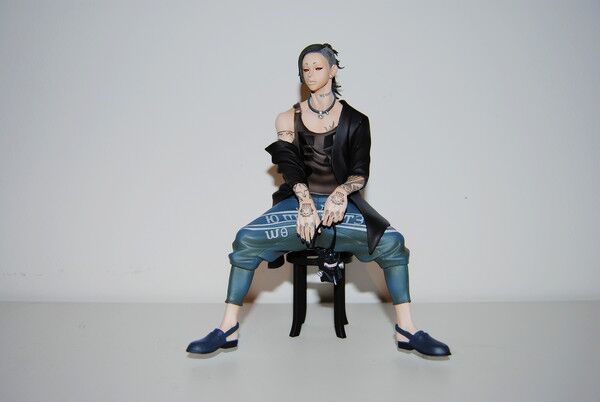 Next item on our list is the figure of Uta. Tokyo Ghoul: Uta Complete Figure was released just recently in mid-November, 2015. It is a part of the Statue Legend line and it is published by Di molto bene. This is a pre-painted figure and it is made with a mix of PVC and ABS. Uta is approximately 25 cm (approx. 9.8 inches) tall and weighs 610 grams. A lot of attention has been given to this figure, from Uta's characteristic black eyes to the mask he holds in his hands. The price of this figure is really decent, and you will have to pay up to 23,000 yen (approx. 189 US dollars).
---
3. Tokyo Ghoul kakusei- Ken Kaneki Mask ver.
---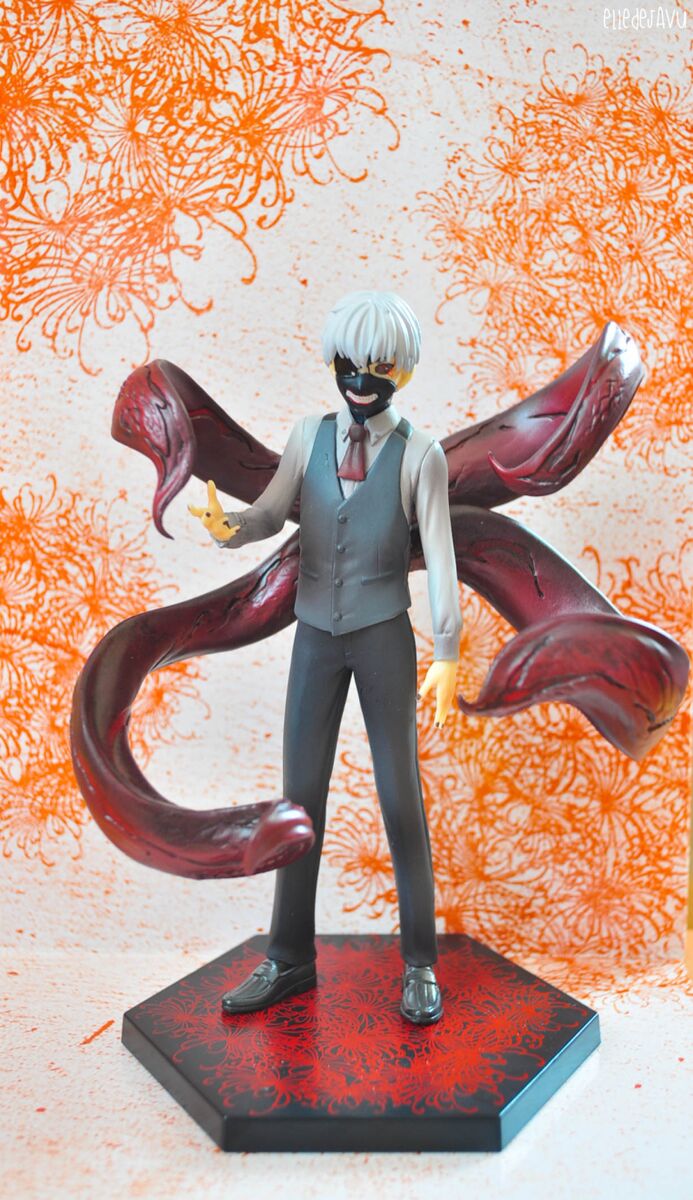 The third item is again a figure of Kaneki. Tokyo Ghoul kakusei- Ken Kaneki Mask ver. Figure was released by Banpresto on 4/18/2015. The figure's height is about 15 cm (5.85 inches) and it is made again with a mix of PVC and ABS. If you just look at the details on Ken's kagune and his eyes, you will see just how much work went into making this figure, not to mention the ornate flower that is designed on Ken's base. There are a few versions of this figure, but the masked version is the most expensive since the iconic mask is what is most associated with the anime and manga series. The price for this version is approximately 19,100 yen (155 US dollars).
---
4. Tokyo Ghoul Kakusei- Ken Kaneki Unmasked ver.
---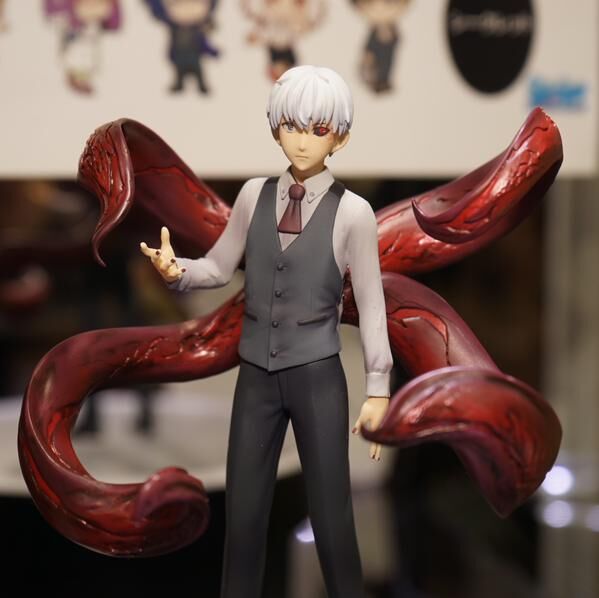 The next figure here is actually the same model as the Tokyo Ghoul Kakusei- Ken Kaneki Mask ver. figure but this one doesn't have the mask. In all other aspects, the figure is identical. Another difference here is also the price. As I mentioned before, the price difference is likely due to the absence of said mask. This version of the figure goes for 14,600 yen (119 US dollars). You can also look for this version on the secondary market
---
5. Medicos' Shu Tsukiyama
---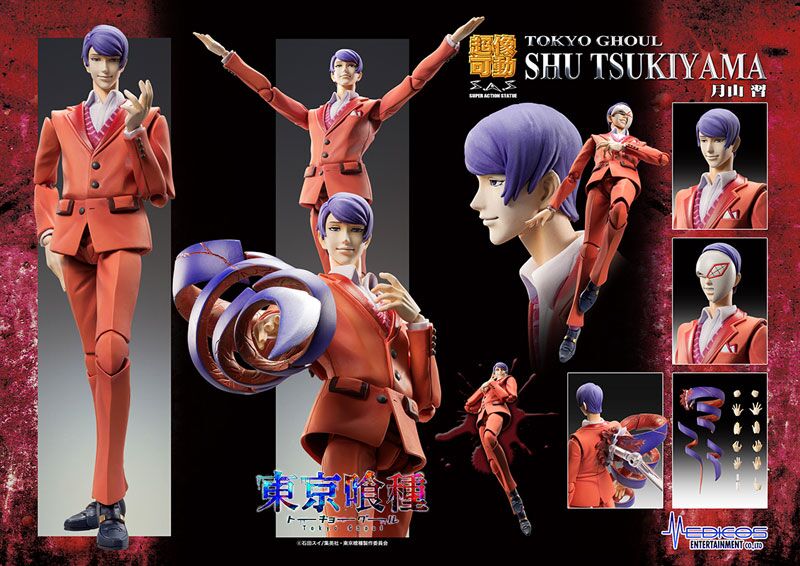 This last figure is the Shu Tsukiyama figure which comes to us from Medicos Entertainment. The so-called Gourmet is made from the mix of PVC and ABS and is pre painted posable figure. He is approximately 17 cm (approx. 6.6 inches) tall. With this statue, you will get a bunch of goodies which include a tail, 2 optional head parts, 2 optional left hand parts, 3 optional right hand parts plus base for the figure. This item will be released in late May 2016 but even in pre-order stage it ranks as one of the most expensive Tokyo Ghoul figures. The pre-order prices are as high as 11,000 yen (approx. 91 US dollars).
---
There you go Ghoul fans. These 5 Tokyo Ghoul figures are essential items you need to show your Ghoul tendencies, and remember: stay away from pretty ladies who want to take a bite out of you.
Brought to you by