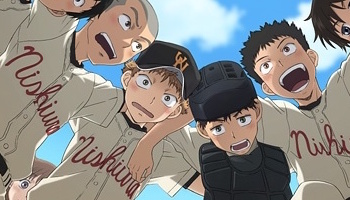 If you follow the world of manga, you know that sports series have been one of the titans of the industry for decades. Many of the best-selling titles of all time are sports-related, with baseball being especially dominant.
As for as anime is concerned, sports has been around for a long time too, and popular - Adachi Mitsuru's Touch remains the most popular TV anime in history in terms of ratings (which were the main gauge in the days before disc sales were king) and social impact. But in the modern era, sports anime has existed in a sort of subdivision apart from that inhabited by hardcore anime fans - they were popular and often drew decent TV ratings, but rarely sold many discs or made much of a splash with fans in the West.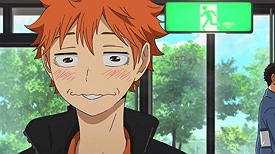 That's all changed now, with titles like Kuroko no Basuke, Free!, Haikyuu!! and Yowamushi Pedal becoming big sellers on disc, prominent presences in Akihabara and Ikebukuro (and at Comiket), and well-known among Western fans. If one wants to look for a common thread among the sports series that have "crossed over", it isn't too hard to find it - these are titles that have a strong appeal to female fans, while "old-school" sports series had and have a mostly male (and non disc-buying) audience. I see this as neither a criticism or praise - it's simply a fact that if a sports series naturally inspires the doujin community, it's much more likely to be a mainstream hit.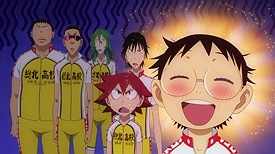 While I think one could argue that The Prince of Tennis was the first sports manga to "make the jump" in a big way, I would argue that the modern migration can trace its roots to Higuchi Asa's Ookiku Furikabutte (Big Windup!). This was the first sports anime to become a 5-digit seller on disc, and stylistically, I think many of today's crossover sports series owe a great debt to it. OoFuri is still running in Kodansha's Afternoon magazine, but I wonder if newer fans of shows like Haikyuu and Kurobas are aware of just how important this series was in the ushering in of the modern age of sports anime.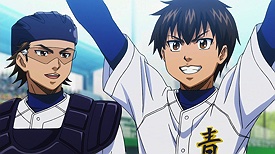 Even as new-school sports anime have come to dominate the perception of otaku of both genders and Western fans, old-school sports series are thriving in manga form. Some, like Baby Steps, still make the jump to anime. And we've even seen old-school series manage to hit with both the old and news fandom to a certain extent - with Diamond no Ace being the most prominent example.
Coming up tomorrow: a few sports recommendations newer fans might not be familiar with. See you then!