---
Introduction
---
Natsu matsuri, or summer festivals, are an icon of the Japanese summer. Going to the beach or the swimming pool and eating ice cream are staple activities when the weather warms up. And, when July rolls around, natsu matsuri also becomes a part of everyday life. Remember that episode in that anime when the characters dress in yukata and go to a carnival-like event at night, or that time when they go watch the fireworks? If it's summer, it's almost guaranteed this trope will appear.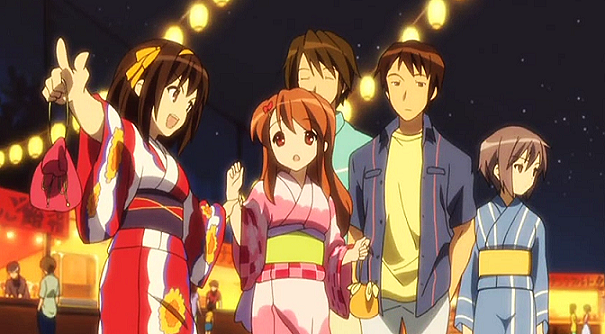 The Melancholy of Haruhi Suzumiya (2009)


---
Summer Festivals
---
Festivals of all sorts occur throughout all 4 seasons in Japan. Most share reoccurring elements, such as food stalls, but what makes natsu matsuri unique? Within the concept of natsu matsuri, many elements combined make it what it is today.


---
Costume
---
For anyone attending a summer festival, wearing a traditional Japanese yukata, or informal cotton kimono is optional, but recommended. After all, when will you get a better chance to wear this tradition of the past?
A yukata is a type of kimono. It is single layered, relatively thin, and made out of breathable materials such as cotton - perfect for the humid Japanese summer. Both men and women wear this on casual occasions such as summer festivals, or at onsen, or hot springs. Yukata is worn with geta, traditional Japanese sandals, and obi, belts used to tie the yukata. To match the yukata, women and men may use kinchaku, draw-string carry bags, to store their things in.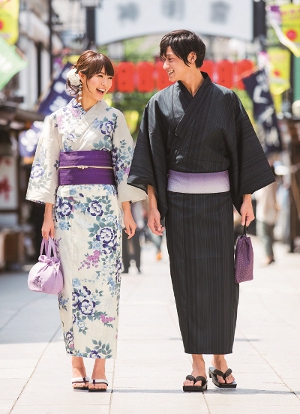 Source
Women's and men's yukata. Note that the obi used by women are thicker and more elaborate than the men's thin and plain obi.


Hand-held fans called uchiwa (see below), or folding fans called sensu, are also a common sight during summer. They are a useful tool to keep cool in the humid crowd, and they can be neatly tucked into the obi when not in use.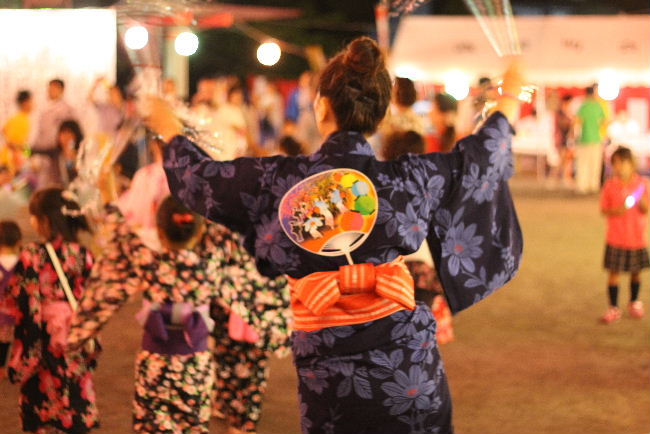 Source


---
Food
---
When a summer festival comes to town, there is no shortage of food. Endless rows of outdoor food stalls called yatai line the streets with offerings of delicious goodies. Typical finds include street foods cooked on the spot such as takoyaki, okonomiyaki, yakisoba, kakigoori (shaved ice), and countless things on sticks.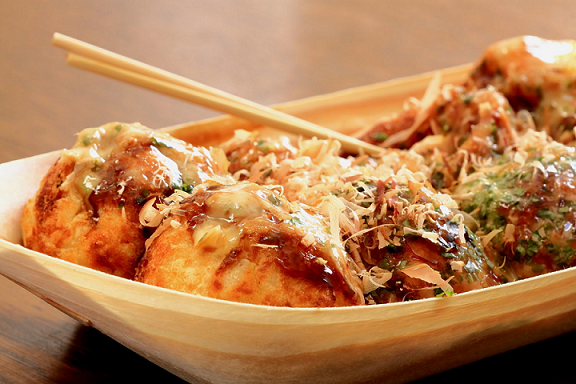 Source
Takoyaki, balls made out of a batter with a variety of fillings, most famously octopus.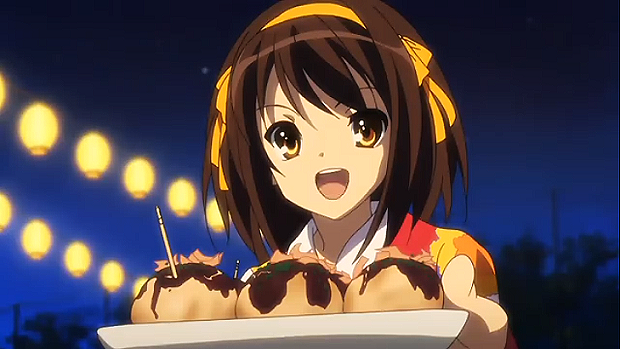 The Melancholy of Haruhi Suzumiya (2009)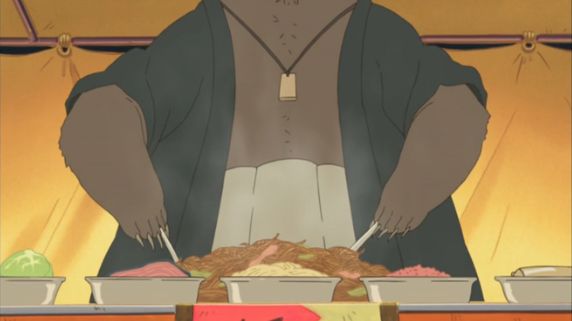 The crew in Shirokuma Cafe set up a yatai to cook up some yakisoba - fried noodles.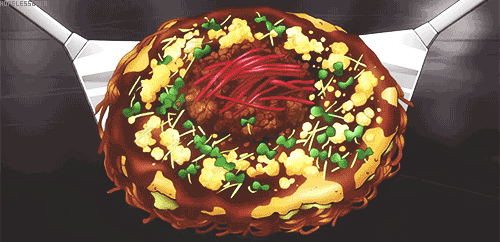 Tamayura: Hitotose - Okonomiyaki, a mouth-watering pancake made with a variety of ingredients including cabbage, egg, meat, and topped up with okonomiyaki sauce, mayonnaise, seaweed flakes and bonito flakes.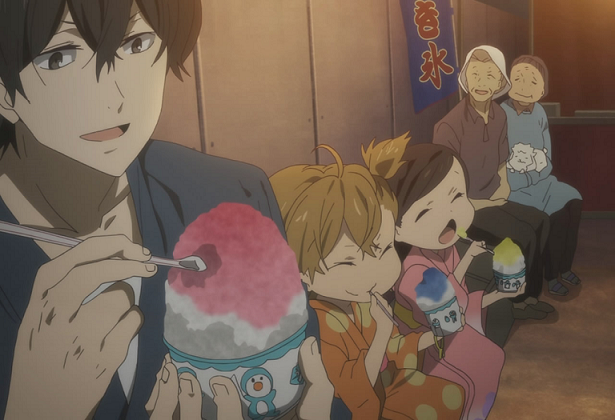 Barakamon - Shaved ice is for all ages!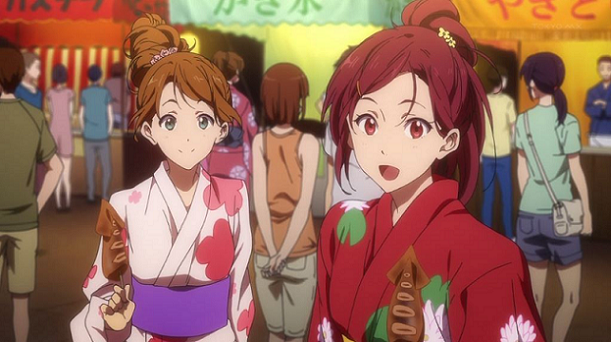 Gou and her friend in Free! with grilled squid on a stick.


---
Activities
---
Eating and waltzing around in a yukata aren't the only things you can do at natsu matsuri. There are plenty of other stalls offering games, such as kingyo sukui or goldfish scooping, target shooting games (like what you'd find at a carnival), and even haunted houses. Not only that, the highlight of many summer festivals are often the fireworks display that occurs at the end of the night.


Kingyo Sukui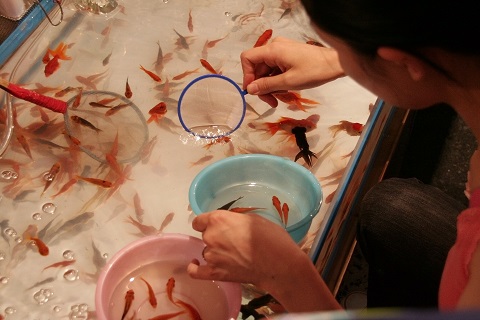 source

Tokyo Ravens - The goal of the game is to try to scoop goldfish into a bowl using a paper scooper called a poi. Even if the paper part of it tears, you can still continue until it breaks completely. At the end of the game, you get to keep the goldfish that you manage to "catch".
Yoyo Sukui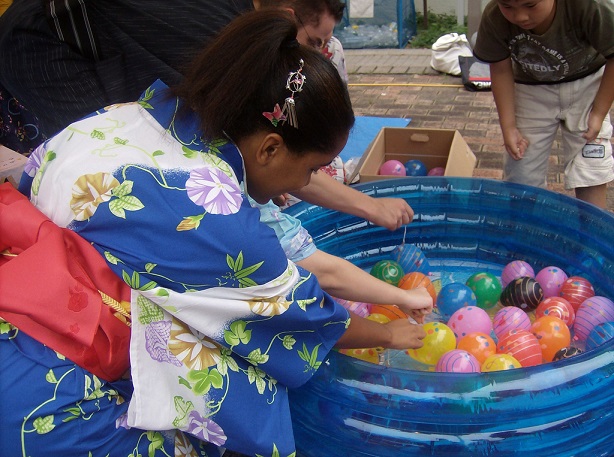 source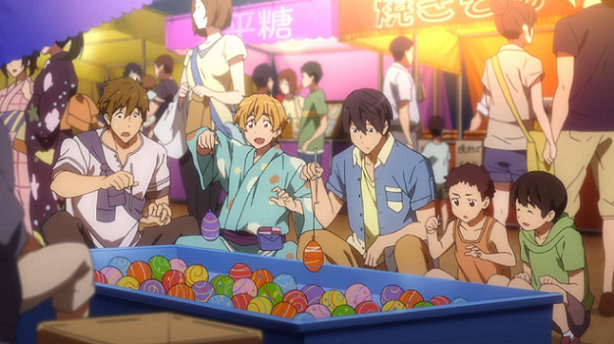 The boys in Free! enjoying one of the festival games.


Masks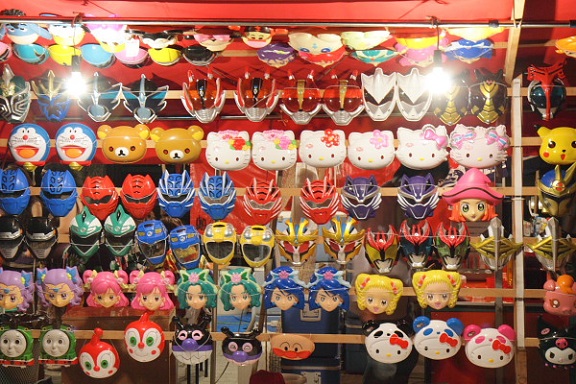 source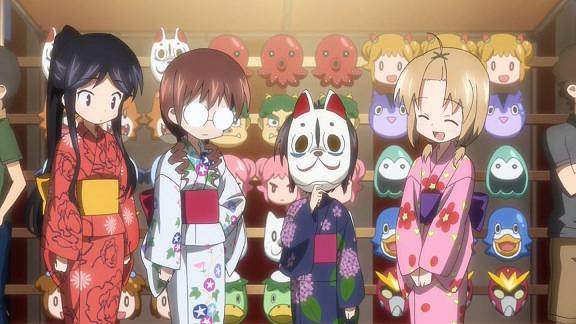 A-Channel - There are many booths selling things beside food such as masks.


Obake Yashiki (Haunted House)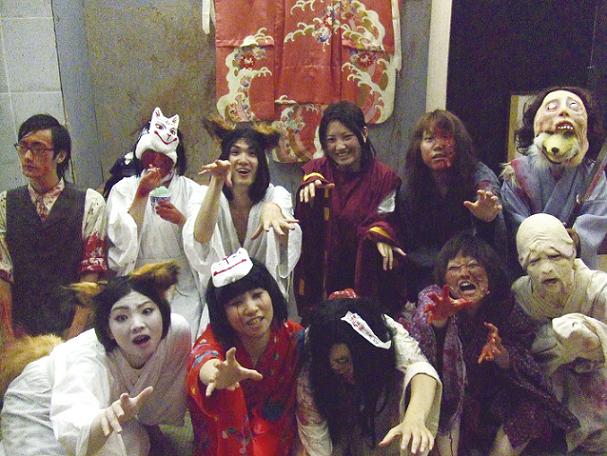 source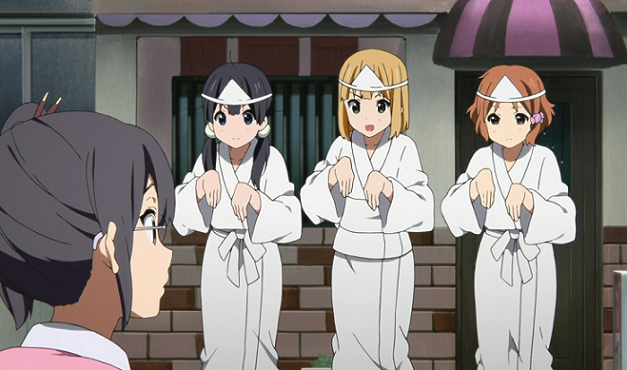 You could probably find a similar haunted house at a summer festival like the one held in Tamako Market.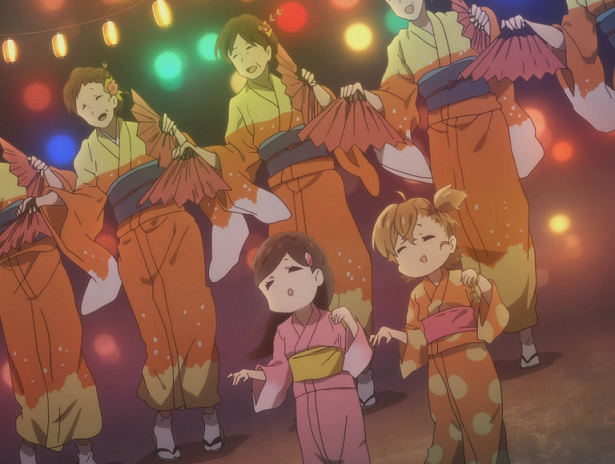 Many festivals, such as this one from Barakamon also feature traditional dancing - the most famous of these dances include bon odori (more on this below).


---
Fireworks
---
Festivals in the summer that revolve around a fireworks display are called hanabi taikai. Unlike in the West where the biggest fireworks event is usually New Year's Eve, in Japan they are a summer staple. Did you know historically they were thought to ward away evil spirits? This is perhaps linked to specific festival in the summer called Obon, which celebrates and welcomes the dead back to earth for their annual visit. Nowadays, firework festivals are usually a competition for not only the best viewing spots, but also for who can create the biggest, loudest and most spectacular display.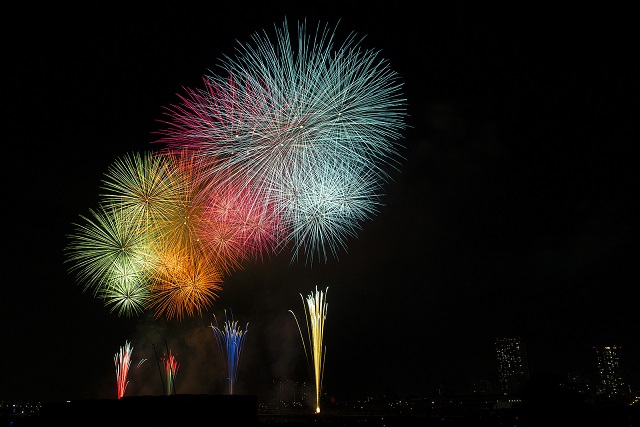 Source
Fireworks at Sumidagawa Fireworks Festival, one of the largest and most famous in Tokyo.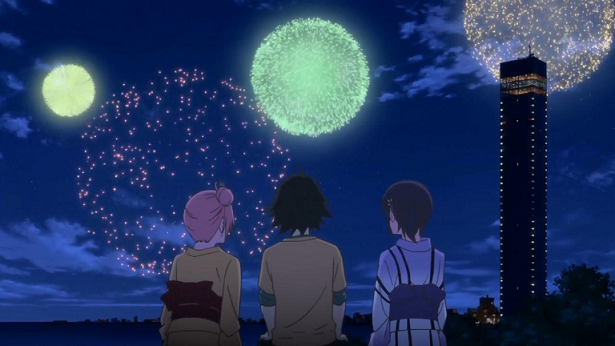 Yahari Ore no Seishun Love Comedy wa Machigatteiru - Fireworks are easily the best part of the night and worth the wait.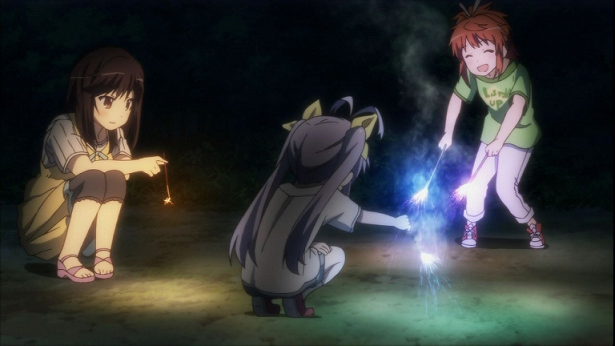 Smaller fireworks can also be purchased and used with your friends. This is a common sight in summer like in Non Non Biyori.


---
Regional Festivals
---
You could perhaps consider the term natsu matsuri to describe two things. Firstly, as a more generic expression to describe an event with temporary outdoor food stalls, attractions and fireworks, and secondly as an overarching term for any and all festivals that take place during summer. This may include the ubiquitous hanabi taikai, or fireworks festival, or speaking more specifically, festivals such as Tanabata and Obon (if you are unfamiliar with these terms keep reading as they will be explained).
The three aforementioned festivals are a few of many events that take place universally throughout Japan. In addition to this, festivals in certain parts of Japan have also become very well known and almost representative of the one occasion, such as the Sendai Tanabata Festival, attracting visitors from all over Japan and overseas. Below are just a few of the thousands of festivals that are held in summer.


Ueno Natsu Matsuri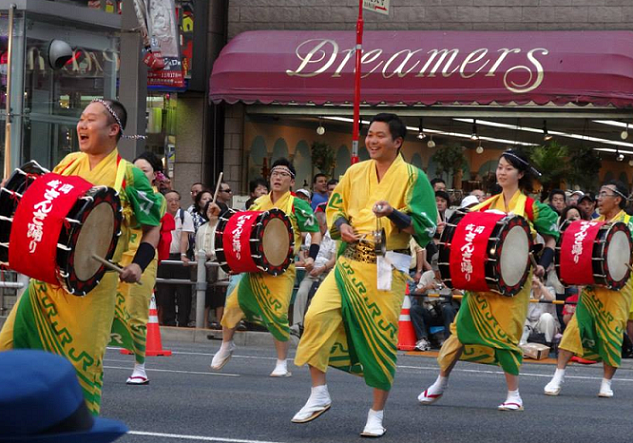 Where: Tokyo
What: Alongside festival stalls, the highlight of the Ueno Natsu Matsuri is the parade - a long procession of different performances, including university clubs and floats, traditional folk dances and drummers.


Wasshoi Hyakuman Matsuri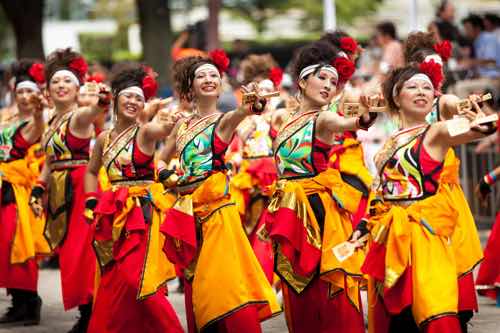 Source
Where: Fukuoka
What: A festival created to celebrate the creation of Kitakyuushuu city in Fukuoka and one of the region's largest. The festival is characterised by a style of Japanese dance called yosakoi, a modern version of the more traditional awa odori. It's a fusion of traditional Japanese dance and music with more high impact and energetic moves.


Gozan no Okuribi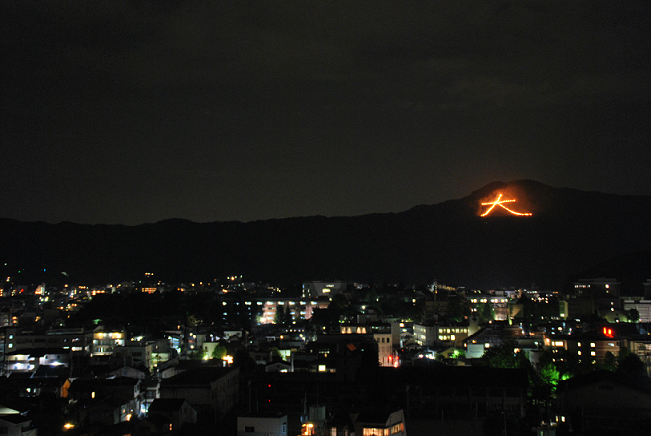 Source
Where: Kyoto
What: This is the final part of the 3 day Buddhist Obon festival in mid August. Obon is actually held in either mid July or August depending on which region of Japan you are in. Many people return to their home towns during this time to clean their ancestor's graves in preparation for their spirits to visit their household altars. This event is also iconic for its dance, the bon odori, which was originally a folk dance to welcome these ancestral spirits back to earth. During Gozan no Okuribi, bonfires are lit on the mountains with different Chinese characters at different times, each with its own meaning and significance. This event signifies the return of the spirits back to the spirit world.


Gion Matsuri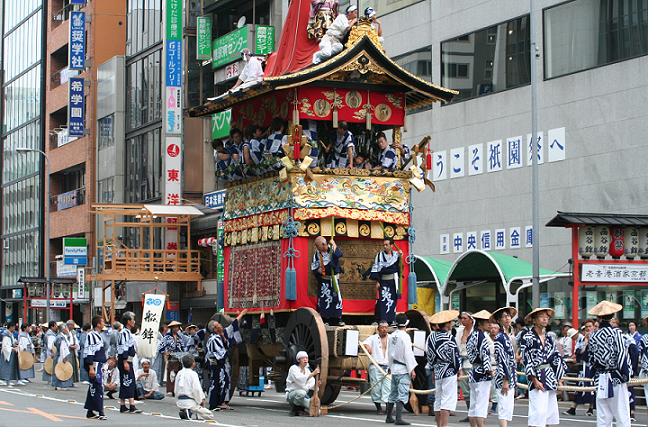 Source
Where: Kyoto
What: A famous month long festival in July, it is known for its parades featuring grand floats called yama and hoko which are carried by teams of people. This is also a great event to experience and find out more about old Kyoto and its rich culture.


Aomori Nebuta Matsuri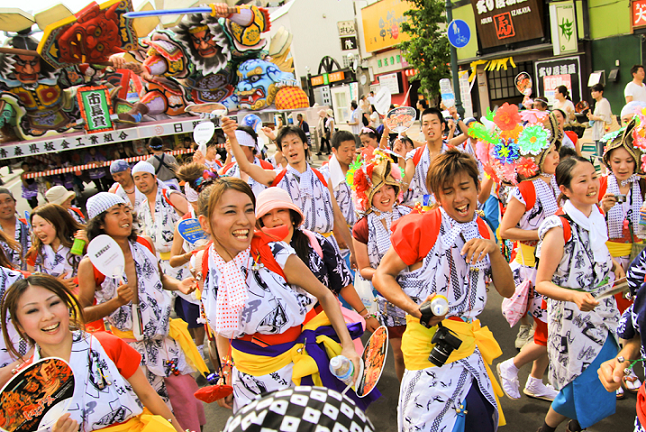 Source
Where: Aomori
What: Another festival known for its floats, this time with ones that depict fierce warriors and mythological characters. It is also known for its dancers who dress in unique bright costumes called haneto.


Sendai Tanabata Festival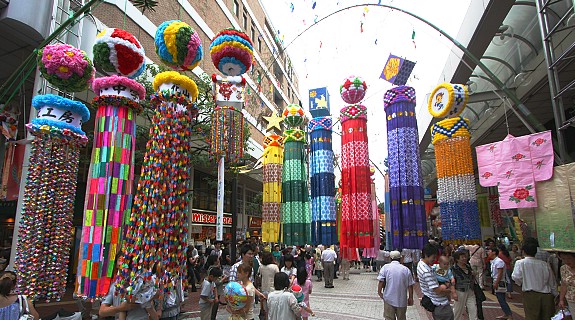 Source
Where: Sendai
*What: Tanabata is known under various names and is celebrated in several countries in Asia. Although the root of the myth surrounding Tanabata may be shared among these countries, the way Japan celebrates it is unique. Based on a Chinese folktale, this festival celebrates the only time in the year that lovers Vega (Orihime) and Altair (Hikouboshi), who are separated by the milky way, can meet. A festival tradition is to write your wish on a strip of paper and tie it to a bamboo tree in the hopes that it comes true.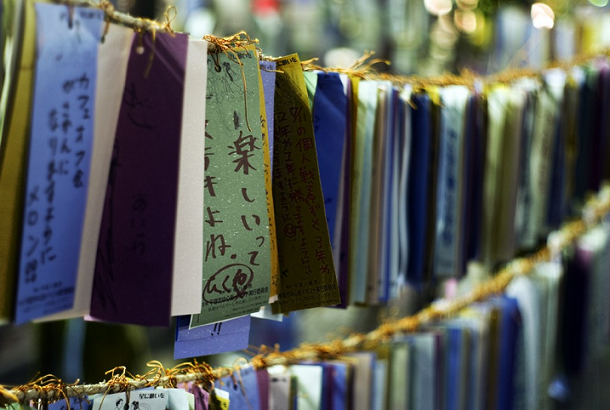 Source
The paper that you make a wish on is called tanzaku.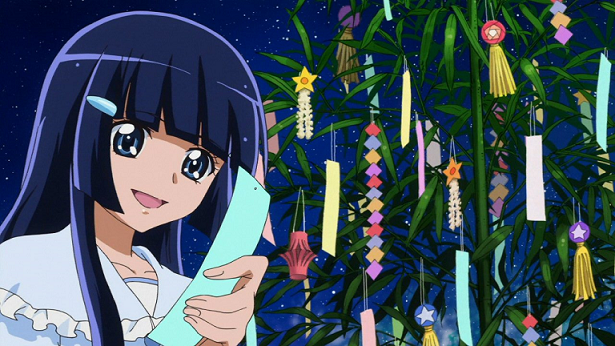 Smile Precure