We all know there's no dearth of options for people who're into horror and scary movies, but when it comes to anime, horror becomes a somewhat elusive genre. As hard as it may seem to get your hands on, there's no turning back once you step inside the world of scary anime! Let's take a look at some of the scariest horror anime out there!


---
---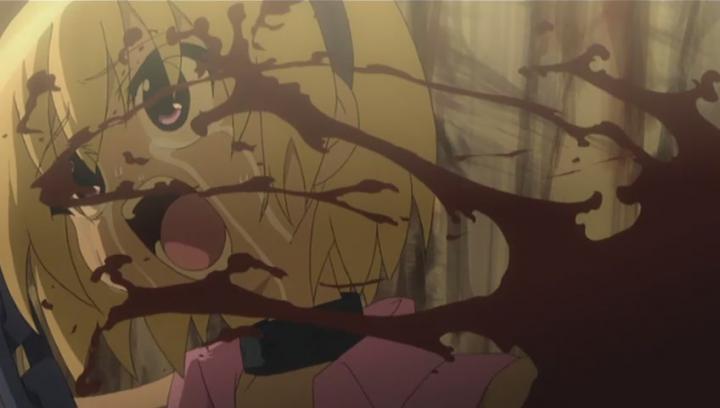 Top of the list is Higurashi: When They Cry (Higurashi No Naku Koro Ni), which is an adaptation of the game series with the same name, and the original one of the 'When They Cry' series.
It's June 1983 and the place is a fictional quiet rural village known as Hinamizawa. The protagonist Keiichi Maebara decides to leave his hometown for Hinamizawa after having witnessed several unfortunate events in his hometown. He spends most of his time in the company of his school friends, leading a carefree life and playing games with them. However, Hinamizawa, like most sleepy towns, has a dark secret. Appearances can be deceiving here. Keiichi stumbles upon the news of a murder in Hinamizawa one day, which is then followed by a number of mysterious events. He discovers that his good friends at school may not be all that good after all. As different events start unfolding in different situations, the story takes a horrifically gory turn. There is nothing more scary than a group of friendly whack jobs who just won't leave you alone!
You'd love this terrifying horror anime if you're fond of:
Mystery, gore, short arcs, little girls, mental torture, thrillers, horror, anime OPs and EDs


---
---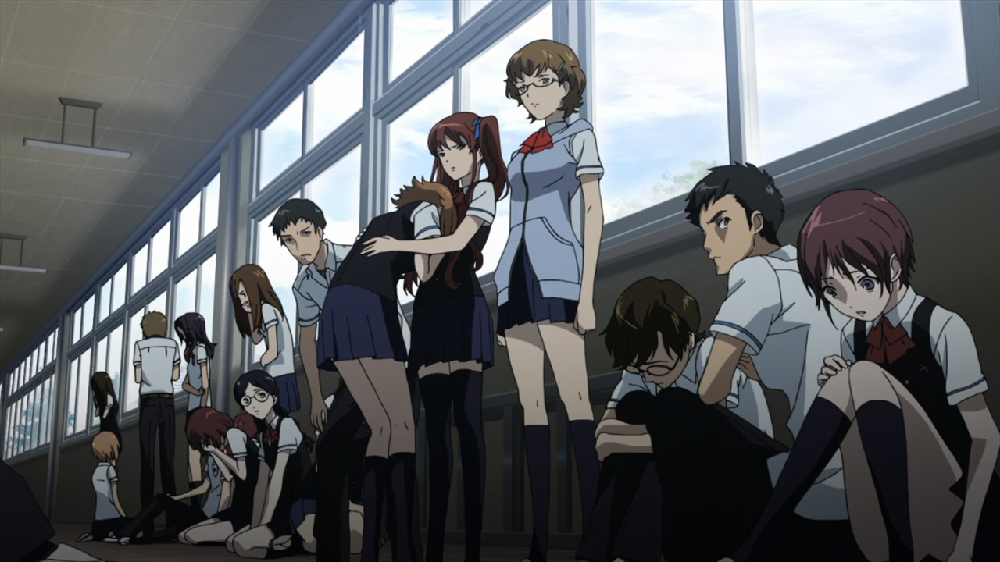 Sitting on the second spot in this list is Another, one of the most terrifying horror anime in existence. Featuring 12 episodes full of creepy and mysterious murders, this one has the word scary written all over it (in blood, of course). Yomijama North Middle School's Class 3-3 made a bad name for itself after a student died there in the year 1972, followed by everyone pretending as if nothing had happened. Because of a curse, all its teachers, students, and their family members are at the risk of dying horrible deaths in a plot akin to the movie Final Destination.
Kouichi is a new transfer student to class 3-3. He soon starts noticing a girl named Mei that no one else can see. The curse starts to claim lives once again. The survivors must somehow find a way to stop these terrifying deaths and get to the root of the problem. The mystery of the story keeps playing with the viewers' expectations right till the very end. You see new mysterious elements getting thrown in regularly, some simply introduced to send you down the wrong path. Hence, you shouldn't try to predict anything. Its intrigue and unpredictability are scary enough to help you breeze (or run screaming) past its twelve episodes.
You'd love this terrifying horror anime if you're fond of:
School settings, plenty of blood, creative deaths, creepy girls, mystery, horror, Final Destination, and short series
---
---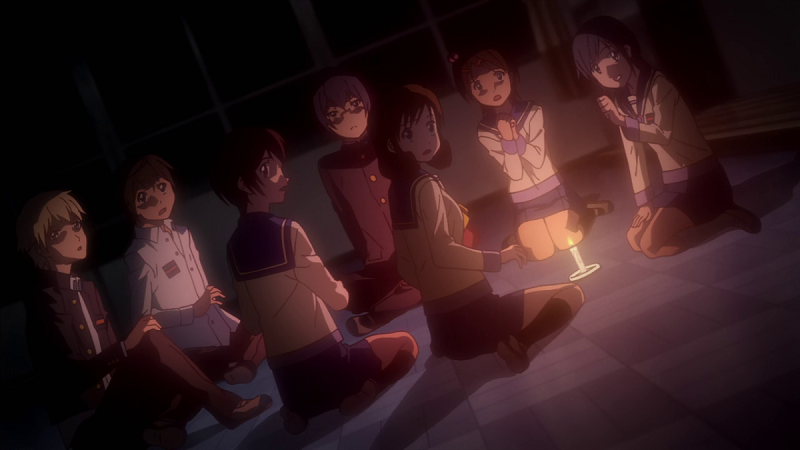 Third on this list is another excellent scary anime, Corpse Party – Tortured Souls, an ultra-short scary anime series with only 4 episodes-4 horror-filled terrifying episodes, to be precise! Its story takes place inside Heavenly Host, an elementary school which is destroyed because of the recurring disappearances and murders of its students and staff members. As time passes by, another school named Kisaragi Academy is built at the former site of the mysterious Heavenly Host School.
One fine night, a group of Kisaragi Academy students decide to tell scary ghost stories. When they do, a sudden earthquake rocks the place and these students are transported into a dimension where the Heavenly Host School still exists. What's troubling is that the school is haunted by the scary ghosts of murdered students who used to study there.
You'd love this terrifying horror anime if you're fond of:
Ghosts, little girls, school settings, dismemberment, horror, dark settings, friends getting torn apart, screams, graphic violence and slasher films
---
---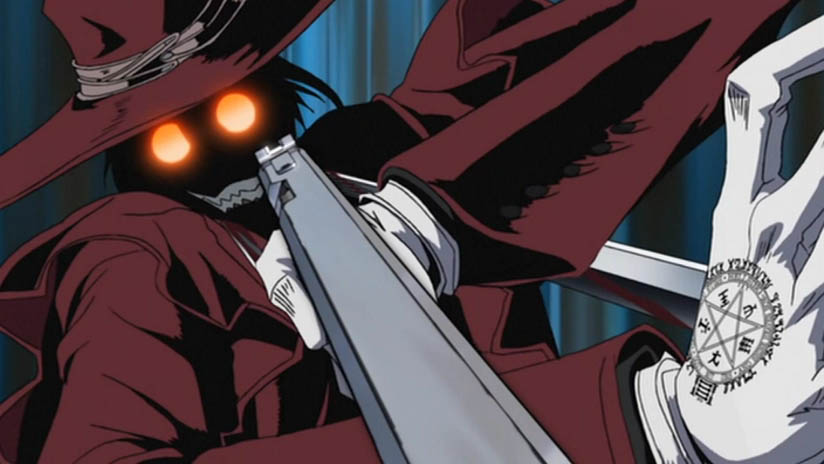 Belonging more to the fantasy genre of horror anime, Hellsing is a fairly short anime series that has won millions of hearts with its depiction of classic fantasy creatures, vampires and action. We all know of Van Helsing, the popular vampire Hunter of the Dracula legend, who slays oddities even after his demise. This one is heavily inspired from his scary story. It follows the adventures of a vampire named Alucard and his partner Seras Victoria, who's a police agent-turned-vampire. They work for a vampire extermination organization named Hellsing in England.
Alucard's main task is to seek and destroy any threat from the supernatural and undead forces that are after the life of England's Queen and the country itself. You can see Alucard, Seras and their comrades fighting off evil vampires in terrifyingly scary situations. It is one of those anime that you can watch to get into its manga version, but without any spoilers.
You'd love this terrifying horror anime if you're fond of:
Van Helsing, alternate stories, horror, shows set in England, good music, Seinen, short series, vampires and antiheroes
---
---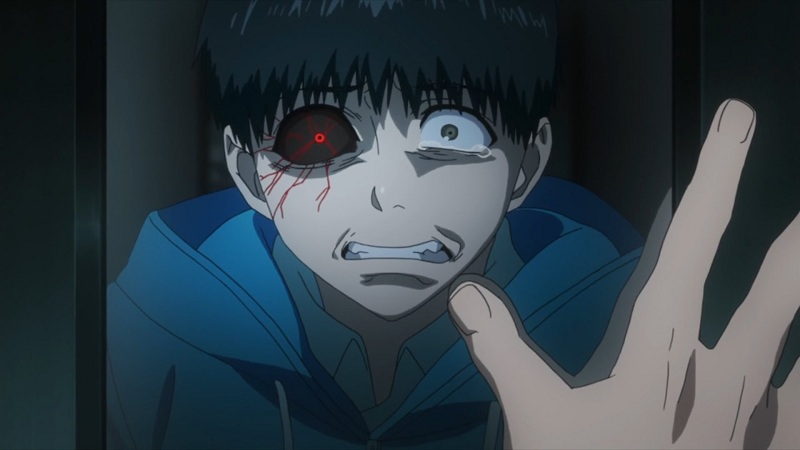 A boy named Ken Kaneki is the protagonist of the series. He meets a cute bookworm going by the name Rize, who's actually a ghoul. Ghouls are way above the average zombies as they look exactly like humans and can easily blend into the society. How they're different from humans is that while humans eat everything apart from humans, ghouls can only eat humans. What's more, they have special powers to hunt their victims!
Rize ends up inside Kaneki's body but is unable to eat his flesh, and gets killed in the process, bringing Ken quite close to death too. Her organs are transplanted into Ken, to save his life, turning him into a hybrid. Now, even though Ken has the morals of an average human being, his powers and needs are almost the same as other ghouls. This horror anime is a perfect mix of terror, mystery and tragedy!
You'd love this terrifying horror anime if you're fond of:
Supernatural, dark fantasy, city settings, short series, horror, mysteries, thrillers, cannibalism, Seinen, ghouls and crazy people
---
---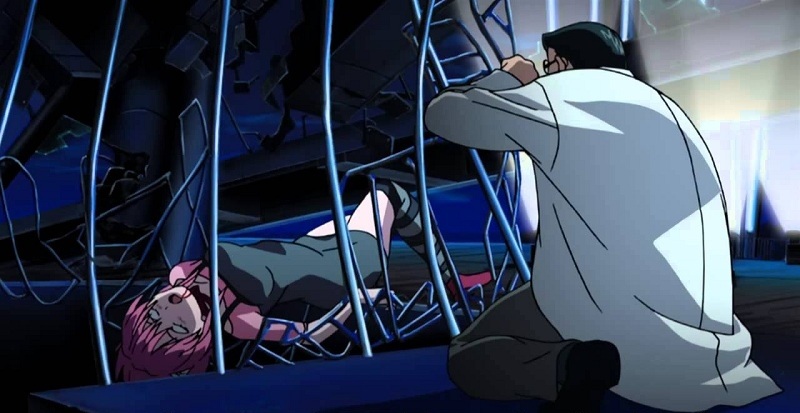 A classic horror anime, Elfen Lied has enough cruelty and bloodshed to appeal to all horror movie lovers. Elfen Lied features human-like mutants with horns, referred to as Diclonius, who have strong telekinetic powers among many other abilities. They're all locked up and isolated from society inside a research center, run by the government. Their strongest member escapes from the facility, killing all the guards in the process. She gets shot in her head and winds up on a beach with a couple of teenage cousins. The boys take the naked and crazy girl home, oblivious of her true identity and not realizing the kind of impact their actions will have on their lives. Although Elfen Lied perfectly delivers on the horror front, it manages to keep things light by tackling multiple themes.
You'd love this terrifying horror anime if you're fond of:
Supernatural powers, blood, horror, sad pasts, experiments, naked girls, some extra gore and Seinen
---
---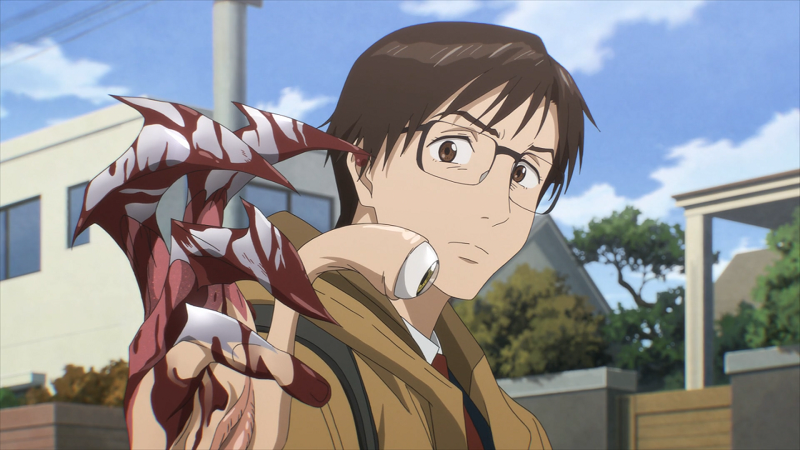 What's a horror movie or horror anime list if it doesn't have some aliens and body horror based titles in it?! Parasyte comfortably assumes the seventh position on this list, being full of body horror, alien invasions and pseudo-cannibalism. The main character of the series is a 17-year-old boy named Shinichi Izumi who lives in a quiet Tokyo neighborhood, along with his parents. The entire neighborhood becomes the central point of a horror fest when it is invaded by worm-like aliens, who enter humans via their noses or ears, turning them into monsters.
Shinichi also encounters one such alien who fails to enter his body, and rather ends up digging into his arm. Shinichi somehow manages to prevent it from infecting any other part of his body. It turns him into a sort of hybrid with both entities (human and the alien arm) retaining their personality and intellect. Although it's a remake of an old manga that ran from 1988 to 1995, its visuals are all contemporary. Despite being overloaded with cannibalism and blood, Parasyte is a horror anime that also explores several profound morality-related questions about life.
You'd love this terrifying horror anime if you're fond of:
Body horror, aliens, morality issues, zombies, cannibalism, lots of blood, and cool visuals
---
---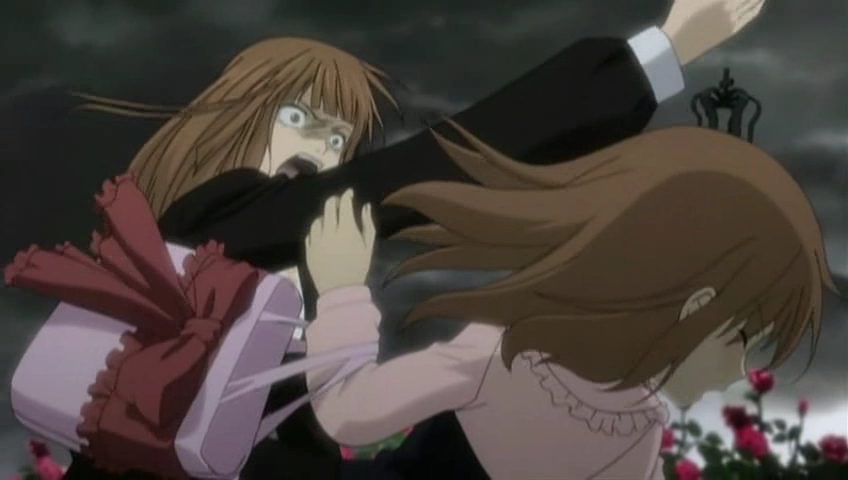 Also referred to as When They Cry 3, this is the third television anime series adapted from the game. It features an alternate setting of the first series, Higurashi no Naku Koro Ni.
A kind of spiritual sequel to the Higurashi series, Umineko is focused on Battler Ushiromiya, one of the sons of the super-rich Ushiromiya family. The entire family holds a gathering on an otherwise uninhabited island to decide who will get what after the passing of the head of the family. A string of inexplicable events occur, leading to the killing of everyone on the island. The person responsible is a witch who engages Battler in a game wherein she reverses all the events and urges him to solve the murders. The plot is similar to other typical horror anime, but the backstories and growth of the diverse and horrific cast helps add to the mystery and terror of the story.
You'd love this terrifying horror anime if you're fond of:
Alternate settings, supernatural, a huge cast, mystery, fantasy, horror, islands, animals and good music
---
---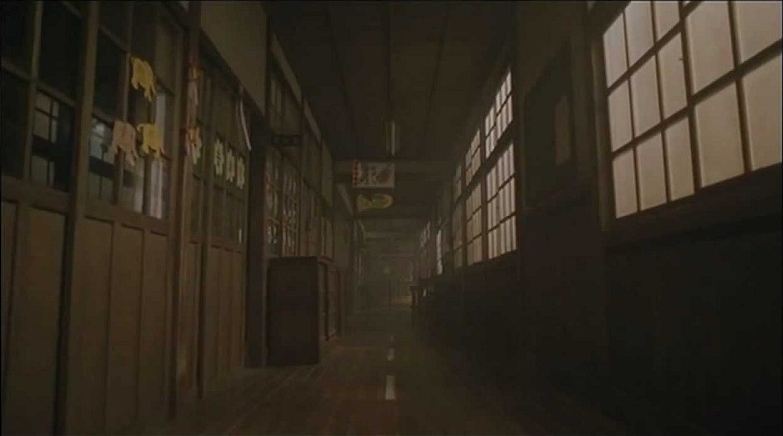 Also known as Ghosts at School, this series tells the story of Satsuki Miyanoshita who moves with her family to her deceased mother's hometown, after her death. On the first day of her school, Satsuki's little brother, her neighbor and a couple of other friends from the school decide to hop into an abandoned school building next to their school complex, only to discover that it is haunted.
After facing multiple encounters with the ghosts of the school, Satsuki discovers that it was no one else but her mother only who had sealed all the ghosts in the school building, as they were haunting the school as well as the town. Her mom had also left her a book on exorcism and spells, full of instructions on exorcising the ghosts once and for all. Satsuki takes up the task of ridding the town of these ghosts and gets to kick some ghost ass in the process!
You'd love this terrifying horror anime if you're fond of:
Supernatural, mysteries, ghosts, horror, kids going on adventures, and good dubs.
---
---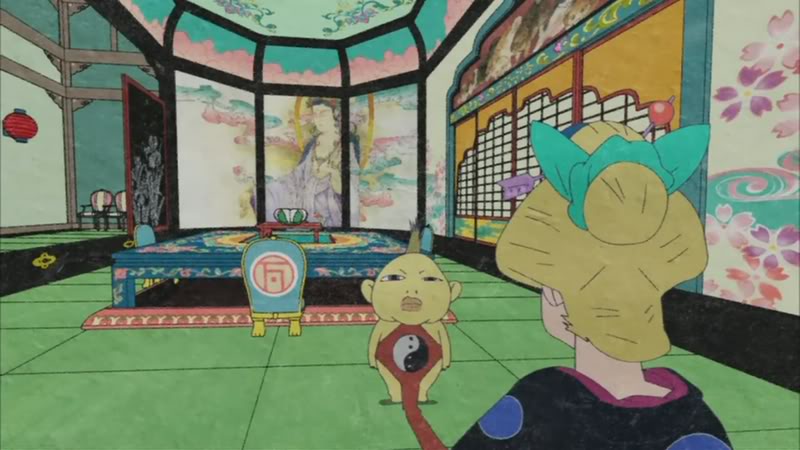 Mononoke follows the character of Medicine Seller who encounters several supernatural dangers. The stories occur during the Edo era of Japan when there is a four-class system with merchants (including the Medicine Seller) forming the lowest class and samurais belonging to the highest. The Medicine Seller doesn't mind engaging the unnatural spirits (Mononoke) into tough fights, sometimes destructing them completely. Furthermore, he effectively uses his knowledge of the supernatural entities to fend off the spirits, until he learns about the truth of their reason of existence and shape. He can't exorcise them until he's aware of all these facts.
You'd love this terrifying horror anime if you're fond of:
Vintage horror, spirits, combats, exorcism, music, demons, supernatural, fantasy, mystery and of course, bloodshed!
---
---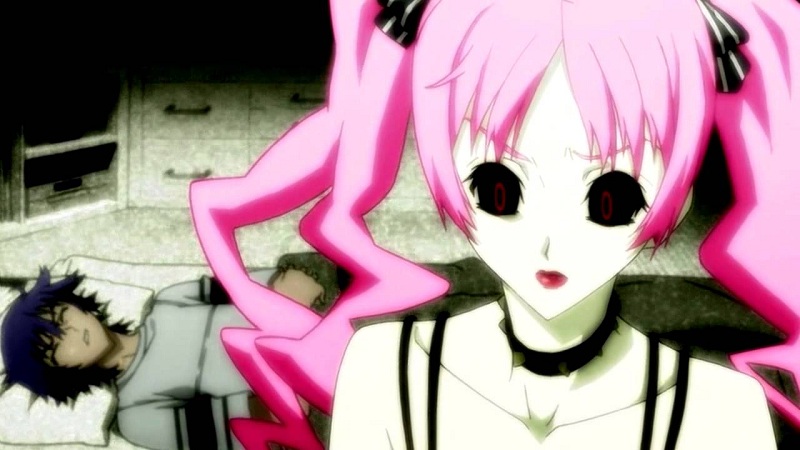 Although Shiki may seem meandering on certain occasions, underneath the cheerful voice overs, amazing animation and colourful appearances, you'll find something very sinister at play. The story follows 15-year-old Megumi Shimizu who dies unexpectedly in the quiet village of Sotoba, resulting in a ferocious epidemic and plenty of blood and terror. Then enters Toshio Ozaki, a young doctor who in search of truth decides to abandon his humanity. Natsuno Yuuki who is very disturbed by the untimely death of his friend Megumi, pairs up with Toshio, in an effort to save Sotoba from turning into a town of vampires.
You'd love this terrifying horror anime if you're fond of:
Supernatural thrillers, horror anime, vampires, Japanese countryside, close cast of characters and mystery


---
---
Did you know? There's a website online that you can only visit at midnight. It's called the Hotline to Hell, and all it has is a black background a sentence saying: "I will exact your vengeance." If you type a name into the box, you can choose to enter into a contract that curses your target to hell immediately-as long as you too follow when you die. Enma Ai, the Hell Girl, is the middleman who creates the contracts and sets them in action. This anime is not the most gory, but it explores the horrors of the human heart. No one is pure evil, and no one is innocent.
You'd love this terrifying horror anime if you're fond of:
Japanese mythology, creepily silent girls, revenge stories, urban legends, morality
---
---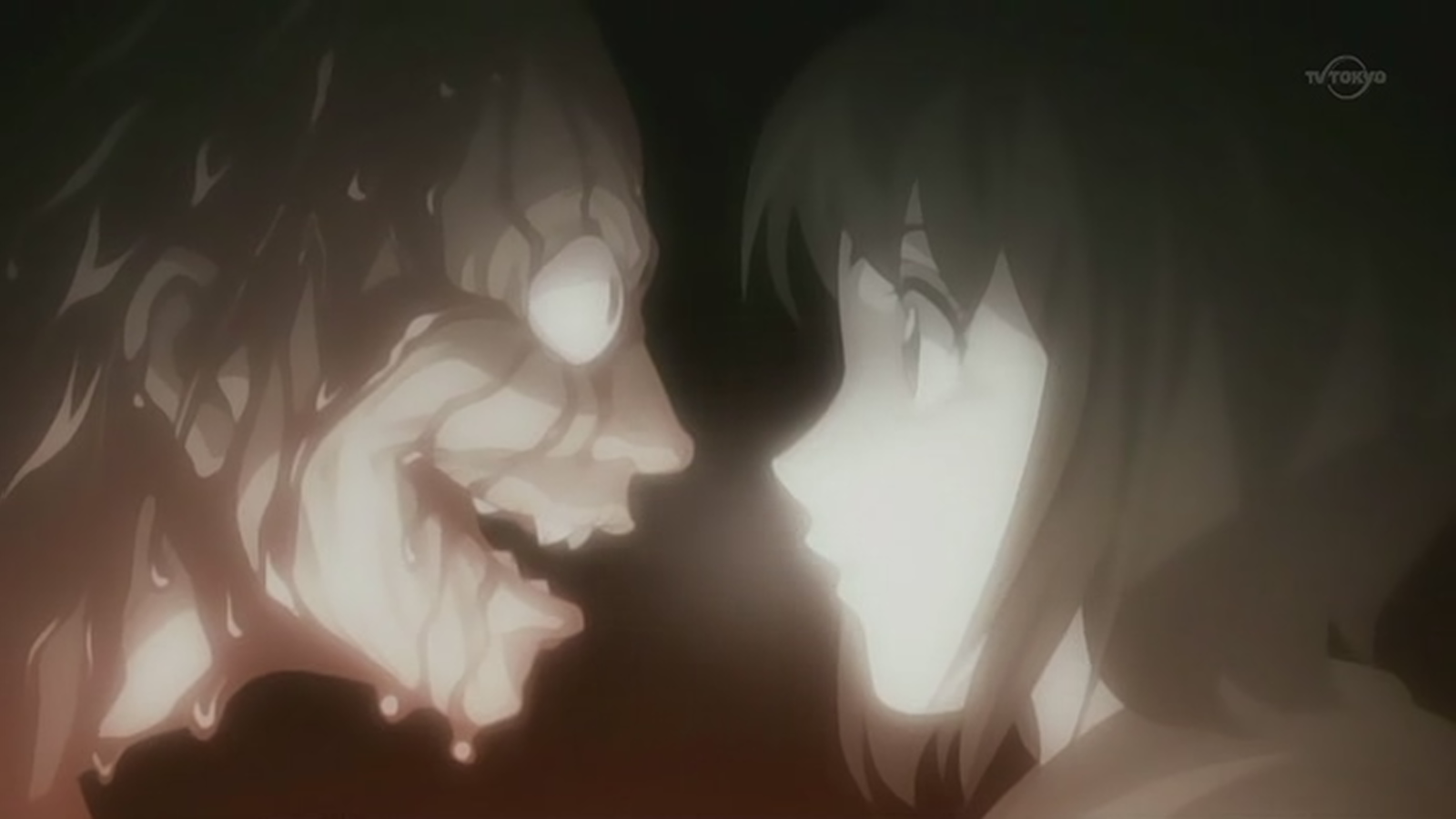 Spooky scary ghosts are a common basis for many horror movies and anime. Sixteen year old Mai is dragged into helping an organization named Shibuya Psychic Research after she accidentally breaks some of their equipment. (Sounds like the horror version of Ouran High School Host Club's premise so far...) There's priests, exorcists, and spirit mediums abound in this show, including a Catholic priest from Australia. Each "hunt" is two to three episodes long, so if you like shorter arcs, this supernatural anime is for you.
You'd love this terrifying horror anime if you're fond of:
Ghostbusters, exorcists, defeating ghosts with the power of religion, ESP, lighthearted scenes
---
---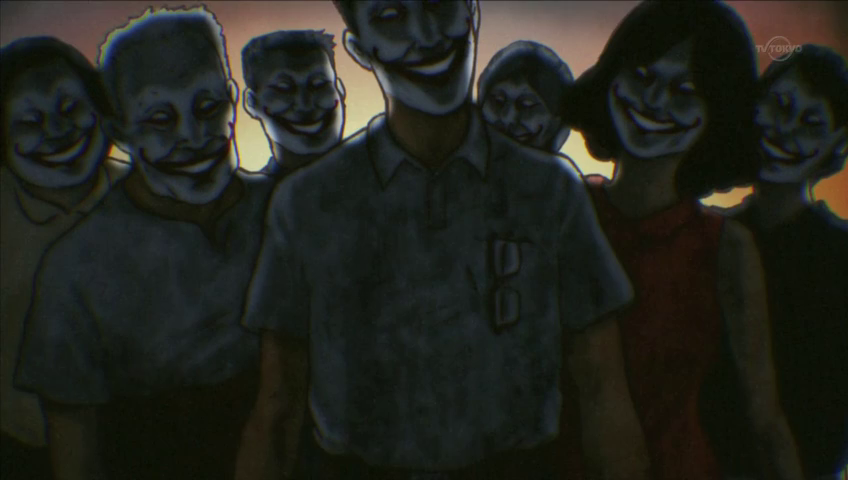 This is one interesting anime you won't want to miss! Animated in a style made to look like traditional paper puppets, each episode of Yami Shibai tells the story of a different Japanese urban legend or creepy myth.
You'd love this terrifying horror anime if you're fond of:
Japanese-style horror movies, unique animation style, creepy ghosts watching you from windows*
---
---
Sometimes the scariest things in horror anime aren't supernatural monsters or ghosts, but human beings. At the beginning of Monster, Kenzou Tenma, a surgeon, is presented with a difficult choice: the life of the mayor, or the life of a child? He has to live with the consequences of his choices for the rest of the show.
You'd love this terrifying horror anime if you're fond of:
Psychopaths, humanity, European settings, corrupted societies
---
These were some of the scariest horror anime titles you cannot afford to miss if you're a lover of horror or anime in general. These horror anime are scary in their own unique ways-while some scare you with supernatural creatures such as vampires, others will give you nightmares about dead children! So, if horror's on your mind, give these shows a try!