A new season of Durarara has come in a rather unusual triple split cours scenario. This time we have only a 3 month gap between seasons rather than the 5 year gap we had before. With a much smaller break I'm sure we will all be able to remember the exact details of what happened with all 50 million characters in the previous arcs. I'm sure you all remember Izaya getting up close and comfortable with a knife, but do you remember the exact details of Mika Harima and Celty's head? Why Namie is stuck working as Izaya's secretary? What the two of them did with Celty's head? You better remember because this is what these latest episodes will be focused on. Never mind that it was literally the opening arc of the whole show that we haven't really touched on in the multiple years and storylines since then, we're jumping straight back into that mess.
(So yes, this is part of MAL's new featured content, in which myself and a number of other senior contributors will be covering currently airing anime on a weekly basis, along with some other interesting posts on other popular anime and manga. Since we're a bit late into the season starting off, for now I'll bunch the first 3 episodes together and from then on just do them on a single episode weekly basis.)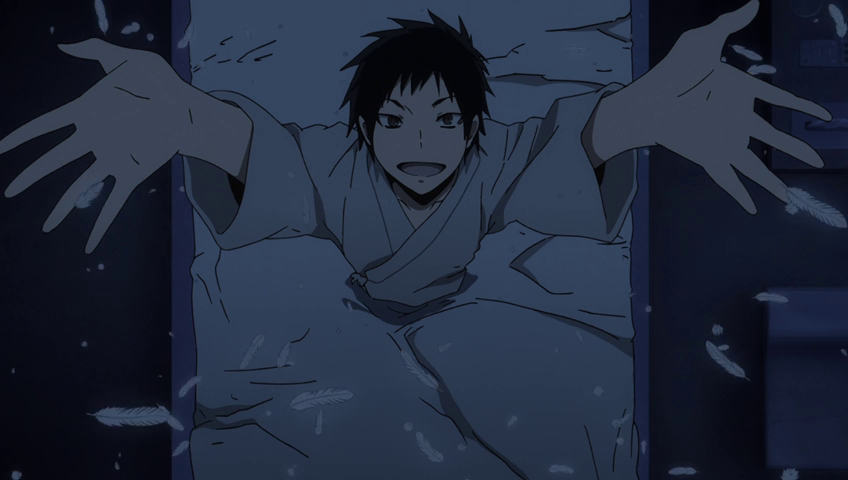 The new season kicks off with Izaya laying in a hospital bed, wondering which of the many people he's met over the past 39 episodes would want to kill him, apart from the obvious answer being the audience ourselves having spent those 39 episodes desperately wanting to smack that smug face of his. Instead it's a mysterious individual called Yodogiri Jinnai. The news sweeps across town since apparently journalistic laws in Japan are a little different to the ones I'm used to. Or the journalists were the most unprofessional bunch and published the injured man's name without his consent. Whatever the Japanese version of The Sun is must have done it.
The episode was otherwise pretty uneventful, apart from some Izaya prank calling and jumping up and down on a bed throwing feathers around. This has always been something of an issue with Durarara. Once the story gets going it's a fantastic thrill ride watching all these wonderful characters bounce off each other, but to get there we have to go through a lot of setup. When your setup involves this many characters, it can take a while to get going at the start of every new arc. Particularly when you consider how Durarara is never really in a rush to tell its story. It has its pace and woe befall the guy who tries to get it to move beyond its leisurely walking pace. It's not the slow pace of an old lady with a walker. More the confident stroll of a mafia boss who knows if anyone overtakes him on the pathway and bumps into him, he can just click his fingers and get that person killed. It's a confident slow pace rather than a boring one.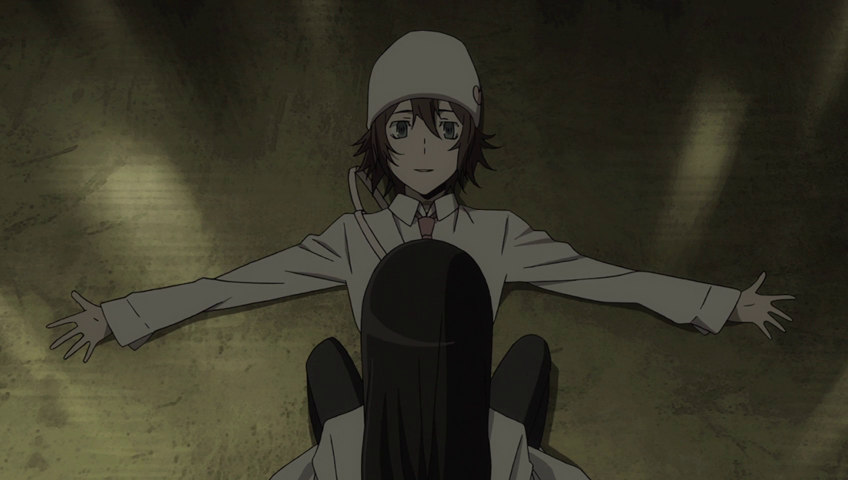 Moving on we have Mika Harima, the king of the deadpan and far smarter an individual as we have previously been let on. Apparently she only acts dumb around her teenage love interest Seiji. A trait she shares with Namie, Seiji's older sister. I'm not sure what it is about Seiji that makes otherwise intelligent women act lovestruck and stupid around him. I guess that makes him an anime harem lead. Regardless, Mika Harima wants Seiji to love her even more than he already does so she wants to eat the disembodied head of an Irish fairy (keep up there you in the back of the class). But the location of that head remains something of a mystery, despite her excellent pickpocketing skills. I'm guessing Izaya keeps it in an underground facility like in Raiders of the Lost Arc, visiting it occasionally to re-enact the 'Alas Poor Yoric' Shakespeare scene.
These are all characters we already knew about though. Things finally get real interesting with episode 3 as we start to learn more about the Yakuza. These guys were quite the interesting addition to the last season of Durarara, particularly as a counterpoint to the Dollars, Yellow Scarves and other low level teenage gangs. The Dollars might think they're up to no good, scribbling graffiti and picking fights in back alleys. But when the Yakuza stroll in, suddenly you realise what real organised crime looks like and how scary it actually is. It's a scary world of scarred adults with missing eyes, contacts in every level of society and limitless resources. They're also old and don't really understand newfangled technology like the internet, hence why they're a little baffled by Ikebukero 4chan invading their territory.
As always with Durarara, we're introduced to a character who it turns out is intrinsically linked to other characters in the show. Akabayashi is a random Yakuza hitman with a cool scar, one eye and a cane that hints at him being a crippled fighter but in reality he just uses it because he thinks it makes him look swag. Akabayashi is all up on what the cool kids are into doncha know? He has contacts in the highschool who tell him what's hip and happening. Kids ask him to teach them self-defense because he's their cool senpai. He also ripped out his own eye when it started telling him it loved him. I'm not sure if that last detail makes him more or less cool. Turns out he was heavily involved with Saika getting transferred to Anri back in the day, a lot of which is still surrounded in mystery. But hey, Anri likes him so he can't be too bad of a guy.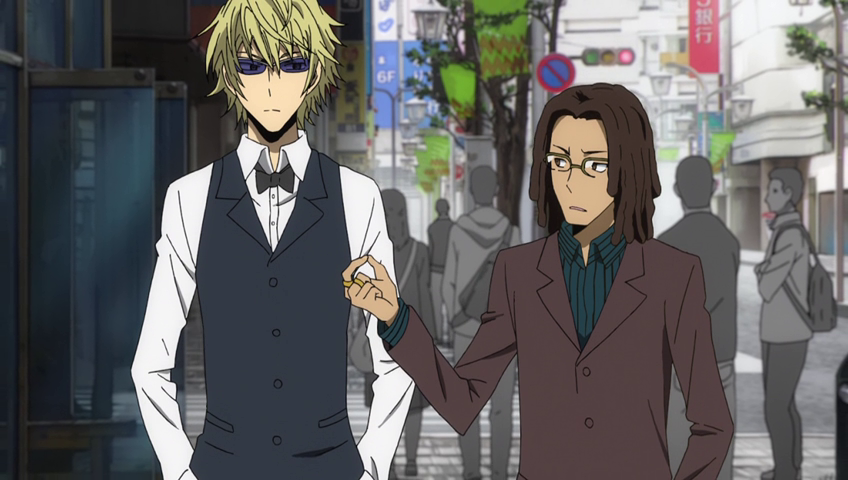 That's about all that happened. We're a bit rushed here, trying to get 3 episodes worth of content into one post to quickly catch up, but thankfully Durarara isn't moving anywhere fast. Things are starting to kick into gear though so now is where it should start to get really interesting, especially since the next episode preview shows a heavy Shizuo focus. Finally we can get to see some more of the brewing romance between Shizuo and Tom. Shizuo X Izaya is so 2010 anyway. I hope at some point we will get to see what happened on Celty and Shinra's holiday, since judging by their conversations it was fairly eventful.