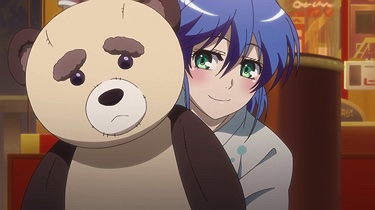 It's not all that uncommon for supporting characters to steal the show from leads - they have the easier job in most cases, and often look better as a result. But the true false main character is quite a bit rarer, whether it's intentional on the part of the writer or not.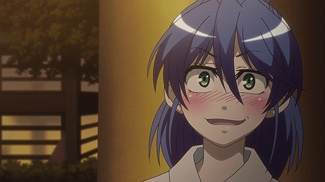 Are we looking at a false main character scenario in Jitsu wa Watashi wa with Nagisa and Youko? While I think it's pretty close, I'd have to say no - unless, of course, the series pulls off the ultimate shock move and pairs off Nagisa and Asahi at the end. Short of that, I think it's just a matter of Nagisa being a really good character - a co-lead, if you will. Sometimes in anime romantic comedies, the girl who loses is just as important as the one who wins.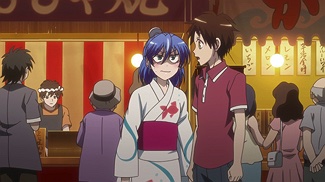 While most of the main cast of Jitsu wa are idiots (in a good way) it's Youko's denseness that's the engine that really drives things. If she'd just clue in to what's really going on - including in her own heart - I think Nagisa would fall on her sword and gracefully step aside. But it's because Youko keeps missing the point that Nagisa is in a sort of purgatory, always being teased about what might be possible. Youko means well, but engineering a date at the summer matsuri between Asahi and Nagisa? There could be almost nothing crueler that that.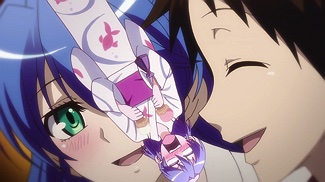 Even more cruelly for Nagisa, Youko is right in her rationalization of why Asahi treats her the way he does (even if she's wrong about the specifics) - he really is nice to everybody. So when he's nice to Nagisa, even though she knows it doesn't mean he likes her romantically it's hard not to let herself believe otherwise. Especially in a situation like the summer festival, which is truly one of the cliche date setups in Japanese culture. Yukata, goldfish scoops, rigged carnival games - what could scream "romance" louder than that?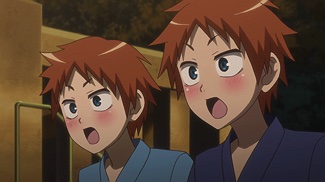 Fortunately, the supporting cast of nutjobs is on-hand to keep things from getting too emo and mopey. There's Youko herself, subject to a tug-of-war for her attention between the young couple and all the delicious junk food. There's Mikan, taking her little brothers around the festival, and Shiho - who offers to let them cop a feel after they unflatteringly measure their sister's oppai against hers. And most hilariously this week, there's Akane.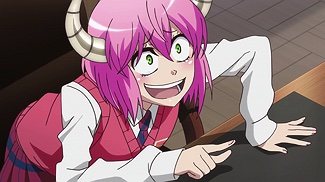 Akane... The thing is, she's all-powerful and twisted, but the fact that she's as big an idiot as anyone in the cast makes it all OK. No question for me her series of "Eh?" responses to Youko's implausible denials of her feelings were the funniest thing in the episode. But when she impersonated first Asahi, and then both Asahi and Youko in order to torment the little vampire that wasn't far behind. She's right of course - Asahi is Youko's man, and Youko is the only one in the cast who refuses to see it.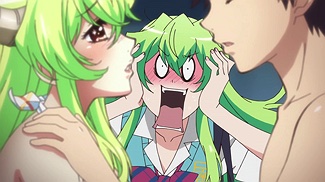 I don't know how all this is going to end up, especially given that the manga is ongoing, but it's hard to see how we get an ending where Youko and Asahi are an acknowledged couple that wouldn't be massively depressing for Nagisa. Maybe it'll be something like the original ending of the R-15 anime, which likewise featured a triangle with a very likeable female lead being overshadowed by an even more engaging second fiddle. I won't spoil that ending for you (you really ought to watch that massively underrated series if you haven't already) but I think it handled the basic situation we have here about as well as it can be handled.