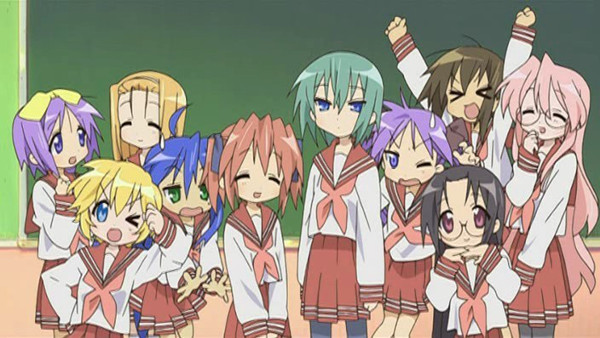 If Excel Saga was the epitome of parody anime in the 90's, Lucky☆Star is the parody anime of the next generation.
In this series, we see a group of friends led by the otaku Konata Izumi (voiced by Aya Hirano in Japanese and Wendee Lee in English) as they go through their daily lives at school and at home. This is an anime filled with a variety of bizarre conversations (the series opens with a several minute long discussion about how the girls eat their various desserts) and, rarely, a few grounded talks. Either way, it's pure comedy gold for otaku fans all over the world and a series that everyone who considers themselves to be a hardcore anime fan should check out at least once in their lives.
When first brought into the world, Lucky☆Star was a simple four panel manga created by Kagami Yoshimizu which was published by Kadokawa Shoten and ran in Comp Ace, Comp H's and Comptiq magazines starting in January 2005. In 2007, it received its first anime adaptation which was a 24 episode TV series and was followed by an OVA which was released in 2008.
Since that time, the manga has continued to grow, spawning multiple spin off titles including Lucky Star Boo Boo KagaBoo, Lucky Star: Pocket Travelers and Miyakawa-ke no Kuufuku (the latter of which received a series of anime shorts which premiered on Japanese television in the fall of 2013). We're not really here to talk about the manga though, we're here to talk about the anime that became a worldwide phenomenon after it appeared in 2007 and has remained a fan favorite ever since.
As mentioned, the series was produced by Kyoto Animation and first premiered in 2007. It was originally directed by Yutaka Yamamoto but after four episodes, Yamamoto was dismissed from the series and direction was taken over by Yasuhiro Takemoto. In interviews that have been given since the series first premiered, Yamamoto has confirmed that he was indeed fired from the project but has never gone into the reasons about why it happened. He has also confirmed that he tried to win his job back but was obviously unsuccessful in his attempts.
The main cast of Lucky☆Star is made up of four friends: Konata Izumi who is the resident otaku of the group, the incredibly smart but ditzy Miyuki Takara, and the twin sisters Kagami and Tsukasa Hiiragi. From there, the cast steadily grows and will give screen time to everyone from Konata's homeroom teacher Nanako Kuroi to Konata's cousin Yutaka, along with her new friends and classmates which will bring the main and main supporting cast up to almost a dozen characters with others sprinkled in throughout the run of the series.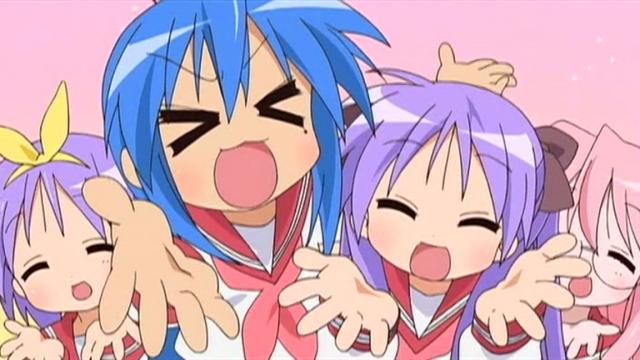 Every episode starts with multiple segments which will lead into each other (with some of the transitions being more graceful than others). While the overall tone of the humor is pretty tame (this isn't Seitokai Yakuindomo after all), the subjects discussed throughout the run of the series will be wide and varied. After the two main segments, each episode will then end with a segment starring the hosts of the official Lucky☆Star radio show, Lucky Channel, which has its own unique quirks, humor and story all to itself. From there the series will branch into the ending credits which for the first half features the main characters in a karaoke booth belting out classic anime tunes and others Japanese songs. If you're not familiar with Japanese pop culture, be sure to watch this series with liner notes on stand by, because this is not a series which will hold your hand throughout the run of the show. In the second half of the series, the ending segments are replaced by live action segments of Minoru Shiaishi performing songs from various anime as well as a few original tunes that he composed himself.
Don't be fooled by the moe aesthetics created by Kyoto Animation though, this is not a series for beginning anime fans as the references to anime, manga, video games and more will be thrown out quickly and furiously. Everything from Code Geass to To Heart and pretty much everything in between will be referenced and it will not stop there.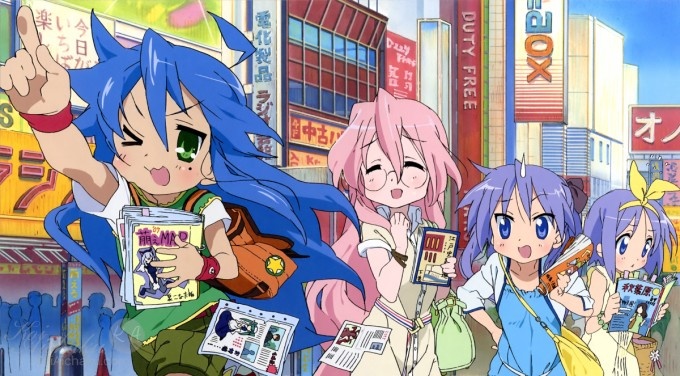 What makes Lucky☆Star so much fun though is its willingness to poke fun at otaku culture in a loving way. While otaku jokes are certainly the norm for this series, it never feels mean spirited in the least and instead makes otaku feel "normal" for lack of a better word. In fact, three of the characters are pretty hardcore otaku in various ways which balances well against the others who aren't nearly as into otaku hobbies as they are. If the series were made up of nothing but otaku or only had one otaku, Lucky☆Star likely wouldn't have been nearly as successful as it has been. The fact that it was willing to use otaku humor in such a fun way made it slightly more accessible to the general audience.
You'll notice the use of the word 'slightly' in the previous sentence though. You've also likely noticed repeated warnings in the above paragraphs telling you that this is not an anime for a beginning anime fan and that is a fact. Yes, this is a stellar comedy that will make you smile. Yes, this is a series filled with characters filled to the brim with various moe aesthetics. However this is also a series that will test the limits of your otaku knowledge.
If you don't have at least a few dozen series from the previous decade under your belt (plus a few more from the decades that came before that), there are many jokes in Lucky☆Star that will go over your head and leave you scratching your scalp trying to figure out why everyone else in the room is having such a good time and you're not. This is a series for hardcore fans of otaku culture who want a moe comedy that is geared towards them. Yes, that does make it a bit insular but sadly that's the way it is.
What makes Lucky☆Star such a fun series though isn't just the comedy or the references to series from years past. It's really the entire package which brings the series together into such an incredible whole. As previously mentioned, the animation is produced by the powerhouse studio Kyoto Animation who are known for being able to turn just about anything moe and Lucky☆Star is absolutely no exception to that. While not every character is absolutely filled to the brim with moe qualities, the ones who do possess moe charm points (whether that be a fang, an agohe, clumsiness or just being an airhead) more than make up for those who do not.
Beyond the animation, there's also the writing and general series composition. You can't have a hit series without great writing and overseeing that in this case was Touko Machida handling series composition. To be fair there were a team of writers which included the first director Yutaka Yamamoto, Yasuhiro Takemoto, Tomoe Aratani and the original creator of the manga Kagami Yoshimizu on the final episode crafting the lines behind this series but Machida was the one who oversaw it all and crafted everything into the final product that made us all laugh so hard for twenty four entire episodes.
There's more to an anime than just the animation and writing though. You also need a certain something in the background to bring it all together and make it into something unique and charming. In this case that certain something was provided by Satoru Kousaki who composed all of the background music for this series. Everything from the simple tunes which played during the funnier moments to the grand sweeping melodies that played when Konata became obsessed with something new was provided by Kousaki and this wouldn't have been nearly as great of a series without that little extra something that the music provided.
---
Related Anime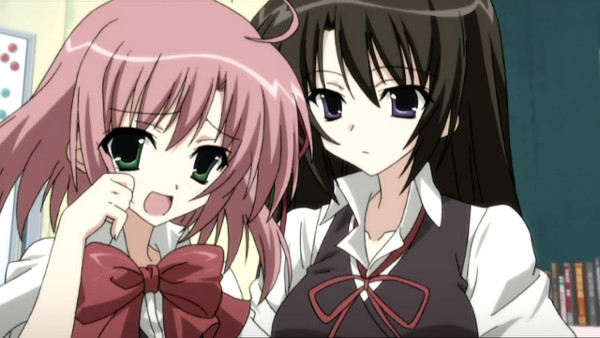 If you want to work your way up to this series and watch some parody series which aren't as hardcore with their references, I can suggest Seitokai no Ichizon which throws out plenty of references to anime, manga and video games but are vaguely more subtle about it.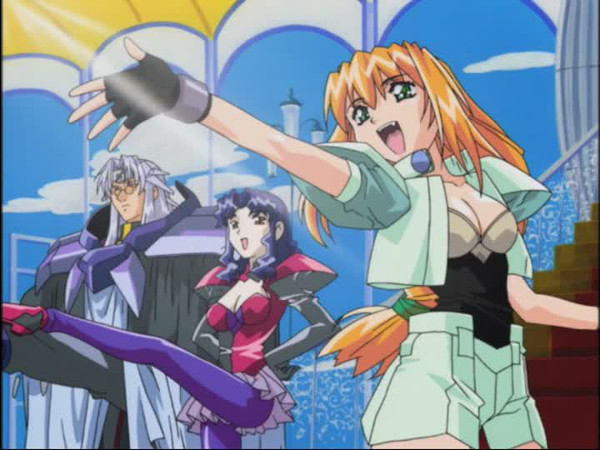 Another fine choice for a parody anime to use as a kickstarter towards this one would be the classic Excel Saga which throws out plenty of references to older titles but follows a similar storytelling format with the multiple threads coming together in the end.
---
In the end, Lucky☆Star is a series which will go down as a classic parody series which future generations can look back on and watch over and over again. No matter how many times you've seen this series, you can always go back after you've watched some more anime, played a few more games or read some more manga titles and discover something new, and that's the mark of a great series.