"I just wanna play video games. Everything else is really lame." - Black Out Band, 2006.
Do you like video games? Most likely. Do you like anime based on video games? Probably less so. Such adaptations have a troubled history in converting relatively thin stories and gameplay elements into a thematically driven medium, particularly to viewers who aren't at all familiar with the original game.
In Fall 2019, there are a grand total of EIGHT new TV anime with "Game" marked as their Source. It isn't quite a new record, but to put that number in perspective, there was only one video game adaptation last season.
So where do all of these adaptations come from? Here's a little info about most of them so you can understand the anime a little better, or even play the game(s) yourself.


---
Source: Fate/Grand Order | Platform(s): Android, iOS, Arcade | Release Date: July 30th, 2015
---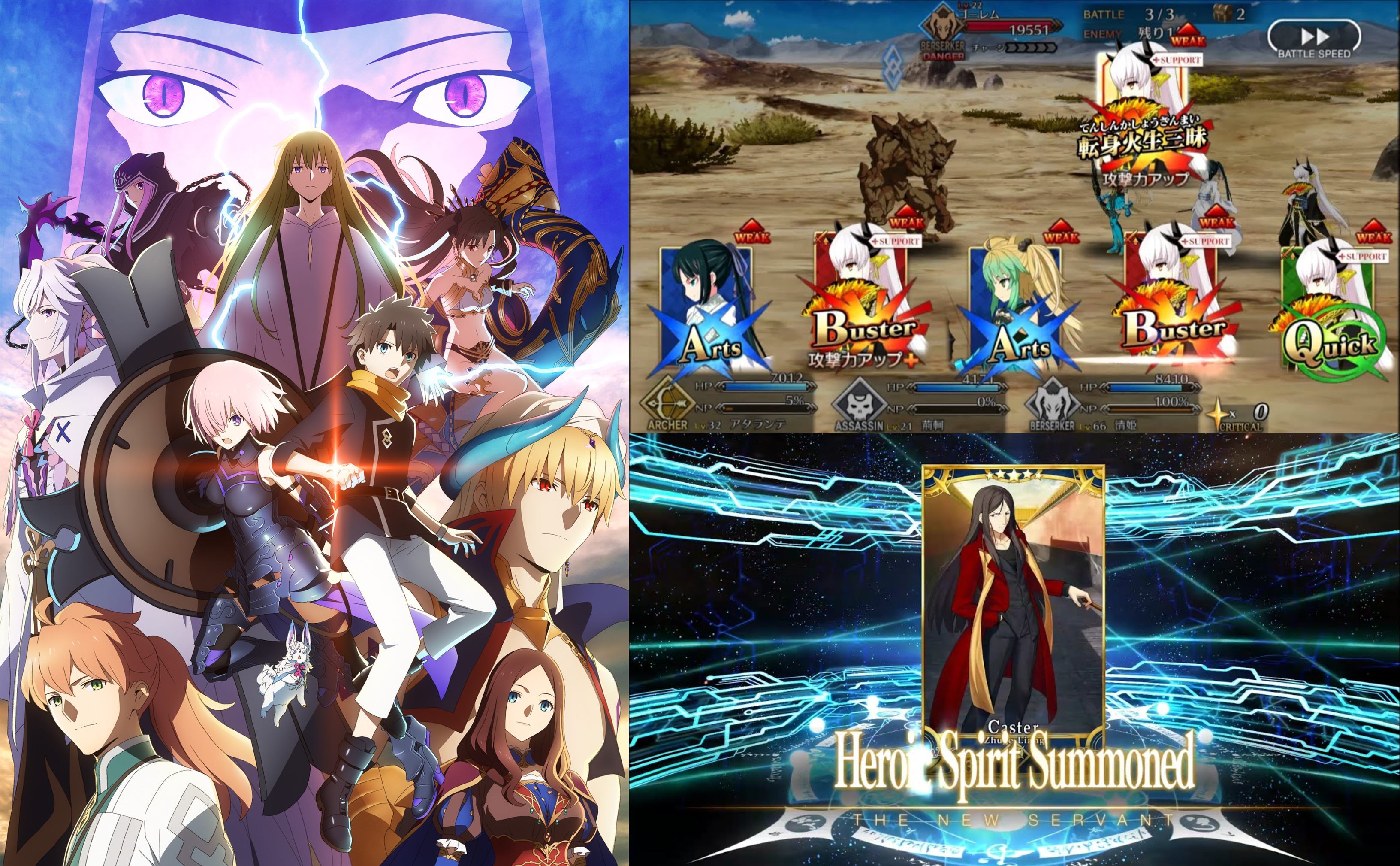 If you haven't heard of the mobile juggernaut that is Fate/Grand Order, or even just the Fate franchise in general, I have no idea where you've been for the last decade or so. Since 2004, the franchise has pulled in an estimated US$4.06 billion to date — $3.4 billion of which comes from Fate/Grand Order alone.
In short, Fate/Grand Order is a turn-based tactical RPG with (as you might expect) gacha elements. For those who don't know, "gacha" is a term used to define game mechanics similar to luck-based toy machines, and such mechanics are present in many (if not most) commercially successful mobile games. These usually include multiple currencies and collectible items with different levels of rarity, which can be found in Fate/Grand Order.
The player summons and commands famous figures from history, literature, and mythology known as Servants to prevent possible extinction events. In combat, you pick from a series of cards to decide your attacks that can be chained together to charge more powerful abilities. Narratively, the game is broken up into story events called Singularities, which are continually added along with fun bonus stories. If you're interested in jumping on the cultural craze, the game is available in five different languages across ten countries.
So what sets Fate/Grand Order: Zettai Majuu Sensen Babylonia apart from the slew of previous specials and movies? Aside from being a two-cour TV series, the anime adapts the Babylonia Singularity that is widely regarded as the peak of Fate/Grand Order's storytelling. Plus, if you check out the promotional videos and staff credits, we're likely in for an animation sensation.


---
Source: Azur Lane | Platform(s): Android, iOS | Release Date: May 25th, 2017
---
Although Japan certainly loves producing entertainment featuring anthropomorphised versions of everything from animals to swords, China is no stranger to the amusing trend — in the Chinese-made Azur Lane, more than 330 World War II warships are brought to life as moe female characters for you to throw money at. Although many accuse it of being a Kantai Collection rip-off, the game's popularity in Japan earned it a place in the country's top five best games of 2017 on Google Play.
The title "Azur Lane" refers to the in-game alliance formed between four major nations to fight back against the Sirens, a race of alien invaders, which creates an interesting mix of historical and sci-fi elements. Each side deploys "ship girls" to fight against the other, and many of their conflicts are based on real naval battles from World War II.
Unlike Fate/Grand Order, Azur Lane's strength lies more in its gameplay than its comparatively thin story. Many games of its type use a turn-based strategy system, but Azur Lane is instead a side-scrolling shoot 'em up, as shown in the picture above. There's even a mode that allows you to battle directly against other players. Outside of battle, there are the genre-standard "cultivation" features that allow a player to groom their warships. The game even allows you to marry your favoured waifu… or several.
So if you fall in love with a ship girl while watching the anime adaptation, you can pursue them even further through the mobile game.


---
Source: Granblue Fantasy | Platform(s): Android, iOS, Web | Release Date: March 10th, 2014
---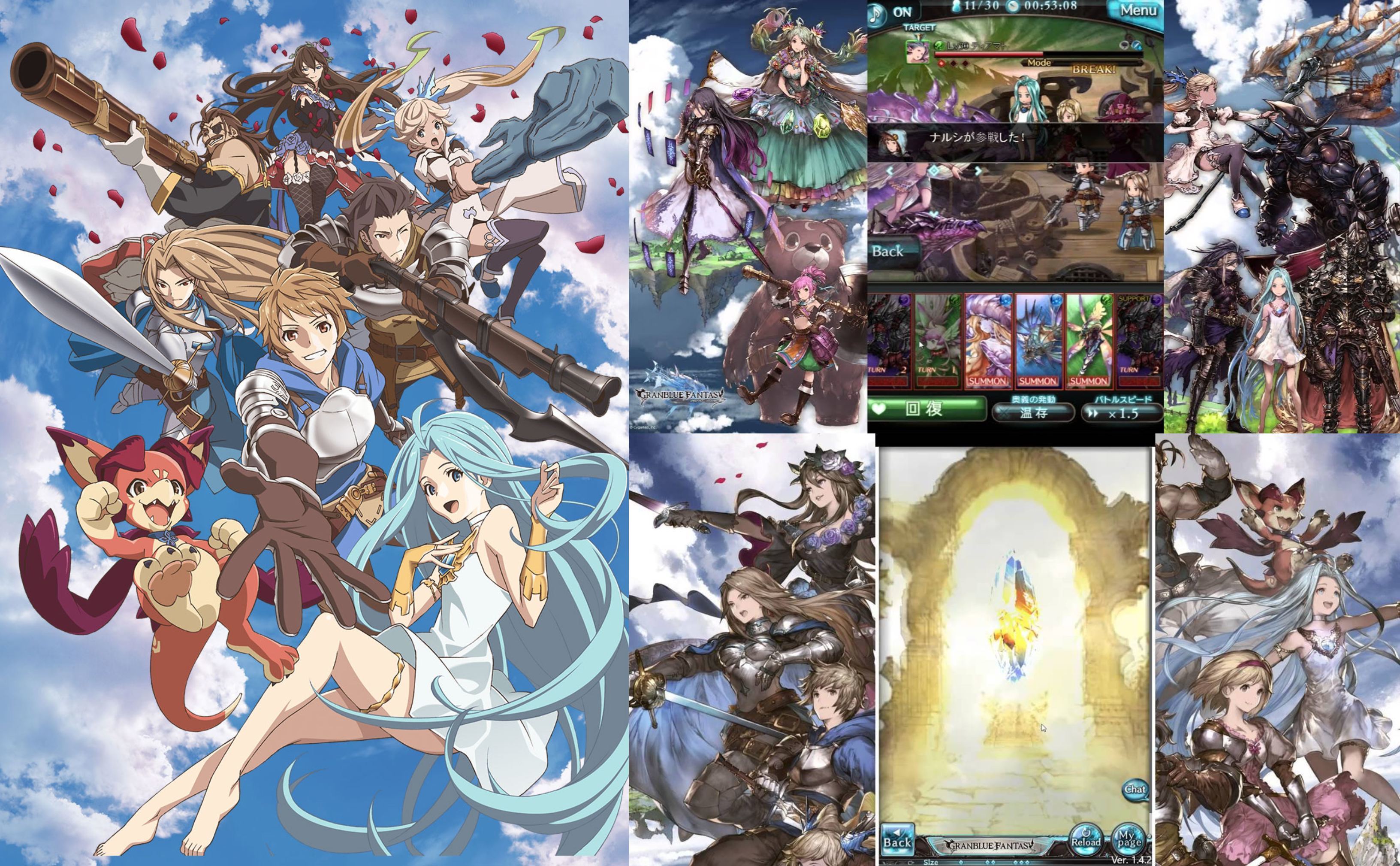 Cygames is no stranger to anime adaptations of their games: they're the original creators of Shingeki no Bahamut, The iDOLM@STER Cinderella Girls, Uma Musume Pretty Derby, and Shadowverse. Granblue Fantasy, however, was arguably their first breakout hit — the game has been downloaded over 22 million times in Japan alone.
Granblue Fantasy has the familiar systems of turn-based combat and gacha, but with some interesting extra features. Much like in an MMO, thirty players can team up to collectively take down a raid boss and get rewards, and the level progression includes upgradeable weapons, characters, and summons. Not to mention that the game is incredibly grindy, even for a mobile game.
Although Granblue Fantasy follows a typical JRPG storyline with a young protagonist meeting a mysterious girl on the run from an evil empire, there are a number of narrative highs, and the story captures a sense of adventure, unlike most other mobile fantasy games. The anime does a decent job of capturing that feeling, but in the end, playing the game is required for experiencing the full scope of Granblue Fantasy's world and characters.


---
Source: Stand My Heroes | Platform(s): Android, iOS | Release Date: September 6th, 2016
---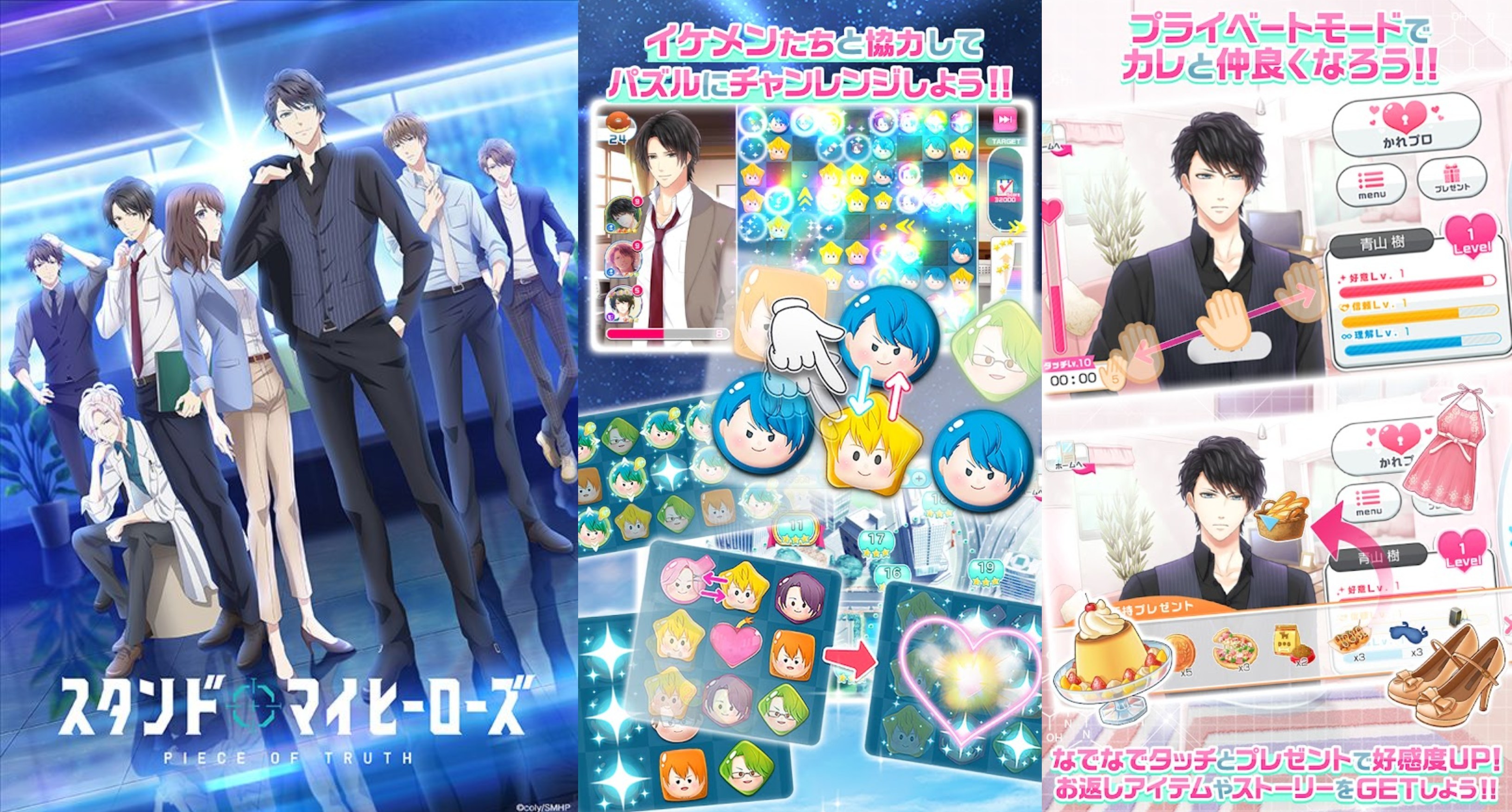 Now, Stand My Heroes is a little different from the last three games, with quite the combination of genres — otome, puzzle, and of course, gacha. Who wouldn't want to play a match-3 game while romancing mature, handsome men? The match-3 parts come in clearable levels with a three-star completion rank much like Angry Birds; you choose a leader and sub-members from your roster, then match their heads together to reach a point goal and gain experience for your ikemen. You can also interact with the wide cast of characters by pampering them in "Private Mode" with food and physical contact, much like in Nintendogs.
When you look at the image above, it seems like a bright, mostly wholesome game, but the story is a bit of a contrast.
The heroine is immune to the effects of drugs, so she ends up working in the Narcotics Control Department in the Ministry of Health, Labour and Welfare. There, she joins a special unit called the Stand Alone National Department (STAND), where she must set out to scout recruits in order to become a true member, which in turn leads to her encounters with many dashing young men. Thanks to this setup, one could say that Stand My Heroes is the only anime this season that adapts the card-collecting gacha gameplay of their original games.
The most stand-out part of Stand My Heroes is its jaw-dropping voice cast, which includes some of the most popular voice actors on MAL: Natsuki Hanae, Yuki Kaji, Tomokazu Sugita, Daisuke Namikawa, Tomoaki Maeno, Kousuke Toriumi, and so on.
Aside from the main story, there are numerous bonus stories divided into character sections. So if you want to see more of a character from the anime, there's an easy way to do it without having to go through the many other ikemen first.


---
Source: Phantasy Star Online 2 | Platform(s): Android, iOS, PC, PS4, Switch, Vita, Xbox One | Release Date: July 4th, 2012
---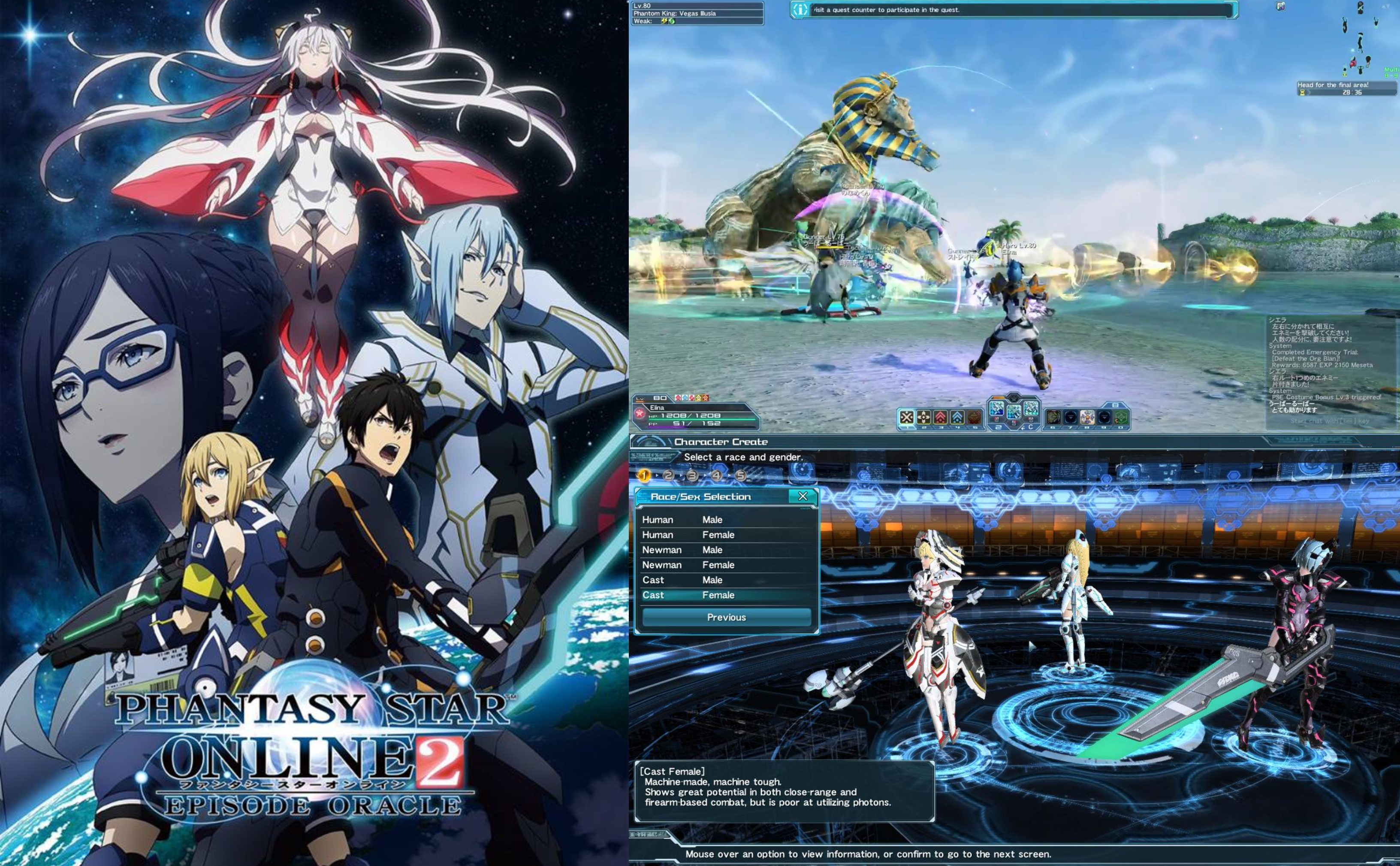 If you couldn't tell from the graphics in the image alone, Phantasy Star Online 2 is the oldest game in this article. Although it originally came out on PC, it has since been ported to numerous other platforms. The game's predecessor, Phantasy Star Online, was the first-ever online role-playing game made for consoles, pioneered multiplayer dungeon crawlers, and won Game of the Year from the Japan Game Award in 2000.
Like any standard MMORPG, Phantasy Star Online 2's gameplay follows a quest-based system that leads you through singleplayer missions and multiplayer campaigns spread across multiple Episodes. When entering the game, the menu requires you to choose from servers called Ships, and if you're playing for the first time, there's a detailed character creation section where there are three races and nine classes to choose from. You trade blows with enemies in fast-paced battles like in other games, but Phantasy Star Online 2 gives you the ability to dodge, which is surprisingly rare for an MMORPG and changes the dynamic of combat.
Phantasy Star Online 2's first anime adaptation, Phantasy Star Online 2 The Animation, featured a completely original storyline and all-new characters in a real-world setting. The actual plot of the game follows a colony fleet called Oracle that is in search of a habitable planet, so the story frequently changes settings as the fleet moves between planets. The player becomes a trainee in the explorer organisation ARKS (Artificial Relict to Keep Species), and they encounter various hostile alien races on their quest for survival. The new adaptation, Episode Oracle, will adapt the first three Episodes of the game along with some original content across 25 episodes.
More than seven years after its initial release, the game is formally heading to the West for PC and Xbox One in spring next year, which will be free-to-play and will include all content currently released.


---
Source: Tenka Hyakken | Platform(s): Android, iOS | Release Date: April 20th, 2017
---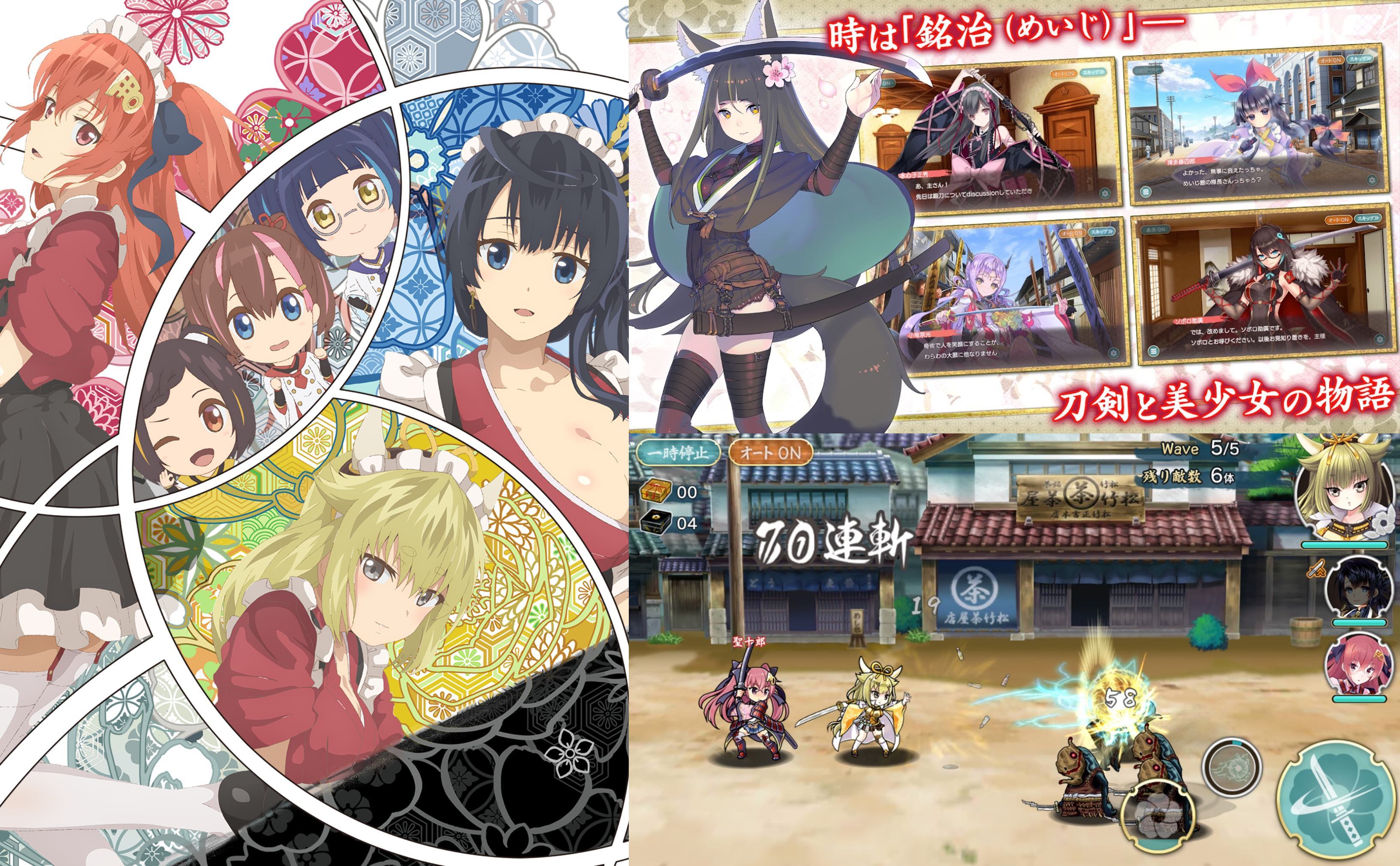 Tenka Hyakken centers around the "Mitsurugi," maidens who are anthropomorphised versions of ancient swords. This is strikingly similar to Touken Ranbu's central concept, but Tenka Hyakken takes place in an alternate version of the Meiji Era rather than the far future setting of its counterpart. The unexplained appearances of ghostly apparitions upset a long era of peace, which these maidens must now rectify. To get it out of the way, in case you hadn't guessed, this game contains card-collecting gacha as a key feature.
Tenka Hyakken's gameplay is much like Azur Lane's, as it involves live combat and the ability to control the movement of your characters — alternatively, you can just set it to auto mode outside of boss battles. You enter battle with a team of three maidens that you can switch between during combat, and each one has a different ability and fighting style. They're also separated by Virtue (Wisdom, Benevolence, etc.) and Element (Fire, Water, etc.) types.
When you attempt a gacha pull, cosmetic items of varying rarity, such as bracelets and gloves, are thrown into the mix along with new characters. These can be equipped to strengthen your maidens in battle. The levelling up process can be a little strange: you get to "lightly tap" the actual sword and clean it while the anthropomorphised version stands in the background, reacting to it in the way you might expect.
You can also dress up your maidens and take pictures with them in real life using the AR Camera, if that's your fancy.


---
Source: Ensemble Stars! | Platform(s): Android, iOS | Release Date: April 28th, 2015
---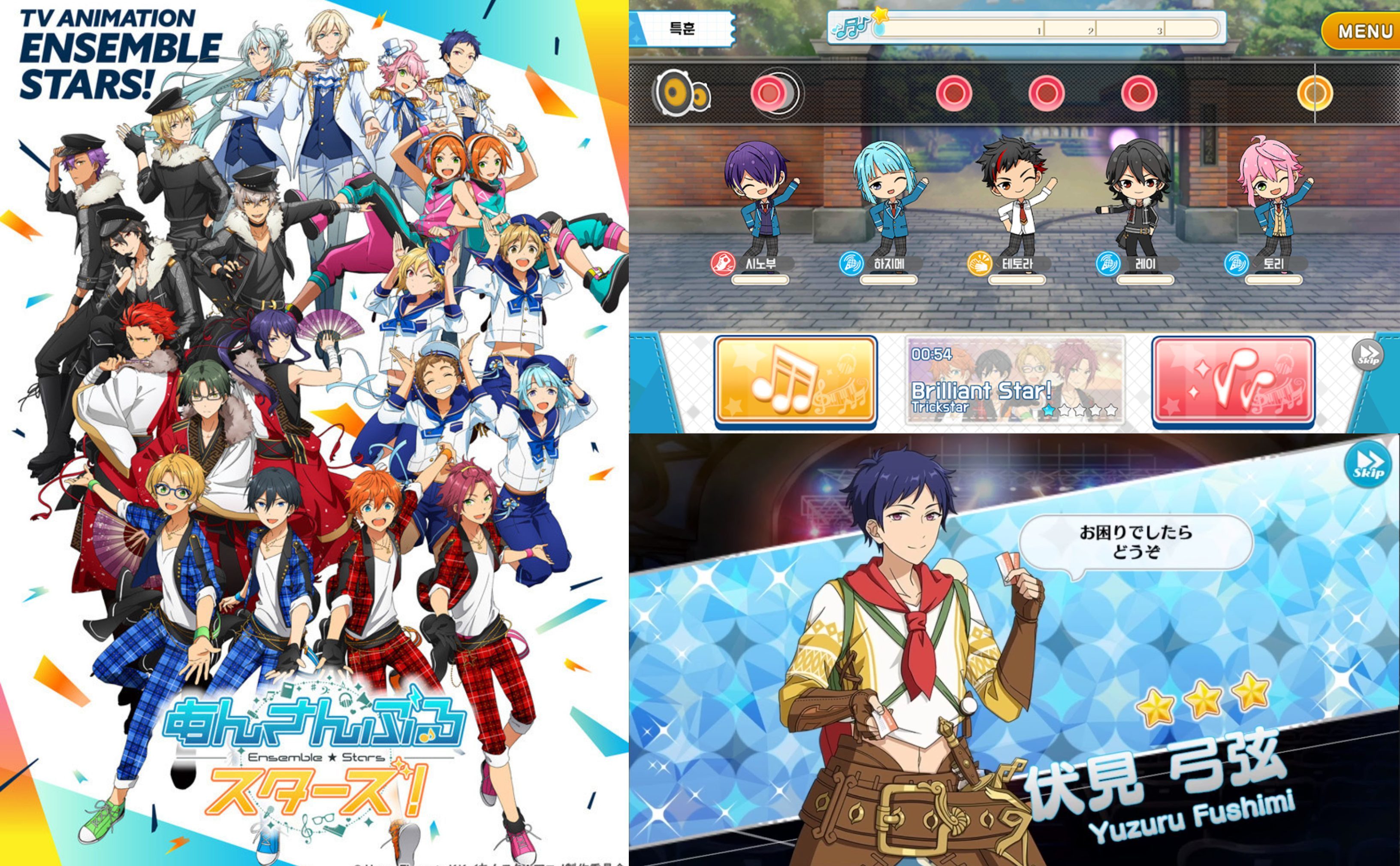 Ensemble Stars! isn't a new show this season, but it is continuing into its second cour, so it's just as relevant.
Although Ensemble Stars! is part of a multimedia project like many other idol shows, it got its start as a card-collecting game on mobile platforms. While there are rhythm elements to it, Ensemble Stars! stands out as an idol game because it focuses more on its story and the cultivation process than skill-based gameplay. These features involve a number of strategic elements like managing resources, balancing the abilities of your team, and of course, gacha luck.
The story takes place at an idol training school called Yumenosaki Private Academy, which has a reputation for producing "shining stars." Due to the oppressive rule of the student council, many of the students rise up in rebellion, which you become a part of as a new inclusion to the Producer course at the academy. The plot can be rather melodramatic at times, but the level of character engagement has made Ensemble Stars! a beloved game and anime for its fans.