---
This article was written by Shymander and edited by Congress of the MAL Articles Club.
Interested in writing or editing for us? Click here!
---

Alas, 2017 will soon come to a close and 2018 will be upon us, bringing with it a new wave of brilliant anime and unpredictable events. It's at times like these that we are able to reflect upon what this year brought to us. But for now, we are here to discuss the unique Japanese traditions of celebrating the New Year.

This article is the first part of a 4-part miniseries in anticipation of the new year, which will cover the fundamental elements of a traditional Japanese New Year (お正月, Oshōgatsu), along with how and where it is represented in anime. Today, we will be covering how Japanese people traditionally celebrate the new year as a time for family and friends.


Kohaku Uta Gassen (紅白歌合戦)
---


Kohaku Uta Gassen, or simply, "kohaku," is an annual music show broadcasted on NHK on December 31st until 11:45pm and has been running every year since 1951.

The show is a singing contest between two teams made up of popular artists who had hit songs during the year. The artists are divided into two teams – red and white based on gender. Female artists are on the red team and male artists are on the white team. If artists enter as a group containing both male and female members, they will be on the team corresponding to the main vocalist's gender. If the group is a duo featuring a man and a woman, they are usually assigned to the red team.

One notable feature of the program is its high viewer ratings. Being able to see the most popular artists of the year perform together is quite the spectacle. Hence, it has been the most watched New Year's Eve show since the first year it was broadcasted, and it has become a part of Japanese New Year tradition.

The program ends just before the New Year's Eve Bell (除夜の鐘, Joya no Kane) is rung 108 times, per Buddhist tradition. There are multiple theories as to why it is rung 108 times, the most prominent of which suggests that the ringing of the bell gets rid of unnecessary negative feelings – there are believed to be 108 of them.
Kohaku actually makes a subtle appearance in episode 11 of 3-Gatsu no Lion, shown in the picture above. Due to his high fever, the main character, Rei, joins the Kawamoto family for New Year's as they are taking care of him. In this episode, a number of Japanese New Year's traditions are shown, but the representation of Kohaku Uta Gassen is very subtle. By about 8 minutes into the episode, Rei and the Kawamoto family are gathered around the kotatsu on the night of New Year's Eve while watching TV. Someji and Hinata are falling asleep, and each ask Akari to wake them up when Ishikawa Sayuri and Aiko come on, both of whom are famous Japanese singers. If you look closely at the corner of the TV screen, you can also see that the channel name is NHK and the banner on screen reads "Kohaku."


Traditional Games
---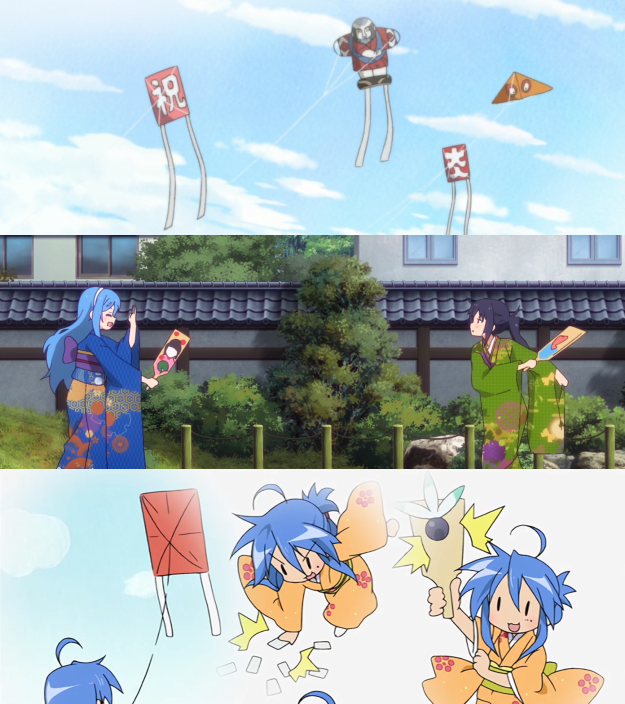 Particularly on the 1st of January, family members gather together and play games, which include board games such as sugoroku (双六), which is similar to Snakes & Ladders, and a game like Pin the Tail on the Donkey but with a face called fukuwarai (福笑い). Traditionally, Japanese people enjoyed hanetsuki (羽根突き), a game similar to badminton where two people hit a tiny ball with a small wooden bat, and takoage (凧揚げ) kite flying.

The traditional activities of hanetsuki and takoage have been briefly shown in anime in relation to New Year's: as seen in the pictures above, from top to bottom, 3-Gatsu no Lion episode 11 shows takoage, Himouto Umaru-chan R episode 12 shows hanetsuki, and Lucky Star episode 13 shows both. The image from Lucky Star also displays karuta (かるた), a competitive card-matching game. This can also be seen near the end of Himouto Umaru-chan R episode 12 in a game between the main characters.

However, console video games (particularly Nintendo) are growing ever more popular nowadays as a form of family entertainment, and the prevalence of these traditional activities is decreasing.


Mochi
---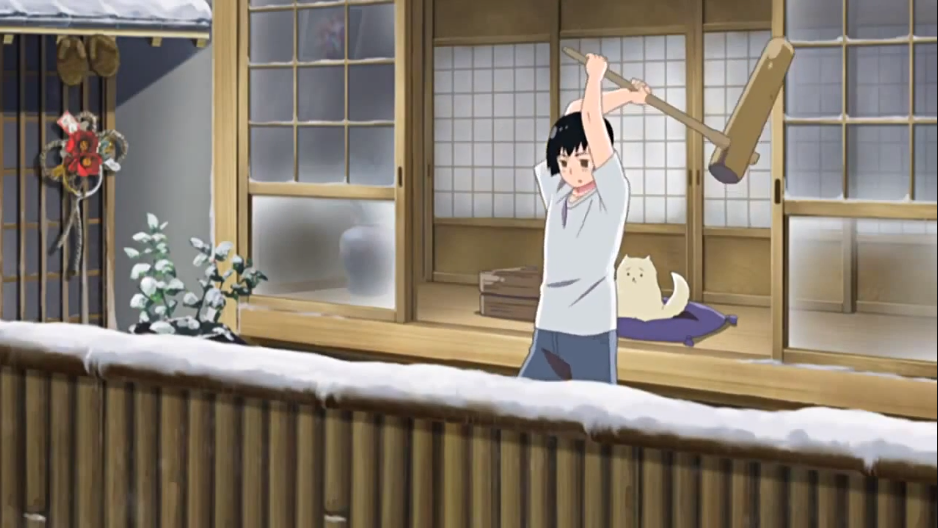 Another tradition that is often observed as a family is making and eating rice cakes known as mochi (餅). Sticky rice, or mochigome (餅米), is boiled and placed into a wooden container called an usu (臼), and one person adds splashes of water while another hammers it with a large wooden mallet. By mashing the mochigome, a sticky white cake is formed. This is made before New Year's Day and eaten during the beginning of January.

An example of where this final part of the process is depicted in anime is episode 36 of Hetalia Axis Powers, as shown in the picture above. Mochi is seen being eaten for the New Year in several cases, including 3-Gatsu no Lion episode 11 and Gintama' episode 49.

Mochi is also used to form a New Year's decoration called kagami mochi (鏡餅), which is made up of two round pieces of mochi and a tangerine (橙, daidai). These can very often be spotted in the background or on tables in episodes of anime where the setting is around New Year's. Here's an example of such in episode 10 of Non Non Biyori: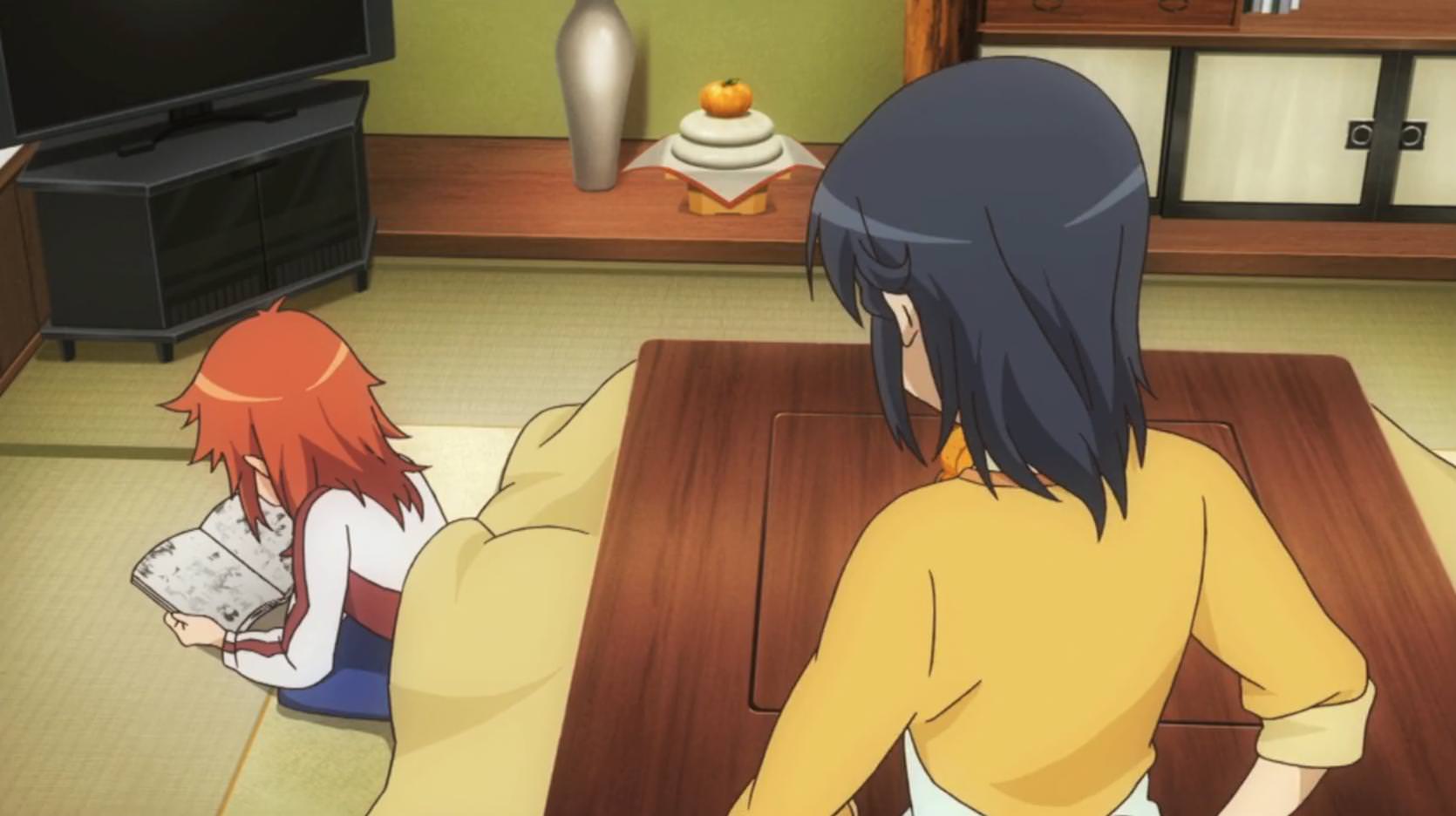 Join us again tomorrow for the second part of our 4-part series, A Time for Thanks.