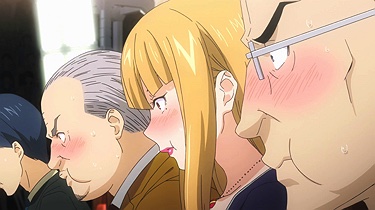 There's not a whole lot of artifice or deception to this episode of Shokugeki no Souma. It's a straight-up battle episode, and the drama comes in trying to figure out who's going to advance and who's going to be left behind.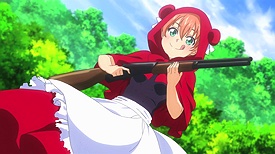 In that kind of narrative environment, things get pretty cutthroat as practicality asserts itself. And that's a ruthless calculus for characters like Yuki, who's never been at the center of this story - a likeable extra with a signature facial expression, basically. She doesn't even get the privilege of having her entire presentation on-screen - we join it in the middle, just as she's receiving her score.
That score turns out to be a good one at 86 points, a reward for Yuki's judicious use of citrus to cut through the gaminess of her triple-duck infused dish - but it's pretty obvious Yuki isn't going to survive the cut, and one can only assume the same fate is going to await the second-tier Polaris dormers in the Group A preliminaries soon enough. It's the inglorious lot of the satellite character.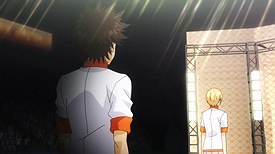 The first interesting battle of the week is between the Aldini brothers, and I was somewhat disappointed that it followed such a predictable course. Both twins produce hybridized Italian-Japanese dishes that look delicious - the younger a sort of curry calzone, the older a pasta curry with a difference - but it's pretty obvious that Takumi's dish has more flair and inventiveness than Isami's. Both score enough to knock Yuki off the table - 87 for Isami and 90 for Takumi - but while the final numbers aren't in at this point the handwriting is on the wall for Isami. Once he's lost to his brother his role in this arc is basically done - I just hope he does something to justify his existence before the series is over.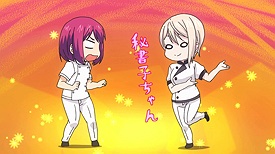 There are still some key precincts to weigh in here, starting with the Chinatown princess Houjou-san. Her dish is basically a curry fried rice, but the unique twist of baking it in a hollowed-out pineapple to infuse the flavor and keep is moist is enough to get her too an 87-point score. It's Alice who steals the show, though - as she always seems to whenever we see her in the kitchen. She offers up another of her modernist and sophisticated wonders, a product of her fascination with molecular gastronomy. This is a trendy force to be reckoned with in Japanese and world cuisine and it's nice to see it depicted in such a compelling fashion here. I'm not sure Alice's cooking is the single-most appetizing in Shokugeki no Souma, but for me it's certainly the most interesting. She's an artist, that's for damn sure.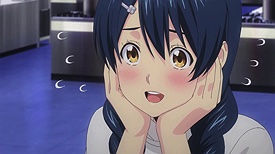 That Alice is going to get the highest score in Group B is pretty much a given, and she does - 95 points. That leaves the only real suspense whether Megumi is going swoop in at the wire and knock out Isami and Houjou, and again the result is predictable to the point of perhaps being a trifle disappointing. Despite a rough start - she has so little presence her entry is almost skipped over - Megumi wins the day with her usual homespun comfort food. Of course Megumi is going to advance - she's Megumi. In a sense it was Houjou she was paired off against after all, for Megumi nips her (and Isami) by a single point.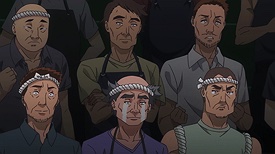 The focus is now free to turn to Group A, where the more tight-assed Sendawara twin (Natsume) is needily calling attention to herself by giving every entrant zero points. In the end it doesn't matter as long as she's equally unfair to every student, but it still seems to have cast quite a shadow over the event - which is of course exactly what Natsume wanted. This is all a build to Souma having his day in court of course - but we've the preliminaries of the preliminaries to get to before that happens, which I suspect will give us Ryou-kun being the first student to get a point out of Sendawara-san.