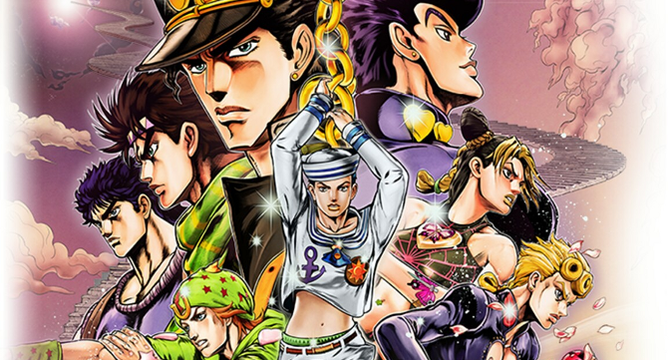 It is the year 1880 and Jonathan Joestar meets his new adopted brother Dio Brando. Little does he know that this meeting will influence not only his future but the future of his entire bloodline. This is how JoJo's Bizarre Adventure, first published in 1986, began. The series must have done something right because it is still going even today. JoJo's Bizarre Adventures is Shueisha's second largest manga series with 117 volumes. Over its long tenure, the series has introduced to us an astonishing number of figures, and today we are going to dig them up just for you!


---
---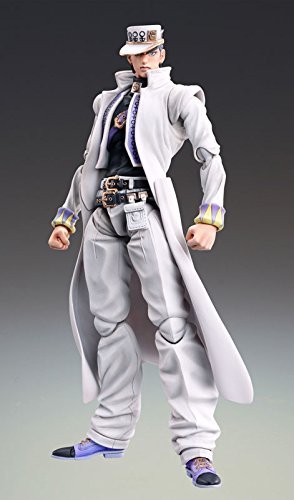 Today we are opening our list with, maybe, the most recognizable of all the characters from JoJo's Bizarre Adventure - Jotaro Kujo. This figure of Jotaro comes from Medicos Entertainment and their Super Action Statue line. Jotaro was released in April 2011 and he is a painted, articulated, non-scale PVC and ABS figure that is 16 cm (6.3 inches) tall. This figure, based on Jotaro's look from the series' fourth part Diamond is Unbreakable, was sculpted by PROGRESS and comes with quite a few additional features. First, we have nine different hand parts, then we have a few additional face parts, a backpack and a different design hat. Own Jotaro for only about 6,695 yen (~64 US dollars).


---
---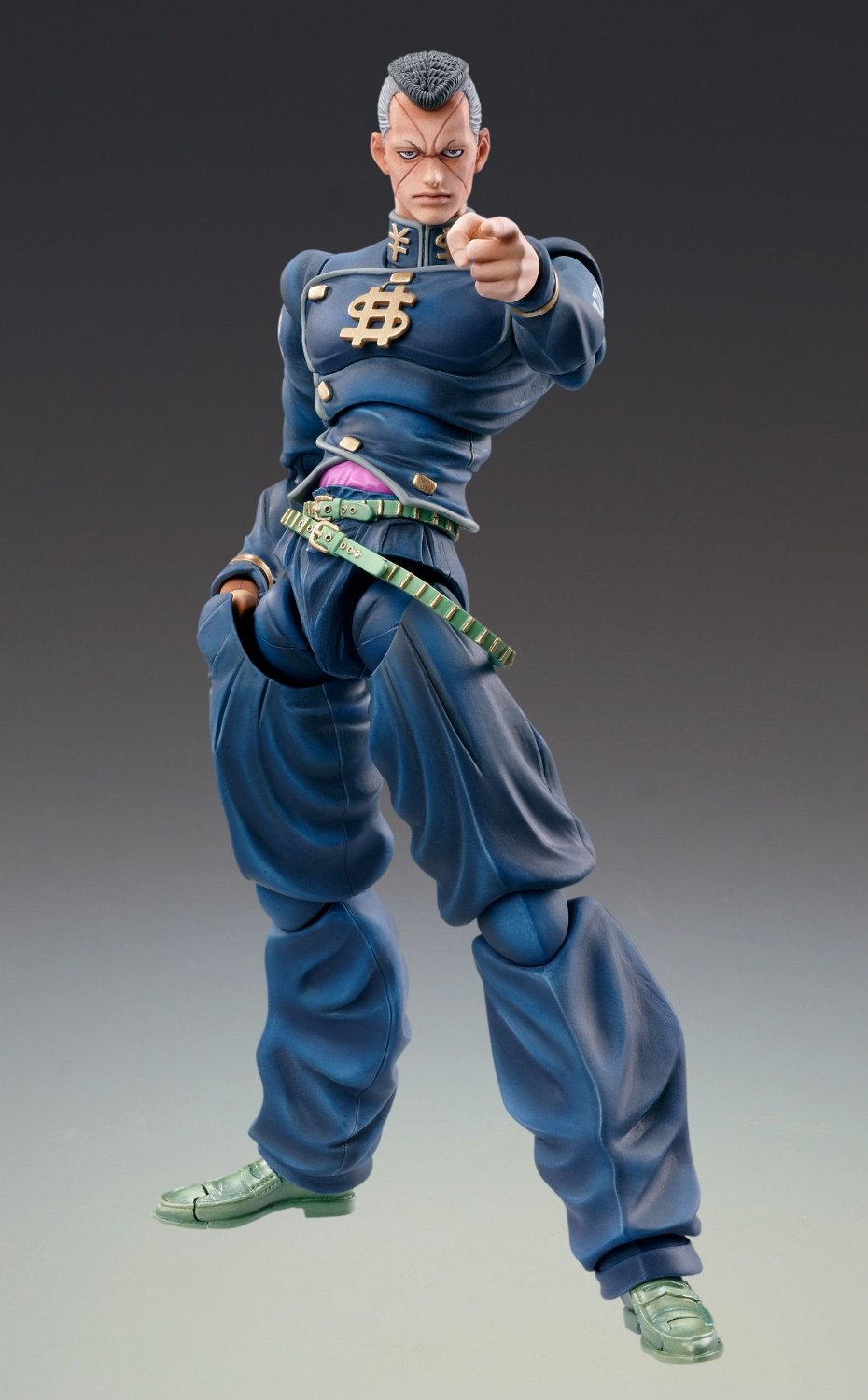 Next on our list we have a figure of the impulsive, violent, yet kind-hearted ally of Josuke Higashikata - Okuyasu Nijimura. Okuyasu got this figure from Medicos Entertainment and their Super Action Statue line. This figure was sculpted by PROGRESS and released in December 2010. The figure is made from PVC and ABS and it is a non-scale figure that is 16 cm (6.3 inches) tall. With Super Action Statue, you know you will get some awesome poseability and this figure does not disappoint in that regard. And if you like your figures with something extra then you are in luck. Okuyasu comes with 8 different hand attachments, a school bag and a spare head with an intense expression. The figure also comes with a spare pocket attachment which allows you to pose him with his hands in his pockets. Last but certainly not least, we have a unique "word balloon" extra that makes this figure look like it literally jumped out of a manga page. Okuyasu can adorn your collection for about 16,595 yen (~159 US dollars).


---
---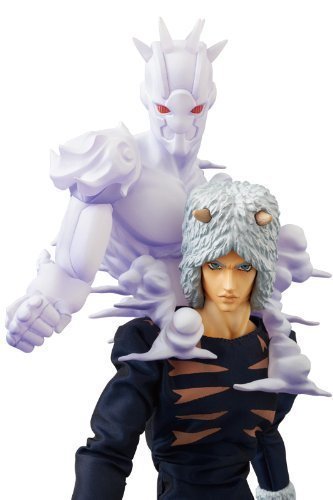 Here we have a figure of a key ally from part 6 of the series known as Weather Report. This figure was released in February 2012 by Medicom Toy as a part of their Real Action Heroes line. Weather report was sculpted by PROGRESS with Akimoto Mieko doing the real fabric clothing. The figure comes with a RAH301 body and it is extremely poseable which is a signature feature of the RAH line. Weather Report aka Wes Bluemarine is a 30 cm (11.7 inches) tall, 1/6 scale figure made from PVC and ABS with his clothing made from real fabric. This figure was released especially for the Wonder Festival 2012 (Winter) and there were only 1200 pieces made. Weather Report also comes with a PVC attachment of his Stand. So, expand your collection with this figure for only about 19,485 yen (~189 US dollars).


---
---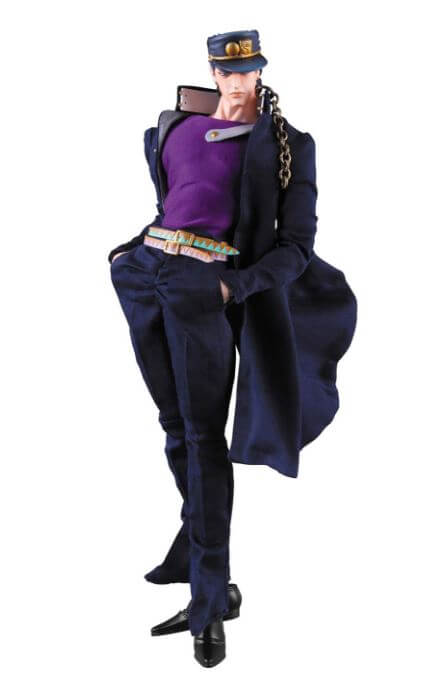 Once again the third JoJo, Jotaro Kujo takes our spot. This time we have an amazing figure from Medicom Toy and their RAH line that was released in November 2009. The figure was sculpted by PERFECT-STUDIO who did an excellent job. The head, made from PVC, is really something and captures the character perfectly. His neck and chest is made with a soft material that was molded in a single piece to conceal seam joints. This 1/6 scale, 30 cm (11.7 inches) tall figure is made from ABS and PVC, and his Akimoto Mieko produced clothes are made from real fabric. Speaking of Jotaro's clothes, he is wearing his gakuran-style uniform, which has bendable wires which allow his jacket to be posed in any way you desire. Also, the chain on his collar is made from real metal. This highly poseable, Jotaro figure comes with a few different hand attachments and a stand. That's not all because with this figure you will get a mini figure of Iggy! You can own this unique Jotaro figure for about 88,740 yen (~847 US dollars).


---
---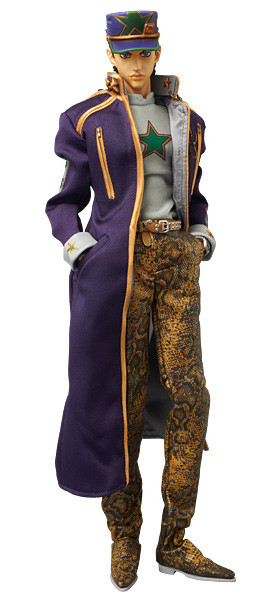 It is really no surprise as to whom would our top spot belong. Jotaro Kujo conquers our list with a special RAH figure from Medicom Toy. This limited exclusive of Jotaro was released in July 2011 for Wonder Festival (Summer). Only 1000 of these figures were made, so if you want a sweet exclusive, this figure is for you. This 1/6 scale, PVC and ABS figure was sculpted by PERFECT-STUDIO with a real fabric clothing done by Akimoto Mieko who, quite frankly outdid himself. The unique clothing design combined with such artistry make this figure even more unique. Those snake skin pants look so realistic as if they were made from real snake skin. Jotaro is a 30 cm (11.7 inches) tall figure that possesses a RAH301 which is highly poseable. A figure stand and an alternate head with disks (which by the way possess a holographic effect like the real back side of CDs) are included with this figure. This exclusive will cost you around 245,405 yen (~2376 US dollars).
---
JoJo is still loved by countless fans, and we hope we managed to show you some figures that are going to make your collection bizarrely great!
Brought to you by