Attention Hunters! We are all aware that our beloved series has once again entered the Great Hiatus arc. The indefinite hiatus after chapter 360, we must say, has left us a bit dissatisfied. If re-watching both adaptations is not enough for you we recommend you read on; you may find among our choice of figures something to help make the wait a little more bearable.


---
---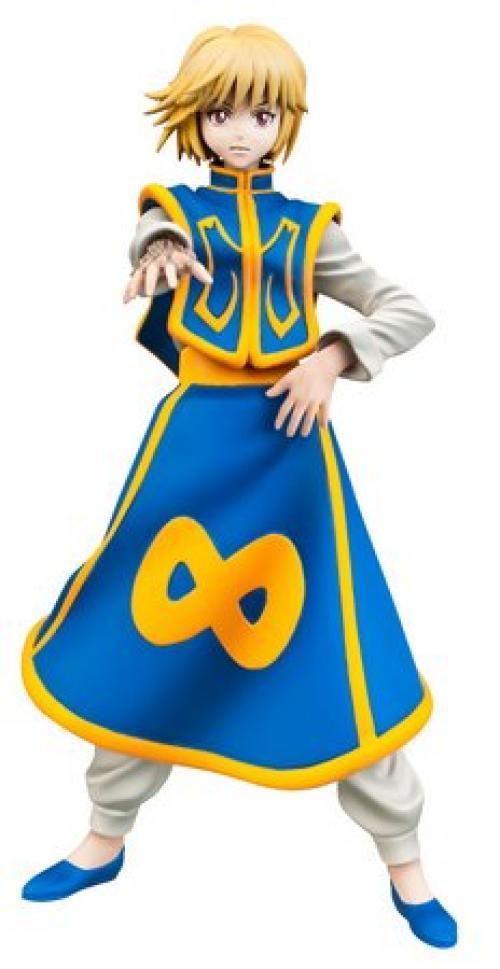 On our opening spot we have a figure of the last member of the Kurta Clan- Kurapika . This figure by Banpresto was released in January 2013. The figure was an A price at the Banpresto's Ichiban Kuji event. It's a PVC and ABS non-scale pre-painted figure that is 18 cm (7.02) inches tall. Kurapika is shown wearing his traditional outfit which flutters in the wind. The figure is based on the Phantom Rouge movie. To bring Kurapika into your collection you will need from about 3,200 yen (~ 30 US dollars) to around 12,360 yen (~116 US dollars).


---
---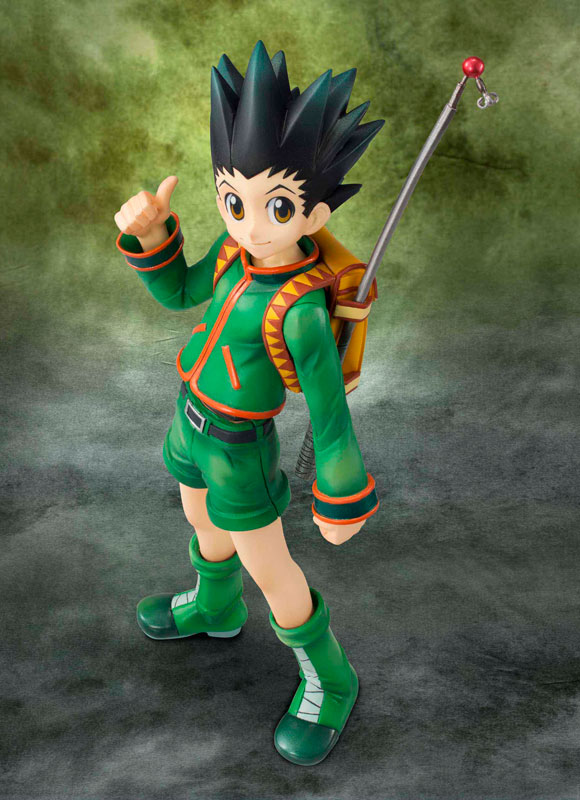 On our fourth spot we have a figure of the show's main protagonist, Gon Freecss. This figure comes from the publisher MegaHouse and it is a part of their G.E.M line. Released in February 2013, this figure made from PVC was sculpted by ATTM and painted by Taumokei. This is a pre-painted complete figure in 1/8 scale that is 18 cm (7.02 inches) tall. The figure shows Gon with his backpack and his fishing rod. With this figure you will get two different head pieces and two hand pieces. Get this Gon figure for only 15,450 yen (~145 US dollars).


---
---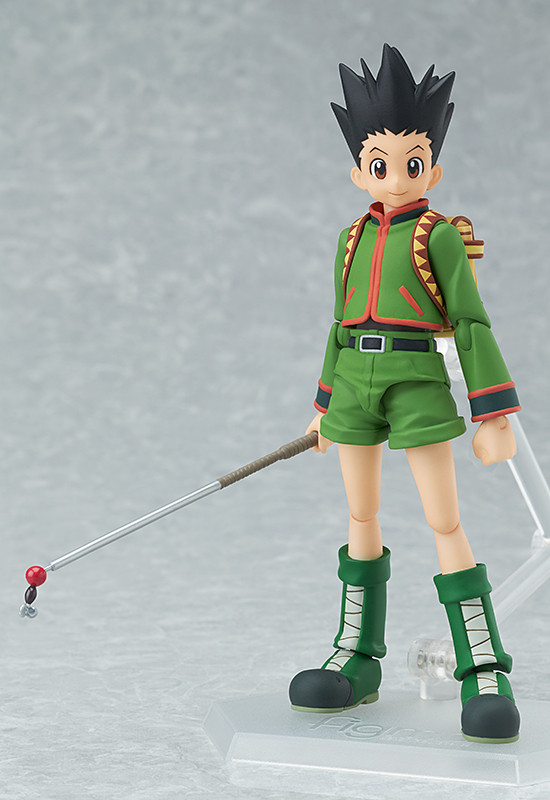 On our number 3 spot we have another figure of Gon. This figure was released in May 2014 by Max Factory and it is a part of their figma line. The sculpting was done by Masaki Apsy who did a superb job with this 13 cm (5.07 inches) tall figure. Both a friendly smile and a determined shouting expression are included with this PVC and ABS non-scale posable figure. No less then eleven different hands parts have been included by Max Factory, even the hands for the Gon's special technique, rock-paper-scissors. Gon's signature backpack as well as two fishing rods come as bonuses with this high quality figure. The glass of water which is used for water divination in the series has also been included as well as an articulated figma stand. Get this figure of Gon in your collection for around 16,130 yen (~151 US dollars).


---
---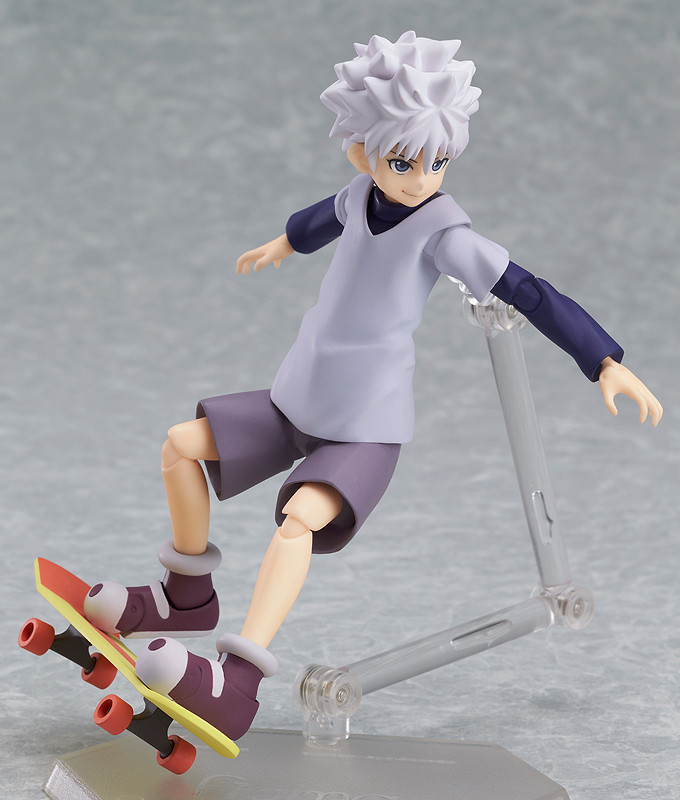 On our second spot we have a figure of the heir to the Zoldyck family, and Gon's best friend, Killua Zoldyck. This figma figure of the fan favorite character was released in May 2014. Masaki Apsy did the sculpting on this superb 13 cm (5.07 inches) tall figure. This PVC and ABS non-scale posable figure comes with Killua's standard expression and a confident expression. Killua comes with a number of hand parts and his trademark skateboard so you can even pose him riding it with the help of an articulated figma stand, that is also included. In order for you to be able to recreate famous water divination scenes, Max Factory included a water glass as an extra accessory. You can acquire the figure of this Zoldyck genius for your collection for only around 31,120 yen (~292 US dollars).


---
---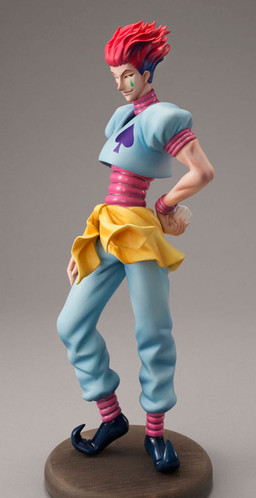 We have come to our top spot and maybe unsurprisingly it belongs to everyone's favorite murdering sociopath- Hisoka. Hisoka, nicknamed the Magician gets his own figure from the manufacturer MegaHouse and similar to the figure in 4th place, it belongs to the G.E.M. line. This figure is a pre-painted 1/8 scale PVC figure that was sculpted by Inada Masaki while Pinpoint did the coloring. The figure is 24.5 cm (9.56 inches) tall. It comes with two different head pieces - one with his normal hair and the other with his hair down. This figure was released in December 2012 and it can bring a little magic to your collection for anywhere between 18,545 yen (~174 US dollars) and 80,680 yen (~754 US dollars).


---
There you go Hunter x Hunter fans, five figures to help you get through the never ending Great Hiatus Arc of the Hunter x Hunter series.
Brought to you by