---
Adam Arnold's Otaku Room - USA
---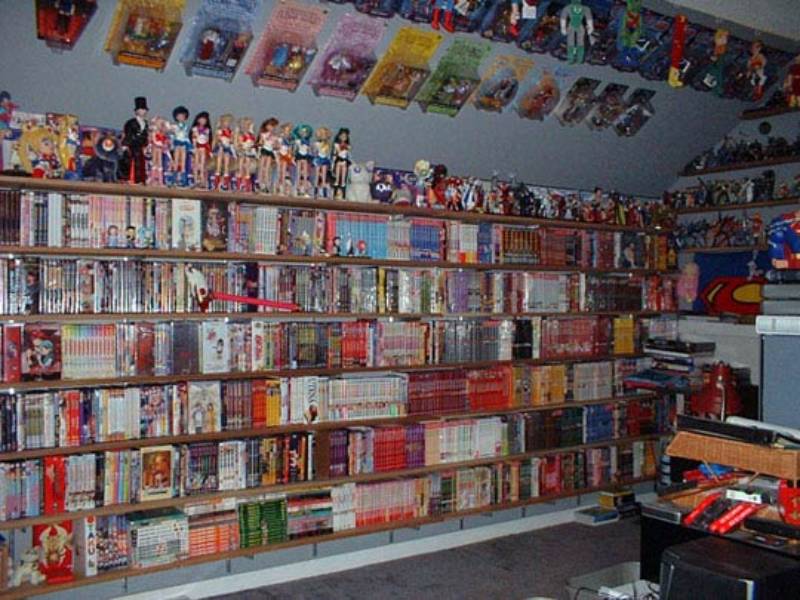 Source: gomanga.com


Adam Arnold is an American comic book writer who has contributed greatly to the anime and manga community. It would only be natural that he has a badass otaku room. And what's particularly impressive is the large variety of rare items in his possession. He started out as a DC Comics collection in 1992, but quickly caught the anime and manga collecting bug when Sailor Moon started airing in the US, back in 1997.
A quick glance at Adam's collection reveals that he is also an avid gamer, with a dedicated gaming area which covers various console generations. To top that off, his anime DVD and action figure collection is absolutely massive. And he is also collects Star Wars merchandise and Pez Dispensers. In fact, his collection of goodies is so vast and varied that they aren't confined to his otaku room, but also found in his bathroom.


---
Rei Sama's Otaku Room - Singapore
---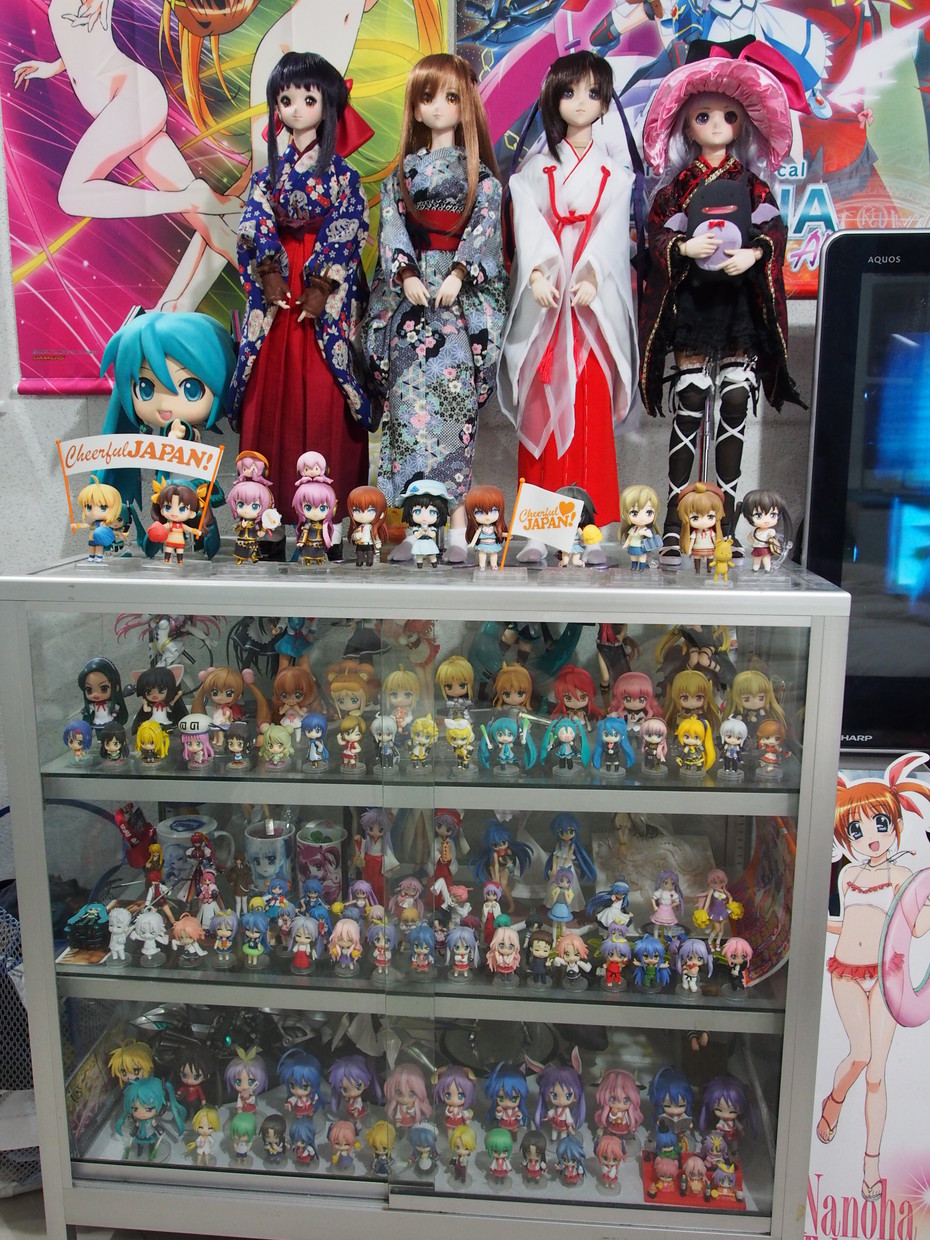 Source: figure.fm


Rei Sama is a huge anime and dollfie fan. Large dollfies take center stage, while PVC figures and chibis are inside glass displays. Massive Hatsune Miku plushies lie on the couch bed and one wall is decorated with colorful Nanoha posters. This is a large and varied collection which perfectly reflects Rei's tastes. It's truly a dreamy house of dolls crammed inside a tiny otaku room.


---
Otakumouse's Otaku Room - Philippines
---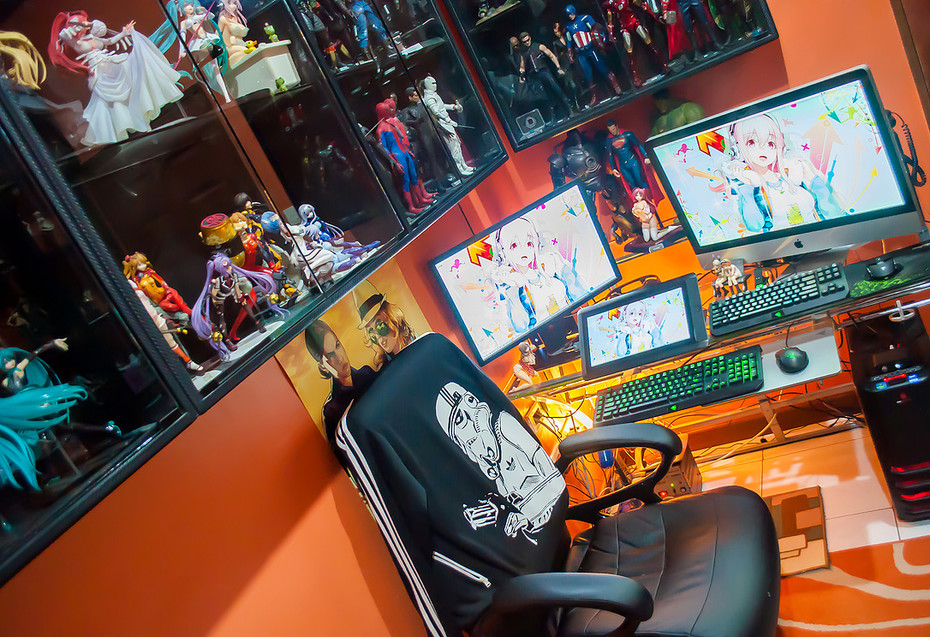 Source: figure.fm


Otakumouse is an interactive designer based in Manila; therefore his room is intended as a place for both work and play. Glass display units above his desk house both anime and American comic book characters. He owns both an Apple and Windows PC for his multi-platform projects, and a 13" Cintiq HD tablet for illustration purposes.
There's also a play area which is perfectly setup for some hardcore gaming. Otakumouse definitely focused on functionality instead of amassing and displaying a massive collection of otaku merchandise.


---
Shinyreddragon's Otaku Room - Belgium
---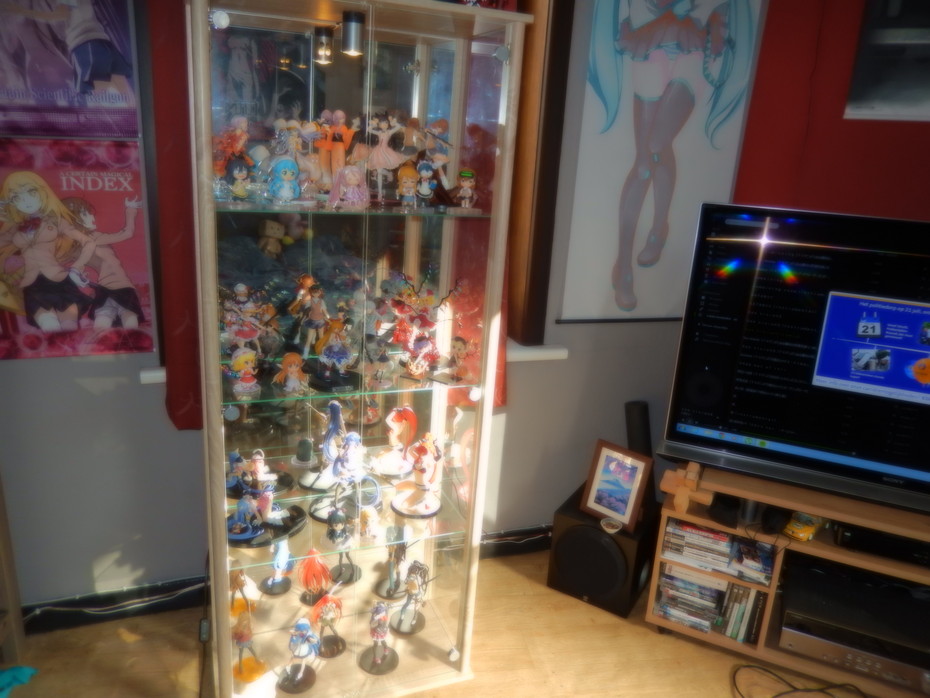 Source: figure.fm


Large posters and wall scrolls adorn the walls of Shinyreddragon's room, which make up only a fraction of the cool merchandise to be found here. It's apparent that this is one otaku who loves the Elfen Lied, Negima and Initial D series. There's even a super slick Toyota AE86 toy replica on one of the shelves. Myriads of chibi and sexy girl character figures are inside a lighted glass display case.


---
Tolwyn's Otaku Room - Austria
---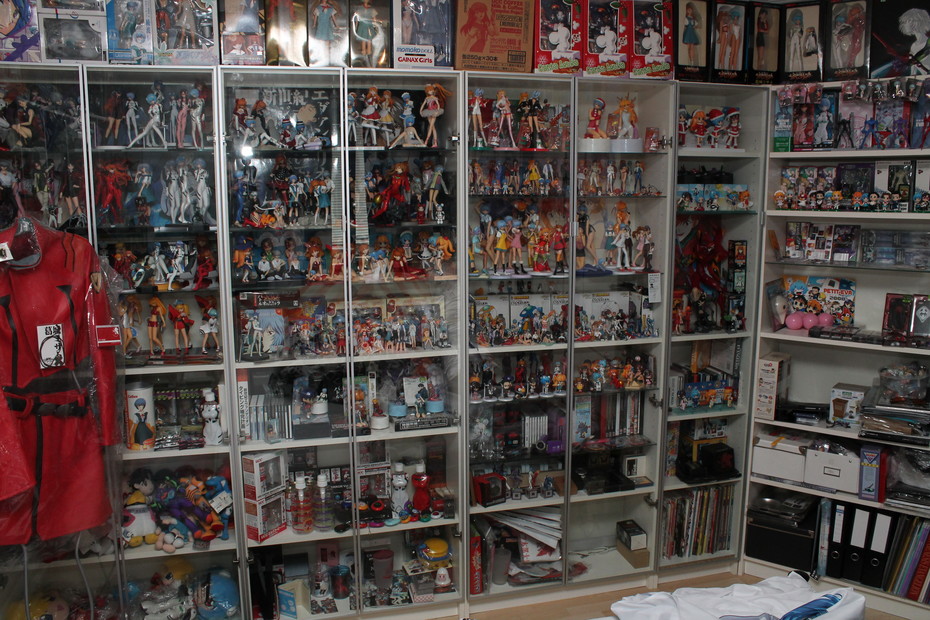 Source: figure.fm


Some otaku like to adorn their rooms with goods from a variety of their favorite anime or game franchises. However, Tolwyn almost explicitly collects Evangelion figures and related merchandise, including costumes. Just taking one look at his room, one would be forgiven in thinking that they've stepped into NERV headquarters. The scope and depth of his collection is just insane, and I shudder to think how much was spent here.


---
Ririka Sama no Seinaru Panchu's Otaku Room - Japan
---
Source: asianbeat.com


The first otaku room that we'll visit is based in Japan. We don't know the real name of this otaku, but he goes under the name of 'Ririka sama no seinaru panchu'. He enjoys collecting various goods based on young girl anime characters. This gent's collection consists of a nice variety figures, plushies, wall scrolls, posters and other merchandise which overpower the senses with color and 2D goodness!
I guess this collection may come across as a bit creepy to some, as the focus is on very young girls. In total, he has spent 600 000 Yen and is planning on diversifying his collection by purchasing other anime goods and dakimakura. It's also interesting to note that our collector here has other interests as well, such as karaoke, and enjoys spending countless of hours honing his singing skills.


---
Chibichibiusa's Otaku Room - Canada
---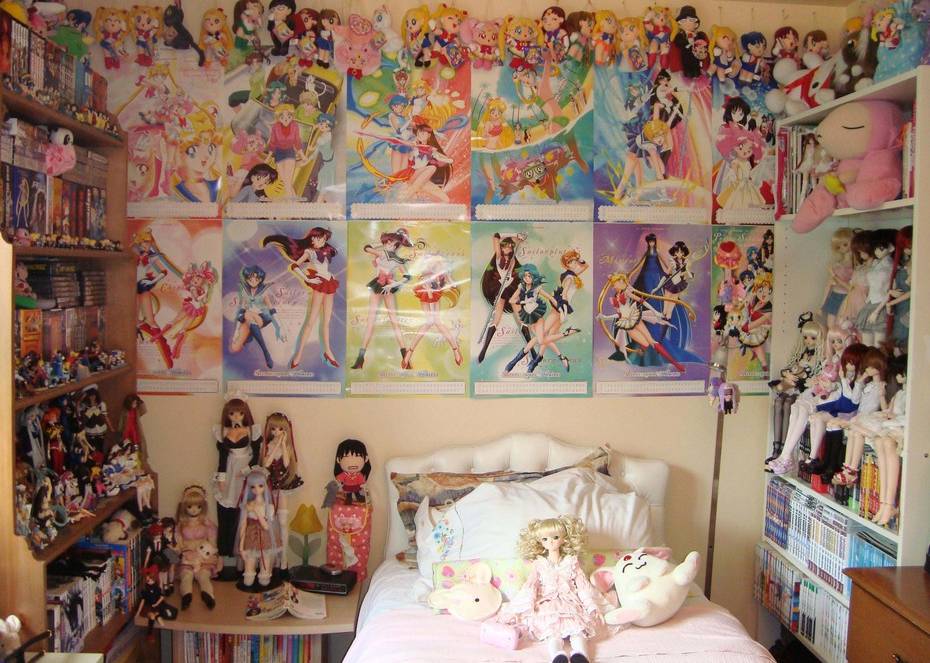 Source: figure.fm


Chibichibiusa from Canada started collecting various merchandise since the year 2000, and gradually built up an impressive collection over subsequent years. She started out with figures, plushies and French-translated manga of Sailor Moon. Eventually her interests widened, and she started buying up older figures, gachapons, volks 1/6 dolfies, ball jointed dolls and dolfie dream.
What is noteworthy of this otaku room is the Sailor Moon calendar which is spread across the back wall. It's a clever way of utilizing the calendar in a poster format, as all the beautiful artwork is presented at a glance.


---
Saskia's Otaku Room - Holland
---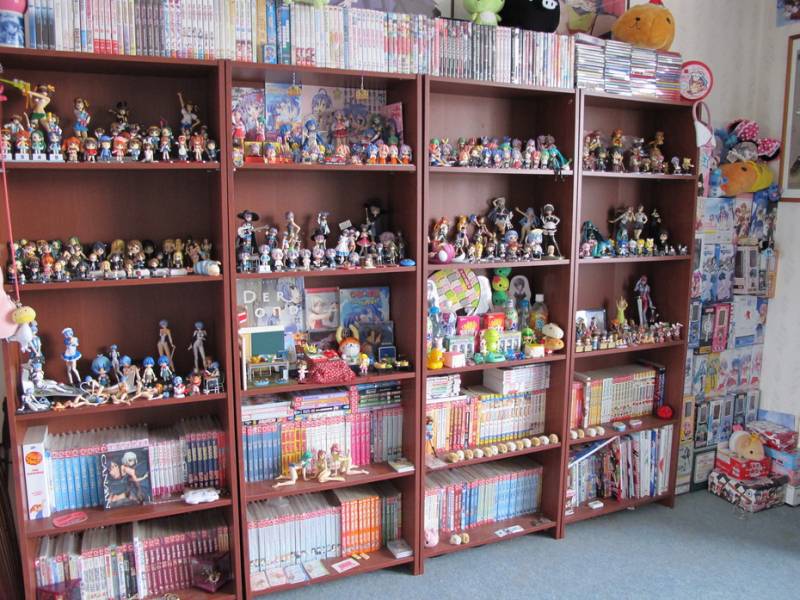 Source: dannychoo.com


Saskia is another passionate otaku who is based in Holland. She shows her love for the Neon Genesis Evangelion series with plenty of cool figurines of Rei Ayanami. And she has a soft spot for magical girl anime and Japanese candy such as Pocky.
All her figures are displayed on the shelves, but Saskia is smart enough to keep the boxes, as she seems to have ample space in her otaku room. We all know how precious and rare those Figma figures can become!


---
Sevie's Otaku Room - Germany
---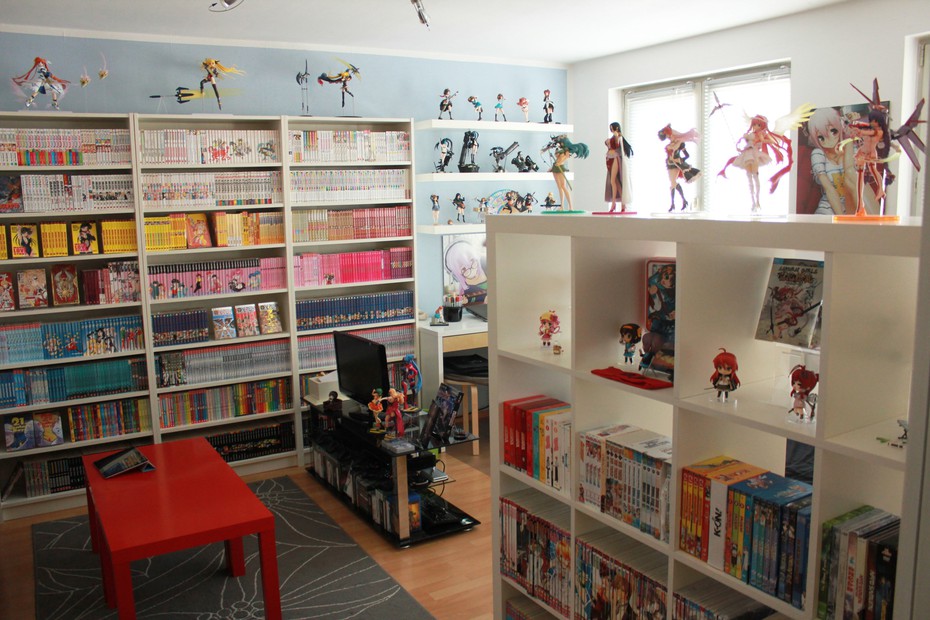 Source: figure.fm


Sevie is a 23 year old girl from Germany who has transformed her single room apartment entirely into an otaku room. And it's easily one of the most impressive and organized rooms I've come across. She's managed to display her sizable collection of anime, manga, games and figures in every nook and cranny, without making things look cramped. In fact, her room has a harmonious and airy atmosphere which is perfect for the otaku that just wants to kick back and relax.
Various nendoroids, anime and manga magazines fill up the outer side of the divider unit. The inner side is used to store Harry Potter books and Walking Dead comics. Cute character posters and pillow covers are strategically placed around room, further drawing one's attention.


---
Joan Lein's Otaku Room - Mexico
---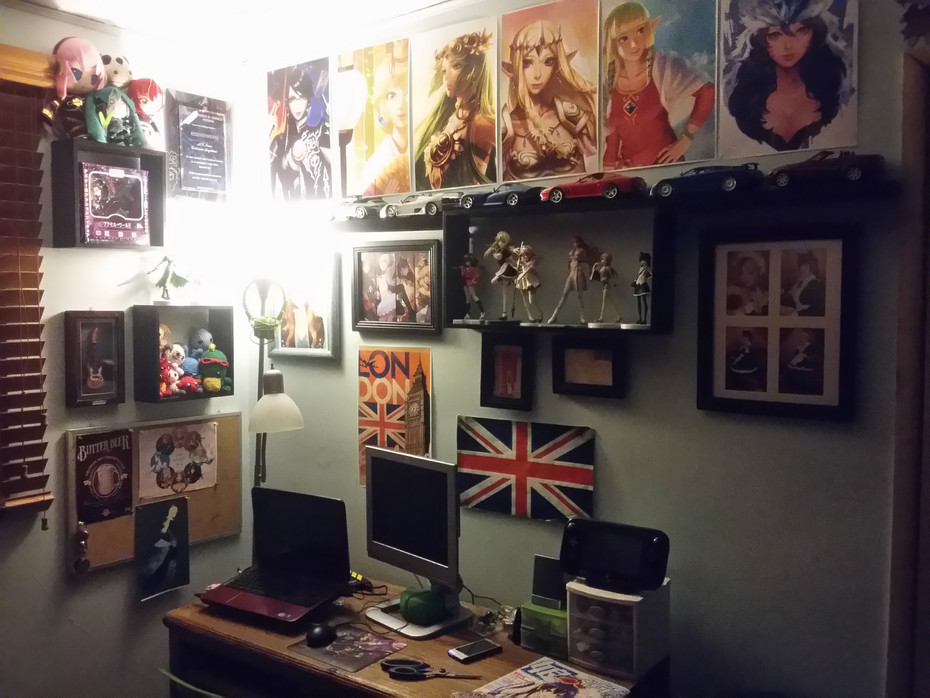 Source: figure.fm


Not all otaku rooms are filled to the brim with merchandise, and nor do they have to be. Joan Lein's personal collection of anime, manga, games, figures and plushies is rather modest, yet he has managed to imaginatively decorate his room. Several beautiful character posters line-up the top area of the wall behind his desk, while his toy sport cars and figures are displayed on the mounted shelves.
The rest of the room's walls further showcase Joan's interest in otaku culture, particularly his love for gaming and cute chibi characters. His collection of Amiibo figures are still in their blister packs, and are mounted across another wall.


---
Rayun's Otaku Room - Switzerland
---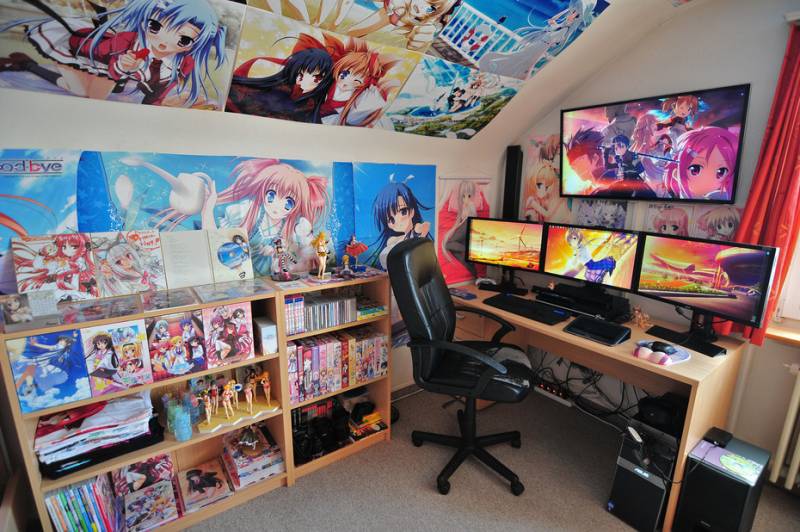 Source: dannychoo.com


Our next stop takes us to Switzerland, where we discover one seriously tidy and organized otaku room. Rayun's room is airy, clean and shows his preference for eroge and Yuzusoft characters, of which he is a huge fan.
It would seem that cute girls are a mainstay of many otaku out there. However, Rayun also enjoys collecting figures, dakimakura, shirts, sheets and pillows. Like many fans of the hobby, he also struggles to find the time to watch anime. Nevertheless, we can only commend him for putting together such a slick collection.


---
Richirocko's Otaku Room – Chile
---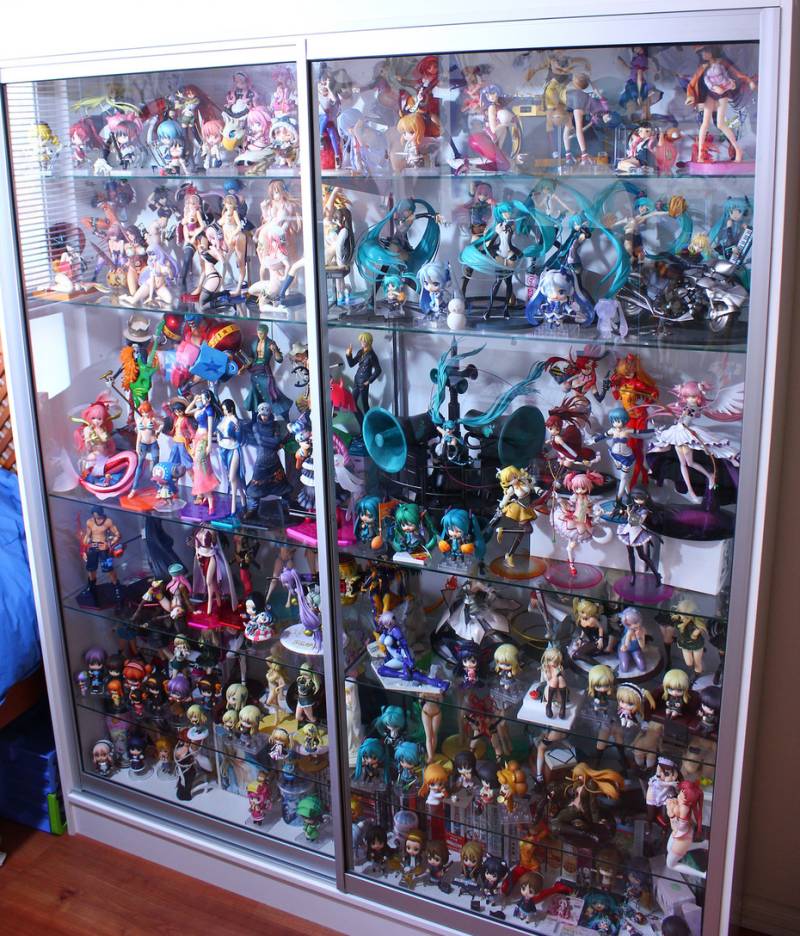 Source: figure.fm


It doesn't matter in which part of the world one finds themselves in, there are bound to be otaku living there. Richirocko lives in Chile and is an avid anime, vocaloid and figure collector, with a preference towards popular series such as Madoka Magica, One Piece and ecchi goodies.
Richirocko's otaku room is similarly tidy to Rayun's. But with a larger collection of figures which are kept in a large glass display unit. And the room's walls are covered with a beautiful assortment of colorful posters and walls scrolls.


---
Wing's Otaku Room – Brunei
---
Source: figure.fm


Wing is a Chinese otaku and based in the tiny nation of Brunei. One thing is certain Wing's otaku room is one of the classiest I've seen. It's a very cozy and stylish environment which houses a variety of action figures, anime, manga and magazines. Wing is obviously obsessed with the Persona series, which is one of the very finest JRPG series, in my opinion.
A common problem which, most otaku encounter is space. As time goes by, collections get bigger and those rooms don't seem so spacious anymore. Wing has the foresight in converting the balcony into an extra room. Now that's thinking outside the box!


---
Timothy Koh's Otaku Room - Australia
---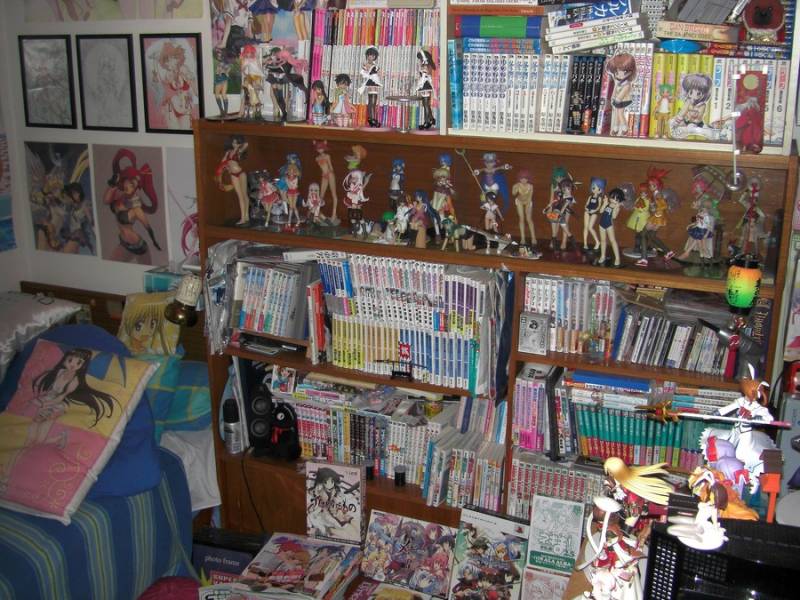 Source: figure.fm


Timothy Koh is an Australian otaku with a sizable and varied collection of goodies in his room. His collection consists of anime magazines, manga, light novels, Bishoujo figures, garage kits, model kits, PSP and PS3 games. Tim has also taken the time to study Japanese, and he is interested in both Japan and the otaku culture.
It would also seem that he has more hands-on approach to the hobby, as he also attempted to sculpt his own full scratch figure. Apart from that, he also enjoys playing visual novels and other Japanese video games, and has enough in his collection to keep him busy for a very long time.


---
MisterD98's Otaku Room – South Africa
---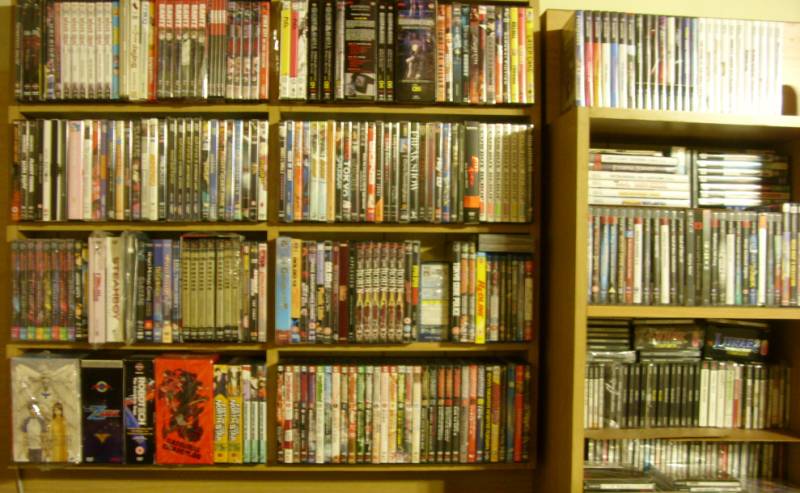 I couldn't conclude this article without briefly covering my personal collection of otaku goodness. Now, I don't have a dedicated otaku room, as my collection is all over the place. My manga, 2000 AD comic books and action figures are kept in boxes to protect them against dust, page yellowing and sun fade. The sun is incredibly bright down here in South Africa, and I have large windows in my household. So I just take these extra precautions to keep them in pristine condition.
I've been collecting anime since the early 90's and therefore have a ton of VHS tapes in my collection. But the majority of my anime is on DVD, and I prefer science fiction, fantasy and hard-boiled stuff. I also collect video games with a strong focus on retro and Japanese titles, action figures, anime and game magazines and electronic music.