---
About Samura Hiroaki
---


Samura Hiroaki is a Japanese mangaka and illustrator. He was born in 1970 in the Chiba Prefecture of Japan. Samura went to art school for college and before graduating he was recruited by Afternoon magazine. This school was later used as the setting to one of his later works Ohikkoshi. He wanted to become a manga artist from a young age and didn't make any effort to find any employment in his youth.


---
Blade of the Immortal and Awards
---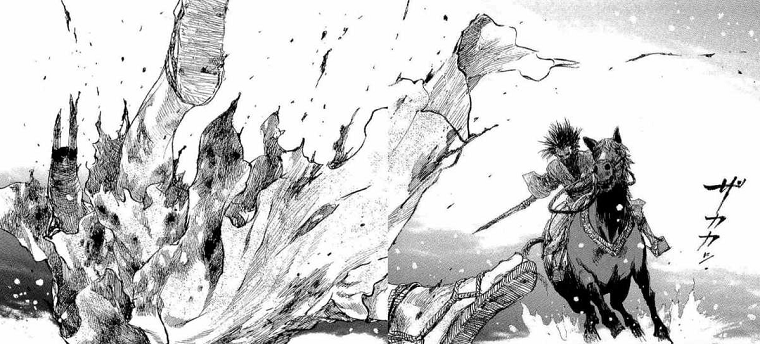 He is most well known for his work on the manga Blade of the Immortal, which is also the only one of his manga to receive an anime adaptation. The anime was produced in 2008 by Production I.G, but was not well received by fans and to many was just a reminder of how great the source material is. The anime adaption was left unfinished. Personally I found that the anime lacked the gritty and atmospheric touch that Samura's art brought and, while not completely avoiding the more violent and sexual elements of the manga, it did seem to skim over them. This, in addition to issues with pacing, are my main concerns with the adaption. For what it's worth, I did really enjoy the opening though.

The manga itself is very well known in Japan and is cited as being an inspiration for Naruto. The Naruto creator Masashi Kishimoto even did a really hilarious fanboy interview with Samura where he revealed that the designs for Kakashi and Iruka-sensei were directly inspired by Magatsu and Manji from Blade of the Immortal. Not only that, he claims that reading Samura's BotI when he was in highschool made him give up on a Samurai manga he was working on at the time (he didn't feel he was good enough to compete with it) and switched his focus instead to a Ninja manga. At the end of the interview, they draw their interpretations of each others works which was really neat!

Blade of the Immortal is one of the oldest seinen publications to be translated into English. The manga combines elements from typical samurai period dramas and introduces modernist sensibilities, such as mixing of slang and formal Japanese styles of speaking. It has won several awards including the Japanese Media Arts award in 1997, an Eisner award in 2000 and a nomination for a Harvey award in the Untied States, as well as multiple British Eagle Awards.

Samura also won another Japanese Media Arts award in 2014 with his short manga Harukaze no Sunegurachika (Spring Breeze of Snegurochka) for which he did extensive research into Russian history during the Russian Revolution of the 1930's. In the postscript of Snegurochka, Samura jokes about originally wanting to do a story about a tsundere girl that's 95% "tsun" and it later turning into a story of a tsundere girl and a bald old man. He also talks about how he found himself immersed in the history books and his fascination with the Russian Revolution and the Romanov dynasty. Apparently he even changed his cellphone wallpaper to an image of Tatiana Nikolaevna, the last Grand Duchess of Russia.


Hiroaki Samura Drawing - Blade of the Immortal
Samura Hiroaki doing an illustration of Manji, the main character of Blade of the Immortal; using only pencils and erasers.
---
Art Style and Influences
---

As far as his art style goes he was highly influenced by Otomo Katsuhiro, Yoshikazu Yasuhiko and Yukinobu Hoshino. During his time in college he gained a proficient knowledge of human anatomy and poses which contributed to his very realistic looking characters. The way he draws hands is particularly distinctive and is praised by Naruto creator Masashi Kishimoto. The action scenes in his manga also have a very distinct rhythm and movement to them and often make use of zooming in and out which is explained in detail in this blog post. Samura prefers to draw in black and white, despite being in a course that focused on oil painting during college...which he did later drop out of.

In addition to his more action oriented works he has also written many comedy manga. The most well known among them is Ohikkoshi. Which he wrote to mirror an outrageous 80's love comedy. He often incorporates parody and dark humor into his works, like imagining zoo animals as Pokemon in Ohikkoshi, and turning the world into a paradise of cat girls after a virgin's 30th birthday goes horribly wrong in Gensou Gynaecocracy.



A 5x5 collection of some of my favorite illustrations by Samura. These include his own original characters, as well as his interpretations of popular anime characters such as Haruhi Suzumiya and Mikasa Ackerman


---
What Else Has He Done?
---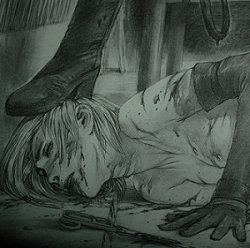 He is also known for his ero-guro work, most notably his art book Hitodenashi no Koi (Brute Love), which contains some very violent and graphic depictions of tortured woman. Some have criticized Samura for having a ryona fetish, but in the postscript of Brute Love he makes it very clear that he has no desire to torture woman and is somewhat regretful looking back at his work. He also urged his fans not to show the book to anyone who finds this kind of material offensive and I also urge the same as far as looking up this type of art.
Despite dabbling in ero-guro, Samura's depiction of women generally tends to be very different from other manga artists. In an interview Samura stated that he doesn't view women in a sexual way and tends not to focus on things like breasts, but instead on their faces and facial expression trying to make them look as pretty as possible.


He mentions that most of his female characters tend to have sad or painful expressions. He even believes on a fundamental level he is not as good as women and was highly inspired by the works of Rumiko Takahashi and Fumiko Takano. Many of his fans even wrote letters to him thinking he was a female artist because of the way he draws women. He also talks about his desire to create independent female characters, which manifested in character of Akagi from Ohikkoshi. All of his works have female characters in a superior position to their male counterparts; even in his most well received work Blade of the Immortal, he states that the strongest character is not Manji, but Makie.


---
Final Thoughts and Current Projects
---

Samura is one of my personal favorite manga artists and a very decorated one as well, considering all of the awards he's won. I'm always excited to introduce new people to his works when users on this site ask about where my profile or forum set come from. I just hope they're not scared off by some of his more questionable content, because Samura Hiroaki is definitely an artist worthy of being appreciated.
He is currently working on his newest running works Beageruta and Nami yo Kiitekure. A live-action adaptation of Blade of the Immortal directed by Takashi Miike is slated for release in 2017.


---
MFA_Community is the official publishing arm of the MAL Featured Articles club. This article was written by LoneWolf, one of the club's writers, in collaboration with the official Featured Articles team.