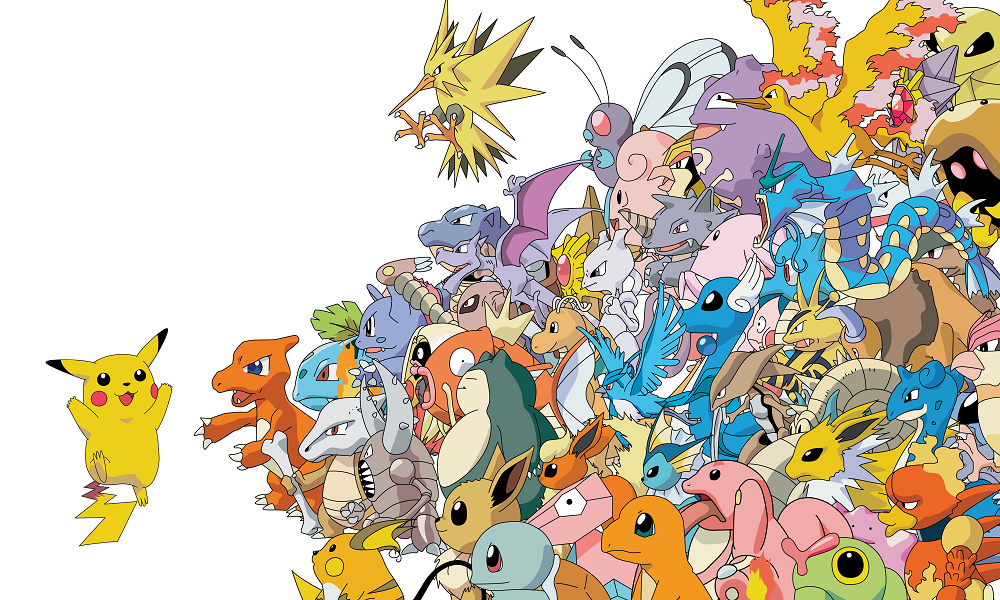 (source)
There is no doubt that at some point of our lives, we all wanted to be the very best, the best there ever was, to catch them all was our real test and to train them was our cause! That's the effect Pokemon had on all of us. Really there is something timeless in the Pokemon games and anime that makes them so popular even now 20 years after the release of the first game. After numerous games and other adaptations, we have come from the original 151 Pokemon in the first generation to 720 Pokemon in sixth generation! Over this long period of time we have also been graced with some awesome figures, and we will show you five we think are worth your time.


---
---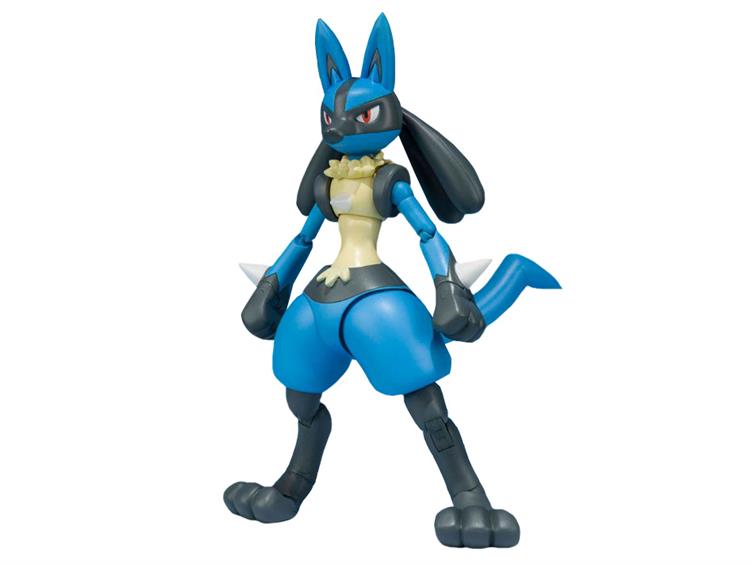 We are opening our list with a figure of Lucario. This fighting/steel Pokemon type comes as a part of Bandai's S.H. Figuarts line, and it was released in May 2014. Some of the most popular and recognizable Pokemon come from the first two generations, and the newer Pokemon have a hard time establishing a sizeable fanbase that matches those of the original Pokemon. But Lucario managed to become one of the most well known and beloved Pokemon out there. Lucario first appeared in 2006 game Pokemon Diamond/Pearl, and an appearance in Super Smash Bros. stands as a testament to his popularity. So it is not a surprise why Bandai included this 14 cm (5.46 inches) tall Pokemon in their line. This Lucario figure is made from ABS and PVC and he comes with two optional eye parts, one showing his eyes closed so you can pose him as he is using his Aura ability, effect parts and a base. This Pokemon figure can be a part of your collection for just around 4,500 yen (around 40 US dollars).
---
---
'I see now that the circumstances of one's birth are irrelevant. It is what you do with the gift of life that determines who you are.' –Mewtwo
This next Pokemon figure comes like its predecessor from Bandai. But unlike Lucario this figure of the psychic clone of Mew, Mewtwo, belongs to Bandai's D-Arts line. The Mewtwo figure was released in March 2013 and it is 16 cm (6.24 inches) tall. The full majestic glory of Mewtwo was sculpted with the use of ABS and PVC. What sets this figure apart is just the sheer number of joints this figure has, which lets you pose him in almost any way you can imagine. Even his fingers are poseable! This Mewtwo comes with two additional attachments: a bonus hand and an energy "ball" that in reality is more akin to a disc than a ball. On the ball you will see a small ripple effect that looks eerily spooky when the light falls on the PVC. Besides with this first pre-order you will get a bonus scaled Mew, which faithful to the source material, is a lot smaller than Mewtwo. You will also get a base with a black Poke Ball motif and a pincer on which you can attach the Mewtwo figure. Because the pincer is moveable you will be able to pose Mewtwo as he is flying. This Mewtwo figure can go up for around 18,000 yen (around 160 US dollars) but a special offer of only 3,300 yen (around 30 US dollars) awaits you on the secondary market.
---
---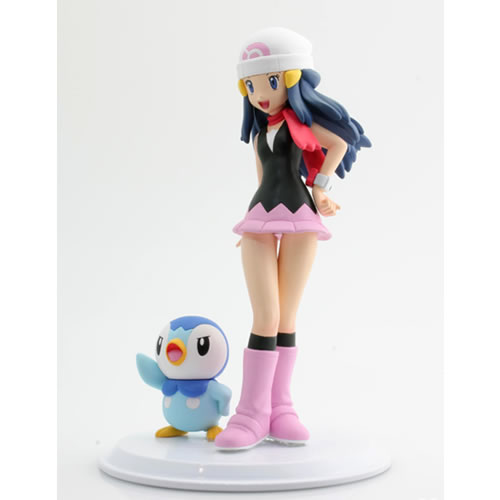 Straight from Pokemon Diamond and Pearl we have a figure of Dawn and her trusty Pokemon Piplup. They were released in March 2009 by Banpresto as a part of Banpresto's DX line. DX line is a special brand which stands for Deluxe, and it is used for figures which are higher quality than Banpresto's usual products. Dawn and Piplup are rendered faithfully to the source material. The figure as a whole is made from ABS and PVC, and it is completely pre-painted. To display it you won't need much space because it 16 cm (6.24 inches) tall. But to own it, you will need around 41,000 yen (around 370 US dollars).


---
---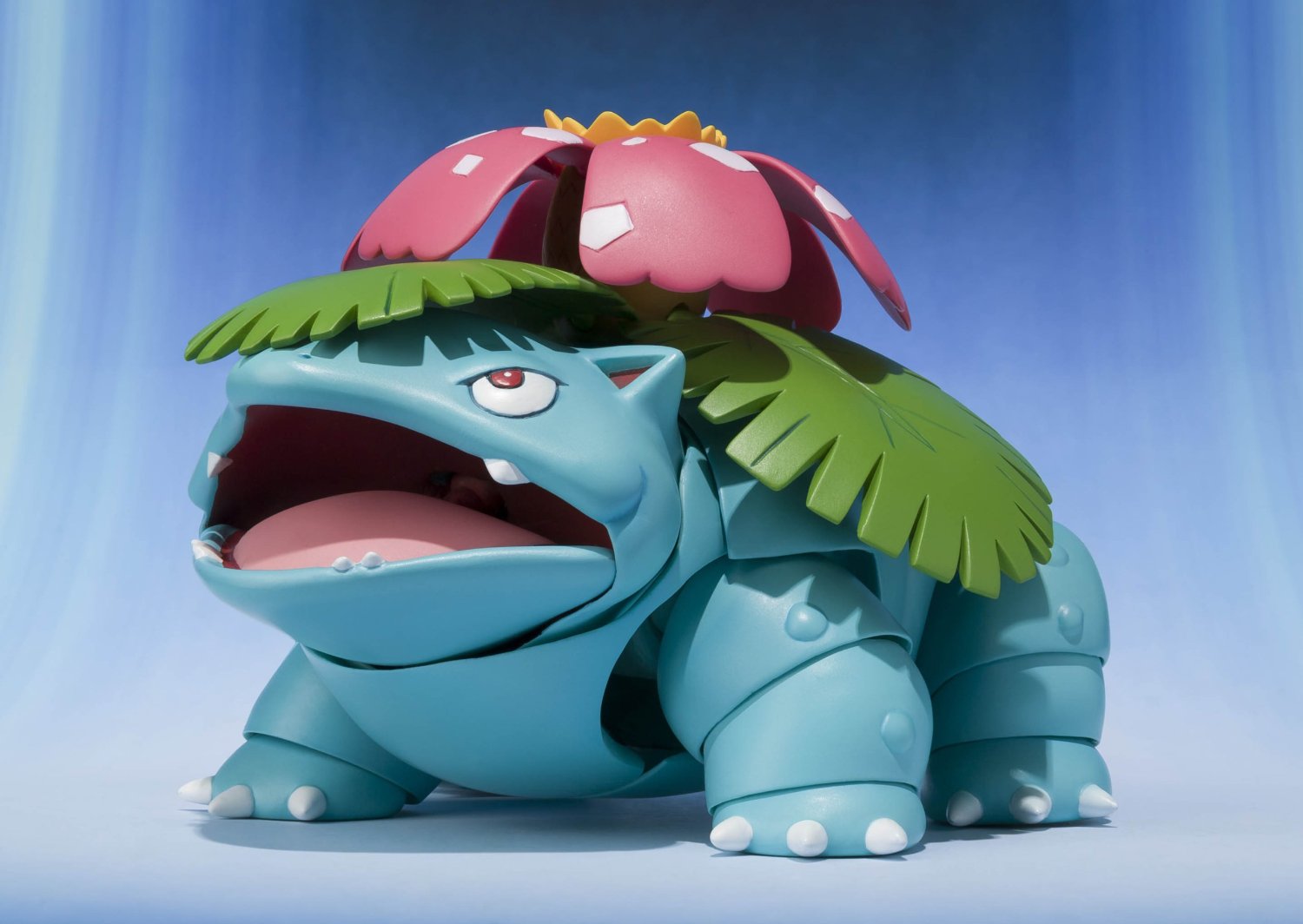 On our penultimate spot we have an evolved form of one of the three original starter Pokemon, Venusaur. This figure was released in August 2013 by Bandai as a part of their D-Arts line. As with all D-Arts line Pokemon figures, this Venusaur figure is extremely poseable. You can move almost anything and the figure boosts an opening jaw, multiple neck joints, ball jointed hips and ankles in the feet, a mid-section joint, a ball jointed base of Venusaur's tree, tiny ball-joints at the stems of each palm frond and petal which allows you to manipulate each petal individually. Thanks to all of this joints the figure has a good center of gravity which is illustrated in the fact that it can even stand on one leg. With it you will get a base with a Poke Ball motif and Venusaurs signature vines. Vines come in multiple parts which allows you to decide on their size. This is a completely pre-painted ABS and PVC figure which is 11 cm (4.29 inches) tall. Venusaur on the western market can go up to around 50,000 yen (around 440 US dollars) but one the secondary market we have a special offer for about 5,600 yen (around 50 US dollars).


---
---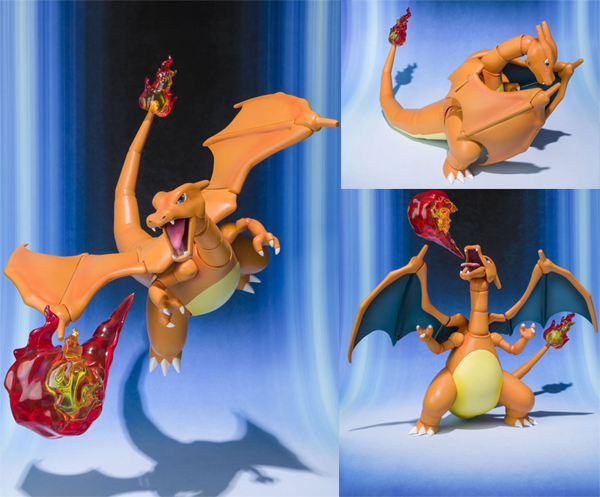 Landing on our first spot is one of the most popular Pokemon ever: Charizard. The evolved form of Charmander, a starter Pokemon from the original games, Charizard proudly stands next to Pikachu as one of the best-known Pokemon in the series. In the anime Ash gets all the starter Pokemon but Charmander is the only one he raises to his final form. Bandai released this Charizard figure as a part of their D-Arts line in April 2013. We have often stressed the articulation as a main feature of many figures, but when it comes to this Charizard figure to say that this is a highly articulated figure would be an understatement of the century. We are not even kidding. When it comes to the articulation this figure is a nothing short of a masterpiece. Almost any place that you would expect to be movable, it is. From the highly articulated tail and limbs to articulated and folding wings almost everything is movable. He even comes with a fully poseable tongue. You heard us right you can even move his tongue. Aside from the figure you will get a base that features a Poke Ball motif. On the base you will find two pincers. You can use to attach Charizard on it so it can look like it is flying, and you can hold up the fireball effect with the other part. Or you could use both for Charizard; your choice. Beside the flame breath attachment, you will also get another flame attachment to mount on the end of Charizard's tail. This Charizard figure is a 15 cm (5.9 inches) tall pre-painted ABS-PVC figure. You can capture this Charizard for only about 170 US dollars. Due to the awesomeness of this figure and the fact that this is Charizard prices for this figure can go up to 56,000 yen (around 500 US dollars) but on the secondary market it can be yours for about 19,000 yen (around 170 US dollars).
---
There you go Pokemon fans, five figures you should capture to enhance your chances of becoming the best Pokemon collectors out there!