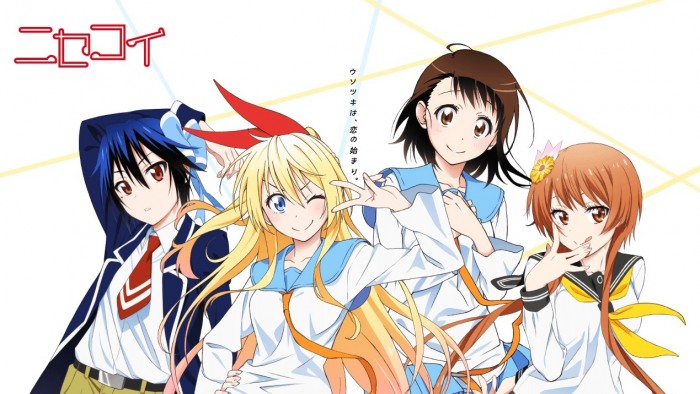 "Nothing in this world becomes yours if you don't move to acquire it." - Marika Tachibana
It's a love story as old as the world. Boy meets girl, girl meets boy, girl knees boy in the face, boy and girl learn they need to fake their relationship in order to prevent war between their rival gang families. The story of the troubled times of Raku Ichiyo and Chitoge Kirisaki certainly hit a chord with an audience, which two anime seasons and a successful manga series prove. It really is no surprise that characters which are so loved would spawn a great number of awesome figures, and we are here to bring you the best of them. Let another Five Figure Friday begin.


---
---
If you think about it, it is only fitting that the main heroine of the series Chitogi Kirisaki opens our list. First of several of her figures (we must admit we liked so many of them) is the chibi Nendoroid figure. This 10 cm (3.9 in) tall figure was released by Good Smile Company in September 2015, and sculpted by Nnedoron and Shichibee. The petite but adorable Kirisaki is an articulated, completely pre-painted PVC/ABS figure. This figure comes with a stand and numerous bonus pieces which include three facial expressions (cheerful smile, winking and panicked), a notebook, a school bag, a promise key, and additional hand parts. With these parts, you can create the right look which would fit perfectly in your collection.
---
---
The second figure on our list comes from the Revolve Co. With this figure they did quite an extraordinary representation of Seishiro Tsugumi. The Black Tiger herself is often thought of as being a boy because of her attire and masculine and aggressive attitude; she was even introduced to her classmates as a boy. Here, Revolve decided to show her more feminine side, by showing her wearing a cute blue dress with gold shoes. This figure, which shows the tender side of this capable hitwoman, was sculpted by Nobuta-san and colored by Moriyama Nana. This figure of Seishiro Tsugumi is 23 cm (8.97 inches tall) and is a completely pre-painted figure made from the mix of ABS and PVC. With this figure you will get long and short hair attachments. To own this unique Nisekoi figure that was released in September 2015, you will have to pay around 10,560 yen (approx. 87 US dollars).
---
---
They say you can't keep a good girl down, and in the case of Chitoge Kirisaki, that never rang more true. This time a figure of everyone's favorite Bee Hive Gang member comes from the manufacturer Alter. To show just how energetic Chitoge is, the sculptor decided to show her captured in mid-jump. Her peculiar smile also adds to the energetic image this figure sports. This figure is 23 cm (8.97 inches) tall with the base. This is a completely pre-painted PVC figure. Mumei-san is the sculptor of this energetic figure and Takamasa Watanabe is responsible for the amazing display of bright and uplifting colors. Kirisaki figure was released in October 2015, and can be yours for just 23,300 yen (around 195 US dollars).


---
---
If we were to say which character was the fan favorite based on the number of figures it got, without a doubt that would be Chitoge Kirisaki. This figure of lovely Chitoge comes from MAX Factory and was released in June 2015. This particular figure was modeled on the key image made for promoting the Nisekoi anime adaptation. The Kirisaki figure has been done in great detail. They faithfully represented Chitoge's mischievous smile and her long flowing hair. Said hair is maybe the most striking feature of this figure, with many individual strands flying in the wind. The man responsible for this masterfully sculpted figure is the sculptor Koudzuki. The figure is 23 cm (8.97 inches) tall and is a completely pre-painted PVC/ATBC figure. To level up your collection with this figure you will have to pay up to 23,600 yen (around 196 US dollars), though once in a while, cheaper ones pop up on the secondary market.


---
---
If you have been reading our list at all you can pretty much guess which character's figure took our top spot. Once again Chitoge Kirisaki proves that she is just in league of her own when it comes to Nisekoi characters. This figure has not yet been released by the time this article will be published, but with a release date of February 2016 we can expect it any day now. This Chitoge figure will be published by the FREEing. The sculptor behind this figure is Zenko-san while the color is done by Pinpoint. The figure is based on the exclusive illustrations made by SHAFT. The Chitoge figure will be a completely pre-painted 36 cm (14.04 inches) tall PVC figure. To get this unique Bunny version figure you will need to pay up to 44,550 yen (around 370 US dollars).


---
There you go Nisekoi fans, these are (in our humble opinion), the best and the most unique Nisekoi figures, without which your collection certainly can't be complete.
Brought to you by