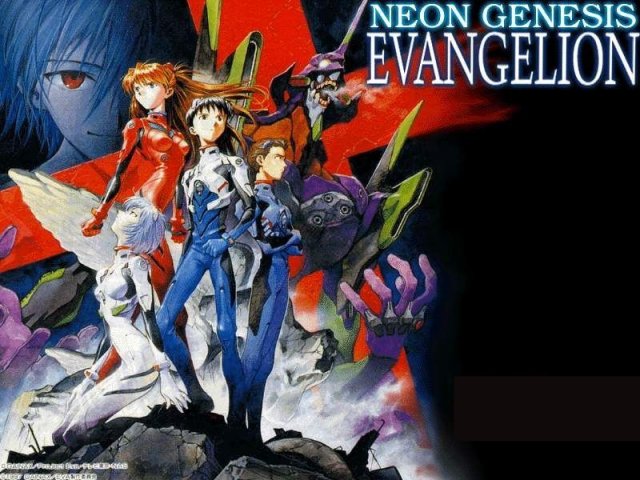 "The power of the imagination is the ability to create your own future…" - Ayanami Rei
Dear readers, welcome back to Five Figure Fridays and we hope you were able to rejuvenate a bit during the holidays. Here at Rinkya, our New Year's resolution for 2016 is to continue to provide you with the highest quality content possible. Now, on to the goodies!
If you take a look at any top ten anime list on the internet, you will see that one classic anime that almost all sites name is Neon Genesis Evangelion. This beloved series first appeared in the 1990s and continues to carry massive fandom. With the delay of the newest movie in the Rebuild the Evangelion series it is now the perfect time to look at some figures that can keep you busy until the movie hits the theaters.
---
---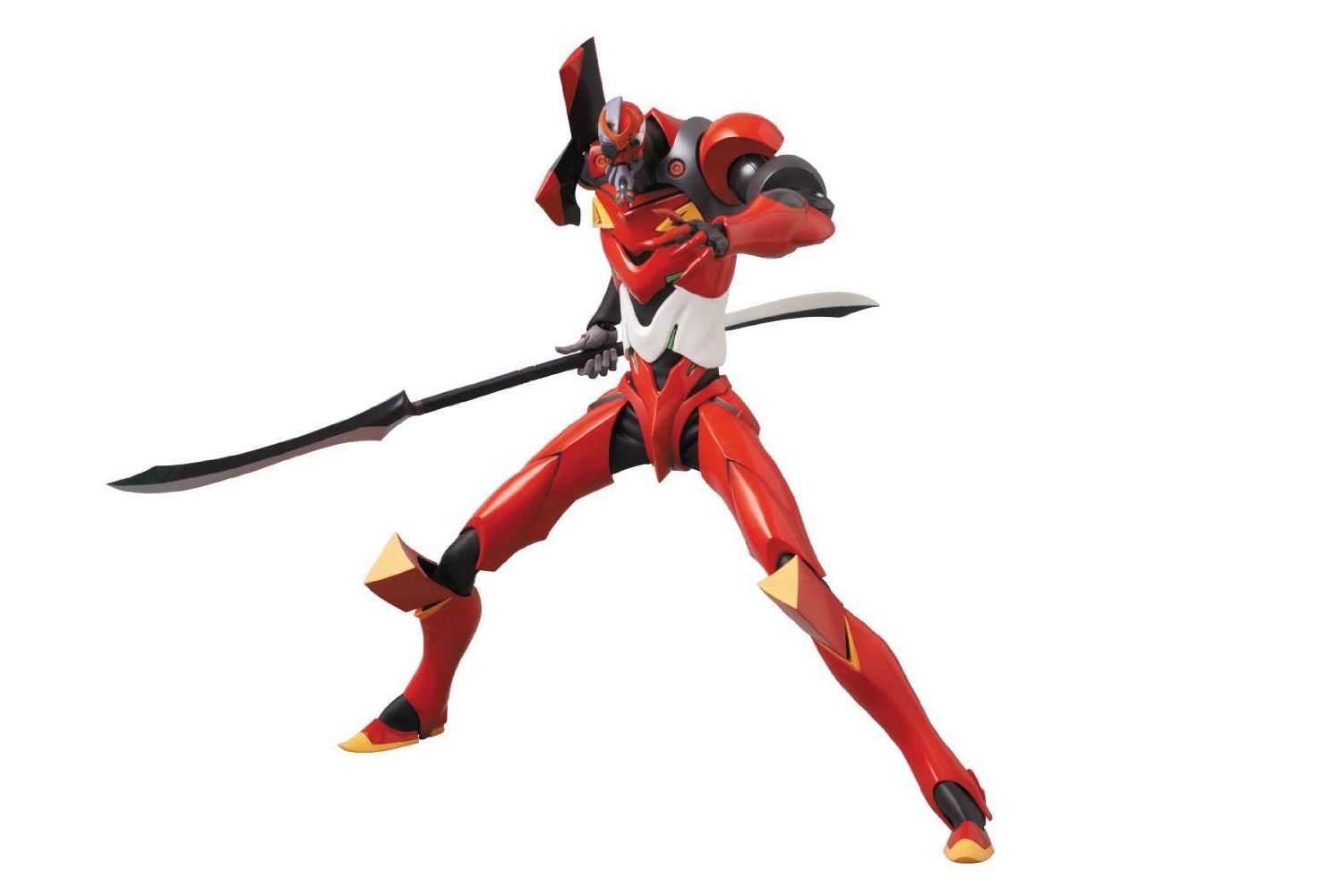 The first item on our list is a part of the Real Action Hero line from Medicom Toy. This figure of Eva Unit 2 was released in April 2014. The figure is sculpted by Perfect Studio and its height from the shoulder armor to the base amounts to 39 cm (approx. 15 inches). Real Action Hero line is famous for its articulated figures and this Unit 2 is no exception; it can be articulated in a myriad of ways. With this figure, you also get the signature gatling gun from the movie Evangelion 3.0 You Can (Not) Redo. A blade weapon, an entry plug and interchangeable hands also come with this figure. Unit 2 is created with the mix of ABS and PVC. This highly customizable figure will cost you up to 20,400 yen (around 170 US dollars).
---
---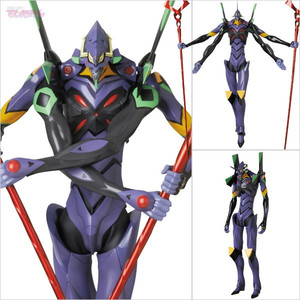 The second figure on our list also comes from Medicom Toy. This Real Action Heroes Neo No.684 Evangelion Unit 13 comes from the Real Action Heroes line. The figure itself is a representation of Unit 13 from the latest movie in the Rebuild the Evangelion tetralogy - Evangelion: 3.0 You Can (Not) Redo. This figure was released in May of 2015 and was sculpted by Perfect Studio. This is a pre-painted ABS articulated figure that is 39 cm (approx. 15.4 inches) tall. In the movie, both Shinji and Kaworu are needed to use the four armed spear wielding modification which you get as an extra with this figure, so you can freely show off this figure in all of its glory. Besides four arms and two spears, you will also get a display stand, alternate wrists and effect parts. This beauty will cost you up to 42,700 yen (around 360 US dollars).
---
---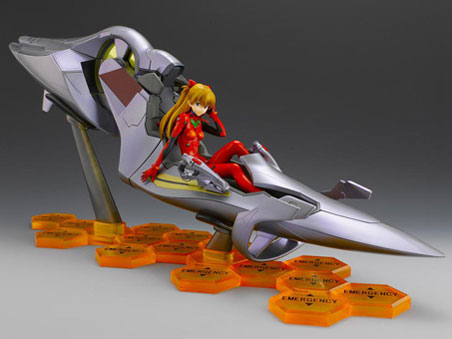 This next figure is a real treat and a prime example of what a figure can really be. This figure of Asuka was released by Vortex in December of 2012. This pre-painted figure is made from a mix of ABS and PVC. First thing extraordinary about this figure is its size. The 80 cm (approx. 31 inch) size certainly demands its share of the display space on your shelf or wherever you want to put it. This large size allowed for intricate details to be added to this figure. This masterpiece was created by two different artists: Shinpei Yokoshima sculpted Asuka, while Model Board sculpted the Entry Plug Unit. That entry plug has to be the greatest feature of this figure, with the head screen being illuminated by LED lights. The entry plug also features movable levers. For the lights, you need three LR44 batteries. This figure from the Dwell line can cost you up to 98,000 yen (around 820 US dollars).
---
---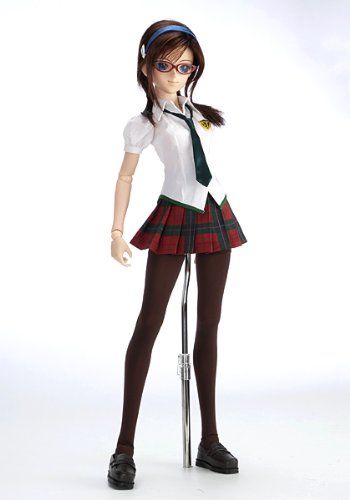 The next figure on our list is the figure of Makinami Mari. This figure comes from the widely popular publisher Volks and is part of the Dollfie Dream line. It was released in August 2008. This figure is based on Mari's look from the Evangelion: 2.0 You Can (Not) Advance movie and, like most of the Dollfie Dream collection, it is made from soft vinyl. If you fancy this figure, be sure to make a lot of room on your shelf because it is an astounding 60 cm (approx. 23.6 inches) tall. This enormous figure is sculpted by Zoukeu-mura. The set contains a Mari Original DD Head with Dollfie Animetic Eyes that are 20 mm long and metallic. Her body consists of Dollfie Dream Base Body II, normal skin and a M bust. Volks never disappoints when it comes to the bonus goodies. This time with the figure, you get a necktie, a blouse, a skirt, thigh-high socks, panties, loafers, a headband, glasses and a cell phone. Also to avoid staining the skirt and the shirt, you also get an underskirt and a shirt cover. To own this majestic figure you will need around 150,200 yen (around 1300 US dollars).


---
---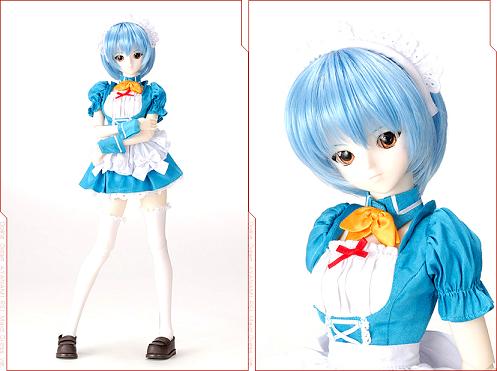 We finally come to our last figure of the day. The top spot on the list belongs to the Rei figure from Volks. Like Mari before her, she is part of the premium Dollfie Dream line and was released in August 2015. The sculptor of this soft vinyl figure is Zoukeu-mura. Rei is 60 cm (approx. 23.6 inches) tall. Her head part is Rei Original DD head with metallic original Rei eyes, while her body is Dollfie Dream Base Body I with normal skin and a M bust. This special figure comes with a full maid outfit which consists of a headpiece, loafers, a dress, a petticoat, an apron, cuffs, a collar, underwear and socks. For this mesmerizing figure of Rei in all her glory of innocence, you will have to spend up to 166,000 yen, which is around 1400 US dollars.


---
There you go Evangelion fans, five figures to help you make the time till the next Evangelion movie more bearable.
Brought to you by