Little by little, we advance further with each turn. That's how a drill works! –Kamina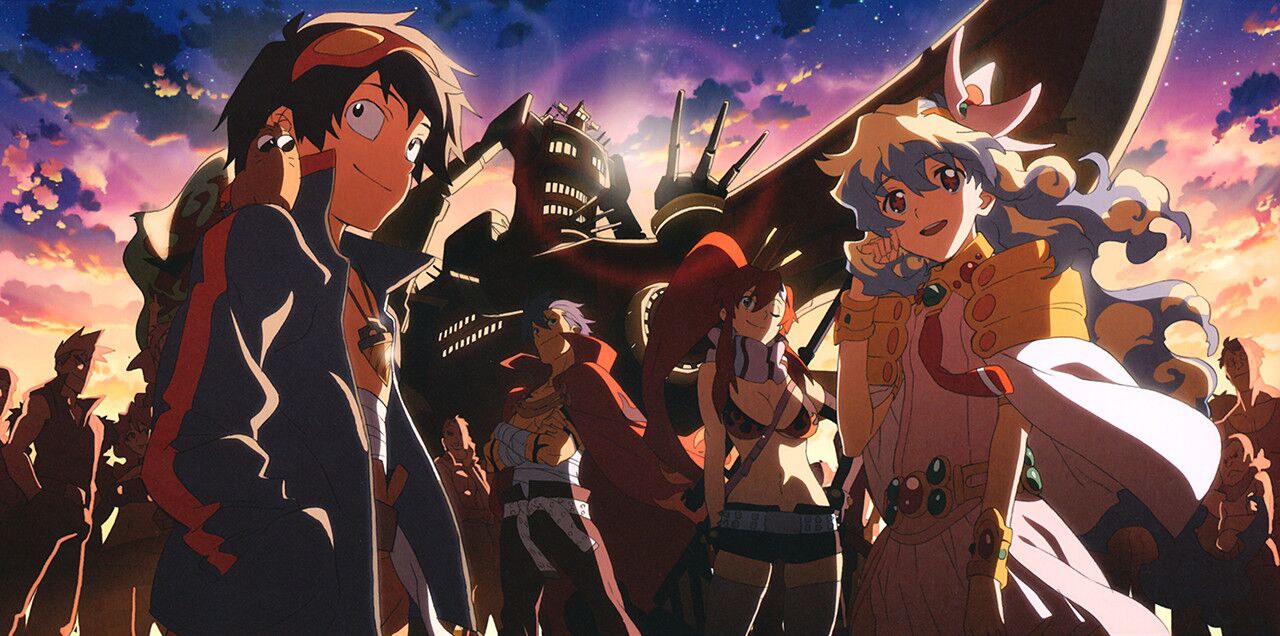 If you haven't been living underground like the main characters of this acclaimed anime series, you have probably at some point in your anime-loving life heard of Gurren Lagann. This mecha anime series was released in 2007 and it was animated by Studio Gainax. Maybe you are familiar with Gainax; that's the studio that animated that little show that is called Neon Genesis Evangelion.
In Gurenn Lagann we are introduced to a dystopian future Earth that is ruled by the Spirel King Lordgenome, and mankind is forced to live in the subterranean villages while digging deeper, ever deeper. One of the diggers tasked with expanding mankind's homes, Simon, accidentally finds a drill-shaped key called the Core Drill and a mecha resembling a face called Gunmen. After an attack on their village, Simon, together with Kamina, his best friend and older brotherly figure, and Yoko, begin an adventure that would span the galaxy. The anime definitely stands on its own, but if you are a huge Gainax fan you can spot certain similarities with their other projects, especially in the development of the main character Simon who undergoes three stages in his development. His first stage was inspired by Shinji Ikari from Neon Genesis Evangelion, his second by Noriko Takaya from Gunbuster, and his final stage by Ken Kubo from Otaku no Video. The Gurren Lagann was so successful that it is regularly mentioned in many other popular media. One of the funnier examples is League of Legends tribute skin for Rumble called Super Galaxy Rumble, where even the quotes that come with the skin are references to Gurren Lagann.
---
Dollfie Dream Yoko
---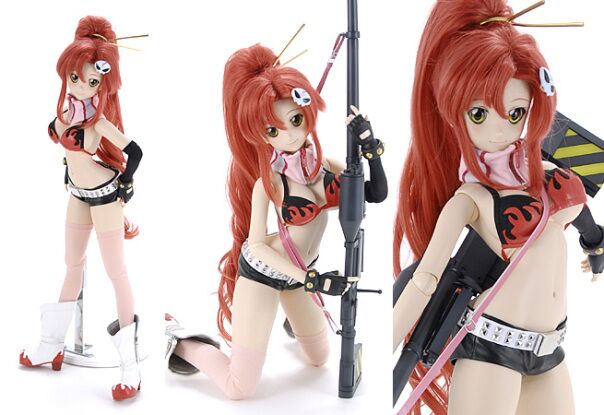 With anime this popular, there is bound to be some sweet merchandise. For example, the
Dollfie Dream Yoko. Yoko comes from Volks and she is part of the Dollfie Dream line released in July 2009. Yoko is a DD Dynamite (Dollfie Dream Dynamite) with a bigger bust and hips, and is one of the rarer dollfie dream bodies. Unfortunately though, clothing from other sized dollfies won't fit her. Yoko is made from soft vinyl, and is 56.5 cm (approximately 22 inches) tall. Yoko comes with a wig, neck warmer, inner swimsuit, hot pants, belt, arm warmer (left arm), socks, pants, armband, grooves hand parts, skull head accessory , hairpin, rifle strap, rifle, stock (open version), goggles, and if you pre-ordered, a limited edition yellow swimsuit. She was sculpted by Misaki Serika, who owns the A-brand company and has produced hundreds of beautiful figures. Only available through online web sales, this doll can sport some astronomic prices, with the top price around 282,400 yen (around 2,300 US dollars).
---
Dollfie Dream Nia
---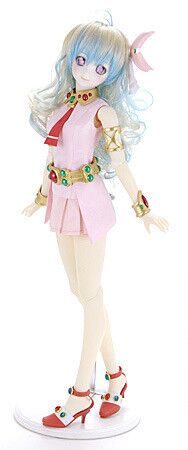 If you like Nia more than Yoko, then you are in luck. Dollfie Dream Nia is also available from Volks. The main difference from Yoko is that Nia has the DD base body II and M bust. Nia was released in July 2007 through website only sale. She is made from soft vinyl, also sculpted by Misaki Serika and she is a half centimeter taller than Yoko so she is 57 cm (22.23 inches) tall. As far as the price is concerned Nia, is little cheaper then Yoko. Her price goes up to around 221,200 yen (around 1,800 dollars).
---
Eye Up Kamina
---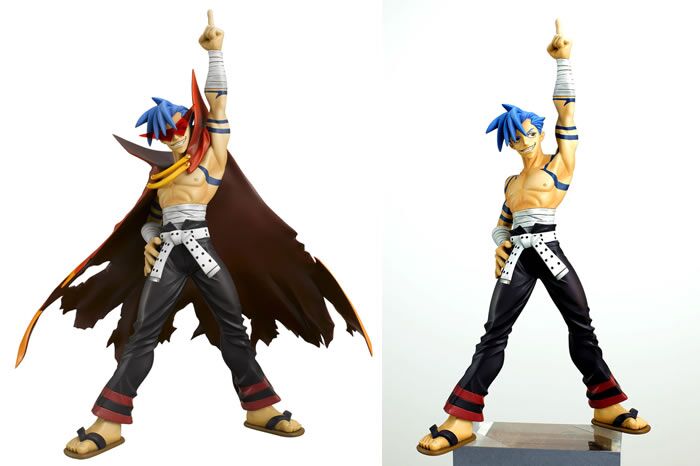 What Gurren Lagann article is complete without Kamina? This Kamina figure comes from Eye Up. He was released in August 2008. This is a pre-painted PVC statue that is 26 cm (approx. 10 inches) tall. Kamina is sculpted by Black Sabbath, and comes with a removable cloak and eye mask. With his recognizable pose, Kamina is ready to lighten up your collection, and he can do just that for up to around 96,000 yen (around 780 US dollars).
---
If you plan on revisiting the Gurren Lagann universe, or just want to expand your figure collection: remember even though the main characters live underground, don't forget to take a break from the show once in a while to go get some air!
Brought to you by