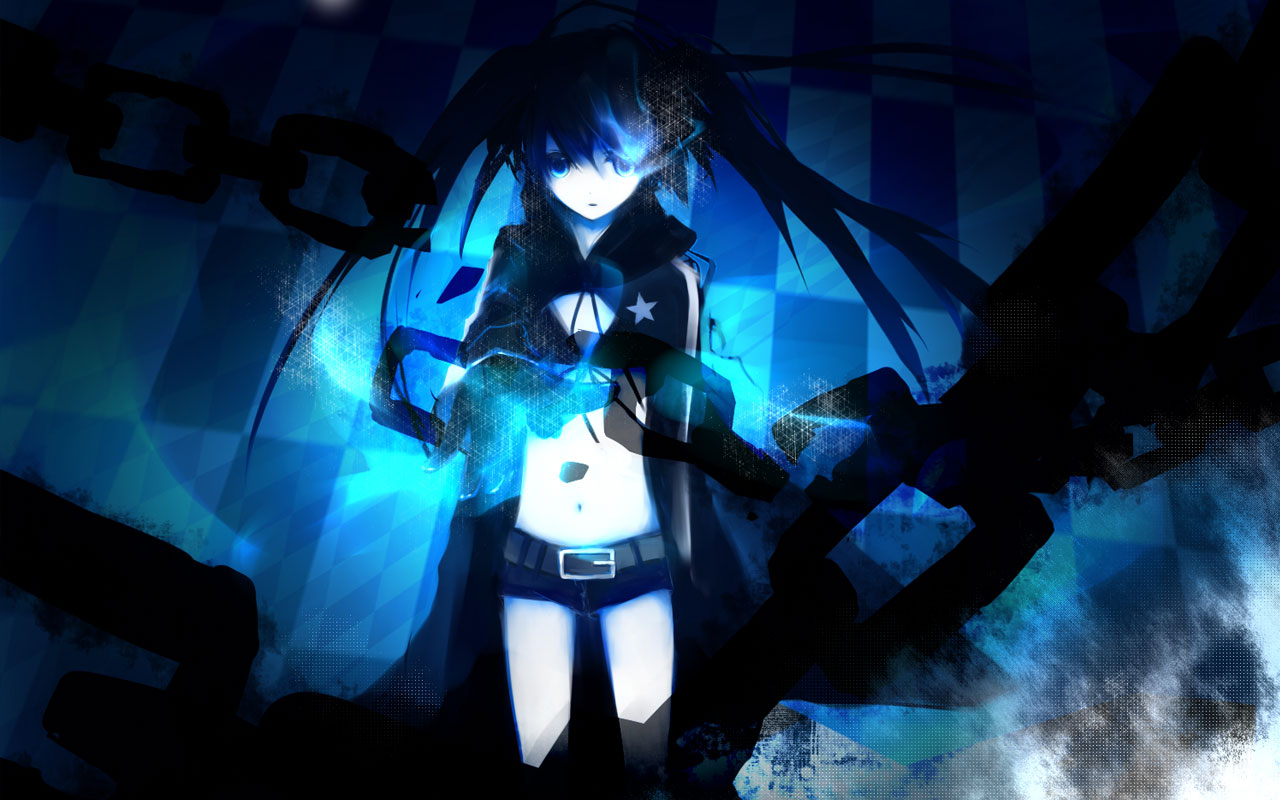 No matter what people say, miracles do happen. Just take a look at the Black★Rock Shooter. Originally Rock-chan was just an illustration that its creator Ryohei Fuke AKA Huke posted on his blog and online artist community PIXIV, but when Ryo of Supercell saw the illustration, everything changed. Inspired by Rock-chan's illustration, he created the eponymous song "Black★Rock Shooter". After that, the rest, as the saying goes, is history. Black★Rock Shooter became a major franchise with a manga series, anime series, video game series being made. And we must not forget groovy collectibles, five of which we are going to show you, right here, right now.


---
---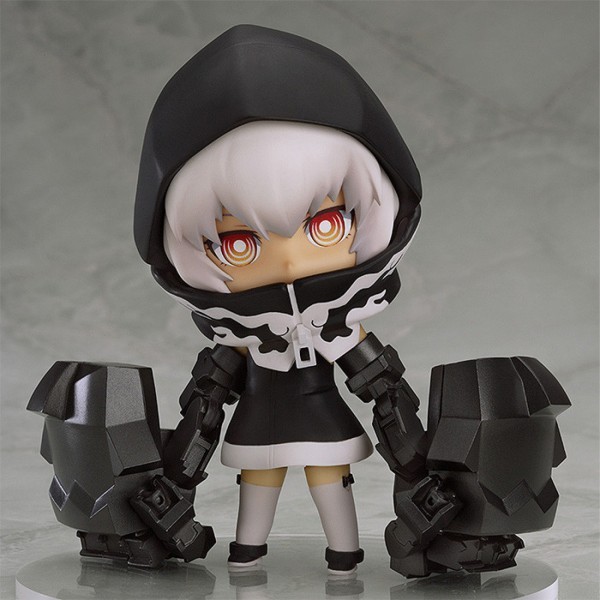 It is no secret we are a little weak when it comes to Nendoroids, and once again we just have to start with one. This time we have the chibi yet fearsome version of Black Rock Shooter's Strength. Based on the anime version of Strength, this Good Smile Company figure was released in December 2013. This 10 cm (3.9 inches) tall Strength figure was made from the mix of PVC and ABS. Like all Nendoroid figures this one of Strength is completely pre-painted and posable. In addition to being posable, she comes with a variety of attachments which include two expressions and four of her "Ogre Arms". "Ogre Arms" can further be customized with additional special effects. With all of this you can easily recreate your favorite fighting scenes. The responsible for this awesome Strength figure is Gaku Kato with the cooperation from Nendoron. This figure will cost you up to around 5,000 yen (around 43 US dollars).
---
---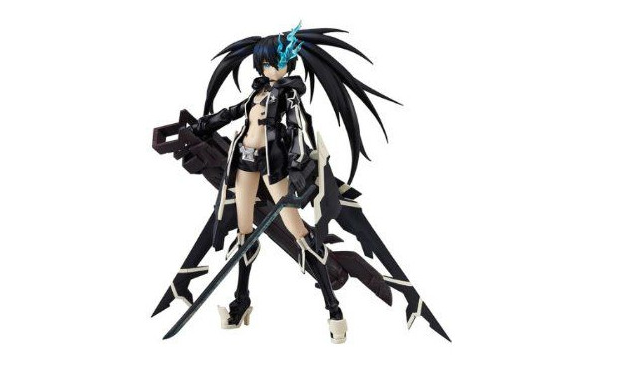 Rock-chan shoots her way onto our number four spot with her Figma figure from Max Factory. This Figma is based on Black★Rock Shooter: The Game version of Rock-chan and it was released in December 2011. In case you didn't know, Figma figures are a special line which specializes in figures which are highly articulated yet beautiful. Thanks to the special smooth yet posable joints, this figure is capable of showing a myriad of different energetic poses; even her wings are fully posable. The sculptor of this completely pre-painted ABS/PVC figure is Masaki Asai. If you thought that was all to this figure, well, you are wrong. We must not forget just an incredible number of bonus attachments this 14 cm (5.46 inches) tall figure possesses. The Rock-chan figure comes with a normal and a shouting face, both "Rock Cannon" and "Black Blade", a blue flame for her eye, and a stand. To own this "rocking' figure you'll need to cough up to around 35,000 yen (around 300 US dollars). Absolutely do not forget to check the secondary market for possibly cheaper ones.
---
---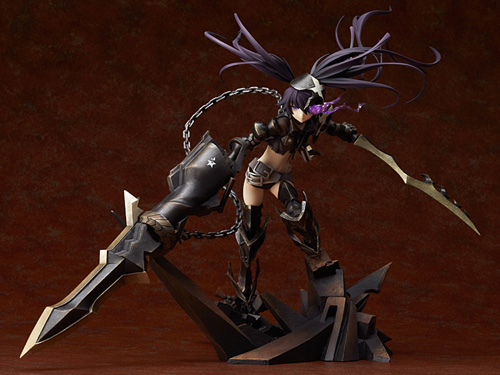 First of our top three figures for this week is the figure of the Insane Black★Rock Shooter. The difference between her and Black★Rock Shooter is the purple flame of insanity that burns in her eyes. This figure is based on the TV animation version of the character. The figure is sculpted by Kiking and it is a completely pre-painted PVC/ABS figure. This Insane Black Rock Shooter figure is 27.5 cm (10.73 inches) tall and all of it is masterfully sculpted to the smallest detail. It was manufactured by Good Smile Company. The insanity of the character is masterfully expressed through her pose and expression and her signature weapons Insane Cannon Lance and Insane Blade Claw only amplify that insane aura. Even the stand is modeled in such a way to show and remind everyone of the Hollow World. This figure, which was released in September 2013, will cost you around 37,400 yen (around 320 US dollars).


---
---
Rock-chan is a definitive winner based on a number of her figures on this list, and now she has taken our second place. This time we have a RAH (Real Action Heroes) version of the Rock-chan. RAH figures are a Medicom Toy brand and the line is famous for its 12 inch (around 30 cm) articulated figures. The figure was released in November 2011 and as we said it is 30 cm (12 inches) tall. This ABS/PVC figure was sculpted by Keisuke Sawada with special clothing done by Mieko Akimoto who did an excellent job making the wire implanted coat from real fabric, which thanks to its wire implants can be articulated any way you want. The said coat is not the only thing special on this Black★Rock Shooter figure, which includes a lot more awesome attachments like Rock-chan's signature "Rock Canon" which in itself is almost 30 cm (12 inches) long, "Black Blade" which is made from ABS, blue fire for her eye, additional hand parts. To even further emphasize how posable this figure is, we will just say that even her twin tails are ball jointed and can be moved. To showcase this RAH version of Rock-chan you will have to pay up to around 47,700 yen (around 410 US dollars) or check the secondary market.


---
---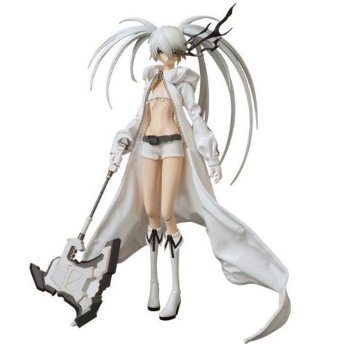 On our top spot we have a very special edition version of Real Action Heroes Black Rock Shooter figure. First released in February 2012 as a Tokyo's Wonder Festival. It is important to note that this just a white version of Black Rock Shooter and not a figure of White★Rock Shooter, who is a completely different character. This special edition was sculpted by Sawada Keisuke with the original illustrator Huke designing her "Rock Battle Axe" which is a special weapon created only for this figure. As other RAH figures she is 30 cm (12 inches) tall and it is made from PVC and ABS and like the regular version, her hooded coat is made from real fabric with wires implanted. She also comes with a black flame eye effect and once again even her twin tails are joint-ball posable. This one of a kind figure from Medicom Toy can be yours for up to 72,000 yen (about 620 US dollars), though cheaper ones do appear on the secondary market from time to time.


---
And so we come to the end of another Five Figure Friday! We hope this will help you find the right figure for yourself so you too can be a part of this real life miracle phenomenon called Black Rock Shooter.
Brought to you by