---
1. Dolfie Dream Limited Edition DD Asuna
---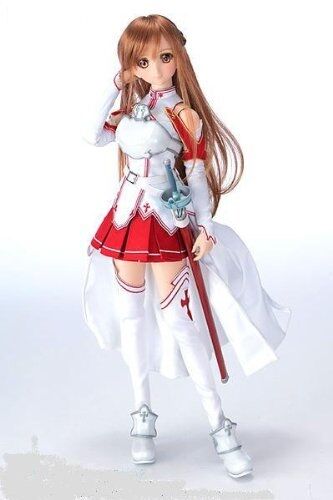 First item on our list is a figure of an immensely popular player, Asuna. Dolfie Dream Limited Edition DD Asuna from Volks is a ball-jointed doll with a size of 651mm x 227mm x 160mm (25.6 x 8.9 x 6.2 inches), and weighs 2,355 grams. This Asuna figure is made from soft vinyl, and comes with the doll, a wig, jacket with train and arm belts, a belt with a sword holder, arm covers, skirt, socks, bra, panties, breastplate, boots, sword, and a scabbard. This is a limited edition Dollfie Dream doll that first appeared in the Dolls Party 29 that was held on 4/28/2013, and like most of Volks limited edition dolls, she can only be acquired at the special Volks Doll Party that is held roughly every two months in Japan. There you have to enter a lottery, and if you win, this beautiful doll will cost you around 66,000 yen (around 530 US dollars). If you are not that lucky you can find them on the secondary market, where prices go up to 203,600 yen (around 1,650 US dollars).
---
2. Dollfie Dream DD Shinon
---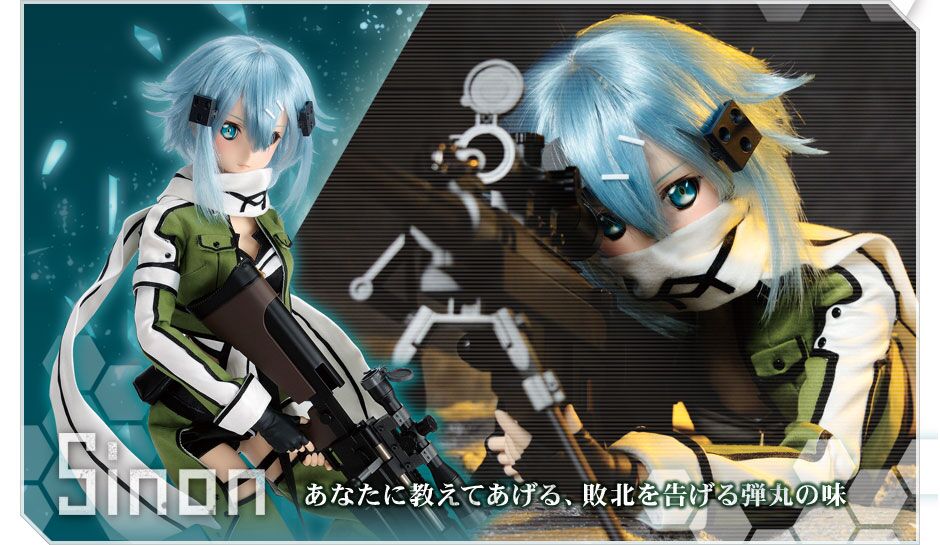 Second item on our list is the figure of Sinon. Dollfie Dream DD Shinon she is also a ball-jointed doll and comes from Volks as well. Sinon's height is 710mm (27.9 inches) and she weighs 2700 grams. This figure appeared on Dolls Party 33 that was held on 5/30/2015. Like Asuna, she is also made from soft vinyl and comes with a lot of extras: the doll, wig, hair clips (×2), hair accessories (×2), scarf, jacket, inner suit, belt, shorts with leg protectors, boots, gun strap, rifle set, pistol, belt accessories, and gloved gripping hand parts. You were able to obtain this doll the same way as Asuna in a lottery at the special Volk Doll Party, where she would have cost you 75,000 yen (around 605 dollars). Otherwise, you can look her up on the secondary market, where prices can go up to around 135,000 yen (around 1,100 dollars).
---
3. Griffon Enterprises' Titania Asuna
---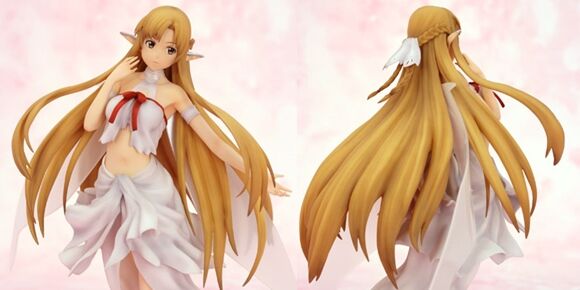 Third on our list is, again, Asuna. This Sword Art Online Asuna Titania figure comes from Griffon Enterprises. She is 220 mm (8.6 inches) tall and is a complete pre-painted PVC figure. She was released in July 2007. One defining characteristic is that this is Titania version of the character that appears in the second half of Sword Art Online anime where Asuna is the Fairy Queen. Prices differ a lot when it comes to this figure, with more expensive ones going up to around 36,000 yen (295 US dollars), but you can buy her direct from Japan at a much better price.
---
4. Real Action Heroes No. 698: Sinon
---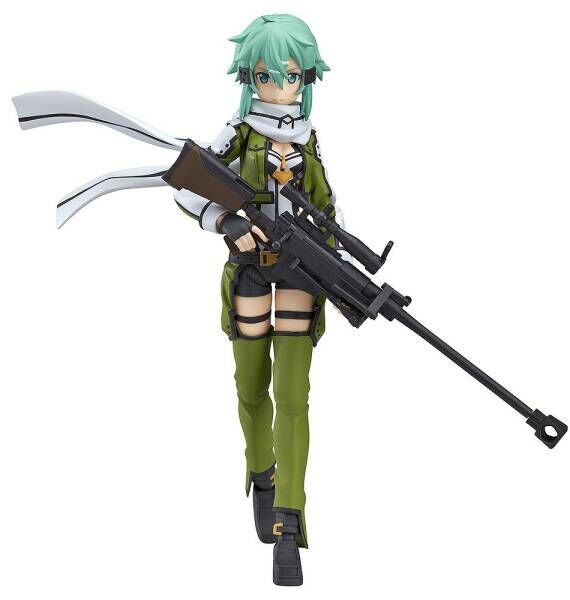 The fourth item on our list is once again the lovely Sinon. This time we have a Real Action Heroes No. 698: Sinon from Medicom Toy, a pre-painted, fully articulated PVC figure. This Sinon was released in August 2015. Her height is approximately 300 mm (approx. 11.8 inches). With this figure you also get 3 facial expressions (calm, clenched teeth, shouting), various hand parts (including "hand gun" gesture), the Hecate II sniper rifle, hand gun, removable jacket, pants, scarf, and an articulated figure stand. All of these extras combined with fully articulated body enable you to create a myriad of exciting poses which are only limited by your imagination. This figure can be yours for up to 35,000 yen (287 US dollars).
---
5. Real Action Heroes No. 700: Kirito
---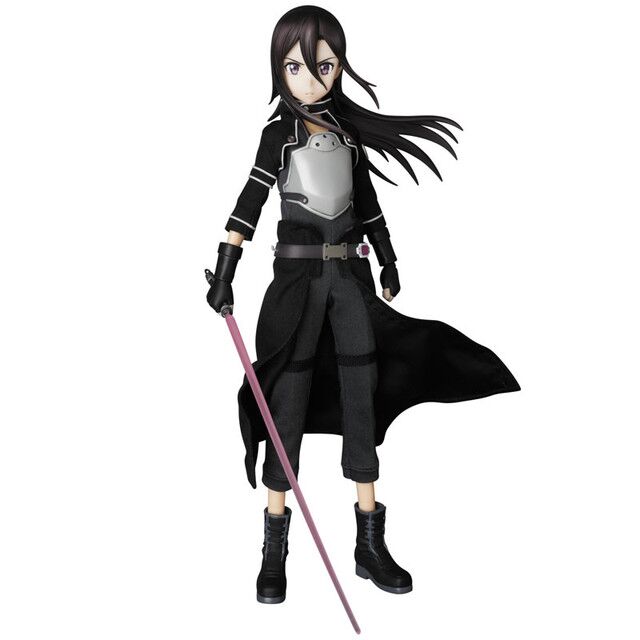 Our final item is none other than Black Swordsman Kirito. Real Action Heroes No. 700: Kirito comes from Medicom Toy. Kirito, like Sinon, who also comes from Medicon Toy, has a height of approximately 300 mm (approx. 11.8 inches), and is a fully articulated pre-painted PVC figure. He was released in September 2015. With Kirito you get a number of accessories like 3 interchangeable facial expressions, a Photon Sword with interchangeable light-sword parts, a gun, costume, and interchangeable hands to display stand to show off your swordsman stance making skills. This figure can go up to 27,600 yen (224 US Dollars).
---
Thank you for using the Sword Art Online rare figure directory. We hope you will use these figures to raise your offline status. Logging off.
Brought to you by