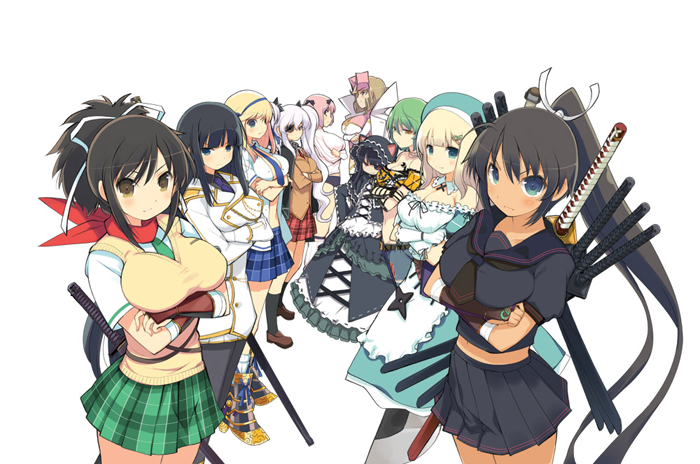 There are two kinds of people in this world: those who like samurais, and those who prefer ninjas. Both fall in the things-that-make-you-love Japan category, and are some of Japan's well-known cultural exports. Even though we love samurais, this time we are talking about ninjas. Ninjas have been represented through various media in plethora of ways but one of the more memorable depictions of ninjas comes from the Senran Kagura video game franchise which falls into the self-proclaimed "Flying Out Enormous Breast Drama Hyper Battle" genre. In case you are wondering, "Flying Out" refers to the game's clever usage of the Nintendo 3DS's 3D capabilities to display the heroines' body parts in three dimension. Controversial? For sure. Popular? Senran Kagura has sold over one million copies and has multiple games and spin offs and an anime adaptation - facts speak for themselves. One more thing that the series produced is numerous figures, and we are going to dive in and fish out the best ones for your enjoyment.


---
---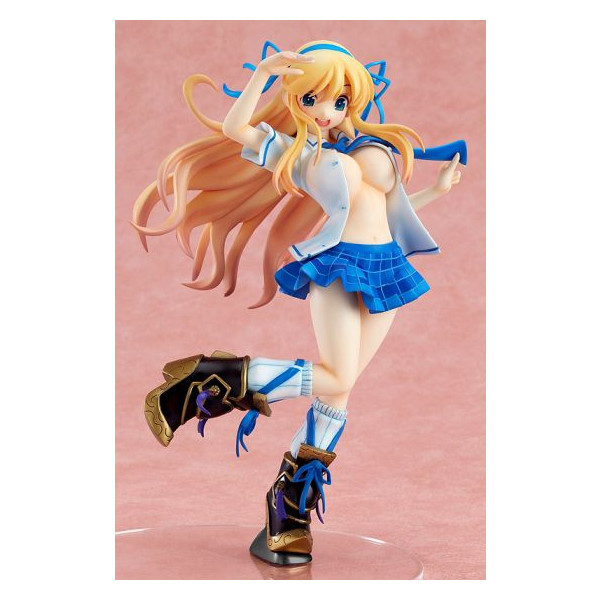 Emerging from the shadows, Katsuragi takes the first spot on our list. The figure of this provocative character, whose hobby (according to the Senran Kagura wiki) is sexual harassment of her fellow shinobi, comes from the Phat Company. Katsuragi was released in September 2013. At one point during development, Katsuragi was supposed to be the main character of the series, but because of the overt similarities with the character from another popular fan service series, Hakufu Sonsaku from Ikki Tousen, the makers of the game opted for Asuka instead to avoid litigation. This figure of the-almost-main character Katsuragi is made completely from PVC and is sculpted by Amasu. The standout feature of this figure is that each one is hand-painted. This 20 cm (7.8 inches) tall figure will cost you about 9,100 yen (around 77 US dollars).


---
---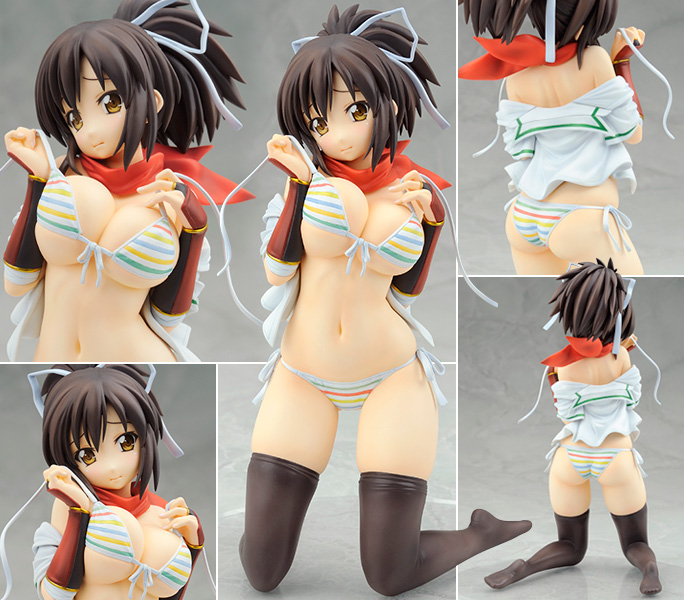 After Katsuragi we have a figure of lovely Asuka. Asuka, which means "Flying Bird", was manufactured by Alter and released in July 2014. The sculptor of this provocative figure is Ryou Hashimoto. This Asuka figure doesn't leave much to imagination, but even though she is presented in a swimsuit, Hashimoto retains some of her shinobi style by wearing her hand armor. Asuka figure is a pre-painted complete PVC figure which is 18 cm (7.02 inches) tall. To own this eye-catching figure you will have to pay up to around 32,500 yen (around 275 US dollars).


---
---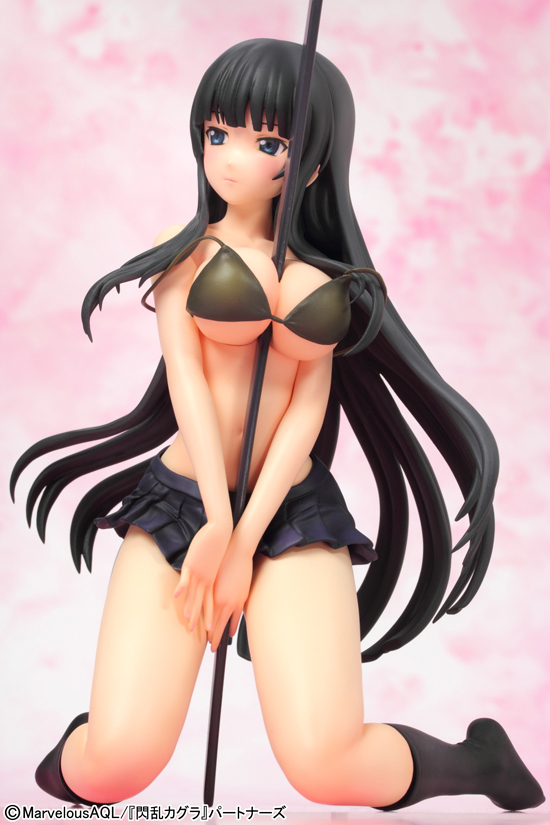 The next figure on our list is the 3rd year Hanzo student Ikaruga. Her figure comes from Griffon Enterprises and it is part of their adult's oriented R-line brand. This figure of Ikaruga posing with her sword in nothing more than a (removable) bra and a black mini skirt was sculpted by Team Genesis. Ikagura, which means "Spotted Dove", was released in December 2013. This item is a pre-painted complete PVC figure which is 16.5 cm (6.44 inches) tall. You can find this figure for about 39,000 yen (around 330 US dollars).
---
---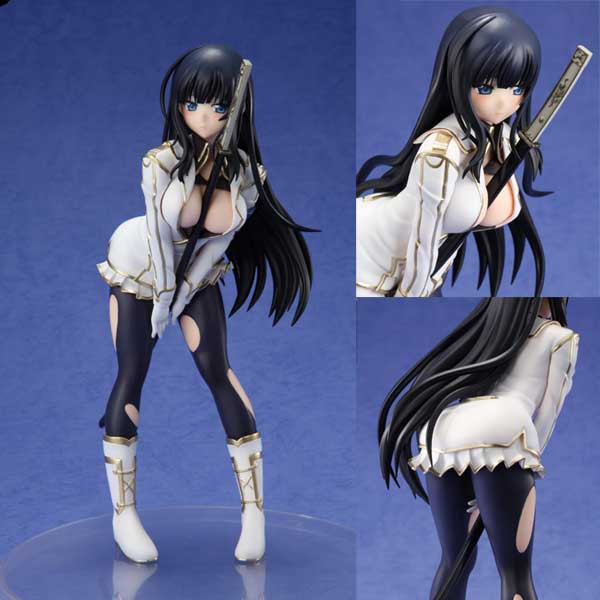 In our second place we have again fan-favorite Hanzo student Ikaruga. This time we have a figure which is a brainchild of two companies, Chari Ani and Toys Work. This completely pre-painted figure was released in February 2014. She is 19 cm (7.41 inches) and made from 3 different materials: PVC, ABS and SBS. This figure of the Spotted Dove poses in the similar fashion as the Griffon Enterprises figure, with her sword in the middle of her, uh, assets, but she does have more clothes. This figure can be yours for around 43,800 yen (around 370 US dollars).


---
---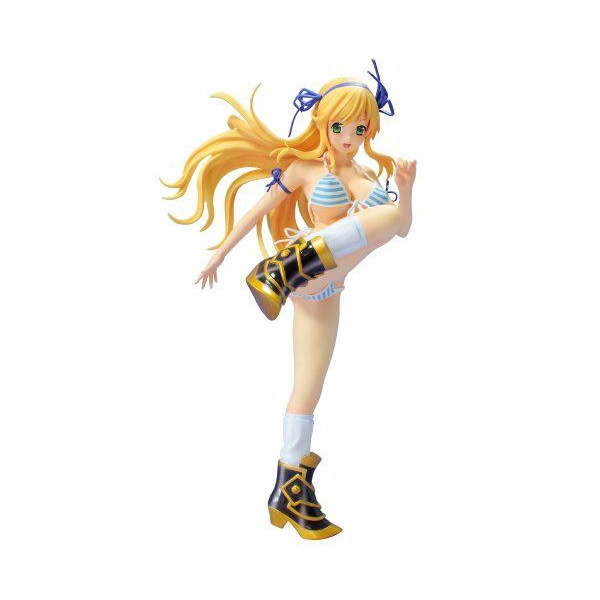 Having successfully infiltrated our list, Katsuragi does it again, and this time she went all the way up to the top. This figure was manufactured by A+ company and was released in October 2013. This figure was sculpted by Ryuusuke. He choose to depict Katsuragi in an energetic action pose, just as she is about to strike. She is wearing a sexy blue-striped swimsuit and a coy smile. Keeping in line with her ninja theme, she is wearing armored boots. This figure is quite big with its height of 35 cm (13.65 inches), and that's without the base. So be sure to find just the right and worthy place for this complete pre-painted PVC figure. To own this Katsuragi figure you will have to pay a little more than for the other figures because the price for this figure is around 86,600 yen (around 730 US dollars), but without a doubt, this figure is worth it. If you look directly in the secondary market you might just find a real bargain.


---
In an era where we are bombarded with all kinds of ninja depictions, it is hard to stay different, but in that regard, for better or worse, Senran Kagura manages to accomplish that difficult feat. Even if you disagree, there is no denying that these figures will definitely make your collection stand out.
Brought to you by