---
Anime Feet?
---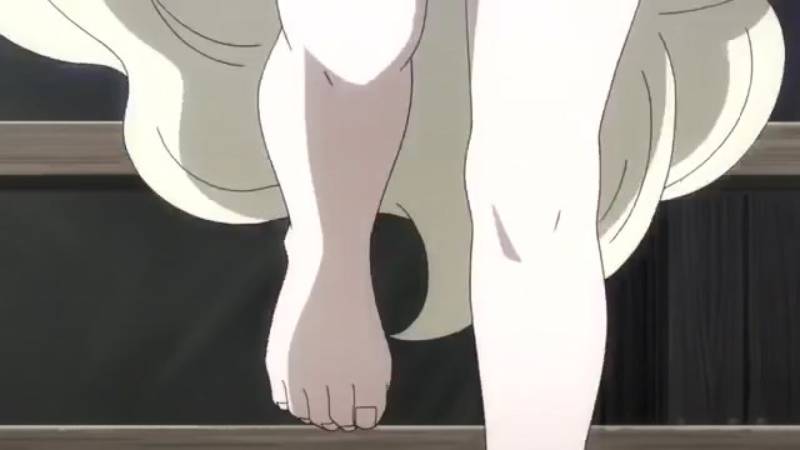 Why oh why do we have an article dedicated to anime feet you ask?

I mean, we need feet to like, stand, walk and run. They're kind of useful I guess. But beyond that, who cares? Well, apparently a lot of people.

But look, you don't have to admit to being into feet if you end up checking out the list we have for you below. Maybe you're just doing some research for your anime drawing classes. Or you just really love checking out any anime related article. Or you're into feet.

All that aside, we're here to uncover the sexiest anime feet with, admittedly, a focus on female characters. And no, we're not prejudiced towards the male species. It's just that most anime male characters have feet that are about as sexy as bread loaves. That's a fact. Sorry.
---
---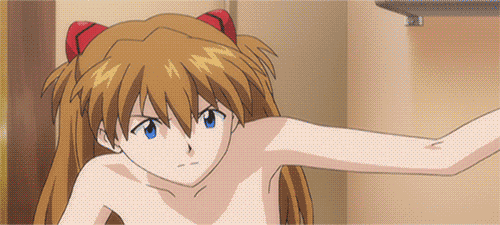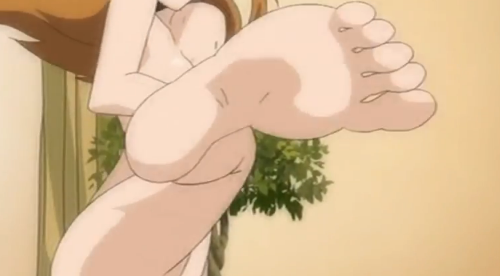 While Asuka is great to look at, she's also quite temperamental, with an emphasis on mental. Just ask Shinji, he became acquainted with the bottom of Asuka's foot for walking in on her while she was naked!
Does Asuka have the nicest anime feet? More like the deadliest.


---
---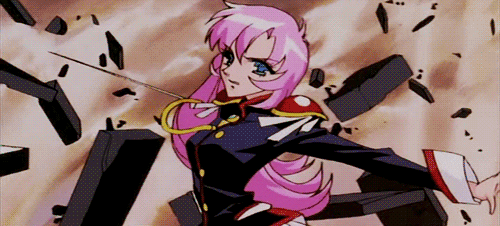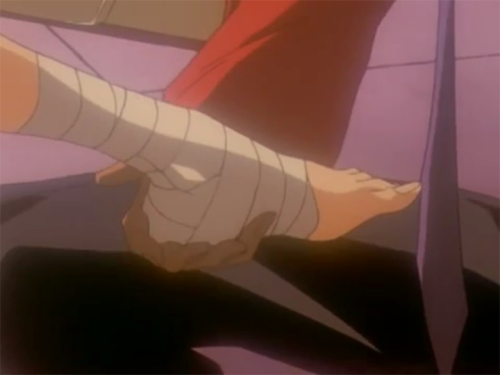 Revolutionary Girl Utena is a show that went out of its way to provide as many of the sexiest anime feet scenes as it possibly could. One of the more notable scenes is where Akio is caressing Utena's bandaged foot. Is he trying to seduce her, or does he just have a thing for feet?


---
---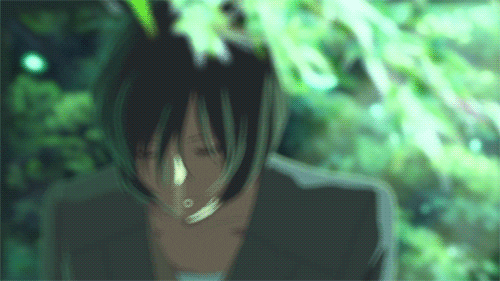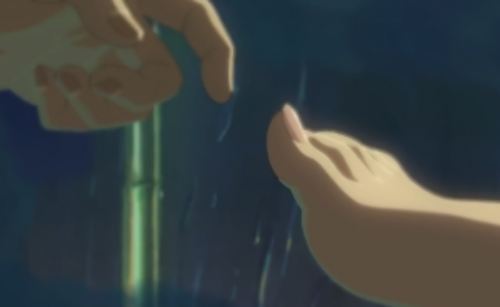 If you thought that the most elaborate and sexiest anime feet scenes were relegated to Utena, then you'd be wrong. Makoto Shinkai's masterful romantic drama brings us one of the most touching foot scenes in the history of the anime medium. Some have even compared it to the famous E.T. finger scene!


---
---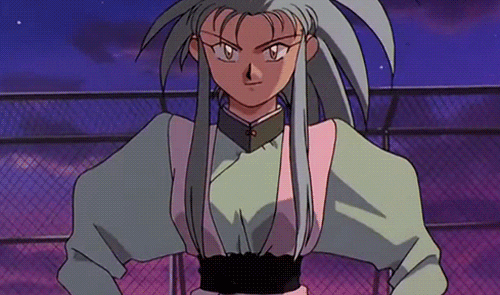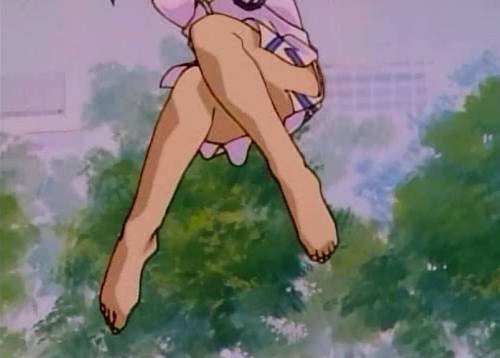 It's time to go a bit retro and rediscover a particular beauty with crazy big blue hair. Ryouko is definitely one of the sexiest characters in the Tenchi Muyou! universe. She's also in amazing shape for someone that's over 5000 years old. And she's also got great pair of feet, which she uses to chase after Tenchi who she's madly in love with.


---
---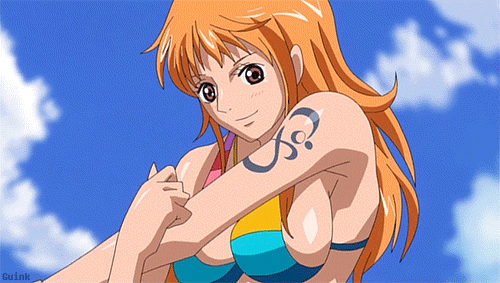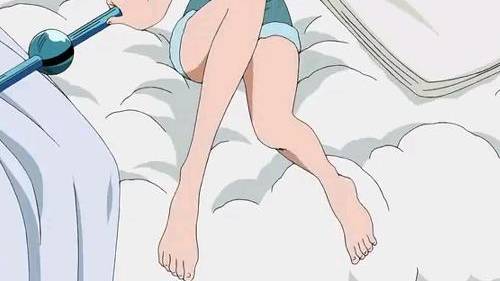 There was just no possibility that Nami would be left out of this sexiest anime feet list. She has a huge fanbase who are crazy about her - so much so that they post tons of fan-art and fan-fiction all over the internet. And it's not difficult to see why; she's attractive and is loyal to her friends. She's also always wearing skimpy outfits which often showcase her legs and feet.


---
---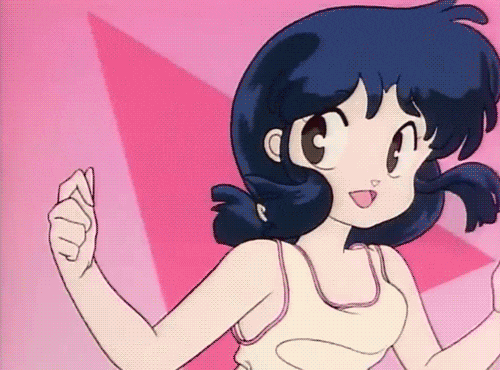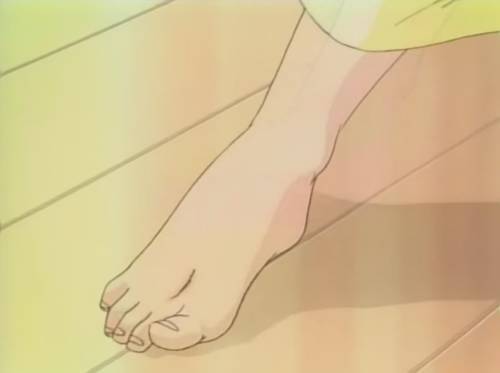 Akane's a bit of tomboy who leads a rather active lifestyle. Even though she comes across as unfeminine, there are still plenty of boys who like her. She's also a martial artist who has no time for perverts. If they get any funny ideas, she'll surely give them a good ass-kicking with her feet.


---
---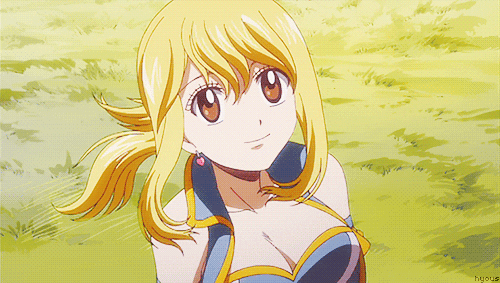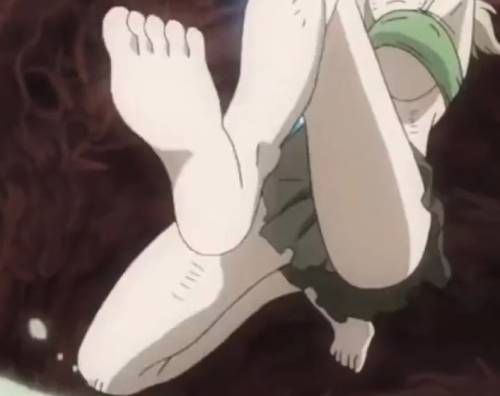 A crazy adventure is pretty much a done deal when Lucy is around. This is one girl who often finds herself in wild, dangerous capers. Sometimes, she'll be right in the middle of an intense situation while, lucky us, her feet are exposed! She's definitely got the sexiest anime feet in the Fairy Tail series.


---
---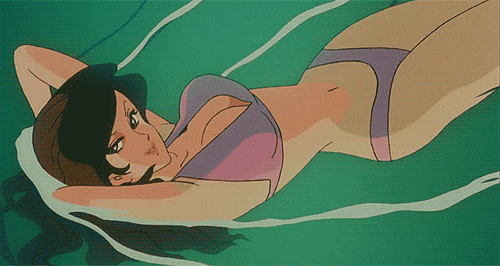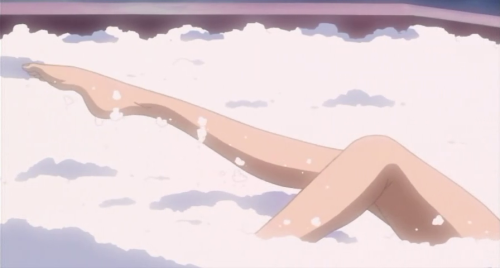 Fujiko is a rather special femme fatale, and part of why we love the Lupin III series so much. Apart from being strikingly beautiful, she'll always show off her well-toned body. Could her alluring feet be part of the reason why a certain famous thief has the hots for her?


---
---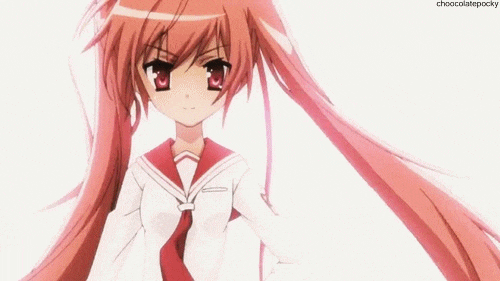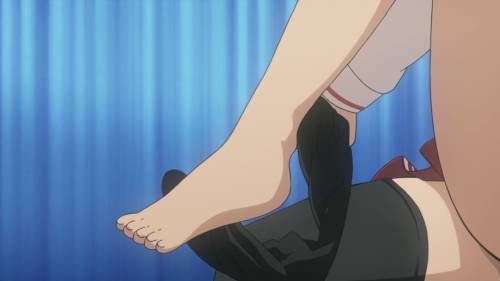 If you've got a thing for cute loli characters, then Aria may be right up your alley. Furthermore, if you can't get enough of girls who wear thigh-high leggings then you're in heaven! Aria has some of the sexiest feet as far as petite female characters are concerned.


---
---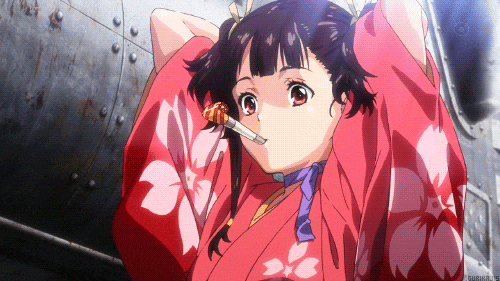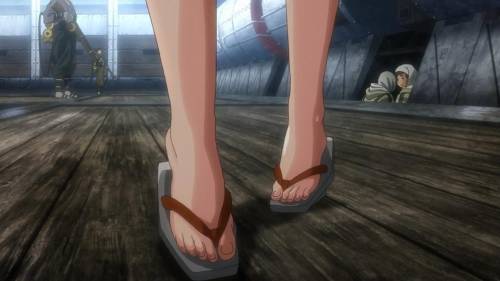 Mumei is another cute and petite character who happens to be a lot tougher than she looks. You only realize what a badass she truly is when she has to deal with the undead zombie-like monsters. The action is tight, but the animators ensured that Mumei's smooth legs and feet steal the show.


---
---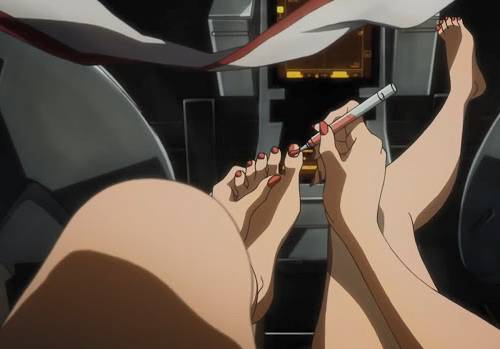 The Gundam series isn't just about big badass mecha and intricate political machinations. This is also a series that has introduced us to a bevy of gorgeous and strong female characters.
Lafter Frankland may be flying a bit under the radar for most Gundam fans - somewhat unfortunate as she's quite a hottie! She's also someone that likes to look her best; that's why she takes extra care when painting her toenails!


---
---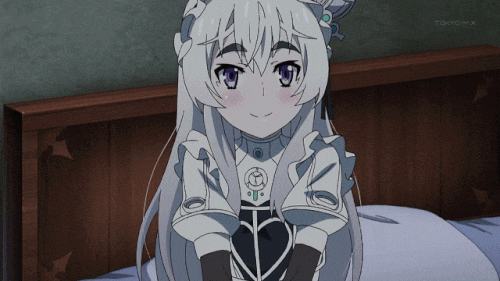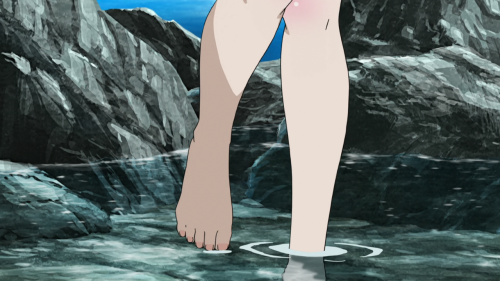 Diminutive female wizards in anime are a dime a dozen. Chaika stands apart from the lot, but perhaps for the wrong reasons. She has unusually large eyebrows and carries around a giant coffin. But the perverts will be unfazed as long as they can gaze upon the sexiest anime feet in fantasy land.


---
---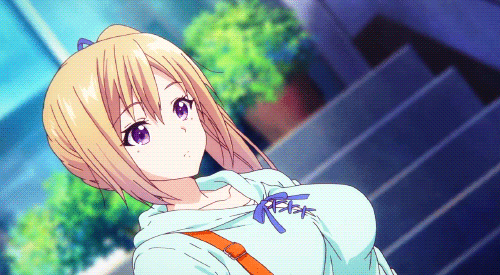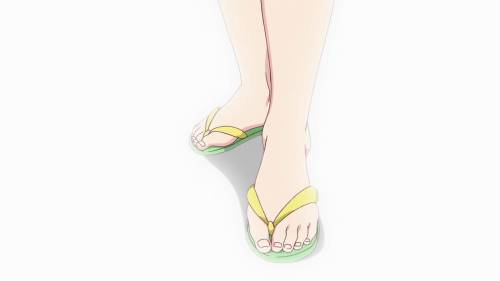 It's one of those unwritten laws of nature, that any beautiful and busty girl is bound to turn heads. And Mai Kawakami is a perfect example of this. But don't ever mistake her for some vapid bimbo who only looks pretty. She spends much of her time fighting phantoms using almost exclusively her legs. Therefore, her shapely legs and feet make a regular appearance throughout the show.


---
---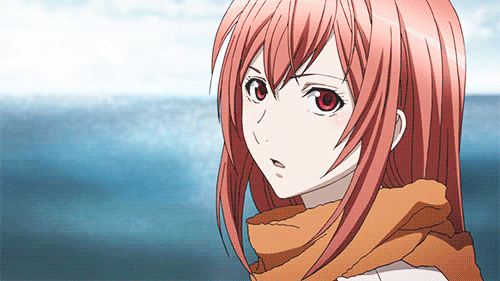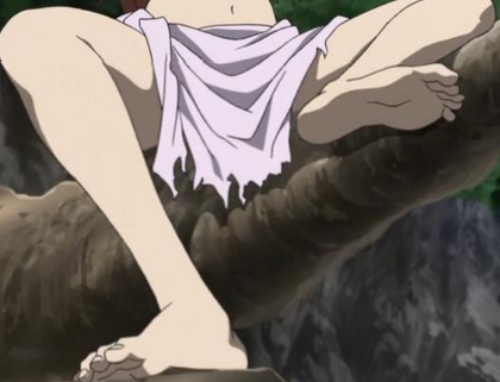 We can only sympathize with Hakaze's plight when she's been betrayed and left on a deserted island. But we're also certain that she's determined enough to overcome this ordeal.
It's not all bad though. Due to the situation she finds herself in, Hakaze has barely any clothes on, revealing much of her body. Many of her fans are bound to enjoy looking at the sorceress' shapely, magical feet.


---
---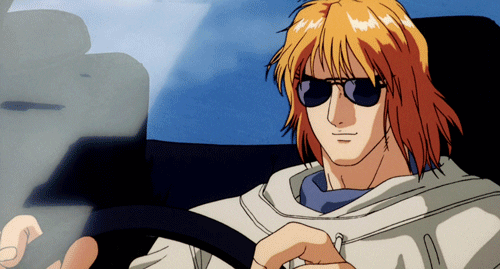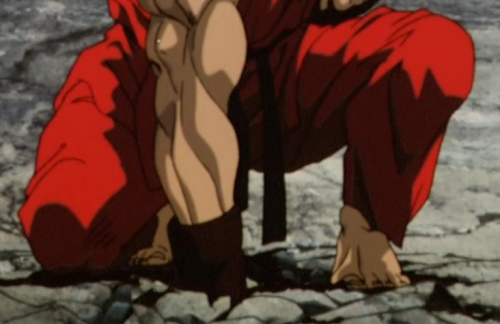 You know the part where I mentioned that anime male characters have feet like bread loves. Ken from Street Fighter was not pleased with that statement, and decided to crash the party. He reckons that he's got the sexiest anime feet in the frigging multiverse and demands to show them off!
Hey, it's not like I'm going to stop him or anything, he's the last dude I'd want to pick a fight with.


---
Honorable Mentions


Can't get enough of the sexiest anime feet on the internet. Don't worry, there are a few more that are bound to keep foot fans happy.


---
---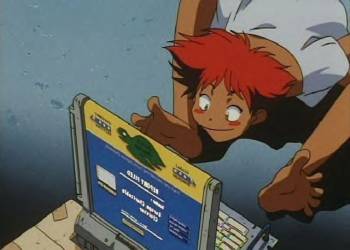 Edward may be an odd choice for this list. But she uses her feet for even the most mundane tasks that they're just an inherent part of her character. When we think of feet, when we can't help but consider Ed.
---
---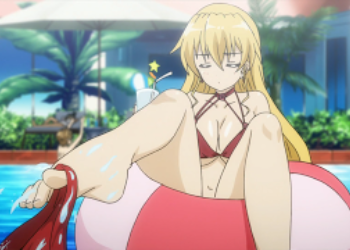 Claire is yet another blonde bombshell, and she certainly doesn't disappoint when it comes to her feet.
---
---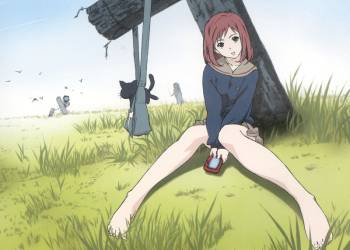 You've just gotta love Mamimi. She's got the girl-next-door good looks while displaying her silky smooth legs. And she more than qualifies for having the best feet in the ultra-stylish FLCL series.
---
---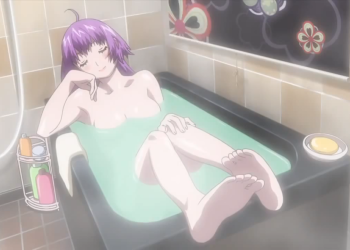 When you've got to defend your magic-user clients in court all day, it can get really draining! Cecil takes some time out in a hot tub, puts her feet up and finally gets to relax.
---
---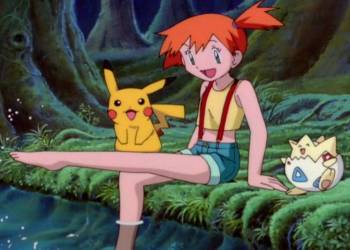 It's official - Pikachu is a leg man, and you heard it here first. Look how happy he looks as he scopes out Misty's leg and foot.
---