SILVER LINK. (SILVER LINK., Inc.) is a Japanese animation studio based in based in Mitaka City, Tokyo. The studio was founded by former Frontline animation producer Hayato Kaneko in December 2007 and specialized in subcontracting for drawing work. The company also owned two subsidiary studios, BEEP Co. and CONNECT Inc., both of which have been dissolved. In 2020, Asahi Broadcasting Group Holdings aquired SILVER LINK.

SILVER LINK. began producing anime independently with the 2009 debut of Tayutama: Kiss on My Deity. Other notable anime produced by SILVER LINK. include Kokoro Connect (2012), Masamune-kun no Revenge (2017), and Jahy-sama wa Kujikenai (2021).
Available At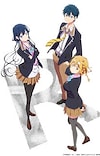 'Masamune-kun no Revenge R' Reveals Production Staff, Cast
The official website of the Masamune-kun no Revenge R (Masamune-kun's Revenge R) anime revealed production staff, and a teaser visual (pictured) on Friday. The first season's cast are reprising their roles for the second season. Staff Director: Mirai Minato (Masamune-kun no Reven...