August 28th, 2014
Example #300: Insert own Spartan Joke here.
December 26th, 2013
Example #265: Detailed analysis and opinions by one named after Al2SiO4(F,OH)2 explaining his thoughs and view on a certain character, more often than not a female.
December 19th, 2013
Example #264: Tripping Angel
December 12th, 2013
Example #263: Child of Mist
December 5th, 2013
Example #262: Traditional Fantasy Reporter
February 21st, 2013
Example #221: Vague Name Once More
December 6th, 2012
Example #210: Shrine Maiden of Paradise
April 12th, 2012
Example #176: The Blind Bandit
December 8th, 2011
Example #158: Player 2
This is the Hundred-and-fifty-eighth week of using the "Perfect Anime Girl Sheet". Notice: This Blog may contain Unmarked Spoilers.
Welcome to December everyone.
: Hasn't it been December for like a week now?
...Yes.. Well, forget about that. However, as it is December many radio stations or TV programs are now talking about Christmas. However, it is also important to remember that many other religions are important as well, and today I'm here to show a girl whose faith is important; A Miko. And Topaz is even here to help me.

:That you do!
And why is that?

:Because we're doing a Touhou character!
That's right!
Today's girl is: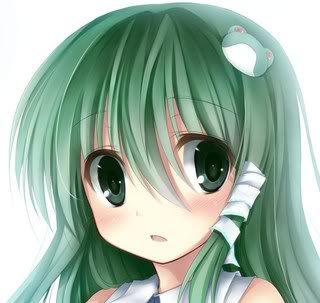 Sanae Kochiya
from
The Touhou Series
....Topaz.

:Yes?
Why did you pick Sanae over Reimu. It's not like I've done the most famous miko in Touhou after all.

: Um, I just figured you'd like Sanae more. After all, I do! And green is even a Christmas color so she fits that way as well!
So is red!

:My bad then, guess you'll just have to do the nice Green-haired Miko as it's too late to change your plans!
Sometimes I wonder if you're this way just to pester me.

: GIVE THIS MAN A PRIZE!

: But in all seriousness, I'll get started on a Reimu sheet for next year. And by that I mean I'll procrastinate up till that point.
(Note: I may be using fanon/personal opinions about Touhou characters)
Head
Hair: Sanae has a really nice head of hair. It's long and flowing with a nice green color. The actual color usually differs but officially it's a bit light. The length differs as well, it seems longer in Hisoutensoku and it looks great as well. It's usually flowing but I don't like the wavy look from her portrait in 13.
Finally, we can't talk about Sanae without mentioning her hair accessories. Well, any Touhou character anyway as most of them have some type of ornamentation on their head but I digress. Sanae has a frog clip in her hair, usually on her left side. It's joined by a serpent decoration on that same side that coils to contain a length of hair. These two items symbolize her two gods, but I'll get to that later.
Grade: A
Eyes: Sanae has very nice eyes, though the exact eye color differs. Some people see them as blue while others see them as green while few think that they're more golden. I like both blue and green and they look well with her hair. Officially I see it as more of an olive color though the gold is someone noticeable as well.
Grade: B
Face: As a Touhou character I've said before that Zun's art doesn't really give the girls justice. I really like Sanae's look in the fighting games, Alphes did a great job to make Sanae calm and cute looking.
Grade: B
Body
Build: According to fandom, Sanae has a very shapely body. She does, though unfortunately most of it is hidden by her Miko outfit. I could mention "armpits" though those kinds of jokes more refer to Reimu and I'm not big on armpits anyway.
Grade: B
Breasts: While Sanae won't be beating characters like Yukari or Yuyuko, she does have a bust line. As opposed to most Touhou characters that are pretty flat, anyway. She's about average or medium-high.
Grade: B+
Clothes: She usually wears her shrine maiden outfit. Her sleeves are not attached to the rest of her shirt, hence the comment about her armpit. The majority of her top is white but the edges and inside is blue and patterned. It looks like she's wearing two tops but I think it's just folded over and the inside is blue. Her skirt is also blue. All in all, a cute shrine maiden outfit. She's also occasionally put in a school uniform due to her being from the outside but there's no official image (well, in-game image) of it so most just create a unique uniform.
Grade: B+
Mind
Personality: Sanae is a human, but is also a distant descendant of a god, Suwako Moriya. Her role at the Moriya Shrine is similar to a Shrine Maiden, but with her inherited power Sanae has become more like a deity herself. She also has the power to cause miracles to occur. She left the Outside World to move into Gensokyo along with the shrine and its two resident goddesses, Suwako and Kanako. Suwako is a Frog deity and Kanako is a Snake deity and both are symbolized by her headwear as I stated earlier. She's very powerful, and as a descendant of a god she's in the upper power levels though not close to some of the other characters. Sanae is rather knowledgeable about the outside world and modern living, although when she tries to explain things such as science, the local populace does not understand her very well. After all, you don't expect things like nuclear fusion and giant mechs alongside fairies and demons.
However, her knowledge concerning things in Gensokyo, seems to be a bit lacking for a shrine maiden. She's a bit naive and is treated as a smart but aloof person. Recently one point I dislike about Sanae is that she's treated as taking far too much pride in destroying Youkai. I much rather like her "good girl" treatment, being a soft spoken and demure girl but still having some unusual tastes.
As for the "Player 2" reference, that's because Reimu has a red outfit while Sanae has green hair. Thus there are comparisons between them and the Mario Bros. as they have a similar coloring scheme.
Grade: A
Libido: None is really shown. Sanae's a good girl, but sometimes the fandom considers her naughty with her gods or even some youkai recently.
Grade: C+
Age: Sanae's age hasn't been revealed. She's a high school student so I assume that she's in her mid to high teens but her actual age is unknown.
Grade: B-
Total Grades: 77
Average score: 8.6
Final Grade: B+

:So how was my blog.
Very nice, though there's some weak parts Personality seemed to be nice and long. Until next week everyone!
November 24th, 2011
♥♥♥Example #156: Megane-Chan♥♥♥
This is the Hundred-and-fifty-sixth week of using the "Perfect Anime Girl Sheet". Notice: This Blog may contain Unmarked Spoilers.
Welcome everyone to the third year anniversary special. I'm glad to have had so many fans (read: a handful of loyal ones) that have been reading from the beginning, and I wouldn't be here today if not for them. So I thank you, readers. To show my thanks, have a blog about one of my favorite manga girls.
Today's girl is: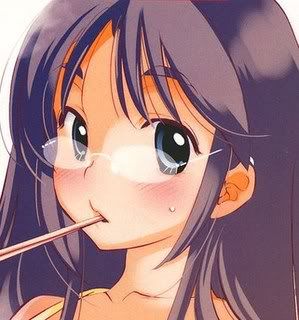 Kogane
from
Megane-Chan
Head
Hair: Kogane's hair is great. It's nice and long, and a black color. Well, in the colored pages it's more of a dark brown or purple, but since this is a manga we more often see her with black hair due to being in black and which. Not that I mind dark brown of course. As for length, it is at least reaching her waist which looks great.
Unfortunately Kogane's hair is a bit of a disappointment in certain ways. Rather than being nice and straight, it's big and fluffy. She also unfortunately has it up for the finale. She also has "eartails", a pair of twin tails that are on the upper sides of her head rather than in the back. They're also expressive, meaning that they move when she's feeling shocked or other humorous emotions. While I don't mind expressive hair or eartails, it's the little things that I have to judge, but don't worry as Kogane's hair is still terrific and very nice! I'd prefer to see it down more though.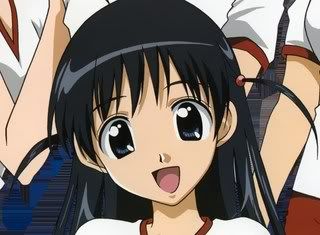 speaking of expressive "eartails", though Tenmas are closer to the ear than Kogane's are
Grade: A-
Eyes: Kogane has very pretty eyes. They always seem to match her hair (no matter what color it seems to be), and I like girls with dark colored eyes. Her eyes are very cute and rounded, and are topped off with a pair of very cute glasses as well. She has large-ish eyebrows to the point where they're noticeable but I wouldn't say that's a bad thing.
What IS a bad thing, and a horrible idea from my outlook is in the first chapter. Kogane gets FORCED to wear contacts for a mixer. She's even compares it to sticking something up her *beep*, though her sister complains that she should have just said "eyeballs" and not a word that would be censored. I obviously hated that scene. When the title of the series is Megane-chan, YOU DON'T UN-MEGANE THE LEAD IN THE FIRST CHAPTER! Fortunately the love interest was able to convince her that she should just wear glasses instead and for the remaining 8 chapters she never put in contacts. It's just that the first chapter that I wanted to punch the mangaka for, but I shouldn't as she's a nice woman.
At least she was able to repay me by giving Kogane a great reason to wear glasses in a public bath.
....
She wanted to stare at the nude girls.
....
Is there any question why I love this girl so much now!
Grade: A-
Face: I should probably name the female mangaka before I continue. She's Kaworu Watashiya, most known as the creator of Kodomo no Jikan. This is pretty obvious, as Megane-chan's design is similar to Kodomo's design. The characters are very cute, and the designs are soft and squishy looking. There's small noses, and very nice contours. Overall, a great facial shape.
Grade: A
Body
Build: Kogane is EXTREMELY SEXY for my tastes. I mean seriously, there's only a few bodies that I'd like more. If I had to compare her body to another girl, it would have to be Arima Senne, who has one of my favorite bodies overall! Both girls are delicious EVERYWHERE! Legs, stomach, butt, everywhere! But aside from that, they both appear to be the "sexy pudgy" type as well, as both have bodies that are sexy but don't make their breasts look oversized either. In addition, she also shaved for the beach episode (completely, no less). Overall, a incredible body.
Seen here
Grade: A
Breasts: Kogane has great breasts as well. I'm not just talking about how huge they are of course (though it does effect her score here as well), but her "milk bags" have other wonderful pluses to make them a favorite pair.
First off, they're often shown off. With a underwear shopping, beach, public bath, and festival chapter, they're shown off a great amount of time. Secondly, as I said before this manga is written and drawn by a woman. One that really does nipples well, I might add. Kogane's nipples are great and small, and rather than draw on the areola it's just shaded in differently which I will say is my favorite way of portraying them. Kogane's breasts are also nice and perky but with a gentle, "realistic" slope if she's not supporting them well enough. They also look incredibly soft. Her softness is even used in story to win over a pair of younger twins.
The final reason that I love Kogane's chest is hot cucumbers.
...
Yes, hot cucumbers.
........
What, you haven't heard of them? Allow me to show you: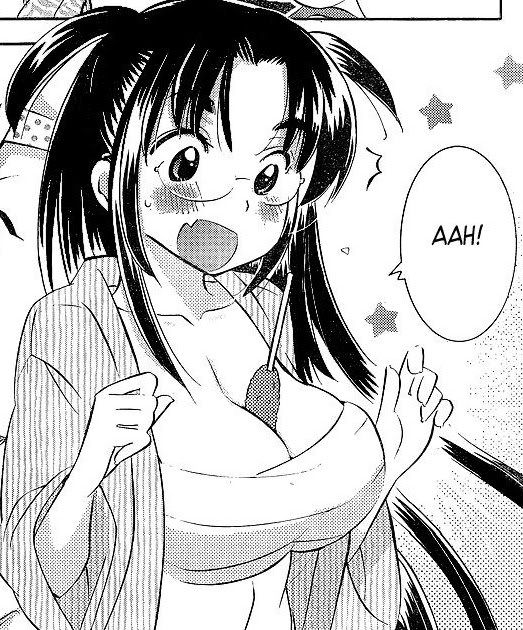 So delicious! And I'm sure the cucumber may taste good as well...
Grade: A+
Clothes: Kogane is an employee at a convenience store. Because of this, she is most often seen in the official uniform for that store. It consists of a long-sleeved white blouse, an apron, a fairly long but still good looking skirt and a tie. I would complain about the tie not being a "necktie" but it still extends to her chest so I won't. She also wears a name tag, or so I assume (it isn't filled in due to not being essential).
WHY YES I WOULD LIKE TO EAT YOUR DELICIOUS "MEAT BUNS".*ahem*... Topaz, calm down...
Kogane unfortunately doesn't wear a naked apron, though it is referenced (once by having a "underwear apron" in an imagine spot and another imagine spot she's only shown from the navel up. Outside of her uniform she wears mainly casual and simple clothing (she doesn't dress to impress, but I still love her casual wear). In the beach episode she wears a nice bikini, though being strapless is a downside as I like my girls to have support (and I'm sure that Kogane wouldn't have minded an additional strap if it meant that she wouldn't lose her top. I'm not complaining). During the festival chapter, she wears a "bandaged" top, an open jacket and a type of underwear that I wouldn't know how to describe (there will be an image later). She also wears a long sleeve kimono near the end as well.
A small running joke in the beginning is how Kogane doesn't always wear matching underwear. She buys them in bulk, so in the second chapter Akane (her younger sister) takes her underwear shopping. While trying on bras, Kogane means to underestimate her chest size, calling for a F cup (which produces a reaction from the crowd), but actually spilling out of it meaning that her sister asks for a G cup (and whatever the book says, Kogane's chest size is NOT 70). It gets so bad that Kogane wishes to just wear a Nubra and Nupanties (note: they don't make Nupanties).
: Stop saying such horror stories! If she wears a tight bra her breasts will get sore and her back will hurt as well!
Don't worry Nayu. As I've shown before, she does eventually get a nice, gentle set of matching bras and panties, so the problem doesn't show up.
: That's good, and it might have a compensation effect and make her breasts bigger.
Not that she needs it, of course.
and here I was thinking that if I sent Rika and Topaz away that I'd be able to do a perverted girl in peace...
Grade: A-
Mind
Personality: Kogane is an eccentric character. She's nearly always cheerful and silly. She often says what's on her mind (most often perverted things) as well. As I said before, she works at a convenience store and is a cashier. She's in love with her coworker, though she's shy enough to not be able to admit it to him. Even if she loves to stare, but that's for the next area.
Kogane has a bit of a tsundere relationship with her younger sister Akane. They do care for each other. However, Akane often plays the straight man to Kogane's absent mindedness, which usually ends in her yelling or hitting Kogane. They don't fight though, it's just used as comedy and it works very nice. Akane even starts working at Kogane's store so that she can take a good look at the Senpai that she's fallen for and tries to get them together.
Grade: A-
Libido: As if you haven't noticed, Kogane is EXTREMELY PERVERTED!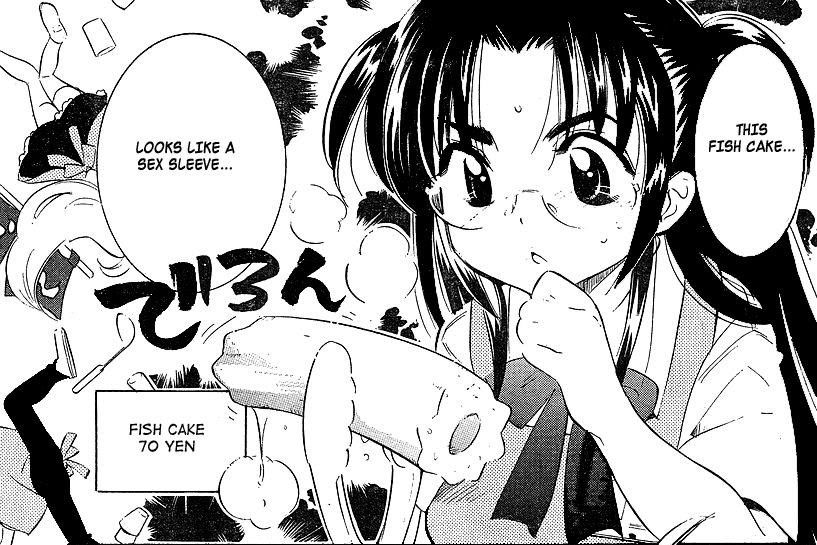 EXTREMELY ...



PERVERTED
Seriously, she loves to take things in a perverted way, and loves to nonchalantly say a perverted thing or take things in a perverted manner. Usually this causes her to get told off or hit by her younger sister though.
However, she does have a hard time with guys and is more shy around them (well, shy for her I mean). She even admits that not every woman needs a man and abandons dating in general. However, in the final chapter she finally gets her love interest as both of them were too shy to come out with their love if not for a heartfelt confession. Before that, she starts to get "wet" when thinking of him after an incident at the beach, if not before.
Grade: A-
Age: At first I thought that Kogane's age was unknown, and the only way of telling how old she was is judging whether or not her younger sister is in high school or middle school. However, upon reading it again it very obviously calls attention to the fact that she's over 20 years old and has never had a boyfriend. Perfect reason to give her a nice A ranking.
Grade: A
Total Grades: 95
Average score10.5
Final Grade: A
So that's Ms. Megane-Chan herself. And with a whopping 95 points, she deserves a nice reward. I mean, when my waifu Senne is the ONLY girl who has beaten you, you deserve a nice reward. And since I promised the festival outfit, here it is:

The only downside to Kogane is that as much as I love her, the only way I'll see her again is if I re-read the nine chapters of her far-too-short manga (only 9 chapters). Fortunately within those nine chapters I was able to fine nice enough images to add here, but I'd like to see a continuation, but that as well as fan art is a pipe dream. Maybe an anime could do it justice, but with just 9 chapters a short OVA would probably the only way I could see it occurring.
And don't forget to read all of the guest blogs. Due the the amount of them all, I gave them to Rika and Topaz to work on. You can find them
Here
,
Here
, and


Here
.