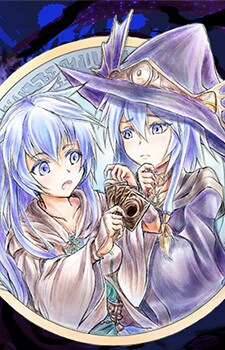 Last Online

Aug 2, 1:41 AM

Gender

Male

Birthday

Feb 14, 1995

Location

Argentina

Joined

Nov 11, 2015
Also Available at
INTP 5w4
Studying human psychology, one step at a time.
RSS Feeds
If paradise is forbidden, make hell my garden of eden.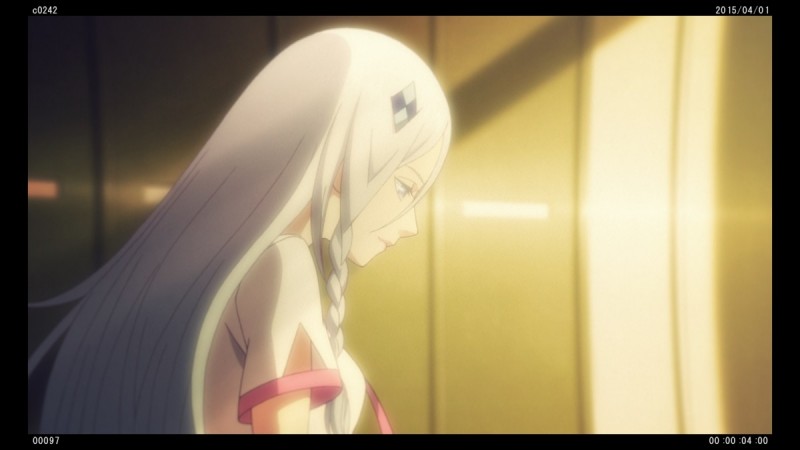 Each rose has the same value that it wishes to have. But I don't like roses, they have thorns. I am a man of poisonous flowers, they are more delicate, quiet. A calm man is always better accompanied with the loneliness and the cold of the flowers that are left behind.
They tell me crazy, I tell them that the meaning of life is in oneself.
Harmony is a movie about the author's past. How a man without connection, motives or reason existed in a place where he was not welcome. In his days there is no what is considered peace, much less understanding and seeing himself reflected in the eyes of another person. Therefore the author grows in extreme loneliness outside the lines of what is considered humanity. Without understanding, without a way to distract himself, even books cannot hide his boredom of belonging to a place where he does not exist. Emotional emptiness.
There are several ideas in Harmony, one of the most intriguing ideas is a reference to the criminal case of the black dahlia. Another of the ideas is connected to an immoral act of extreme violence that occurred in this same century. How freedom exists in a world imprisoned by its own egocentrism and rules that try to give order in a world that does not know the word truth. How an individual is controlled and harassed for who he is, while the world just keeps spinning in the galaxy. The author was such a big problem, the author has to feel so bad, the author is humanity's biggest problem. It is so necessary to be a certain way to be accepted in the system, a system that has no purpose or reason to exist. Paradise is forbidden, you are condemned and you just ask yourself something that has no answer.
Harmony is not easy to understand, this is on purpose. After all, the author himself is a difficult person to understand because he does not belong to the so-called normality. The concepts of not belonging to the world, the desire to escape from reality, the multiple connections between the desolation and the harmony of a person constantly dancing between the cotinianity of their days, dreams of a paradise alien to oneself and the imminent fall of your most beautiful ideas.
During the movie, I wondered what his truth was, what his reason was for writing his story. The moment I understood his reason, it was clearer to see why his movie was called Harmony. Why the protagonist reminded me of someone, why he extended his hand through time. Did you really expect the normies to understand that? you must be a little crazy! hahaha
What do you want? I understand what harmony means, what a peculiar man, of course I want to be your friend.
Did you just fall in love with an anime character? Of course I did.

"I'm called asperger by people who saw more than 500 anime. The divine comedy"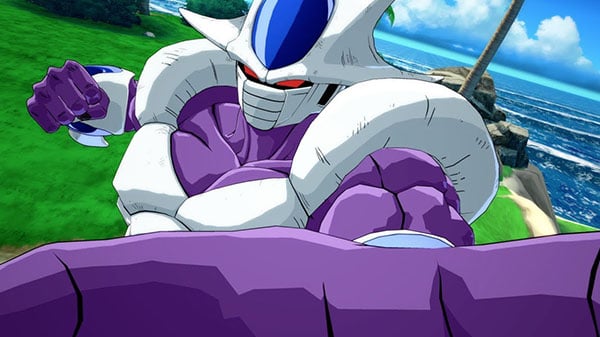 "Do you dance tango very often? oh what am I saying, of course you don't."
"I have never seen Naruto, One piece or Bleach. I am proud of myself."

-Por supuesto que tienes razón
-Si, ya lo sabia
-Pukukukuku

People who think they are an Apache helicopter call me cringe. Sweet Comedy.

I get called an incel by people who likes the tatami galaxy. The comedy.

You speak of happiness, I remind you that Ted Bundy died with a smile on his face while he was being executed for his acts of extreme violence and depravity. Happiness is nothing more than a mere concept, something so ephemeral can never exceed the value of oneself. If I am happy? probably not. But I really don't care, because that's just a piece of something bigger and more complex. A piece of life? no, a piece of myself. Pretend to be happy as much as you want, make fun of those who are not. After all, ordinary people are just that. Garbage.

Vlive telling me that I have to care about other people, with their publicity of world problems. You think I care? Do you think I'm interested? No. I don't give a shit. Give me the Korean girl. How dare you interrupt my Korean! Now for that, I will not donate a penny!

My favorite "miss typing" is Kaguya as an INTJ, when it is obvious that she is ISFP. Ignorance knows no limits. another one? Akashi an INTJ pukukuku

I am called cringe and edgy by people who listen 30 seconds to mars, My Chemical Romance, Linkin Park, Paramore, Evanescence and Panic! at the Disco. It really is a world worthy of a circus.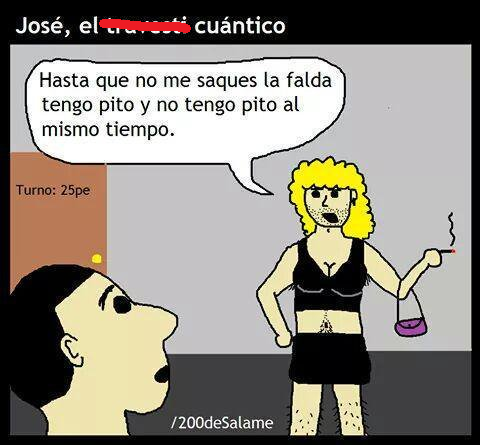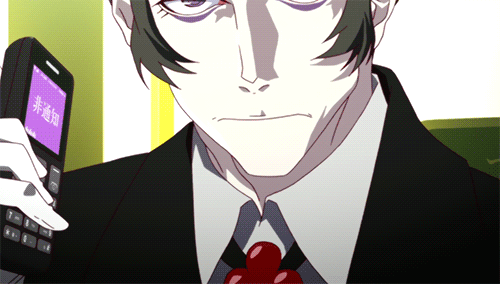 Let's start with this, why does Kaiki like money so much? because he is materialistic! wrong. The reason is because the author of monogatari has been accused on more than one occasion that he only writes to earn money. That he only cares about becoming a millionaire. In one sense this accusation is true, he is a writer and that is his job but in another sense this accusation is false. The author writes out of a simple desire to want to reach people who are similar to himself. He is clearly a very considerate and kind man. There are various truths, various realities, various answers, and only one question. Why do you like my work? Intriguing.
Kaiki is expressionless because he does not want to sell you anything therefore you should trust his words, he is direct with his words and somewhat manipulative because he understands that you do not understand. Kaiki's job in the story is to understand the reason for the multiple problems of each character. It's like he wants you to understand that you're not the only person with those problems. After all, the author himself is an appearance. I find it funny how his background music is based on Tango, it is clear that NISIO, ISIN likes Tango. After all, Tango is similar to his person, passionate, elegant, complex and somewhat melancholic. Obviously if you are INTP 5w4, Kaiki is going to be one of your favorites. It's literally you and people don't like that. INTP 5w4 are practically 1 percent of the world population. Almost all of them are male and do not look anything like the other INTPs. Kaiki also has many characteristics and references to the writer Max Stirner, another INTP 5w4. Which is my favorite writer.
One of the author's favorite characters is L from Death Note, other INTP 5w4. The author of monogatari wrote a story about death note in his beginnings, obviously it is because of his appreciation for L. Another INTP 5w4 is the author of Oregairu, who is also a fan of L and is also a fan of the author of Monogatari. It's like their minds connect for being... well so INTP 5w4. I wouldn't have found anything like myself anywhere else. That's a truth. Watashi of Humanity has declined and Bernkastel of Umineko are others INTP 5w4. Maybe the autor of Invader Zim is also an INTP 5w4. Who knows! The author of Alice in Wonderland is also one of us. Interestingly the video game based on his book is one of my favorites. Sherlock Holmes' original character. Stephen King. April Ludgate of the comedy show Parks and Recreation. The author of Kaguya-Sama. H.P. Lovecraft.
"The author is INTP. The important thing to know is that an INTP usually over-dramatizes for a comedic purpose, the author is aware of how exaggerated it can be and makes fun of such dramatization.
Many of the characters' actions come from the author, from his personal experiences. How the characters analyze insignificant details, how they claim to have logical coherence, the lack of experience in executing their ideas.
At the end of the day Kaguya is a romantic comedy that plays with the idea that love has to be perfect. The characters are like a criticism of the author to his past self. The way in which they interact, the type of comedy, the way that one action leads to another and interacts with another action is typical of an INTP's line of thought."
Como diria la lacra sin cerebo :bern: Esa es la cereza del postre. Que no se dan cuenta de nada y yo los miro y pobrecitos
You tell me edgy and I tell you that I always wanted the nazgul to slaughter frodo. Why? Because an author usually would not dare to do such a thing, I like the unpredictable. Take my breath away. Edgy? It may be, but I'm being honest ... can you say the same? The bigger the obstacle, the darker the night, the more absolute the nightmare ... the more epic will be the victory. It's very simple. and since I like the nazguls, I like other things. We don't have to have the same taste, did you know? Edgy? I'm just being myself.
My favorite anime is Tenshi no Tamago because it reminds me of a story of a man who lost a loved one, or the story of a man who was executed for speaking his truth, that of a man who was born without love and a man who died without glory. Tenshi no Tamago is a representation of how dreams and goals are not important, of how the world is nothing but a dark and cold emptiness.
In that deep darkness there are flashes of life and somehow I think they are the stars above my head. Because for every story of vanity there is a story of someone who did not achieve it, of someone who was not mourned on his last day, of someone who was never loved and of someone who simply never existed. The vanity of the world has forgotten their names, their spirits, they are nothing more than the losers that history refuses to remember and in that oblivion as vast and extensive as the universe their souls were forgotten and massacred.
Every time I see the sky in absolute solitude, I think the stars above my head are each one of them. Each of their stories, each of their passions, each of their souls and I believe that even the vilest man was just a baby, a teenager, a man observing himself in the very nothingness that being alive means.
I can only say that somehow all of this inspires me to live for those who did not have the opportunity to die in peace, because their lives were nothing more than a nightmare. The angel may never have existed, but even so the soul of those who dared to pursue such absurdity deserves a bit of my respect. Because in a world so boring, full of people not worth a breath, they found a way to inspire a poor idiot like me and I think that is worth more than everything the world has to offer. I do not like dreams because they are only vanity, but nightmares are always something more pure and there is nothing that I like more than the purity of a living nightmare, like the stars that illuminate this dark and putrid world. What are the stars but the burning souls of those who wish to have one more day, make them feel proud and live. Before die, live.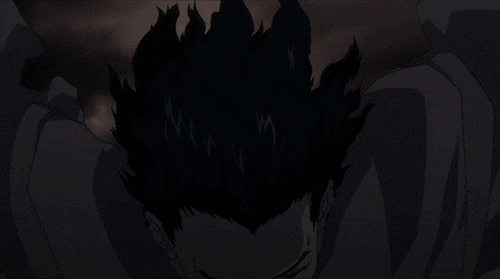 One of my favorite anime is Ergo Proxy. It is a story of a young man named Vincent Law. From the beginning of the series you can see Vincent being chased by something that looks like a monster, an absolutely horrible monster. Ergo Proxy is about the story of how a young man finally opened his eyes and woke up from his nightmare, of how a young man dared to enter the depths of his subconscious and fight with the demons of his own mind and the ghosts of his most horrible fears. Demons of a past we wish to forget, ghosts of a future that is so terrifying that you have no hope in your entire being.
Ergo Proxy above all is the story of a man haunted by his own mind, corrupted by his experiences and terrified by his reality. It is the story of how Vincent after discovering the truth that was lost within himself, regaining his consciousness, his memories and his sweetest and deepest desires. At the end of the trip Vicent remembers what it is the most important thing, who he is. Ergo means 'Therefore' and Proxy means 'the closest', therefore the meaning of Ergo Proxy is so simple that it is in the title itself. Ergo Proxy means "So the meaning is the closest" who is the closest? Oneself. This journey called life needs no more justification than the mere existence of oneself. Vincet Law is Ergo Proxy, the angel of the final day. "Therefore, the meaning is the closest" It is the first part and the second part "the angel of the final day" is a reference to that an angel is pure and free from sin. The judgment of the final day is related to judging, God's judgment on mortals. Therefore all this means that the only one who can judge oneself is the purest angel. Because to judge you must understand and who is the one who understands you better than anyone? who can judge you? God? no ... oneself.
I like Ergo Proxy because I don't focus on insignificant data like so many others. The reason I love Ergo Proxy is because I love that someone dedicated a few words to all those young people who are lost in their nightmares, who are alone in the depths of their being. Ergo Proxy is a reminder "hey, you're not that bad, time to wake up from this nightmare ... don't you think?". I think it's a beautiful poem dedicated to every living dead out there. It is an act of kindness, that many do not understand because they do not dare to be something more than their putrid egocentrism allows them to be.
Obviously an INTP
"Do not compare yourself to others. If you do so, you are insulting yourself."
"You are just an ignorant who ignores their own ignorance. Out of my sight."
"Your kind reads a book and believes that in a few hundred pages, the truth is written forever. Books can be burned, you know?."
"Are you telling me that you are right? How foolish do you have to be to believe that such a thing has any value?. You're just pretending to have control over something that does not even exist and if it existed... Why should it always be the same? I suppose that for your convenience, you are always right. Always thinking that reason has some value for mere convenience."
"I guess people without personality hide themselves from the eyes of others behind a couple of unknown bands, behind some classic books of postmodern literature, behind art without charm or value, behind the false image of themselves that have been created because they are not even here. They are only full of the falsehood that the world offered them in exchange for themselves. They are just vanity. A bunch of Fakers."
"My favorite part is when a beta male is arguing with an incel, while a socially awkard girl pretends to be the protagonist of a feminist fantasy. Yes, I know, how did you realize? I am that one that use the illusion magic spells in skyrim. A mammoth fighting with a giant to death, under the moonlight, simply adorable. Yes, I also liked the dark elf of the dark brotherhood."
"You tell me I pretend to be cool, and I tell you that my first character in skyrim was a giant cat because the idea of a cat named captain tuna kicking some ass and slaying dragons was too good to be ignored. Within 5 minutes I was running for my life because giant spider creeps me the hell out. beautiful memories and then I thought it was fun to be a kind of racist character, racist against spriggans. Every time I had to kill a brother, my soul cried from the depths of my being. "go with garfield, brother... maybe in another life we could have been friends, what a waste."
" Good and bad are human terms to control their own existence. Like all terms, they are only used to justify, exploit or make sense of an egocentric will and hedonistic desire of whoever dares to proclaim that they are one of those terms. Above all, this terms only serve to pretend to have control over something that does not even exist, unless such existence is convenient for those who proclaim that it exists. At the end of the day, what is good or bad depends on who you ask. Therefore, it is nothing but vanity. "
"DUBS are hot garbage, don't steal my beautiful japanese girls you bastard. stay with your awful shows like rick and meme and the other crap."
"Let me guess, Lana del Rey? WHAT A SHOCK. WOW. U ARE SO SPECIAL"
"Do you know what I see when I talk to them? I see how their eyes are slowly losing brightness, I see how the little interest they had is getting lost in nothingness itself, they tell me that what I say should not be said. That is not the right thing, that it is not normal, that it is not what is right. At that precise moment I know they give up on me and at the same time, I have give up on them too. I do not need them, I never need them. They are all useless for me."
"Y'all are stupid."
"Look down at me and you see a fool; look up at me and you see a god; look straight at me and you see yourself."
"it seems a shame to have to sneak to get to the truth. To make the truth such a dirty old nasty thing. You gotta sneak to get to the truth, the truth is condemned. The truth is in the gas chamber. The truth has been in your stockyards. Your slaughterhouses. The truth has been in your reservations, building your railroads, emtying your garbage. The truth is in your ghettos.In your jails. In your young love, not in your courts or congress where the old set judgement on the young. What the hell do the old know about the young? They put a picture of old George on the dollar and tell you that he's your father, worship him. Look at the madness that goes on, you can't prove anything that happened yesterday. Now is the only thing that's real. Everyday, every reality is a new reality. Every new reality is a new horizon,a brand new experience of living. I got a note last night from a friend of mine. He writes in this note that he's afraid of what he might have to do in order to save his reality, as i save mine. You can't prove anything. There's nothing to prove. Every man judges himself. He knows what he is. You know what you are, as i know what i am, we all know what we are. Nobody can stand in judgement, they can play like they're standing in judgement. They can play like they stand in judgement and take you off and control the masses, with your human body. They can lock you up in penitentiaries and cages and put you in crosses like they did in the past,but it doesn't amount to anything. What they're doing is, they're only persecuting a reflection of themselves. They're persecuting what they can't stand to look at in themselves, the truth."
W A I F U
Rikako oryo - Psycho pass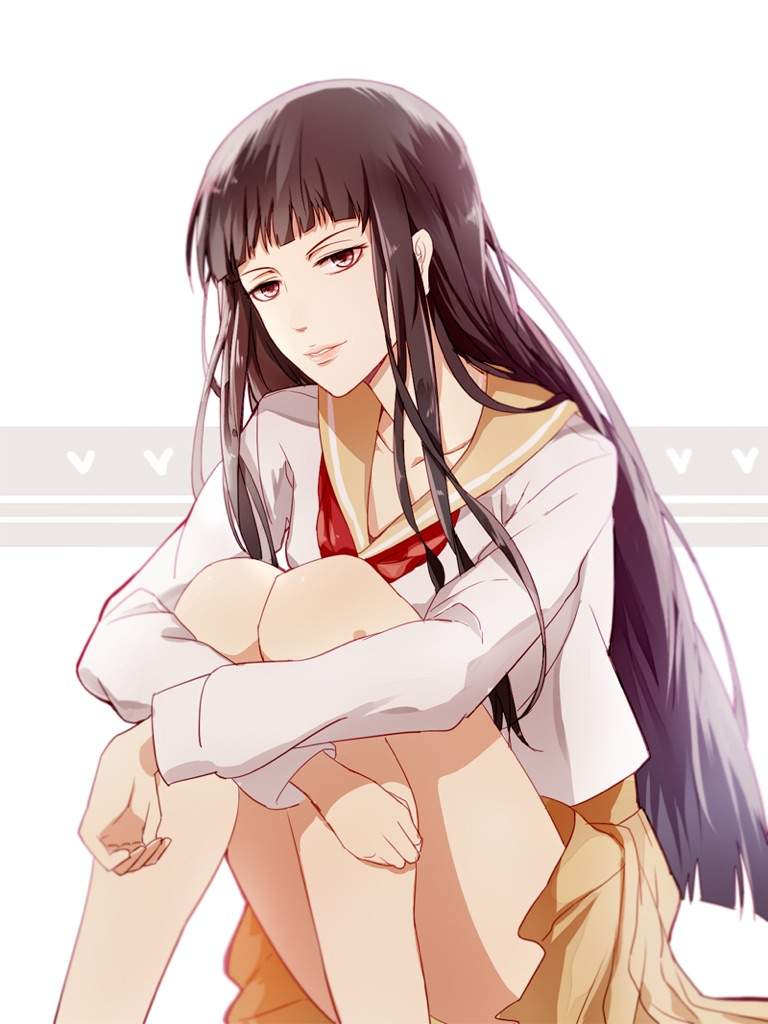 Bonus points for look Japanese
I never understand the strange obsession
to make characters from other ethnicities
East asian girls are just superior
Honourable mentions: Nisekoi, Watamote, Humanity Has Declined, Samurai Champloo, No Game No Life, Mawaru Penguindrum
Kuuchuu Buranko, Kikumana, Gekkan shoujo Nozaki-kun, Durarararara, Tenshi no Tamago, Fate Series, Chika Gentou Gekiga: Shoujo Tsubaki, Harmony.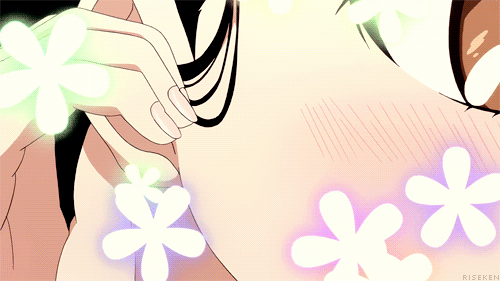 "tsundere is more like a mental illness rather that something cute"
A man with perfect taste in female characters. Do not hate me for just telling the truth.
I think I forgot to add someone...Who will it be? I do not remember at all!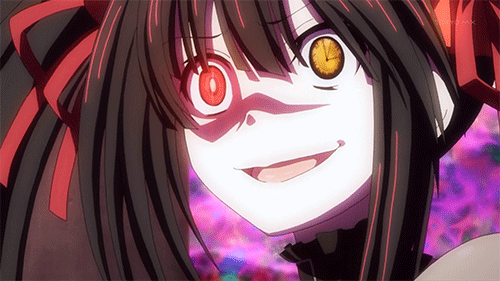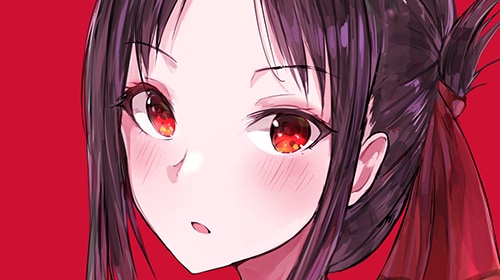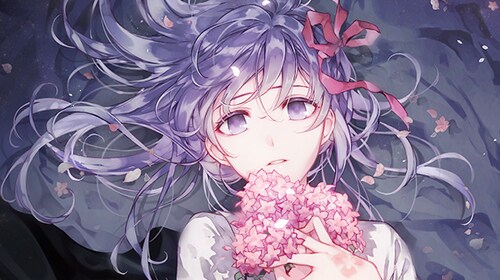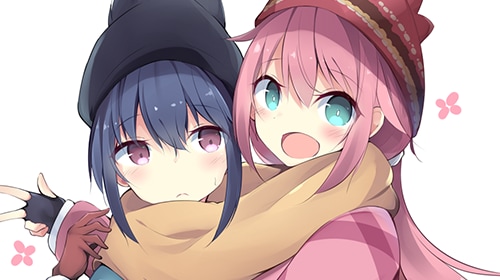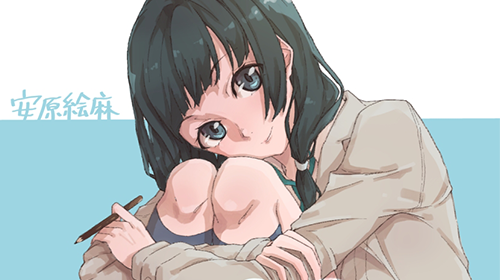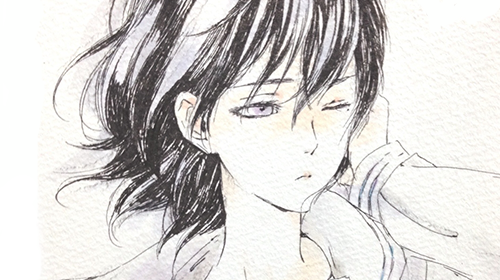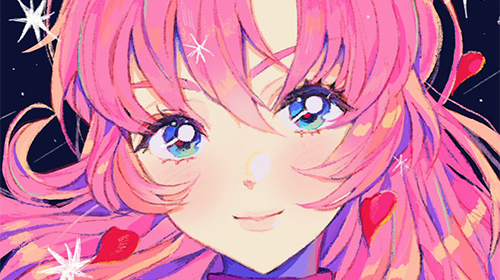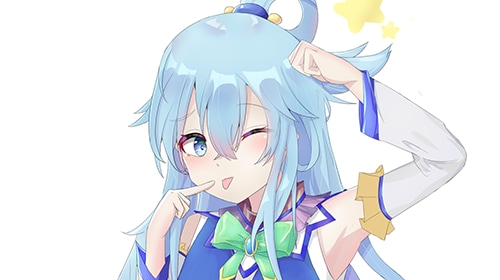 i always forget about these 2 edgelords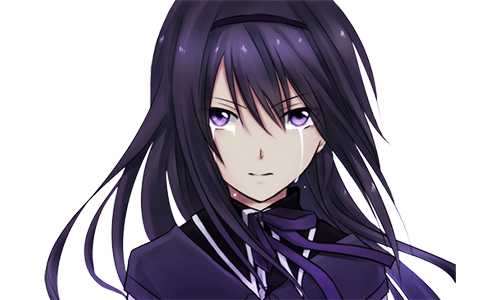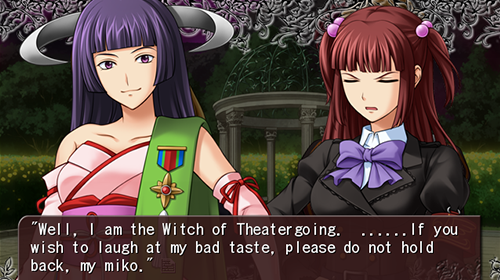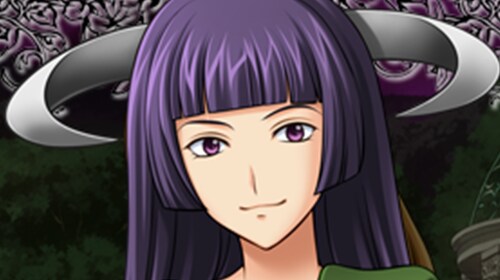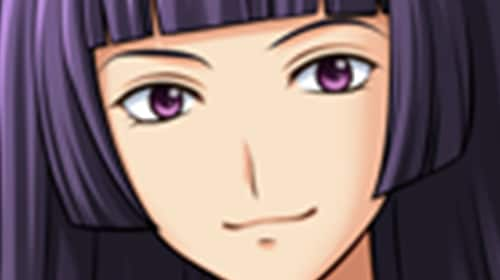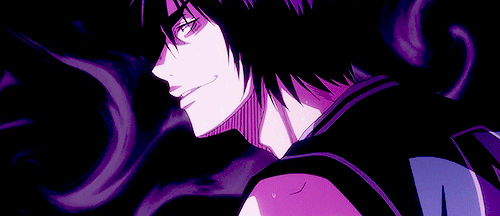 I like the characters that make me say "Omoshiroi..."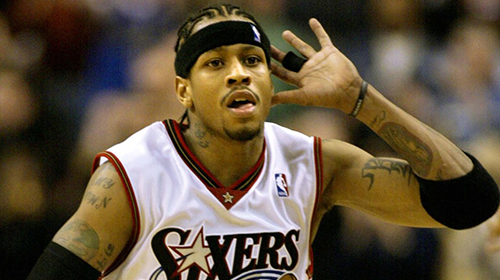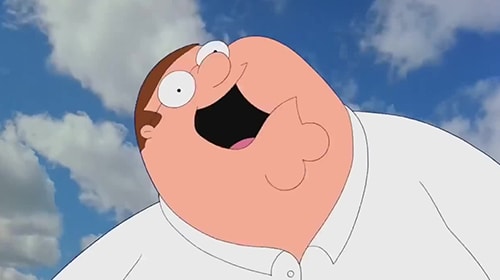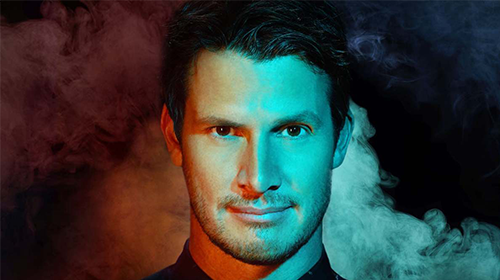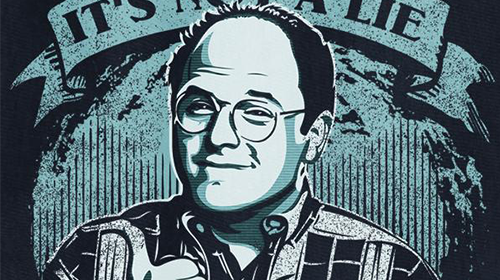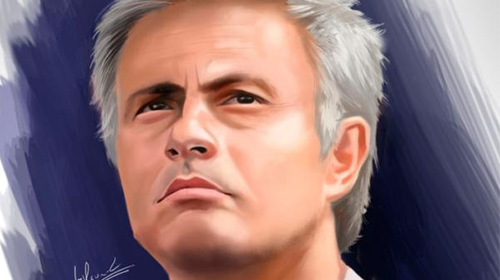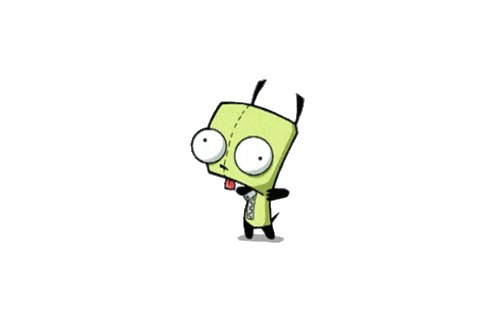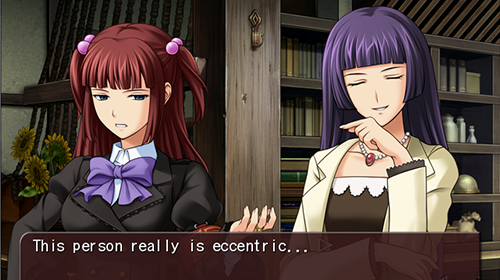 Aurora - INFJ - Move at her own pace, independent is a lie, it is just a way to hide your inability to find something of value. Lonely, she gets carried away by her emotion when she is happy or thinks she has an opportunity to find something interesting. She likes to think that everything is better when she enjoys it at the moment, cheerful when she should be, genuine. Unable to understand the rest that does not understand her and does not see the same beauty that is so pure under her eyes full of innocence that will be shattered when she finds out that it can not be, it will not be now or never. One misunderstood in a world that advances leaving her alone and rotten. An announced death that does not deserve even a funeral, because there is nothing more empty than a funeral that no one will attend, not even your false smile when you think there is something behind and you just have to accept that there is nothing but you. Burn in the hell of your own filth, that the garbage must be burned and nothing else awaits you tomorrow. Damn witch, mistress of nothing.

And that is why I love Auau, she is so cute!

I still remember when a bunch of virgins INTJ get mad with me for my love for AUAU BUAHAHAHAHAHAHA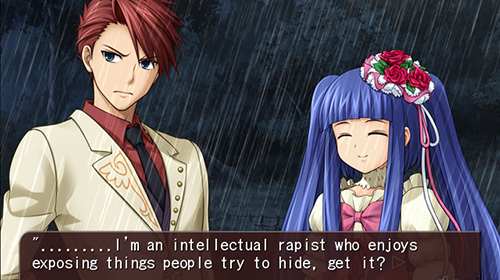 Erika - ENTJ - Dominant, demanding, charming, manipulative, egocentric, is carried away by her emotions when her plans are threatened, full of expectations, full of frustration of her own incompetence. Sacrificed for a maximum good that she has created, lost in her own story that should not have been written, when the dream disappears she will be the only thing left but what she did not understand is that her sacrifice will be in vain. Confident in her own arrogance, she lets herself be dominated by her weaker side, which is when she has to accept that none of this was worthwhile and she is not able to see the details of what is going to be her ending. She moved with grace until she realized that it is nothing more than a miserable piece that has no purpose to be. Wake up and see the nightmare that you have created of your sad illusions and tender dreams that are dead under your own eyes and the blood is in your hands, full of repentance and remorse cover your miserable face with your own hands, that your ideal is looking at you and you must accept that it never existed. Your tears are just vanity, burn yourself alive damn witch of the devil, because you're already dead inside.

And that is why I love Erika-chan! She is my favorite, such a cutie!

Why I don't like beatrice? because she is a putrid creature.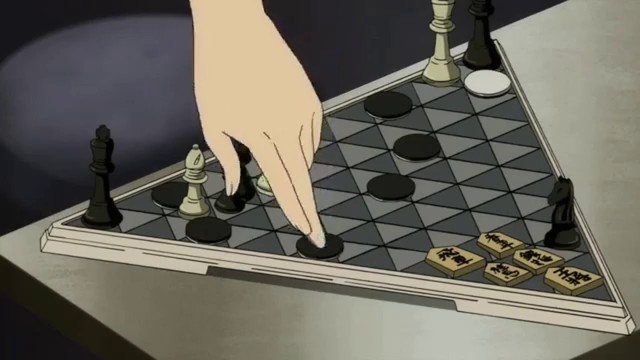 Which one was the lie? the last one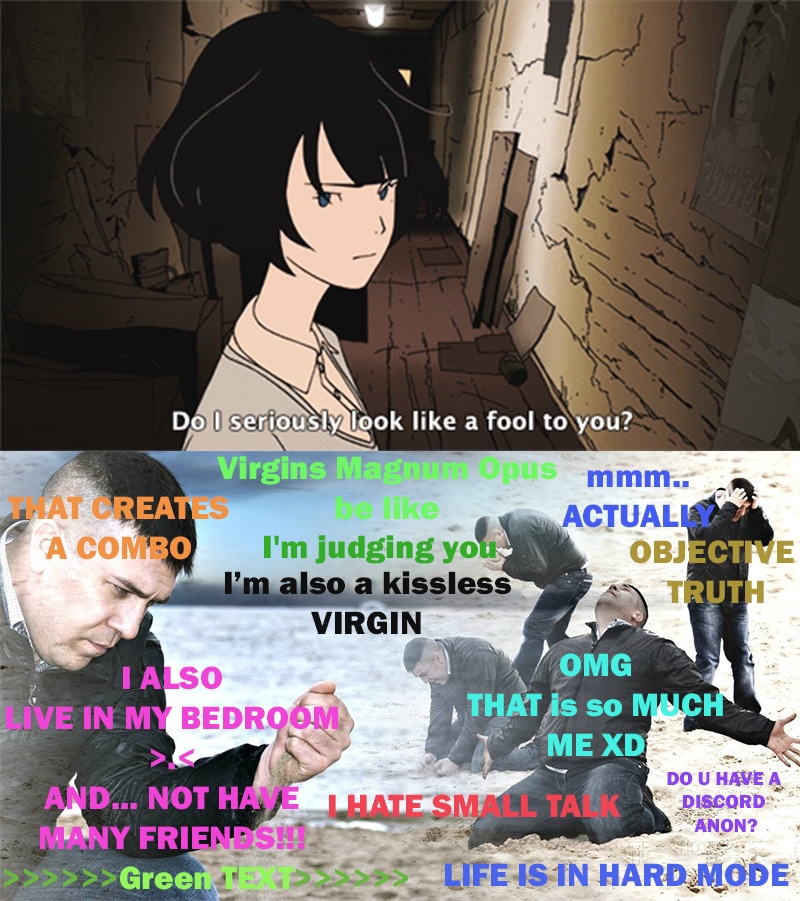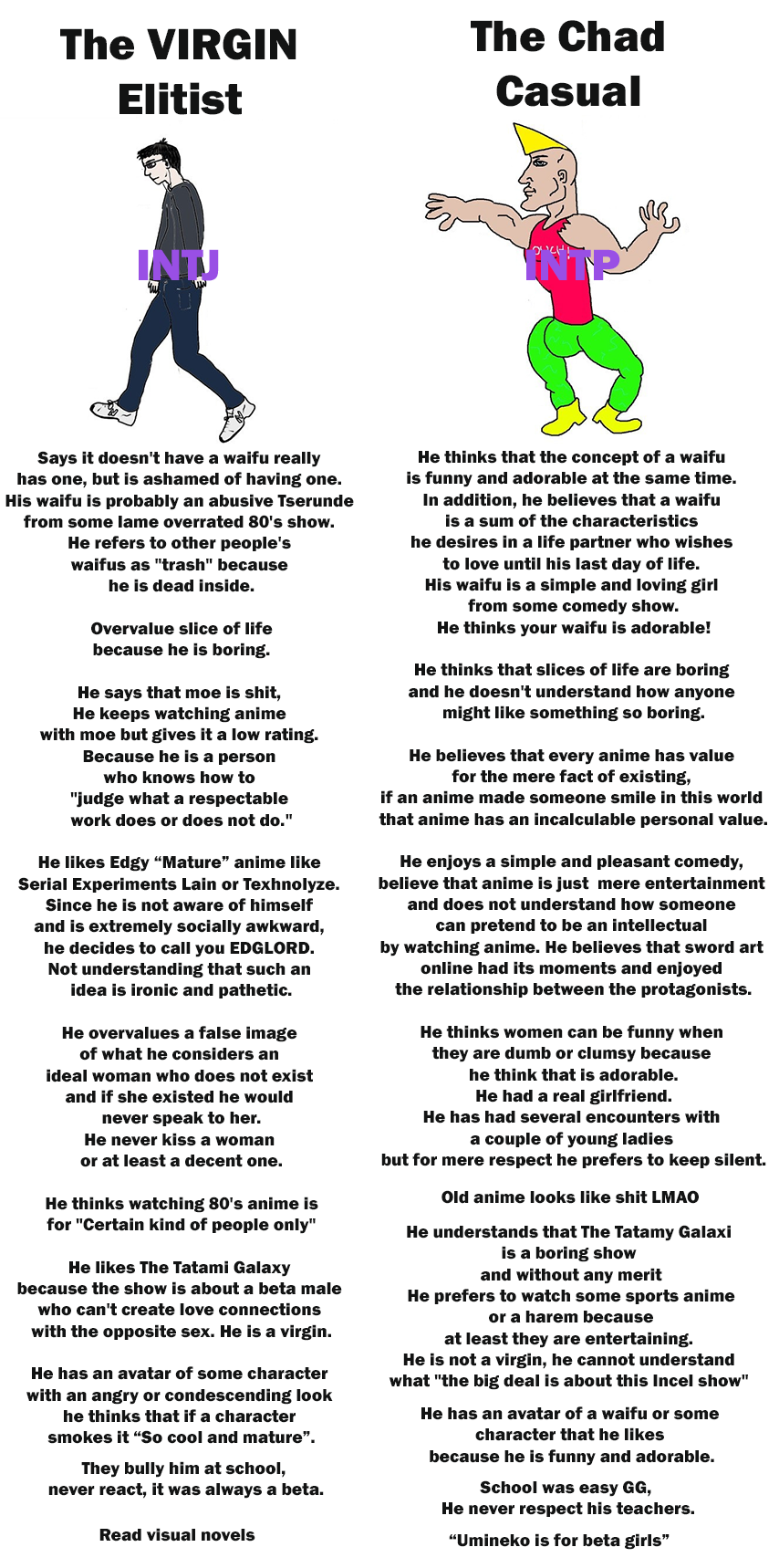 INFP BE LIKE... Welcome to meme land... Population, you.

INTJ BE LIKE... Soulless, Passionless


Most anime elitists have such an immature attitude, do you really dare to take them seriously?. It is so obvious that most of them are introverts and have a hard time understanding some basic things. The mere fact that they pretend to be a good taste police, when several of the things they like is just because they identified themselves with a character is somewhat funny. The Tatamy Galaxy, Ping Pong the animation, NHK, Evangelion...

It is so obvious that they have asocial tendencies and that they probably do not understand certain things like playing a sport, friendship, have a girlfriend, value something personally despite the many technical defects that the series can have.

All this is because it is very likely that most elitists are socially awkard teens full of insecurities and the only thing they are doing is pretending to be something else on the Internet. After all, each loser has an idealized image of themself which seeks to feed with their lies, to continue deceiving themselves and escape from what causes them so much disgust, themselves.

Don't hate anime elitists, try to understand why they are the way they are. Growing up is fun for most, but for some people it is a very turbulent journey full of insecurities and delusions of grandeur. That's why I ask you, don't hate them. Most of them are like the protagonist of Watamote. They are only a loser that do not accept their own defeats. That's why you have to be kind to them, because they may not be having a great time in their pathetic lives and you need to change that... one elitist at time.

I mean, you didn't feel sorry for the protagonist of Ping Pong? I really felt sorry for that poor bastard... and I don't feel identified with him. That is what it means to have compassion for those who are dead inside. Understand the reason why they act the way they do and show them that they can be, well... a little less unpleasant and more free to be imperfect, to be themselves.

They are so mentally ill and out of reality, out of a healthy life. It is evident that only on the Internet, pretending to be something they are not, can be accepted and that is just sad. They can be a lot of unpleasant things, but deep down they are just that weird boy or girl or whatever thet get bully in high school for being weird, or ugly, or socially inept. They pretend to be the ones who control the actions because in their lives they have not the slightest control. They pretend to be moralists because it is the only thing they can have since they are not capable of creating their own concepts and are only consuming those that the media offer them. They pretend to be the last popular singer or the last villain in a nextflix series because they don't like being what they really are, losers. They are already having a miserable life on their own. It is not necessary to hate them, they do not know what they are doing. So be kind to them.

At the end of the day I really think that part of the explanation that exists to explain the phenomenon of elitism in anime is the following:

They do not know how to be kind, because nobody was ever kind to them. They do not know how to understand, because nobody understood them. They do not know how to judge the rest because they believe that judging is part of being right, when you can only judge someone when you have understood them. They were left behind and that's their problem, their sins? watching too much anime and not catch up.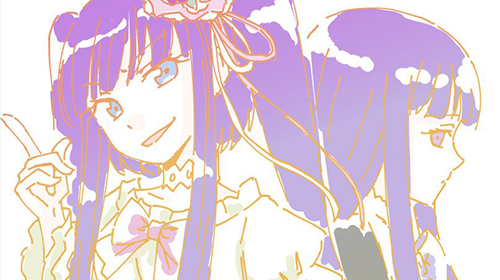 "For example, I once wrote something that was a lie in my profile. It was something that my girlfriend had left me and that I was very very sad. The meaning of writing something like that on this page is to see who is so miserable and desperate to use that against me when they lose an insignificant discussion on the internet. The users like that loser love to pretend that they are mature and classy but when they subtly attack me with what I wrote in my profile and they think they have hurt me and win the BIG INTERNET FIGHT. I know something else, it was all a lie and I made them take off their masks. They were full of falsehood and denigrated so much that they were willing to use the lies that I gave them to hurt me and the only thing they did was make me laugh. I am amused how everyone is so slow and how I can see their true colors when they know they lost the argument, after all that silly image they have of themselves is false and that gives me a disgust as you can not imagine. " -Akzhu7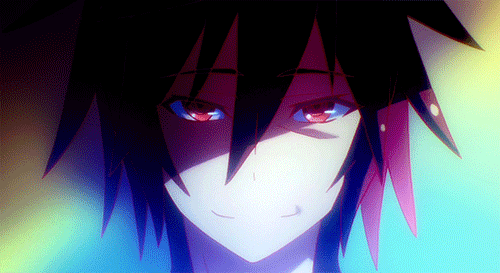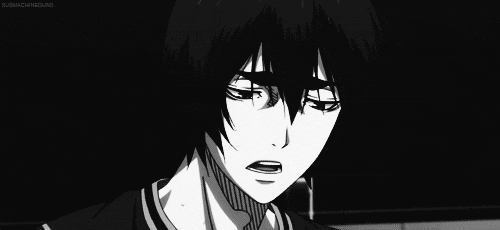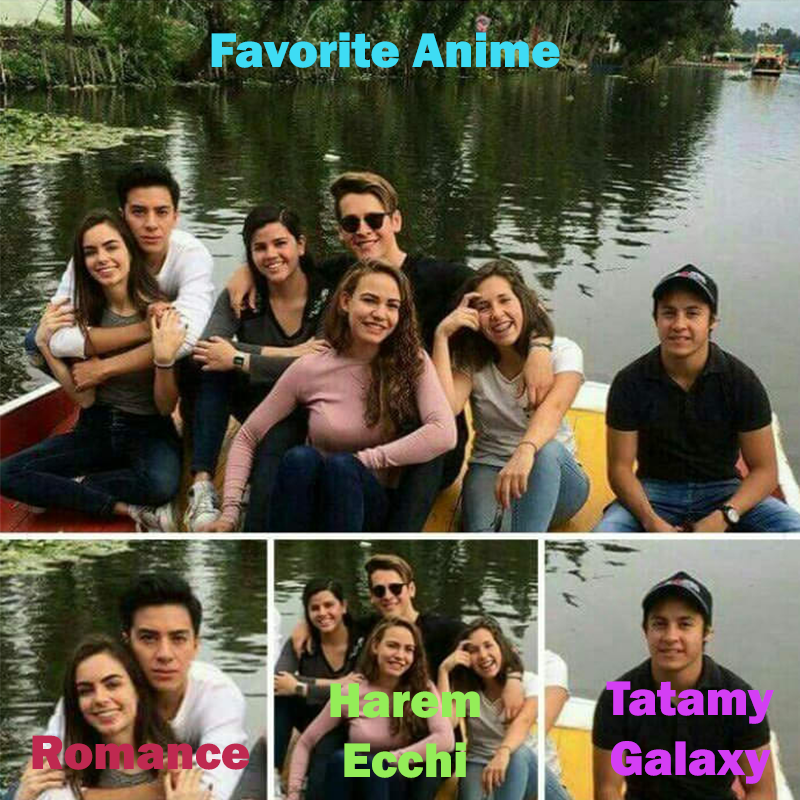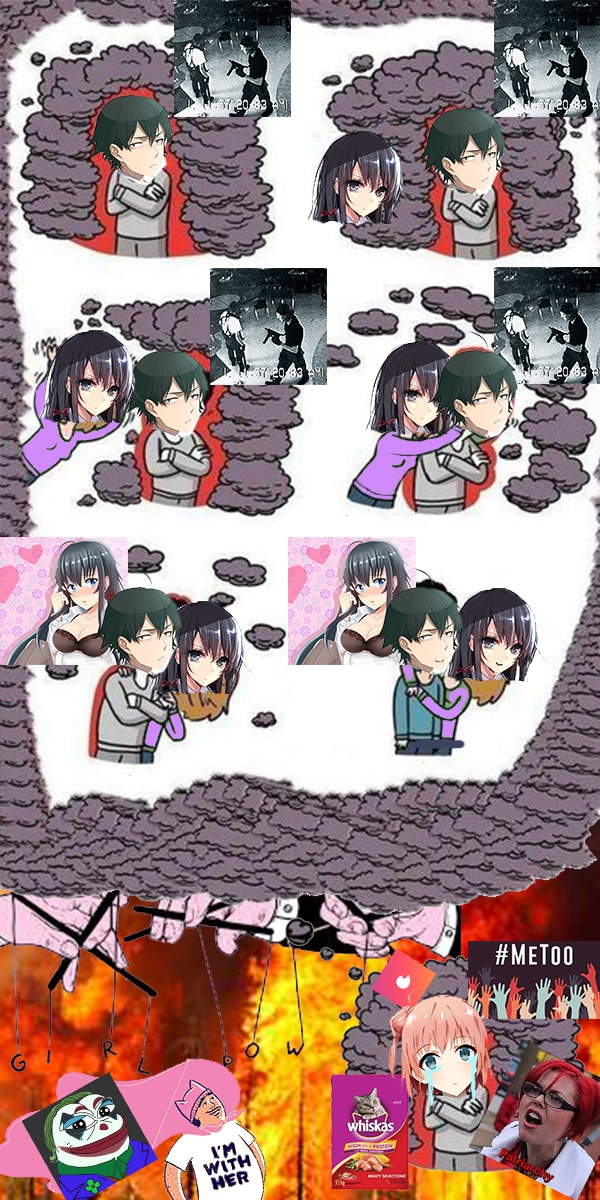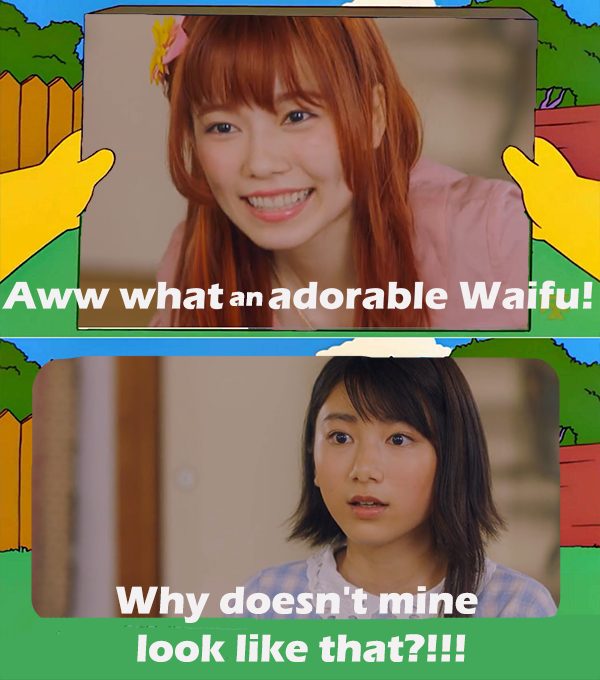 Now I understand what the virgos in that forum warned me about. 2D is always superior, they warned me and I did not believe them.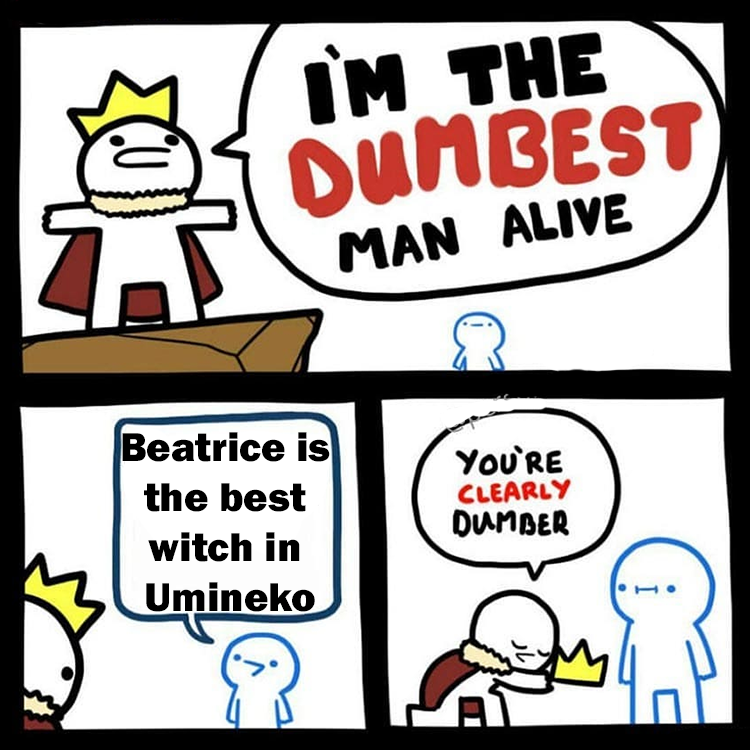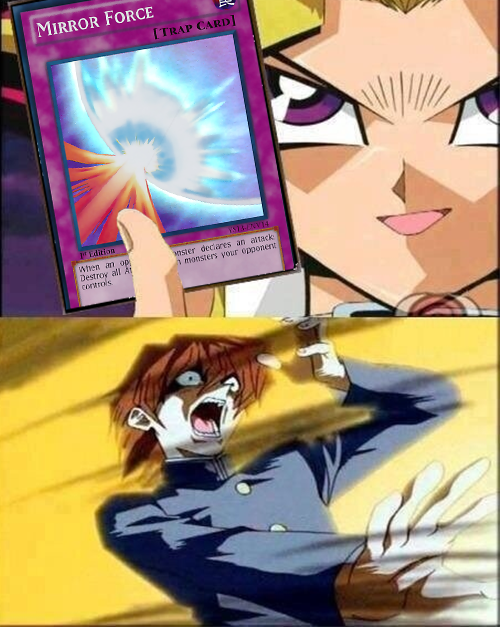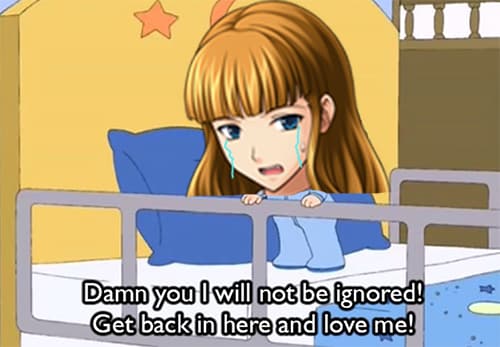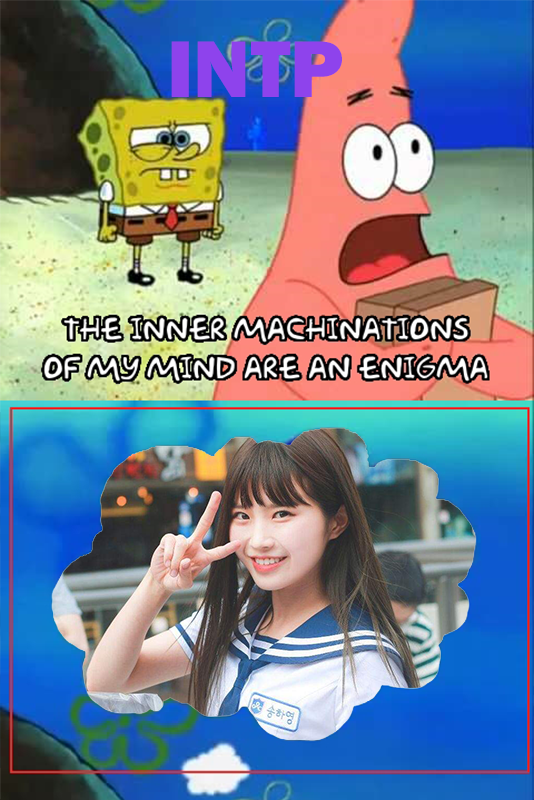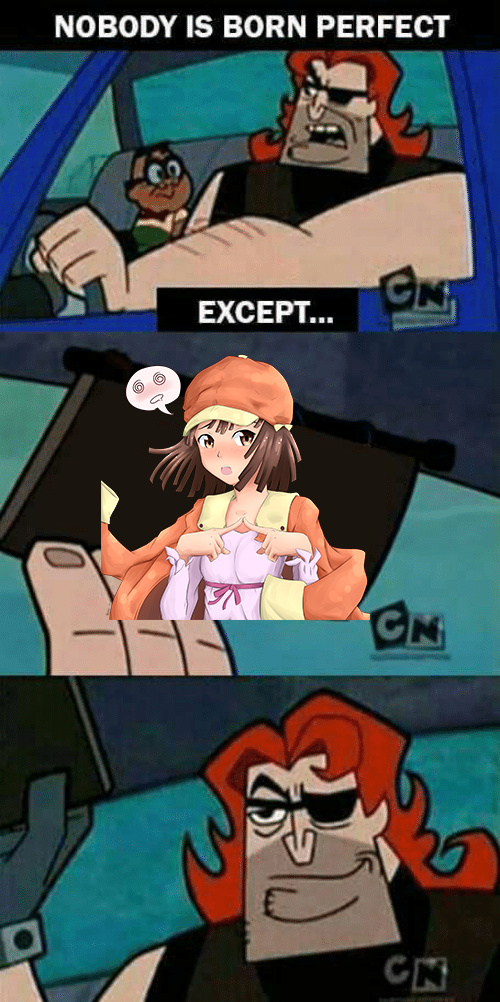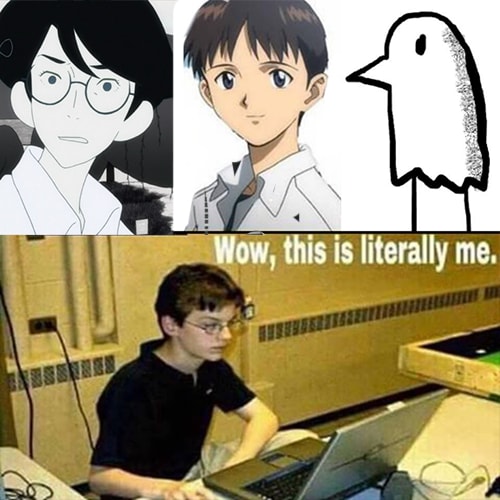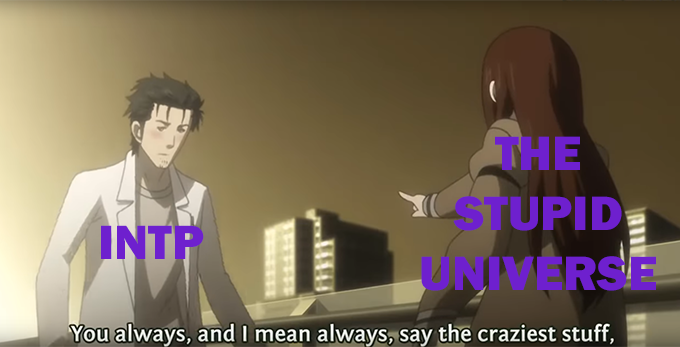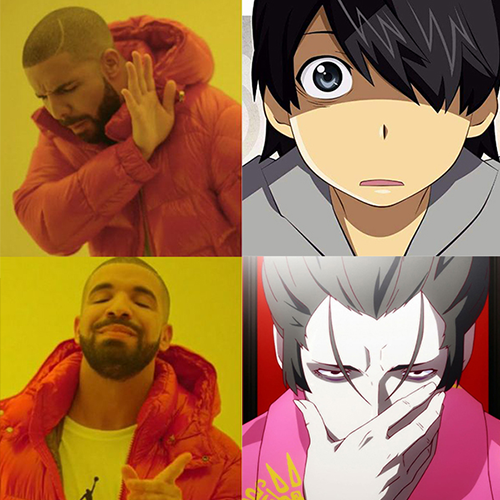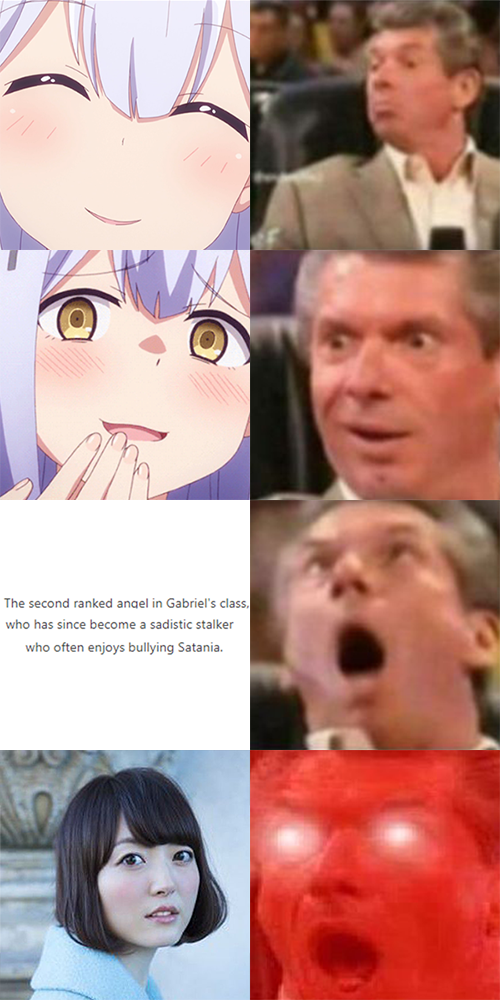 I remember when
I remember, I remember when I lost my mind
There was something so pleasant about that place
Even your emotions have an echo in so much space
And when you're out there, without care
Yeah I was out of touch
But it wasn't because I didn't know enough
I just knew too much

Does that make me a weeboo?
Does that make me a weeboo?
Does that make me a weeboo?
Possibly

And I hope that you are having the time of your life
But think twice
That's my only advice
Come on now, who do you
Who do you, who do you
Who do you think you are?
Ha ha ha, bless your soul

You really think you're in control?
Well
I think you're a weeboo
I think you're a weeboo
I think you're a weeboo
Just like me

My heroes had the heart
To lose their lives out on a limb
And all I remember, is thinking
I wanna be like them
Mmhmm ever since I was little
Ever since I was little it looked like fun
And it's no coincidence I've come
And I can die when I'm done

But maybe I'm a weeboo
Maybe you're a weeboo
Maybe we're a weeboo
Probably ooh hmm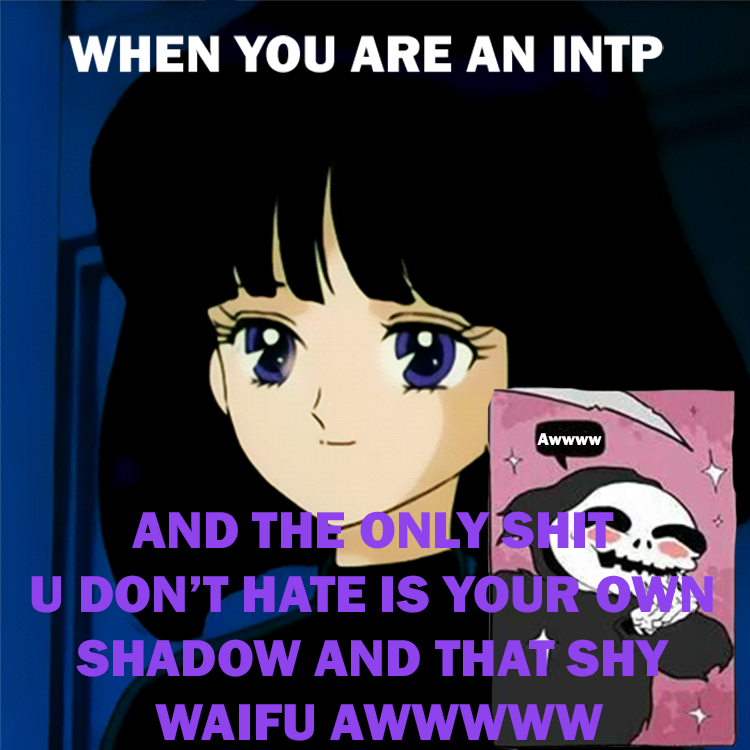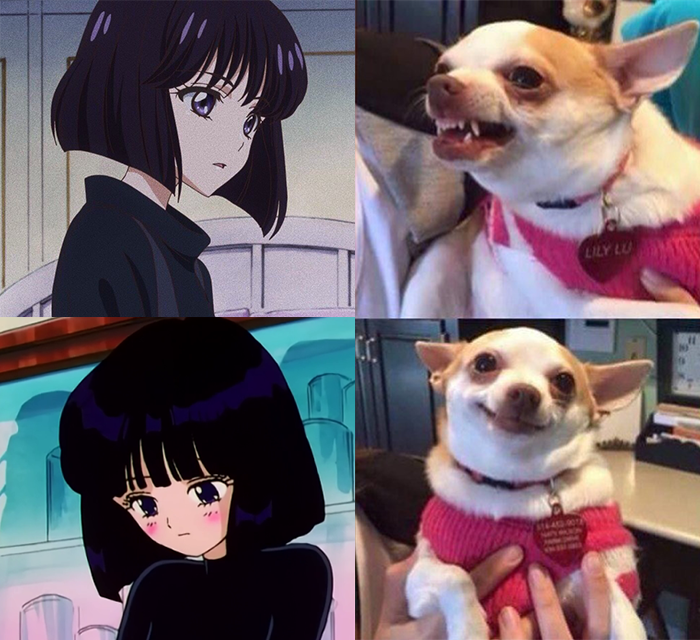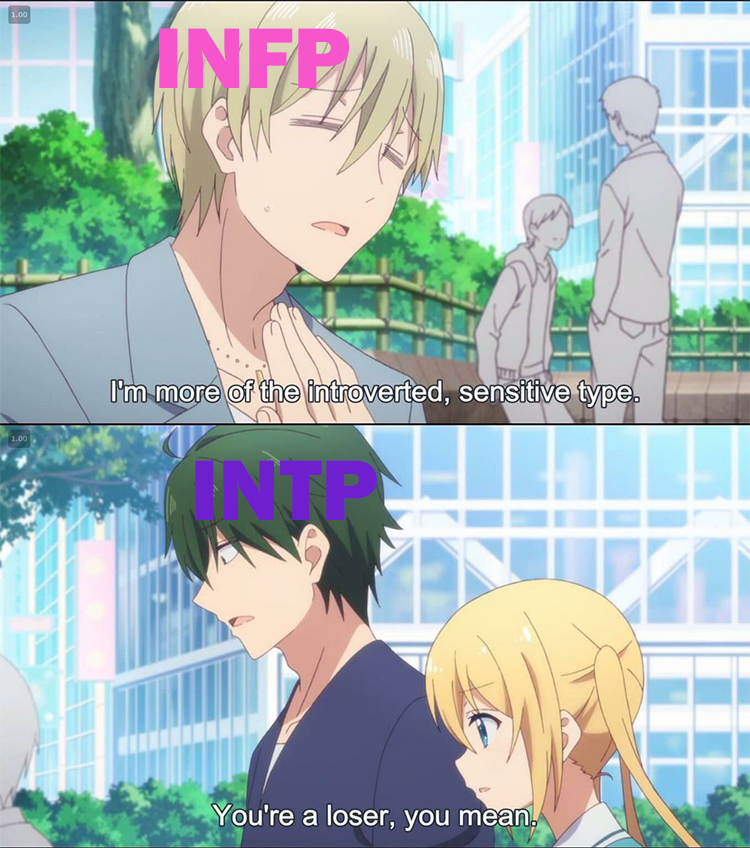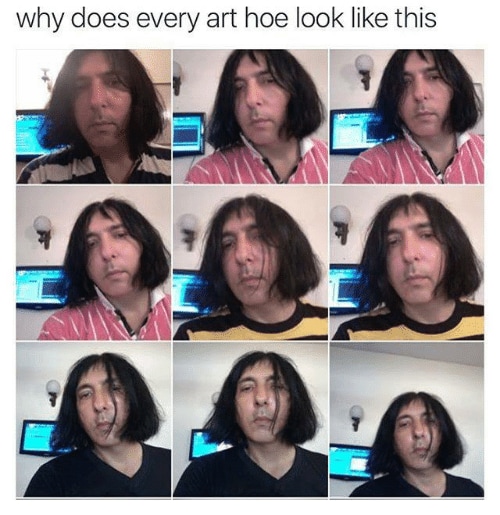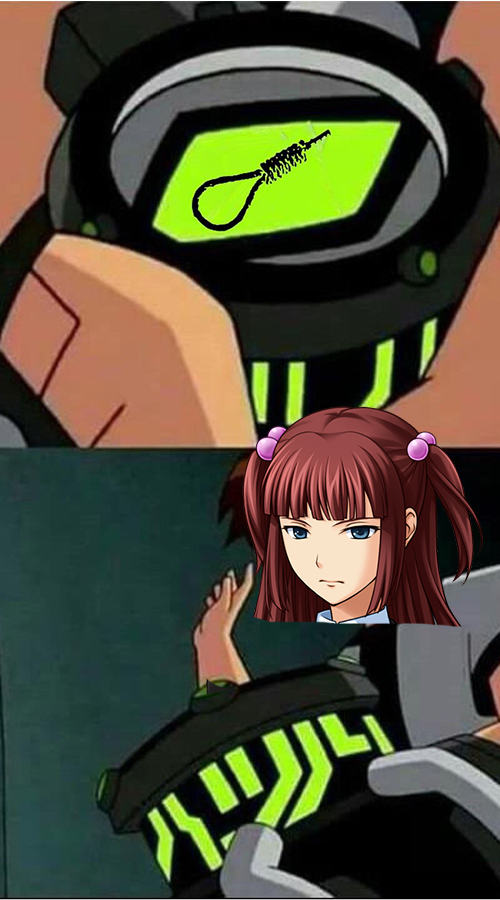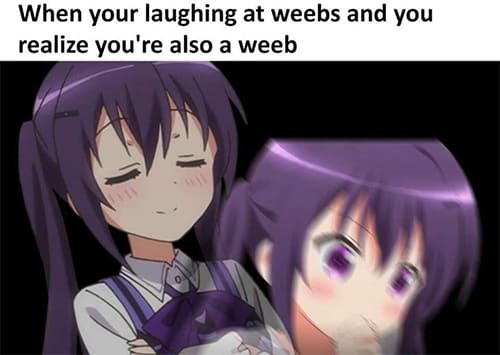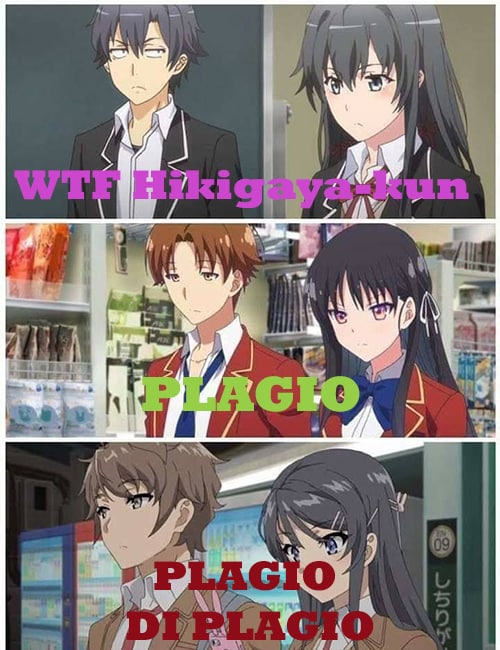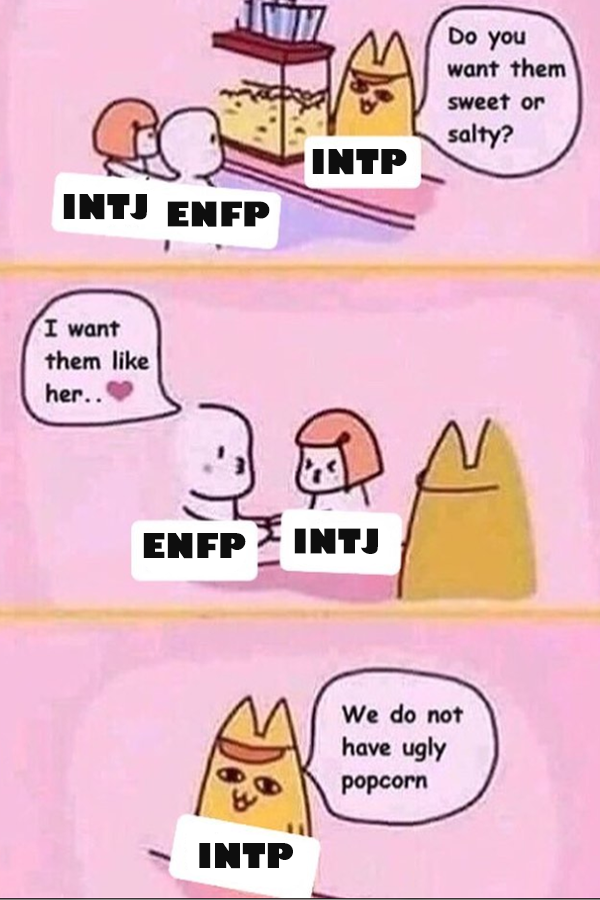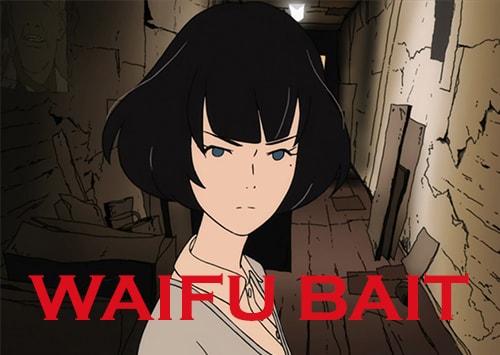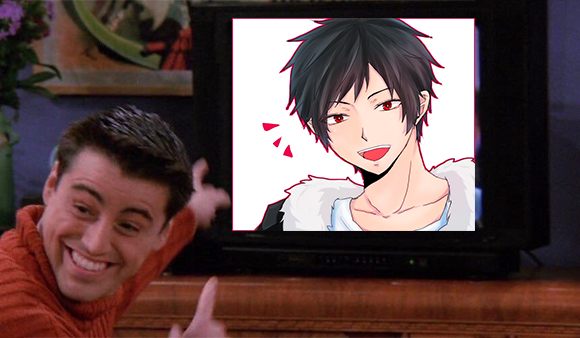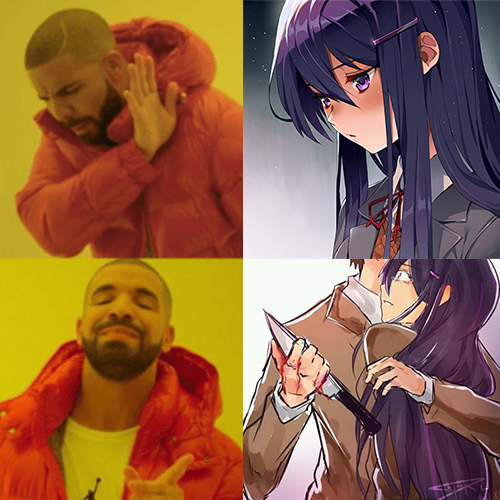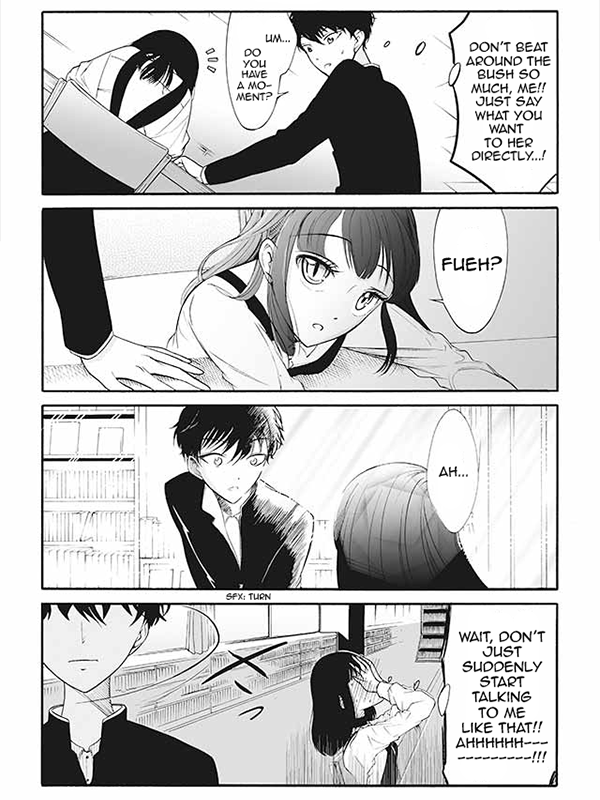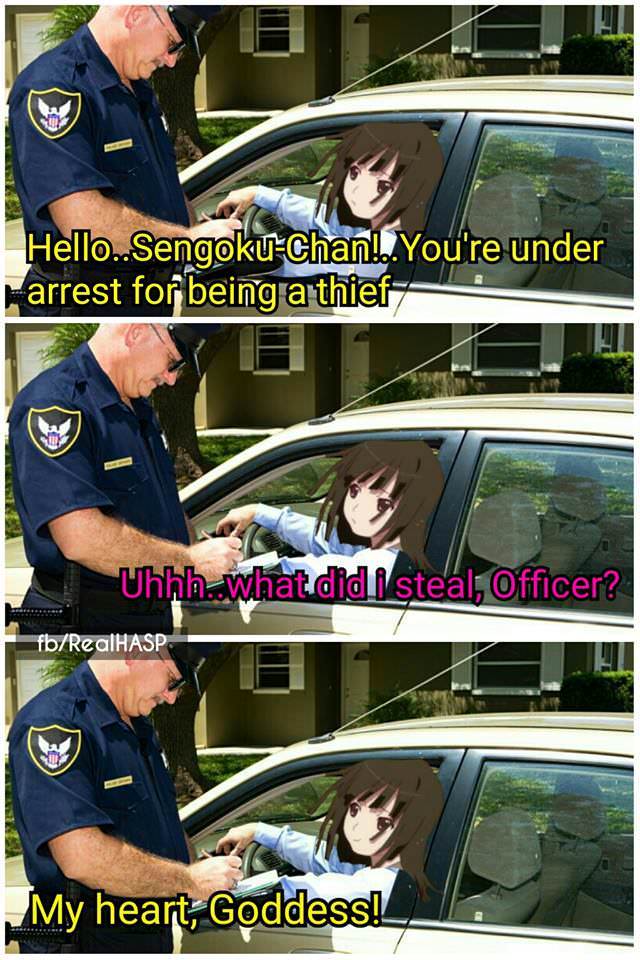 INTP: Hachiman from Oregairu, Izaya from Durarara, Bernkastel from When they Cry, Watashi from Humanity has Declined, Kaiki from Monogatari Series, Nanami from Katanagatari, Makoto from Kuroko no Basket, Miach from Harmony, Makishima from Psycho Pass, L from Death Note, Shion from GJ-Club. Raphiel from Grabriel Dropout. IV from Yugioh Zexal, Shinobu Wakamiya from Chihayafuru, Ulquiorra from Bleach, Homura from Madoka Magica, Houtarou Oreki from Hyouka, Kusuriuri from Mononoke, Sora from No game no life, Cell from Dragon Ball Z, Kenshin from Rurouni Kenshin, Angelo Lagusa from 91 days, Hidenori Tabata from Daily Lives of High School Boys and Chiaki Nanami from Domparongaponporonkalonpaporopa, Senku Ishigami from Dr. Stone, Sakuta Azusagawa from bunny girl whatever, Eto from Tokyo Ghoul, Sucy Manbavaran from Little Witch Academia, Kisaragi Shintaro from Mekakucity Actors, Ginko from Mushishi, Genos from One punch man, Killua Zoldyck from Hunter X Hunter. Gintoki from Gintama, Migi from Kiseijuu: Sei no Kakuritsu.

Real people who are INTP: Bill Gates, Charles Darwin, Immanuel Kant, René Descartes, H.P. Lovecraft, Jeffrey Dahmer, Adam Lanza, Galileo Galilei, Richard Dawkins, John Locke, Pythagoras, Mumkey Jones, Digibro, Blaise Pascal, Ed Kemper, Nisio Isin, Ryukishi07, Yoshihiro Togashi, Wataru Watari, Albert einstein, Max Stirner, Gabe Newell, Inio Asano, Stephen King, Charles Manson.

Other INTP in fiction: Smaug from The hobbit, Sherlock Holmes from Sherlock, Yoda from Star wars, Alice from Alice in Wonderland, Neo from Matrix, Daria Morgendorffer from Daria, Elliot Alderson from Mr. Robot, Brian Griffin from Family guy, Jon Osterman "Dr. Manhattan", Mr. Bean, Malcolm Wilkerson, Rustin Cohle, Donnie Darko, Tae Takemi, Violet Baudelaire, Dib from Invader Zim.

Favorite thing about INTP? Free thinking. The most intelligent personality type.

ISFP: Nadeko from Monogatari Series, Ange from Umineko, Kaguya Shinomiya from Love is War, Tatsuya Himuro from Kuroko no Basket, Ema from Shirobako, Rikako Ouryou from Psycho Pass, Mikoto Mikoshiba from Gekkan Shoujo Nozaki-kun, Akiko Yosano from Bungou Stray Dogs.

Real people who are ISFP: Michael Jackson, Lana Del Rey, Brad Pitt, Lionel Messi, Lady Gaga.

Favorite thing about ISFP? Chaotic Feeling. The most fragile and poisonous personality type.

ENTJ: Makoto Shishio from Rurouni Kenshin, Gilgamesh from Fate Series, Akashi from Kuroko no Basket, Erika from Umineko, Senjogahara from Monogatari Series, Light from Death Note, Kaiba from Yugioh, Erina Nakiri from Food Wars! Shokugeki no Soma, Yukino Yukinoshita from Oregairu, Kyubey from Madoka, Kirari Momobami from Kakegurui, Gary oak from Pokemon, Goku black from Dragon ball super, Frieza from Dragon ball Z, Reinhard from Ginga Eiyuu Densetsu, Griffith from Berserk, Togame from Katanagatari.

Real people who are ENTJ: Steve Jobs, Napoleon Bonaparte, Joseph Stalin, Gordon Ramsay, Julius Caesar, Malcolm X, Paul Joseph Watson, Emmanuel Macron, Aristotle, Carl Sagan, Simon Cowell, David Letterman, Charlize Theron, George Clooney, Todd Howard, Garry Kasparov, José Mourinho, Ted Bundy.

Favorite thing about ENTJ? Passionate. The most passional personality type.

ESFJ: Sakura Chiyo from Gekkan Shoujo Nozaki-kun, Nanami from Sakurasou no Pet na Kanojo, Natsuo Maki from Love Lab, Ringo Oginome from Mawaru Penguindrum, Kosaki from Nisekoi.

Favorite thing about ESFJ? Kindness. The most Wife Material personality type.

This was my favorite song when I was little, it's like the world is dying and I love that. Time to see the garbage burning.

My waifu when I was little was Sabrina from Pokemon and then it was the princess Azula from the avatar, not your everyday kid. That is for sure! hahaha Always consider my waifus as a beautiful poisonous flower that only I can understand, They are more reserved, calm and full of their own poison ... but they are still beautiful in their own way. Exaggerated? I do not care! They are mine! not yours! get yours! I remember when Elliot insulted my Waifu and I was like ... what did you say you f*cking bastard? and then I was wait a moment... oh yeah...that was fun and shallow kjjjj

I love when people call me exaggerated, over the top, because I remember when I was in the basketball team and a rival player told me that "why you keep playing, you are nothing but garbage" I remember it like it was yesterday. more than 13 years have passed.

I remember how I stopped for two seconds, you don't expect to hear that from someone else or at least not when you're so young and innocent. I also remember how I told him "Obviously I am trash, I have always been nothing but trash, I have not played for more than 2 minutes per game ... I already lost count of when the last time I played a important game, sometimes I think I should stop playing ... I know ... I am garbage. But, that's not all, I am garbage and I know my place, Everyone is supposed to be nothing but trash ... like your mother. I am nothing more than a burden, I only play useless minutes that are worth nothing. That's what I keep training every day, that's why I break my damn mind until there's nothing left in it, that's why I train in the rain, it's all part of a process, a plan, an ambition so destructive that it probably doesn't make any sense. It is my passion, an obsession, it is something that burns you inside and makes your life a little less boring. Why do I do all this? Because I love this sport more than you can hate me. Maybe today is not my day , neither will it be tomorrow, nor the next day, nor the next ... but someday it will be, all this shit will make some sense. I laughed like an idiot and said "ah you were speechless, right? Damn stupid, I can't wait, to see how you're left with nothing"

The soulless puppets cannot understand me, what could be expected? Some simply do not have what is required, some simply prefer to pretend to be right for mere convenience. I remember my memories as a dream that I never want to ever forget, nothing the world offers me will be enough to forget where I come from. If I'm shit? not at all, I just can't stand half the people of the world. They are just too fuck!ng stupid. Remember my little one, you have the right to be yourself. Fight for it and f*ck them! hahahaha

I remember once scoring 74 points and I thought to myself, but if I'm just a bunch of shit ... HA! that moment was so funny! f*ck the world. What I liked most was listening to the silence of the stadium, when they lost everything... yeah I know, so INTP Madness. Can you believe that girls like you just because you are attractive and play a sport? what the hell is wrong with them! I never understood that at all!

I always say that I was the captain of the basketball team, I was not always the captain, you have to kill everyone in front of you to get there and it was a lot of fun. Now go little one, have fun with this disgusting world. And remember, f*ck them.

Every time a virgin with an anime pic tells me something, I can only laugh! I already know your class, they sure bullied you at school or something. You don't scare me lifeless degenerate. Beatrice was sh!t because she died like a b!tch, 0 respect for that trash! buahahahahaha

Do you know which character was my favorite when I was little? f*cking Makoto Shishio, but the second one was Sanosuke Sagara from Rurouni Kenshin! hahaha I loved him because he was nothing but shit, shit that doesn't go away without a good fight. I still remember how he hit Makoto Shishio himself in the fucking face. That guy was crazy and I loved him for that! but I don't expect soulless puppets to understand that. What a pity they give me.

I just love it when the betas get mad at me. I'm glad I'm not part of that trash.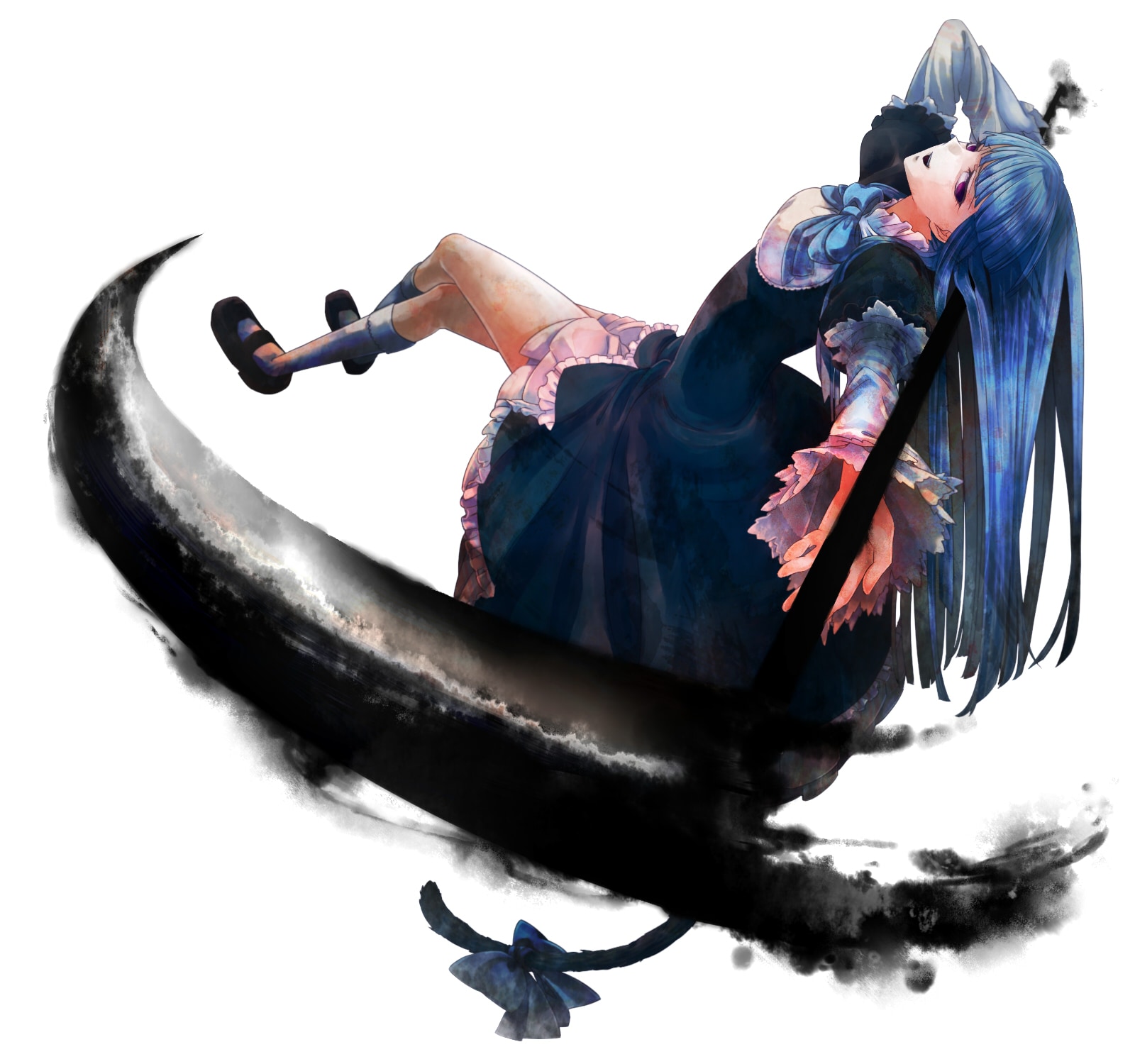 Frederica Bernkastel, is the author of Umineko. It is extremely evident because they both have the same personality. INTP. Bernkastel has an undeniable characteristic of an INTP, she never tells the truth. Because the truth has to be reached and understood, many INTPs develop manipulative and deceitful abilities in their lives, this is extremely true of those INTPs who exhibit an early expansion of their aspirational cognitive function, extraverted feeling.

Due to the complexity of their minds, many INTPs feel that they are misunderstood by others from an early age, that they are pushed aside by people who make no effort to understand them. This is not only true because the people around them are inferior, this is also because an INTP creates an awareness and sense of individualism much earlier than most people. Therefore, many INTPs develop greater intelligence than their peers, learn much faster and are curious when questioning the ideas established by the world.

INTPs are usually shy at an early age, friendly and with many creative ideas that they want to share with others. Unfortunately the world is not ready for such creativity, because an INTP develops a sense of individualism earlier than the rest is strangely confident, talkative and expressive. But the world tends to look down on behaviors that are out of the norm, which are strange and does not accept questions of the pre-established rules.

Due to this first clash with reality, many INTPs tend to have an asocial attitude in their adolescence. What was a display of affection becomes an emotional charge, what was a curious and innocent question becomes a disaffection with the pre-established rules. Many INTP tend to have a change of attitude in their adolescence because they are not reciprocated, after all the true form of an INTP is that of someone friendly and supportive. But the world does not accept what is different, the world has not the slightest desire to understand a different idea. INTPs usually develop a rebellious and anarchic side in adolescence because they are unable to get rid of their noble and pure ideas, therefore they develop hyperindividualism. They just don't believe, they don't want to believe in others.

It is extremely obvious the multiple connections between Umineko and the mind of an INTP. The creator of umineko refers to certain ideas worthy of discussion, but the one that caught my attention was the inclusion of a phrase from the US serial killer Jeffrey Dahmer, another INTP. Because the murders of Dahmer occurred throughout the life of the author and that it was a person with the same personality, it would not be crazy to think that the author of umineko found an interest in the case. Many INTPs often have a taste for mystery, criminal cases, and the macabre.

The author of Umineko is clearly a depressed man, so was Dahmer. The point is that Jeffrey Dahmer was a man consumed by his mental illness due to the death of his mother who was his best friend. The author of Umineko suffered the loss of a dear friend and this impaired his mental state. The phrase he used to refer to Dahmer was one about cannibalism. It was something like he wanted to keep certain people within himself, so that he would never lose them. This speaks not only of the mental connection between people of the same personality, but also of the author's past. Because he is a depressed man, interested in dahmer despite his acts of extreme violence, I deduce that he was also a lonely young man with few friends. This not only shows the author's depression, it also shows that he is a man with a different vision than most. He not only sees Dahmer as a ruthless assassin, he also sees him as a friend who got lost along the way. He is considerate, gentle and understood the past of a man who only lost his mother.

I think it is very easy to deduce that Bernkastel is the mere shadow of the author. Bernkastel demonstrates a clear INTP idea. She lies and waits for the answer to make fun of herself, make fun of the world. Bernkastel lets the other person have the advantage to see that their judgment of others is correct, after all, INTPs are the most intelligent in most conversations they are involved in and are excellent at judging people, due to their abilities to understand emotions.

When Bernkastel says "You are right" she is just waiting to see the vanity in the other person's eyes. Bernkastel's true form is pure and transparent, because of this she lies to judge. When the other person answers "yes, I already knew" Bernkastel just laughs, because that is exactly what she knew the other person was going to say. She lies because she does not trust the other, she lies because she knows the end, she lies because it is evident that instead of listening, the other person will only want to be right for mere convenience. To satisfy their putrid non-existent ego that rejoices with pure lies.

Bernkastel is the true form of Umineko, of the author, is the desire to be understood and the ending that no one wants to have. Bernkastel is the author when he cries alone in the darkest part of his being. Bernkastel is the author's dark and cold emptiness when he loves and is not loved.

I loved bernkastel, that's why I understood her. Love to the author of Umineko for being skilled enough to tell his story. Because a part of me understands your pain and knows that this cannot be the end of it. After all, such a peculiar man deserves a better ending. You won a friend.

I don't like falling into the vulgarity of many others, how they reduce such a gentle character to a mere meme. They just gross me out. Bernkastel a CUTE!

This is how to understand the heart of someone who is dead inside, with compassion. Giving what the world stole from them. The self and nothing more!

She will always be one of my most beloved poisonous flowers

Bernkastel will always be welcome in my garden, maybe that was the golden land? "and in your eyes I saw myself reflected and I felt loved for the first time. because we were exactly the same, two bored souls in the nothingness itself, going nowhere for no reason"

Man, I don't know about you, but I would fall in love with myself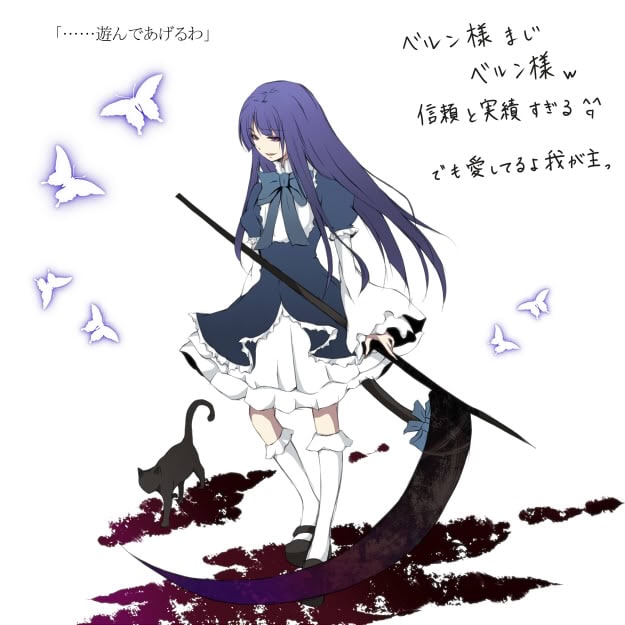 ENTJ unconscious of the INTP
Pride, passion and dreams


A character whose purpose is beyond pretending to be right. Gilgamesh is constantly looking for a way to kill his boredom. His vanity is a whim and the world a place to dance. Between lies and truths, between shadows and flashes of hope, Gilgamesh feels like in water. It is a shark, its insatiable appetite to want to look for something that calls its most sincere attention is really splendid. There is no dull moment when Gilgamesh appears, because he is always ready to have a talk about life, nightmares and dreams.

Sometimes you don't listen to the heart, sometimes you dance with your shadow. Because a shadow does not betray you, because in the darkness perhaps there is the answer. Because in a world full of vanity and falsehood, sometimes you have to lie and dream. Because you are also a sinner whether you want it or not. There's no point in losing yourself in the crowd, you can kill, lie and dream like everyone else ... just let yourself be carried away. May your instinct be your energy, may your determination be determined by madness and consume your soul to the end. The end.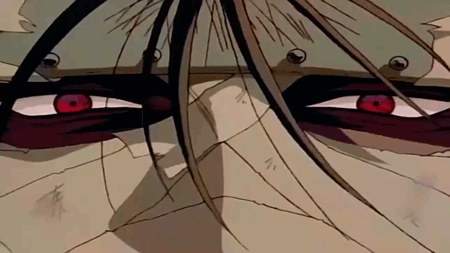 Makoto means truth, Shishio is Master. I love the passion displayed by the king without his crown, a king who seeks nothing but the truth. Makoto constantly analyzes his rival, constantly moving faster than his own thought. Shishio is nothing but instinct, determination and passion. A rebel in a sleeping world, a wolf among the sheep, an angel in hell. I love how Makoto expresses his views with pride and devotion to an ideal that few understand. I love how the sword lord is unshakable because he has broken himself to be good enough to dominate. Makoto's determination plus his enormous ability to refine his own strategy and words is something worthy of my deepest appreciation. Devotion for oneself and for what one believes.

Makoto is the individualism of the soul, the passion of endless madness. Makoto is a one man army and still finds peace by looking at his own person. I will never feel more respect for a character than for Makoto Shishio. A man who was massacred by corruption, burned for who he was and still kept going. With intelligence, with pride but above all with the passion of being who he is. Makoto Shishio is not just a strategist, he is not just a rebel who hates the government, he is not just a loner trying to find paradise. He is forging it, step by step. Hell seems like a joke before him, because Makoto is a burning soul, hotter than a hundred and one suns. He loves to love and hates to hate, what is the sense of living chained to an ideal beyond oneself. Be your own banner.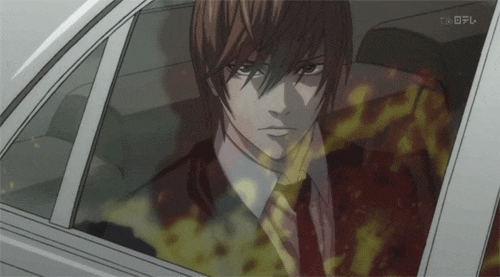 The representation of dreams is present in so many places that the very idea disgusts me. Not for dreams, but for the idealization of the idea. Light Yagami is a very different story, where others see a celestial leader of extreme intellectual capacity or choose to see only a deranged man corrupted by the power to believe that he is a god. I choose to see the purity of his story. Light Yagami is first of all a young man, a young man who dared to dream and that dream turned into a nightmare. It is a representation that even perfection cannot do everything, like a stairway to heaven still falls short. That some dreams are not fulfilled and some souls are lost along the way.

Light Yagami is nothing more than a dedicated young man, looking at the sky and wanting to steal all the stars out of simple desire. In that pure dream, the demons at his end haunt him, his mind weakens, his body tells him that he can't take it anymore. In that pure desire, Light finds something to do, something to entertain himself with as he unknowingly walks away from the sky that awaits him. It is a story of how an angel did not manage to reach paradise, of how dreams can turn into a nightmare in a matter of seconds. When Light laughs, I laugh with him. When Light advances, I wanted to see where he was going. When Light saw himself in the mirror, but on the other side, he knew that some angels do not get to heaven and in that moment I appreciate his story.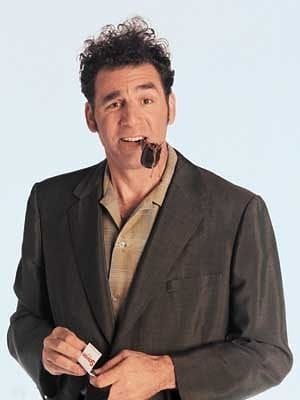 Kramer is a Machiavellian, a master of the forbidden. Since he was a little boy he was massacred for being too attractive, they hated him, they envied him. But like a warrior, Kramer has no shame in defeat because this is not only more than proof of the divine, that the dreams and the storm of his soul can not be silenced. Kramer does not respect the limits imposed by a world, because he himself is the limit of the world. In his subconscious there is the peace of a hundred paradises, in his nights the stars are nothing but white stones and in the mornings, Kramer eats cherries with yoghurt of peach despite the fact that his mother does not approve of such an atrocity.

Kramer is always rejected for being who he is and doesn't care in the least. In the calamity of a cruel world, Kramer has learned to lie, to create dreams in the hearts of some unfortunate lady, to dance in the darkness of his own absurdity. Kramer is proud when he talks about aliens, passionate when he plays snakes and ladders. Kramer does not obey any god, because Kramer understands that his time in this world is limited, but his desire to live is more than any concept created by humans. Because Kramer is king, when he sees himself approaching from the other side of the sky.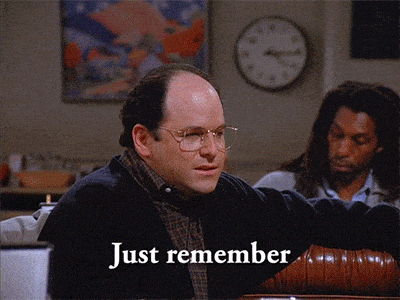 George, the creator of illusions. George has been rejected only for being faithful to his values, denigrated for not accepting that his dreams are nothing but a lie and that a life worth living is forbidden to him for being who he is. In its emptiness darker than the emptiness of space itself, it finds peace. God has not given him the best cards, it seems that he has only given him paper and scissors for children, with a marker that does not have ink.

But despite all predictions, George laughs when he looks at Alf on a Thursday at four in the morning. George finds the code to watch the video for premium customers on the Japanese company ladies page. George creates illusions to destroy the darkness of a world that does not accept him for who he is, that insults him for being faithful to his person. George has defied God, if paradise does not exist, then make hell my garden of eden. If the women reject him, he will dance with a young man of rainbows until the night says enough. If society laughs at him for who he is, George will laugh with them, because George created the illusion of eternal sunset, which is to know that nothing really matters more than him. George is weak, pathetic and has accepted his humanity as an advantage that not even God can stop.

At that precise moment, God knows the true Horror. George does not exist in George's mind, because George has created the world in his image and likeness. Where nothing really matters, where nothing exists, where the interstellar emptiness of the judgments is nothing more than mere vanity that George makes disappear with a half smile. Truth, justice, humanity. George created everything out of simple boredom.

I never understand why. This is one of the many anime scenes that I like but for some reason people try to simplify the value of the scene. People reduce the idea to Midorima smiling. They only look with their eyes.

Midorima don't smile, that's the point. Why? because Midorima does not enjoy playing basketball. For Midorima, playing basketball is like a job, a mission, an obsession. Because he takes it so seriously, Midorima does not accept half-done jobs. He is disciplined, he strives to get things done on time, he is a perfectionist and he is focused on winning. Because of this Midorima does not enjoy playing basketball. Midorima hates himself, hates his incompetence, hates his lack of talent, hates his inferiority. He is afraid of losing.

When one of the opposing team's players, from Akashi's team, tells him that his teammate is nothing more than mediocre. Midorima saw himself in him. Midorima is mediocre. At that moment Midorima loses his characteristic calm for a second and lets himself be carried away by his emotions. His passion overflows, breaks his chains. Midorima tries hard, never appreciates his own effort. Midorima is on a mission to achieve a goal, he never enjoys the journey. Midorima is so self-centered, his perfectionism and individualism are his obsession. Midorima is not able to see around him, not for a mere second. At that moment Midorima understood that he should ask for forgiveness, when he gives a pass to his teammate, that is a very sincere apology

Midorima apologized to his teammates for not trusting them. Midorima does not trust others because he does not tolerate this idea, it must be all perfect, therefore only he can achieve it ... because he is alone in this desire that burns him deep inside. Midorima wants to be perfect more than anything, to be able to love the sport that never left him alone. A mediocre could not do such a thing. When Midorima's team scores, Akashi is surprised, because he knows very well that individualism is the defect of Midorima's game. When Midorima returns to defend, one of his teammates accepts his apology, that teammate is the captain of the team and a captain is always the representative of the team. Midorima smiles, because he is not alone, because he is no longer afraid of losing, because he finally enjoys playing basketball. Basketball is a game and in a game one has to have fun. Finally, Midorima won. Because he remembered what he had forgotten. To love you just need to love.

Be kind to Midorima.

Why does the Serbian kid pretend that I don't know that he is an INTJ?
Why does the Irish boy believe me? I knew he was from Ireland because of the reference to a movie on his profile. I also saw it, the end is anticlimactic but predictable.
Why do they crawl so much to earn social points with their imaginary friends on a discord server?
Why do they claim to be a moral authority when they themselves do not possess any morality?
Why the Cambodian girl fell in love so fast and believed everything. Then she got scared because I told her that I knew she liked my poisonous flower poem, even if it was for 3 seconds. I liked her too! Why is she offended? when it was clearly a lie, she is hella cute!
Why every time I write something, they think it's personal, like I don't have more than one job at a time
Why is it that every time I agree with the Serbian boy without saying a word, he believes it? Does that reaffirm your false belief that you are smarter than me? I like how he leaves happy with a lie
Why I don't like onion? is bc he is an INTJ? why is he so foolish and youthful?
Why did the boy from Brazil tell me he wasn't going to believe me and then he believed me? why he was so offended by what I said about Tomoko. Why do you pretend I don't notice?
Why the Serbian boy pretends I don't know his immediate connection to the Irish boy. Why can't you connect that I did everything on purpose because I already knew that eventually we were going to talk. Why do I think you like me?
Why don't you understand that I also had my fun in my own way? Why is it so difficult to understand? Why don't they recognize that when it comes to human nature, I'm a damn threat
Why don't you question your own nature?
Why the INFP pretends to be a master of memes and does not realize that I am using it as a messenger
Why don't you question the reality of my words, instead of believing everything and then they speak as if they know me?
Why don't they realize that when I say "maybe I made a wrong image of you" they don't realize that I'm bait them to death, because I already know the answer and they make me laugh.
Why when I say that I don't like the pepe the frog, do you believe me?
Why did they look so anticlimactic when they had their final party and why I was laughing? oh what is this party for me? thanks for the food
Why when I say that I lie to them and then lie again do they believe me again? Is it because the new information is convenient for them?
Why don't they realize that they are intellectually inferior and that they are my beloved lifeless puppets?
Why don't they value the heart of a good joke, on a large scale, absurd, with a twist at the last minute?
Why when I say I don't like Beatrice and Battler do they believe me?
Why when I told you the truth, you were so afraid that you wanted the lie to be a lie?
Statistics
Anime Stats
Total Entries

2,678

Rewatched

10

Episodes

4,764
Access to this list has been restricted by the owner.
Manga Stats
Total Entries

438

Reread

0

Chapters

1,738

Volumes

222
Access to this list has been restricted by the owner.
Favorites