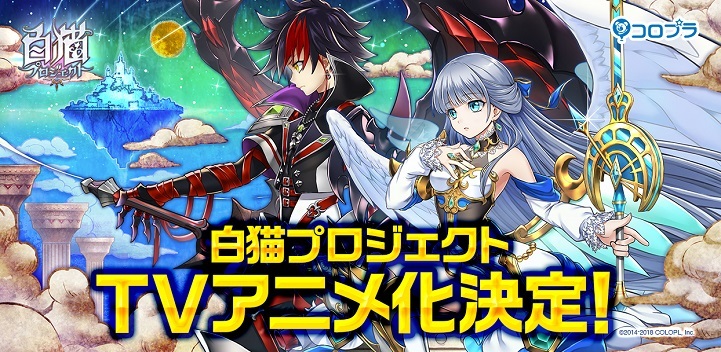 Game developer Colopl announced a TV anime adaptation of its
Shironeko Project
role-playing game on Sunday. The announcement was made at the company's Colopl Fes 2018 event at the Tokyo Big Sight convention center. The TV anime will premiere in 2020.
Shironeko Project
is set in a fantasy world full of mysterious runes that are brimming with ancient magic, according to legends. However, no one knows where they are. The story centers on adventurers trying to unearth these artifacts.
The anime series will be based on the "Zero Chronicle: Hajimari no Tsumi" (Zero Chronicle: The First Sin) event in the game, which serves as a cornerstone of the main story depicting the past of the Shironeko universe. The event was held in commemoration of the game's third anniversary.
Colopl developed the role-playing 3D action game for iOS and Android platforms in July 2014. An English version under the title
Rune Story
was released in late 2015 but discontinued its service the following year.
Shironeko Project
won
both the best game and best application in Japanese Google Play in 2014 and Excellent Award at the Famitsu Awards in
2015
and
2016
. The game has been downloaded for over 5 million times since its launch.
The company also announced a new game in the series tentatively titled
Shironeko New Project
, which is also scheduled for a 2020 release on the Nintendo Switch console.
Game official site:
https://colopl.co.jp/shironekoproject/
Source:
PR Times
Shironeko Project
on MAL

RSS Feed