Princess Mononoke is a full-blown adventure movie that depicts a very bloody war between animals and humans during the Muromachi period. A lot of the scenes are based in the wilderness, home to a bunch of amazing animal characters.
---
Yakul
---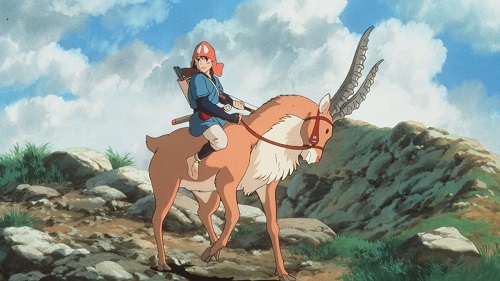 Yakul is the trusted red elk of Ashitaka, the male protagonist of Princess Monoke. It is a fictional animal that looks very similar to red Lechwe inhabiting the wetlands of Africa. This species can only be found in eastern Japan, where Ashitaka's tribe resides. Yakul is invariably faithful to his master and refuses to leave his side no matter how much danger he faces.
---
Nago
---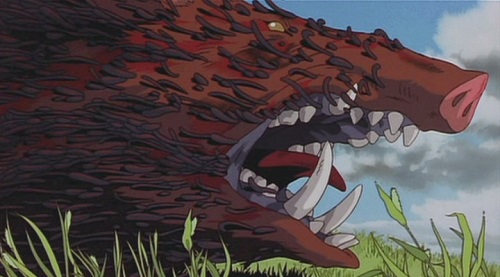 Nago is a wild boar god with brown fur and green eyes who turned into an enraged demon (tatari kami) after being corrupted by an iron ball. In Japanese folklore, a boar-shaped vengeful spirit is called Inosasao and is believed to be a giant boar who died and came back as a ghost to get revenge on its killer. Nago is spiteful towards humans and wants them to experience the same pain that he has.
---
Okkoto
---
Okkoto is a white 500-year-old boar god and the leader of the boar clan. He is a stubborn ancient creature that will destroy anyone that threatens his tribe. Though Okkoto is blind, he is very observant and his sense of smell is acute.


---
Moro
---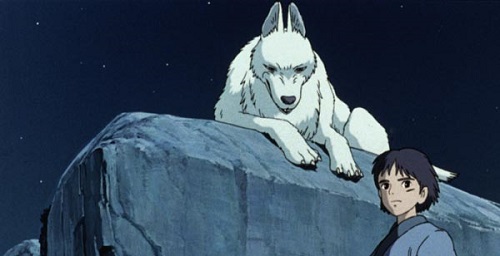 Moro is the 300-year-old wolf god who treats the main protagonist San as her daughter. She adopted San after her human parents abandoned their child in an attempt to escape from the giant wolf. Though Moro is headstrong like other animal gods portrayed in the movie, she is intelligent and can understand the human language. She hates humans who come to the forest and dreams of biting off Lady Eboshi's head.


---
Apes
---
The ape tribe is the only animal tribe that does not want to destroy all humans invading the forest. Instead, they replant trees, night after night, performing a peaceful resistance. Desperately trying to save the forest, they are even ready to devour the flesh of unconscious Prince Ashitaka in order to gain his strength. Sometimes they act foolish and use bad grammar, and other characters can barely tolerate them.


---
The Forest God (day form)
---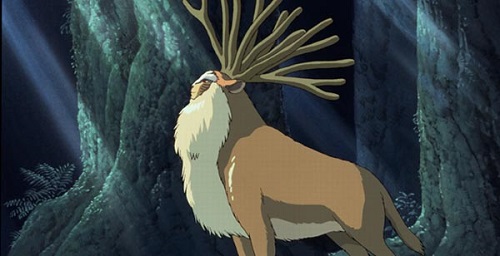 During the daytime, The Forest God resembles a stag with its large horns and human-like face. When he walks, the flowers instantly come to life underneath his feet and then quickly wither. He has a number of different powers, including the ability to give and take life. The Forest God bears a close resemblance to Kirin, a magnificent deer considered a holy creature in Japanese mythology.