---
Meet the Cat Bus
---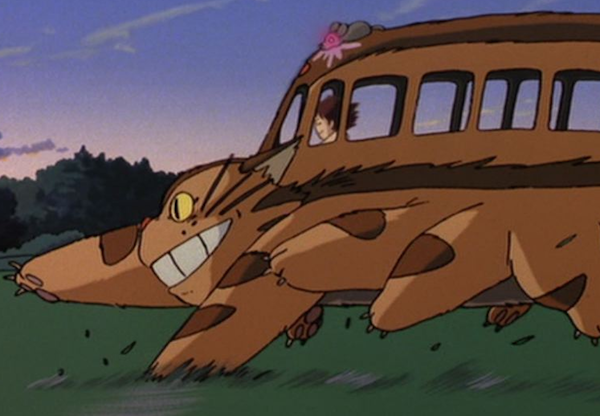 The Cat Bus from Hayao Miyazaki's 1988 film My Neighbor Totoro is a friendly creature whose main role is to help transport the forest's numerous "inhabitants" to their destinations of choice. He possesses many caterpillar-like legs that allow him to move at incredible speeds and is invisible to the normal human eye. As he travels, he causes entire fields of rice to sway in his wake, as though blown by a powerful gust of wind. His yellow eyes glow like headlights, and there are small mice with glowing red eyes that float next to the destination sign and his rear-like tail lights. The Cat Bus almost always has a wide grin spread across his face, which often causes viewers to draw a comparison between it and the Cheshire Cat from Alice in Wonderland, though Miyazaki himself supports no such relation between the characters.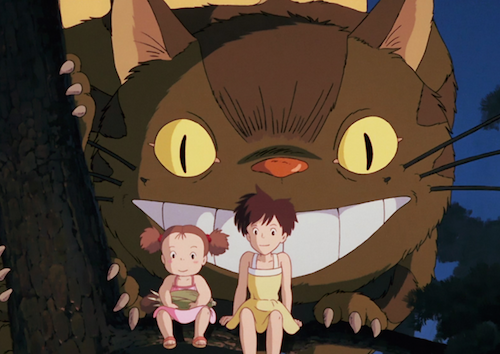 In the story itself, the Cat Bus plays an incredibly supportive role. Though he is normally summoned by Totoro in order to help transport the forest guardian to his destinations, he also assists Satsuki and Mei in their own travels. For instance, when Satsuki's little sister, Mei, goes missing, Totoro summons the Cat Bus who takes them directly to the young girl. The friendly creature then takes the girls to visit their mother in the hospital and perches with them in a tree overlooking their family. Despite his somewhat frightening appearance, the Cat Bus really is helpful and friendly!
---
Origins of the Cat Bus
---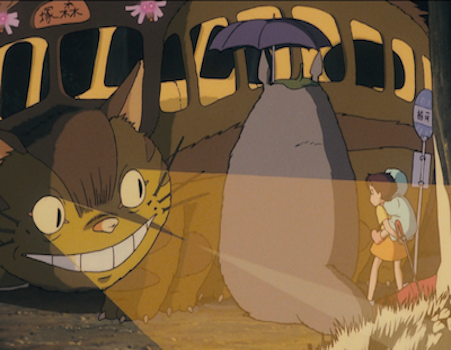 Despite Miyazaki's denial of any relation between his work and Japanese religion, the Cat Bus nevertheless bears a close resemblance to the Bakeneko, a cat yokai, or demon, in Japanese Shinto folklore. Cats were often associated with yokai in feudal Japan, not just because of their mysterious behavior, but also because of their relationship with both the wild and the domestic. Anyone who has ever owned a cat can tell you that, though they may be sweet and playful at times, cats also have incredibly violent mood swings. This idea of a mix of the civilized and the wild comes through wonderfully in the portrayal of the Cat Bus. Although he is a creature usually unseen by humans and separated form normal society, his form is still that of an urban commuter bus, complete with a destination sign and designated bus stops.
---
I hope you have enjoyed learning more about the Cat Bus and his role in My Neighbor Totoro as well as his origins in Japanese folklore. The Cat Bus is certainly a delightful part of the film; from his contagious grin to his efficient speeds, he is everything a daily commuter could ask for!