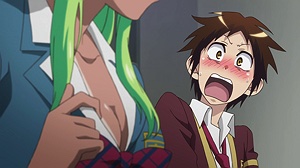 The more the manga fans complain about Jitsu wa Watashi wa, the more I just want to stick my fingers in my ears. The fact is that this series has real charm and it's genuinely funny, and if someone's voice doesn't sound like you expected it to I really don't give a flip. I've been in the boat of seeing a manga I loved lose something when adapted to anime (Barakmon is a good recent example) and I understand the disappointment, but having now read some of this source material, it really doesn't strike me that TMS and Yamamoto-sensei have lost much in the translation.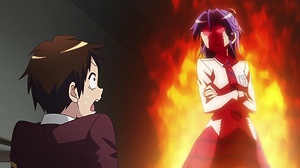 In any event, fish gotta swim and manga readers gotta complain. For me this show is a winner, and that's most obvious when it focuses on Asahi, Youko and Nagisa. As I've mentioned before the loveable idiot makes a great center for screwball comedy, and these are three of the most loveable idiots in anime. In this episode these three were effectively the only characters, and the results were predictably winning.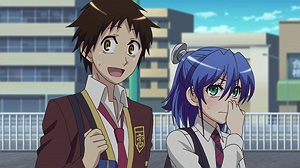 For starters, we have a chapter about Youko's lifelong struggle with the sun. I find the degree to which Youko's vampirism affects her to be pretty hilarious: she gets a deep tan from the sun. Garlic makes her eyes water a little. And she "gets kind of angry" when she sees a cross. But Nagisa still takes it on herself to take Youko under her wing and help her conquer her stellar enemy via the same harsh training Nagisa endured on her home planet. But even with the help of mascot characters, shoutengai and sweet potato carts sooner or later a trip to school is going to involve facing this enemy head-on.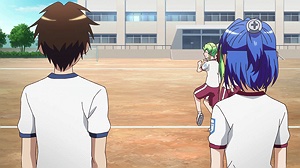 As is so often the case, the key to the joke here is the payoff. Turns out Youko has never actually tried sunblock - which is pretty funny in and of itself, but her reaction is what really sells it. Like many screwball comedies his series excels at reaction shots (we got a garlic spit-take in this ep) and the moment when Youko is frolicking in the sunlight and then spots Kuromine and Nagisa staring at her is my favorite of the episode.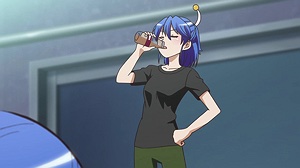 Youko's newfound ally in the solar war allows her to do something she's always wanted to do - go to the amusement park. And it's aptly named, because this is a pretty amusing sequence. Kuromine naturally assumes it's a date, but Youko had actually intended it as a setup for he and Nagisa to have some time together. Nagisa, of course, knows the truth and she recuses herself (the scene where Ookiinchou and Chiinchou each pop a bottle and take a drink is a great sight gag) in order to give the two some alone time (given her barely-repressed feelings, quite a meaningful sacrifice), and Youko and Asahi end up on a sort of date after all. She's addicted to thrill rides, he's terrified of them, but when it comes to the haunted house things really take off. First Youko is terrified, then she excoriates the fake vampire for threatening to suck her blood. Finally, she waxes nostalgic about how it reminded her of her childhood.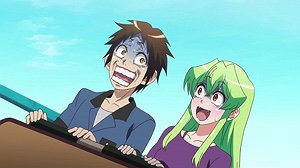 There's drama to come, it seems - though in this series I'm sure that's relative - with the introduction of Youko's father Genjirou (Koyama Rikiya), her osananajimi okami Shiro (Miya Kenichi). The old man is sending Shiro to make sure "the idiot" is keeping his daughter's secret, while the latter seems intent to claim his childhood friend as his if her father's suspicions are confirmed. I kind of hope things don't get too dramatic here, as I like the formula the way it is, but a little change can be good to keep things fresh - we'll see.