This article contains several major spoilers. Please be forewarned.
---
Explore the epic evolution of Sasuke's Sharingan!
---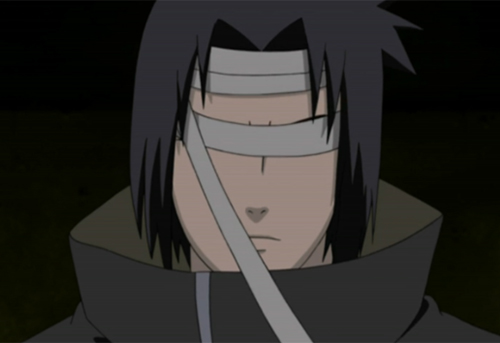 Sasuke belongs to the Uchiha clan, which possesses the Sharingan, a powerful eye-based technique. It is activated when a member of the Uchiha clan, known to be a sensitive and passionate people, is exposed to extreme tragedy, and the more consumed in darkness he becomes, the more powerful his eyes become. As Sasuke has been through such devastating experiences, it's no surprise that his eyes have progressed so far.
Here are some of the major milestones in the development of Sasuke's eyes through Naruto and Naruto: Shippuuden:


---
Awakening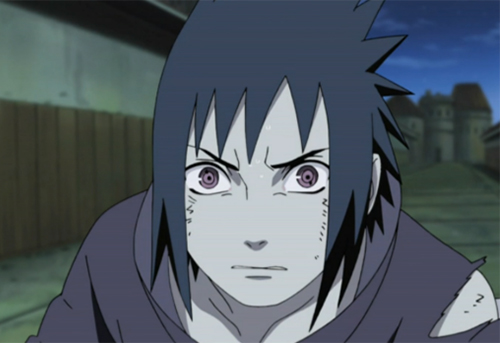 After witnessing the aftermath of the Uchiha clan's massacre, Sasuke is overcome by grief and fear, and he awakens his Sharingan while confronting his brother Itachi. Both his eyes have one tomoe (comma design) each. It seems that the trauma of the event makes him forget about his power until his Sharingan's reawakening much later. Although this event happens early in Sasuke's life, as viewers we don't actually learn about it until much later in the series.


---
Reawakening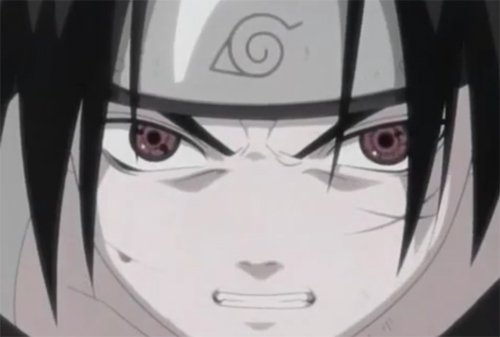 Sasuke gets trapped in Haku's ice mirror and must do his best to protect both Naruto and himself from Haku's deadly needles. In this state, Sasuke's early stage Sharingan reawakens. At this point, his left eye has one tomoe and his right eye has two, allowing him to trace Haku's speedy movements.


---
Next Use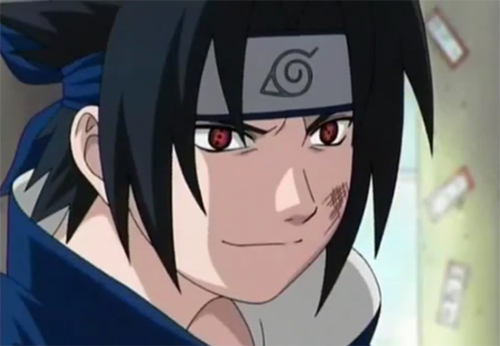 Against Rock Lee at the beginning of the Chunin exams, Sasuke has a chance to try out his Sharingan again. Although there are two tomoe in each eye now, it's unclear if there's any difference from before in his ability.


---
Maturity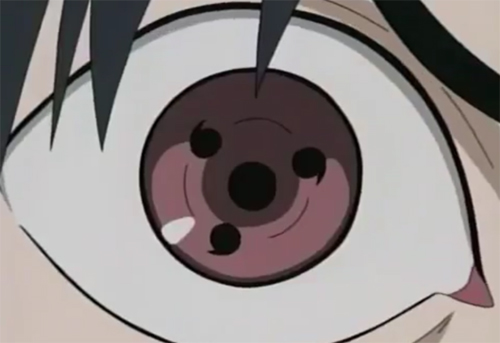 After leaving Konoha, Sasuke fights Naruto at Valley of the End. Sasuke has a difficult time managing Naruto, who is determined to bring him back to Konoha, but he eventually unlocks the final stage of his Sharingan, three tomoe in each eye, and is then able to face off against Naruto on more even ground.


---
Mangekyou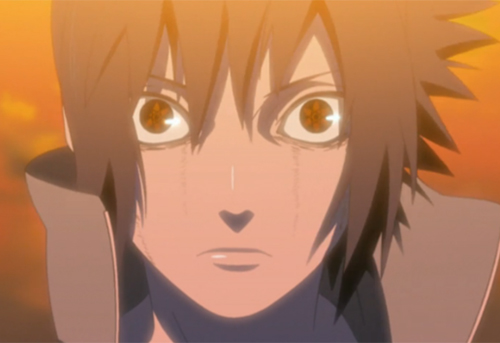 Sasuke learns the truth about Itachi and grieves over his brother, in this process awakening the Mangekyou (Kaleidoscope) Sharingan. In the Mangekyou Sharingan, the tomoe disappear and are replaced with a kaleidoscope design, hence the name. With the Mangekyou, Sasuke gains new attack abilities, such as Amaterasu and Susanoo.


---
Eternal Mangekyou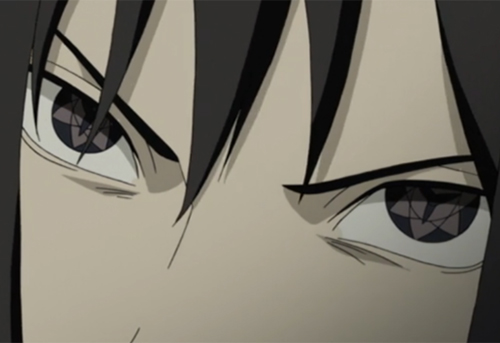 Sasuke receives Itachi's eyes as transplants, attaining the Eternal Mangekyou Sharingan and eliminating the crippling effects of the regular Mangekyou Sharingan. Sasuke's new Sharingan manifests the combined patterns of his previous Mangekyou and Itachi's.


---
Rinnegan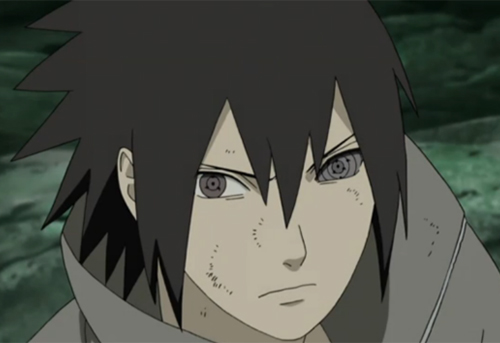 After meeting with the Sage of the Six Paths and receiving his chakra, Sasuke awakens in his left eye what is perhaps considered the ultimate eye technique: the Rinnegan. Unlike the red Sharingan, the Rinnegan is a light purple, and it allows him to teleport and see Madara's Limbo. Since he has just recently attained this ability, it's exciting to see what other potential it holds!


---
Come meet some other Sharingan & Mangekyou Sharingan users!
---
Here are some other Naruto characters that share Sasuke's special Naruto eyes:


---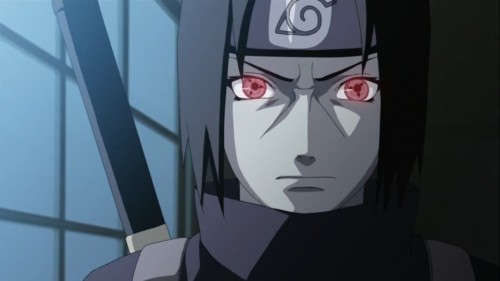 Itachi is a true child prodigy, born to be a shinobi. His Sharingan and Mangekyou Sharingan abilities are some of the strongest in the entire Naruto Shippuuden series.


---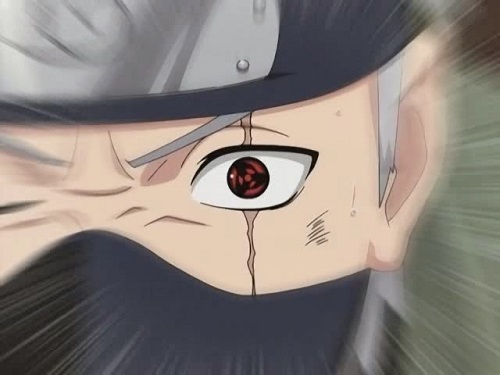 Although not a member of the Uchiha clan, Kakashi has been able to master the technique, even learning to use the rare Mangekyou Sharingan jutsu!


---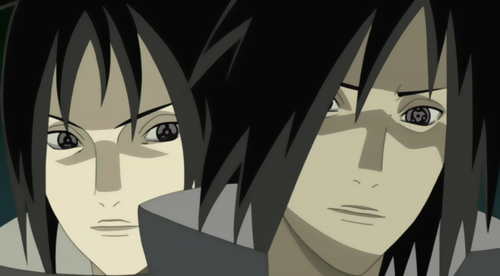 Madara and Izuna both made grave sacrifices to gain this Mangekyou Sharingan jutsu.


---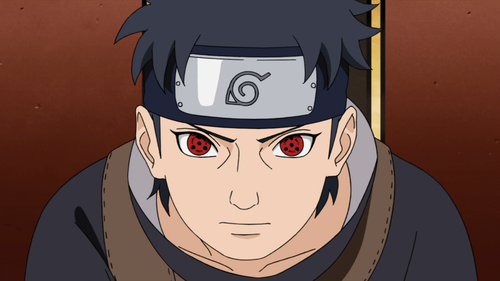 Shisui, one of Itachi's closest friends, was once a prominent member in the Uchiha community. However, due to certain tragic events, he was forced to disappear, leaving his eyes behind.


---
Nagato (Pain)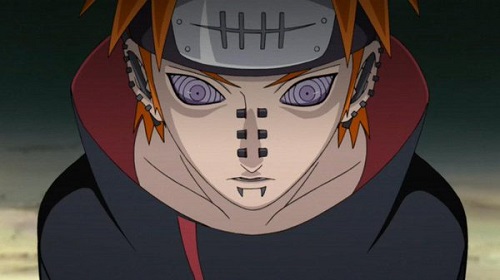 Nagato's Rinnegan ability was implanted into him at a young age. After the death of a dear friend, he swore to use his jutsu to bring peace to the world, no matter what the cost!


---
Don't forget about the Hyuuga clan and their Byakugan!
---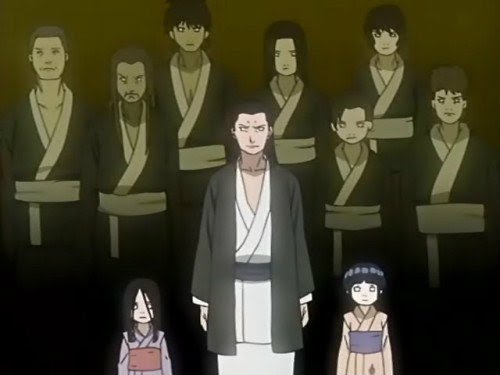 At first glance, the Hyuuga clan members are a pretty scary bunch, fully equipped with a mysterious and extremely powerful ability called Byakugan. However, once you get past their "unique" Naruto eyes, they are all honorable people who truly seem to care about the well-being of not only their clan, but also that of the Konohagakure Village as a whole.
Here are a few prominent members of the Hyuuga clan:


---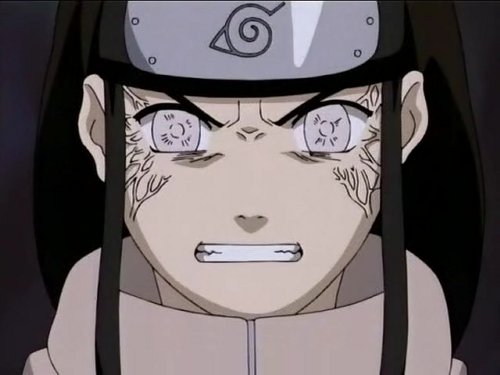 Complicated circumstances led to Neji growing up with twisted emotions about his family. Throughout the series though, he not only upgraded his Byakugan abilities to the highest possible level, but also founded a much closer relationship with his fellow Hyuuga clan members.


---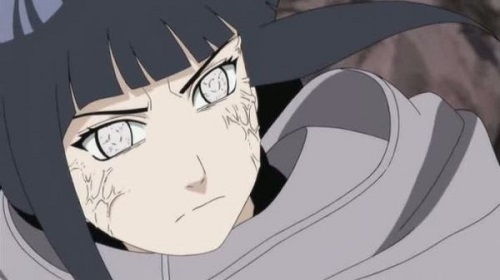 Hinata is the daughter of the Hyuuga clan's leader, Hiashi Hyuuga, and was raised with the expectation that she would someday master the Byakugan ability and protect her family's legacy. Although she was unable to fill these high expectations as a child, through her many adventures with Team Kurenai, the once clumsy and timid young girl blossomed into a powerful young women, determined to protect those close to her.