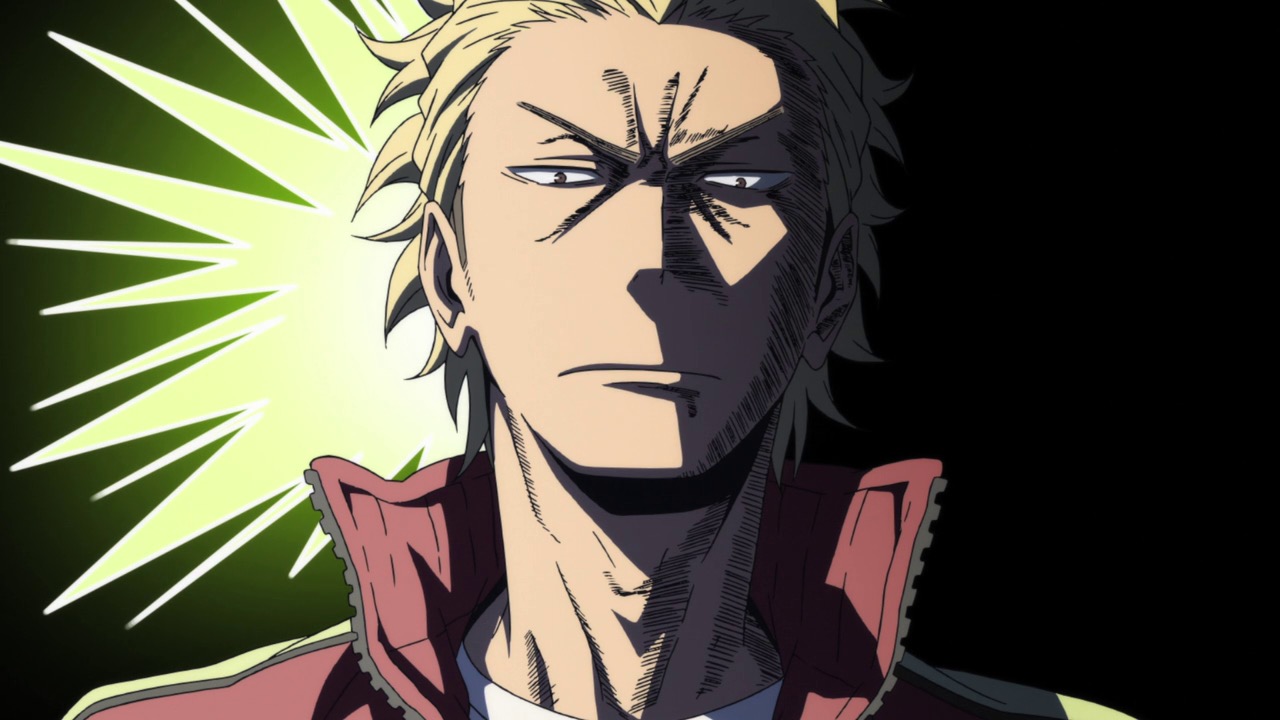 Haikyuu!! is a series that seems to emphasize delivery over potential, execution over innovation, and consistency over dynamism. Does all of that limit the upside of the show a little? Yeah, probably - but taken as a group those things are neither a positive or a negative. Haikyuu doesn't dive as deep into the young athlete's mind and journey as Baby Steps or into the psychology of competition as Ping Pong The Animation, but when you're as good at what you do as this series is, delivery, execution and consistency are things to be celebrated.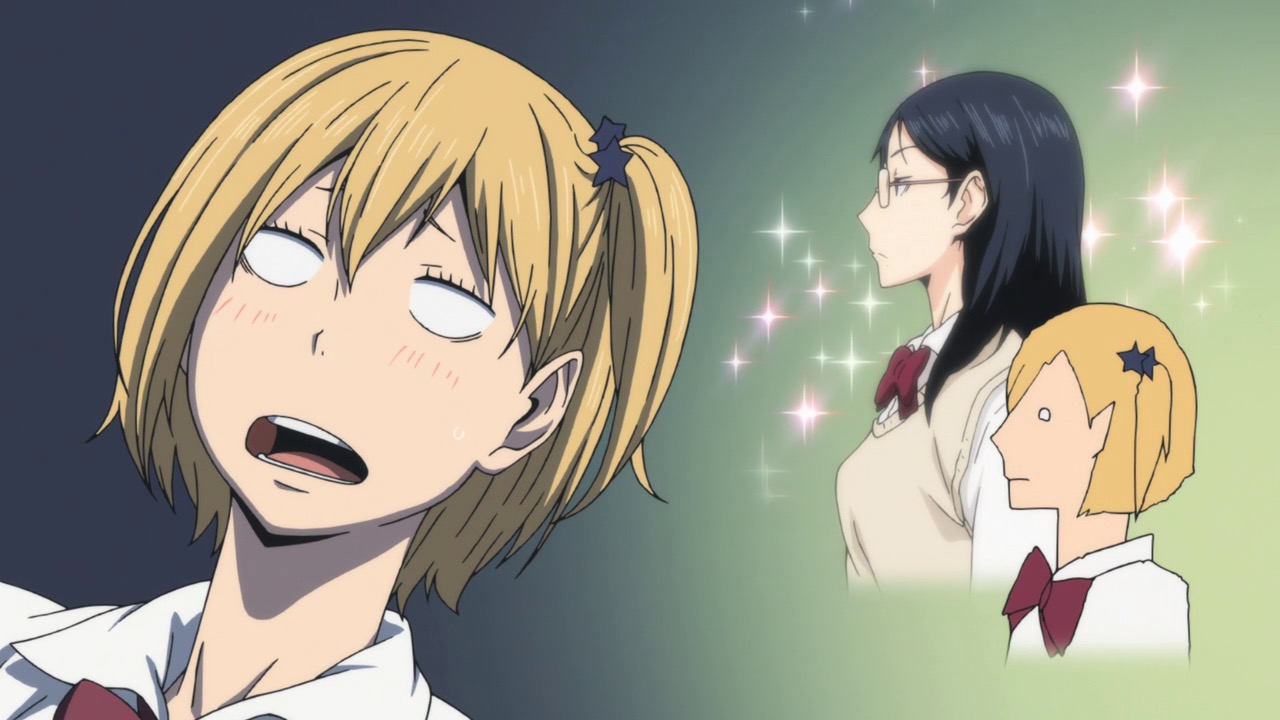 It's because Haikyuu is so comfortable in its own skin that when change does come to the show, it makes quite an impact. Change this week comes in the form of Yachi Hitoka (Morohoshi Sumire), herecruits first-year girl Shimizu as a manager candidate. With all due respect to Shimizu-san, there really hasn't been a female character in Haikyuu who's made much of an impression, but Hitoka (hereafter to be referred to as She-nata) seems to have the potential to change that.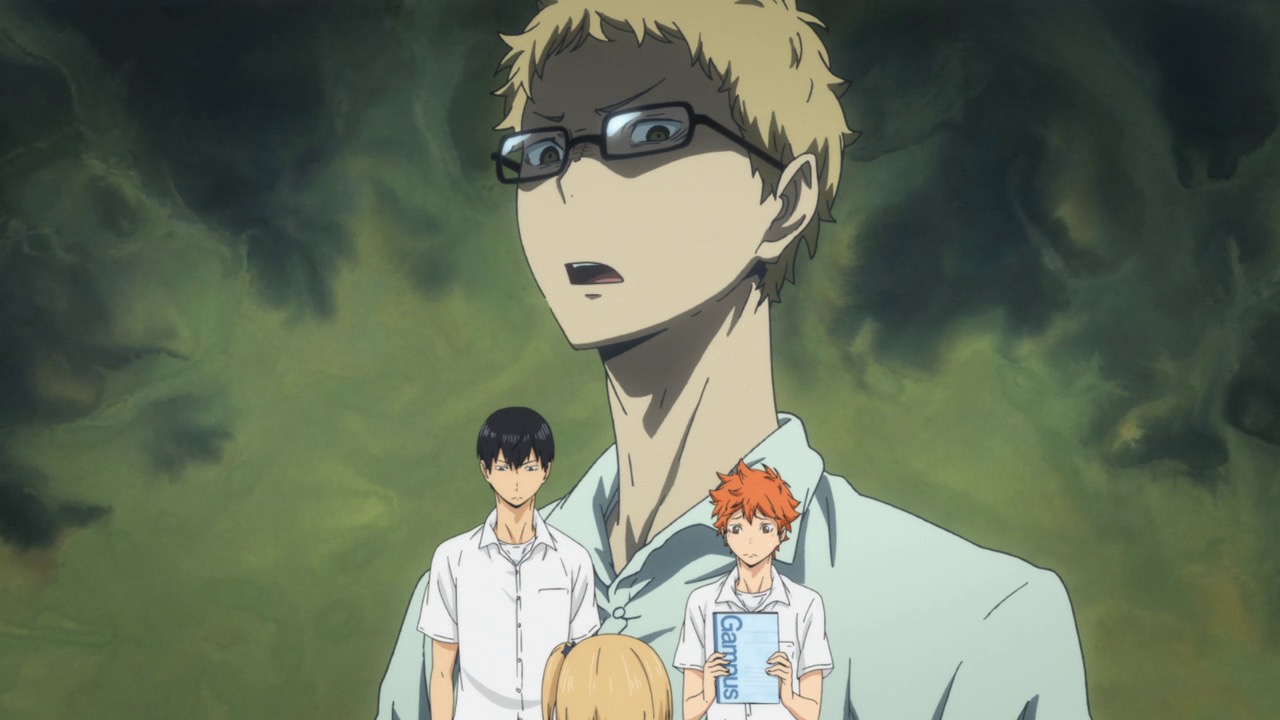 I think it's fair to say She-nata does indeed make an impression. Mororoshi is a 16 year-old seiyuu who broke through as Clara in Kuragehime, and she brings a likeable energy to the role. We've never even hinted at the possibility of boy-girl romance in Haikyuu, but it's hard not to mentally put Hinata and She-nata in a Purikura booth and imagine the result - they're peas in a pod. Hyper, tiny, comically earnest - to say they superficially seem a good match is an understatement.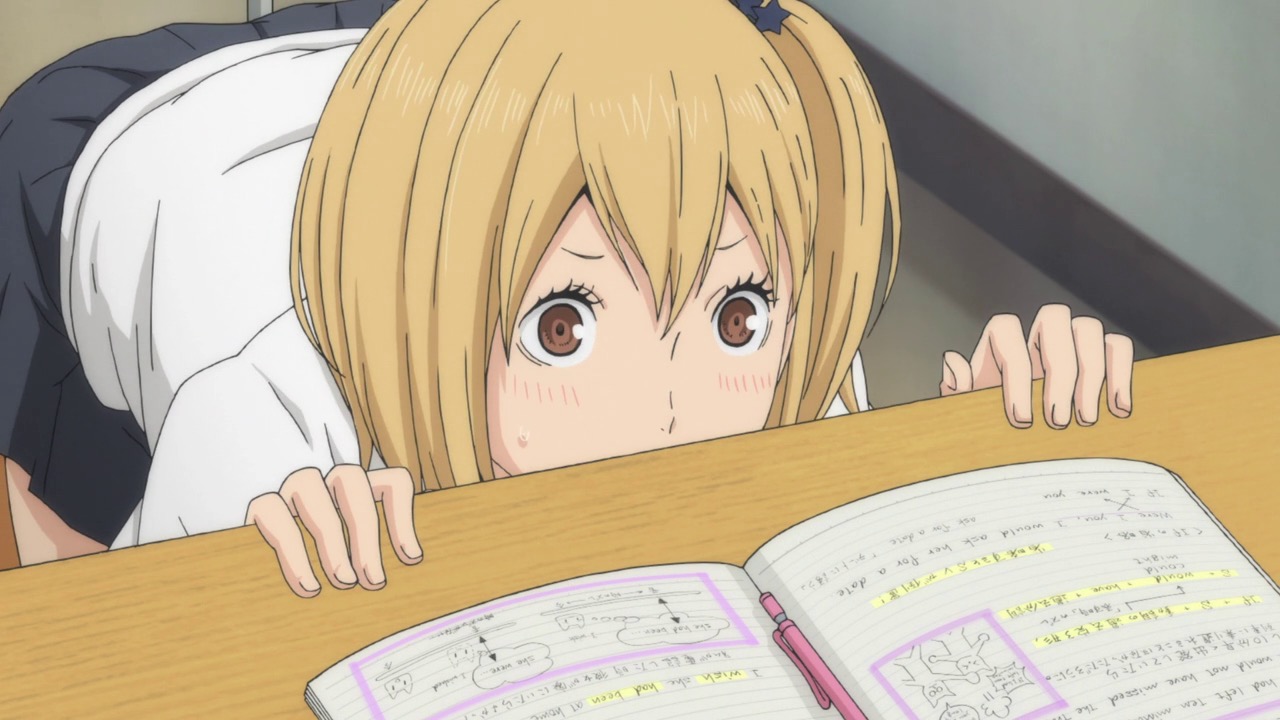 Initially, She-nata's role in the story comes into focus as a tutor for Hinata and Kageyama, both of whom are terrified (as are Nishinoya and Tanaka) of failing one (well, all) of their classes and missing the training trip to Tokyo. Hinata's initial idea is to ask Tsukishima for help, and to to force Kageyama to do the sameーand the results here are predictably amusing. Tsuki is imperious at the best of times, and at times like these he becomes positively insufferable. Though to his credit, he does at least go through the motions of trying to help the two first-year baka through the likes of Japanese idioms and English grammar.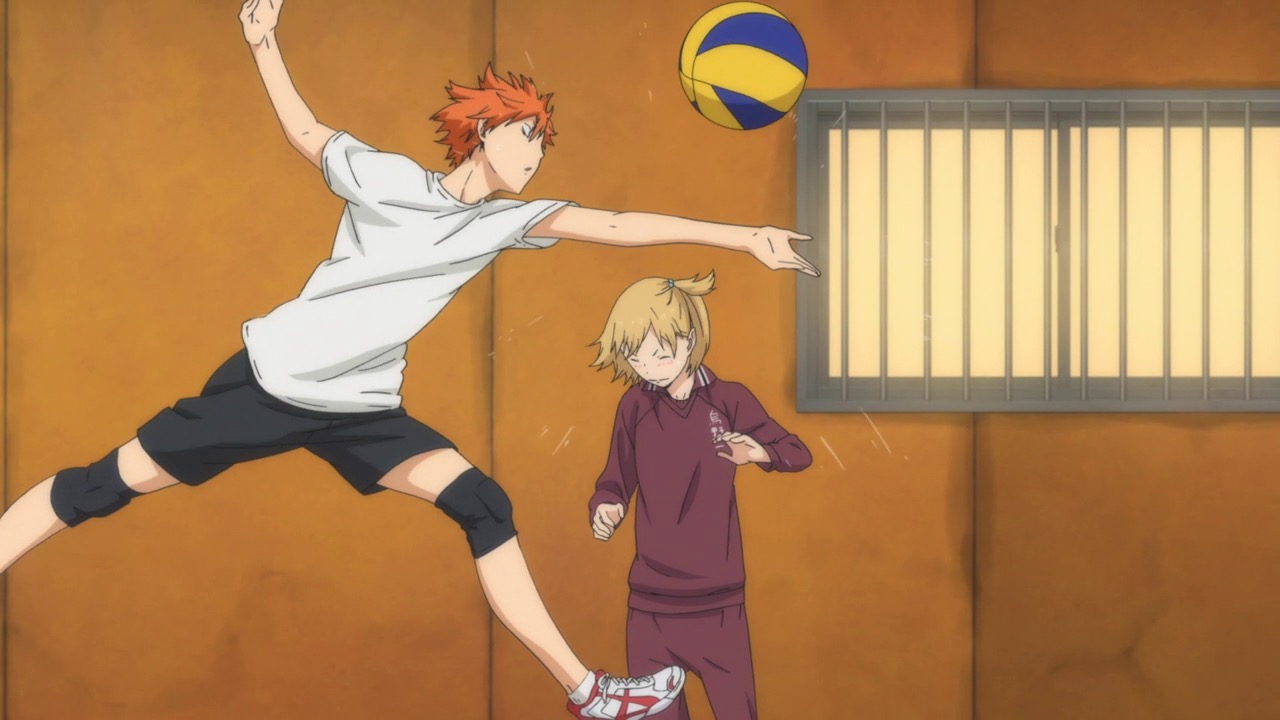 Fortunately Kageyama is better at brainstorming than schoolwork, and he suggests they ask She-nata for help (she's in the gifted class, 1-5). There are some differences between her and Hinata and they show through as we follow her through her first days as a club manager - in the first place, she's extremely neurotic and hyper-sensitive to how she looks to others (and about how they look to her, too). Unlike Hinata she doesn't especially like being the center of attention, and she freaks out when she (frequently) makes a gaffe, like assuming Hinata is a manager because he's so short. It says something about these two that she's aghast at her mistake, but he barely bats an eye - Hinata has the self-confidence to believe he can prove doubters wrong about him.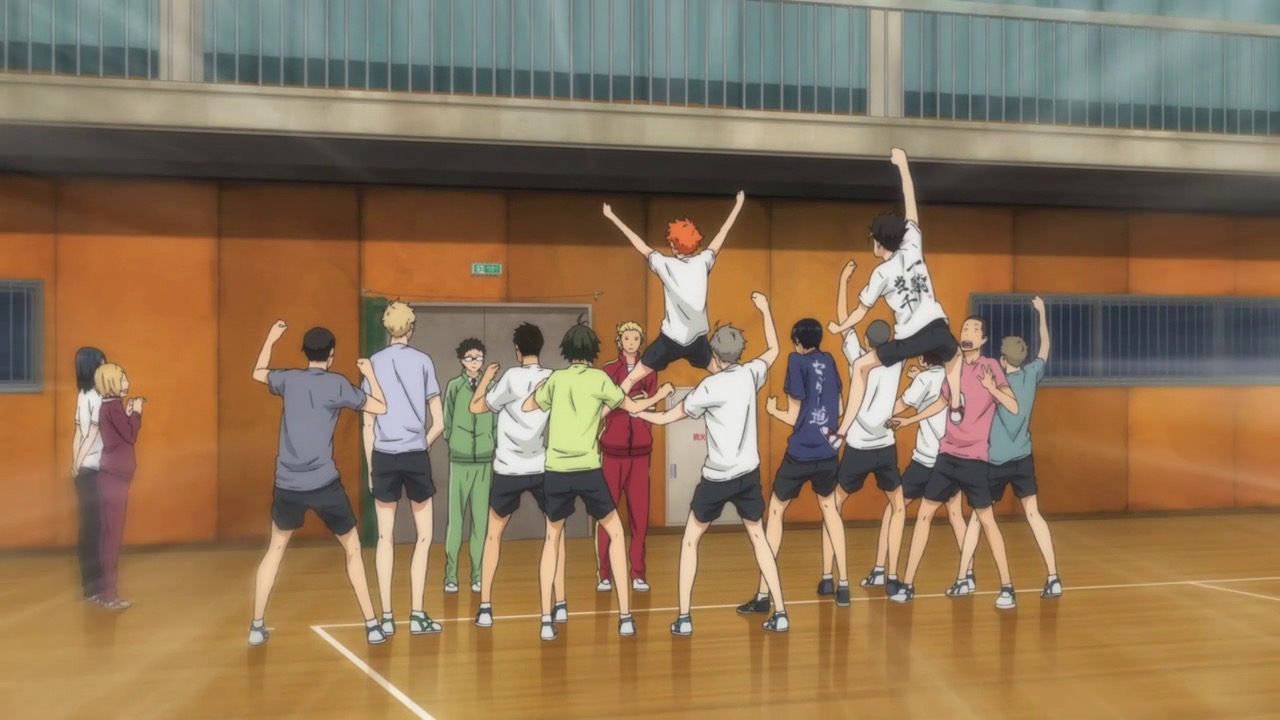 It'll be interesting to see where the story goes with this relationship-in addition to the obvious hinting through their similar looks, Hinata saving She-nata from an errant shot during practice is certainly a flag. But I don't see romance ever becoming central to Haikyuu (a significant segment of the audience would probably disapprove, if nothing else) and if anything what we see happening in this episode is She-nata becoming fascinated by volleyball itself-a sport about which she seems to know next to nothing. She's already seen her first practice and been stunned-next week she'll see her first actual match (a practice tilt against a hitherto unmentioned school called Ouginishi), and that's sure to leave quite the impression indeed. Will she be more impressed by the sport itself, or the Little Giant playing it?