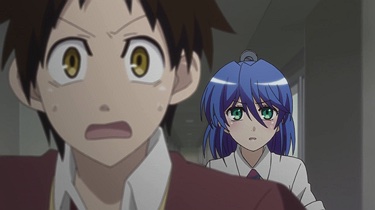 It's always nice to get a "bonus" episode of a series you like, and that's almost what next week's Jitsu wa Watashi wa feels like to me - because I thought this was the final episode. Endings are buzzing about thicker than flies on horse crap this week, so a reprieve here is a good thing. The last week of the anime season is always kind of a sad one, all the more so since I started blogging.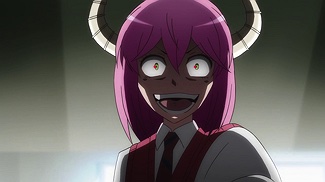 What we know, of course, is that the manga for Jitsu wa is still ongoing. Unfortunately we also know that disc sales aren't much to speak of, so in all likelihood we're not going to get a second season. This is a sadly familiar dance for fans of manga adaptations, caught betwixt the prospect of an original ending or a non-ending. Joukamachi no Dandelion has already weighed in with the former, and while I'm normally skeptical of anime-original endings I thought that one was rather good - and it was nice to leave the series with a little closure.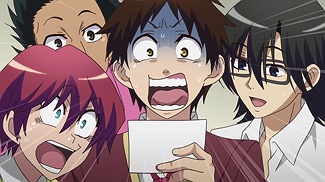 My suspicion based on this ep is that Jitsu wa Watashi wa is going to go the original route as well, and my hunch is that this series isn't as conducive to pulling that off as Dandelion - but we'll see. The indications are that we're going to go the action route in the finale, with Asahi facing off against Youko's father. That's a pretty common tack for comedies to take in original final episodes, and it often isn't too successful, feeling somehow disconnected from the rest of the show tonally. But it's too early to make that many assumptions just yet.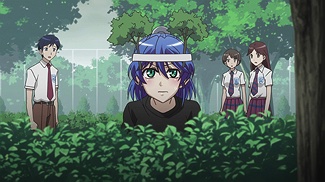 As for this episode, it really seemed for a while (remember, I was thinking I was watching the finale) that the climax was going to be that meeting on the roof between Asahi and Youko. But once again Nagisa hijacked the episode - with her nuttiness (and a shovel), her idiocy, and ultimately with her pain. Turns out it's her unrequited love for Asahi that's really the dominant - or at least co-dominant - emotional anchor of the series. While Youko and Asahi don't know the other feels the same way, at least they do feel the same way.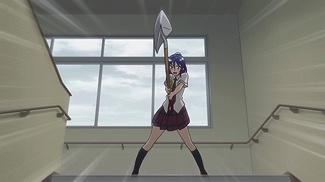 That said, I really am rooting for Asahi and Youko to get together because it's what they both want, and because they deserve it - they're nice kids. So Nagisa's intervention started to border on the dark side of the tonal spectrum, especially when she started chasing after Asahi with that "sleep induction device" (watch out for those if you ever visit her planet). It was pretty funny stuff - especially when she pulled the ice cream cones out of nowhere to blind Asahi, and when she sprung her banana trap - but kind of sad and pathetic as well. Nagisa was being really selfish, and she knew it and hated herself for it. But being young and in love, she couldn't help herself.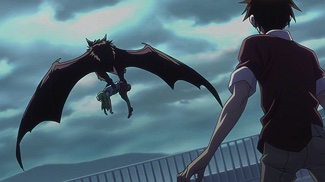 Ultimately of course, Asahi's nightmare was right all along - Youko was planning on saying goodbye on the school roof, her dad having discovered the secret was out. Would it have made any difference if Nagisa hadn't stopped Asahi from confessing before the giant bat came to take Youko away? Who knows - but at the least there's no way Asahi can let this go now, with what he meant to say still unsaid.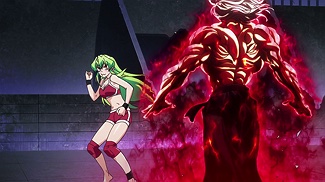 We're almost certainly going to get that showdown between Asahi and Shiragami-san next week - I just hope the focus is more on the romance and the comedy than on anything else. And I suspect Nagisa will do the right thing in the end and be the one to help Asahi close the deal, because when push comes to shove she's a nice person too - too nice to go out the way she did this week.