Story, Setting, and Analysis
The Ano Natsu de Matteru story begins - under a starry night sky, our male lead, Kaito, while looking through his 8mm camera, mentally narrates his theory on what happens after death. His theory on this existential quandary is rather bleak with a hint of optimism, giving us philosophical and psychological undertones for the rest of the show; coupled with Kaito's staring into a starry night, as though he is alone and searching for something greater in the vastness of space, the tone set by this opening is somewhat reflective, and it foreshadows some of the later happenings. It sets this type of surreal tone, but much of the story is rather lighthearted as it follows along with the youthfulness of Kaito and his friends, with their love troubles and their activity in the film which Kaito is making. The story does maintain a reflective tone since "love" and "trouble" go hand-in-hand, but it's up to you to see it. You will be able to reflect on unrequited love, interpersonal relationships, life, life on other planets, and use it to parallel your own life. You may find the plot to be secondary to the personal reflection it inspires; and basically, while watching the series that has these traits, you may notice the characters have subdued your heart with their imperfections; and if not that, your heart will be subdued by the emotional, philosophical meanings behind the beginning, the middle, and the end.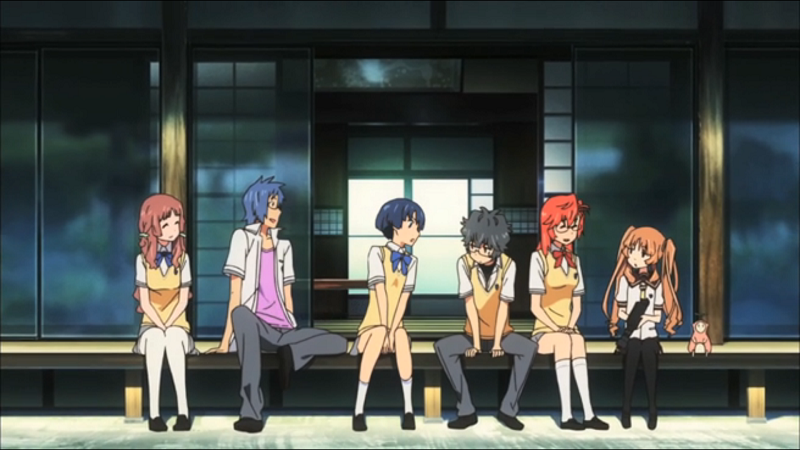 ---
More On the Story and What Makes it Special
The most notable aspect of Ano Natsu de Matteru is its mashup of different plots. On one hand, you have Kaito making his film as a way to preserve his high school memories; he gets what he desires with an utterly provoking divine irony. While on the other hand, you have a visit from a cute alien girl who brings a bit of trouble. But that's not all, because you have two main love triangles, one with Kaito the male lead, and the other with Tetsurou, the secondary male lead, emphasizing how much romance is a component of our everyday lives. Such a mashup energizes the romance genre to give you something to watch after you've watched too much romance.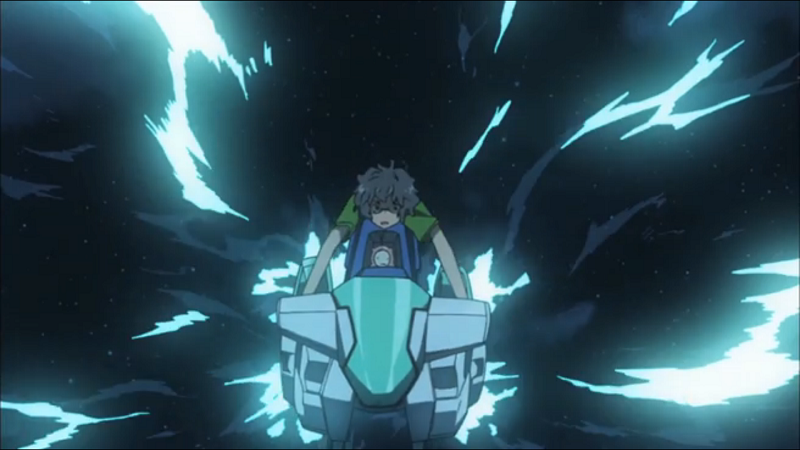 The specialty comes from how they all go together with no disconnection. For instance, a visit from an alien is a commonly used trope coming from a characteristically curious society. However, the alien here is integrated with the setting to be just like a normal, everyday person, and the highly advanced technology is not used often, and when it is used, it is as though it is just a super advanced Apple device, not standing out too much and going with the animation and design of the "human" parts of the setting. This is even though it shows technology we don't have.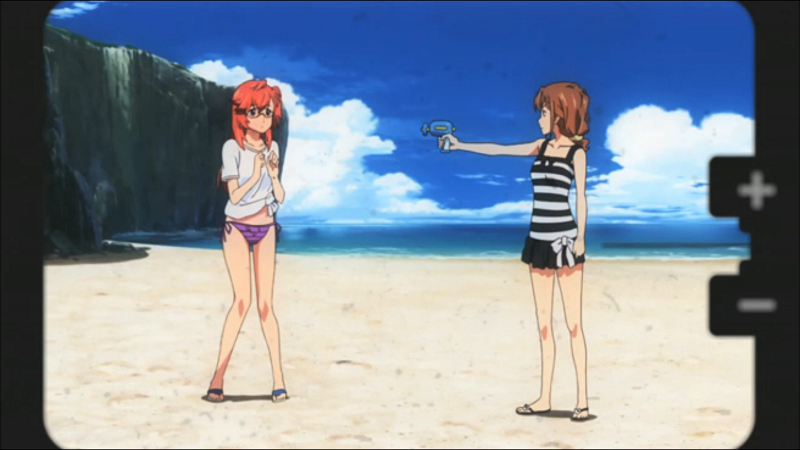 And then you have the filming aspect. It is a main plot among the other plots; however, it is also a tool to allow the characters to become closer together, to create entertaining and perplexing moments, and it moves along with the other plots to lead to something where everything, all of the plots and characters, come to a synergy and a conclusion that neatly wraps the story.
The romance is able to coincide with these plots to be presented naturally and beautifully. You get this since all of the characters have their own problems, and all of these problems feed off the energy of each other to create a complex group dynamic between every character.
And every character is true to their feelings. The portrayal of these feelings is realistic enough for you to empathize with them and to see yourself as one of the characters. The truthfulness comes from how each character has a certain personality trait, and that personality trait is not hidden; rather, you can see in the character's actions how they house a deeper trouble. This aspect would be akin to body language, or something similar, and this brings up how the animation and design is of a higher quality than a good number of other romance anime, and gives the Ano Natsu de Matteru series a natural feeling.


---
History
Ano Natsu de Matteru is an anime original written by Yousuke Kuroda, and is a sort of sequel to and is based on Onegai Teacher, a similar romance anime original with story written by the same writer. Onegai Teacher was adapted into a manga by the same name, written under the Please! franchise, and light novel authored by Gō Zappa, titled Onegai Teacher: Mizuho and Kei's Milky Diary. Additionally, Ano Natsu de Matteru had a manga written by IChiKa, and the staff of the original anime produced an original video animation (OVA) for the series. Ano Natsu de Matteru got some flack for being similar to Onegai Teacher. However, Ano Natsu de Matteru has a very different story and perspective, and the animation is different and modern for its time, making it a bit more appealing for the eye, and more similar to what you would be watching now.
After the anime original Ano Natsu de Matteru aired Jan 10, 2012 to Mar 27, 2012, the number of visitors to Takamine Highland in Komoro city, the place in which the story takes place, over that summer increased by 52.5% compared with the same period the previous year. This was attributed by Nagano Prefecture to be caused by the fans of Ano Natsu de Matteru, and is a testament to the heart-subduing effect of the series itself, and the success that follows from such a thing.
Producers J.C.Staff, Geneon Universal Entertainment, Genco, AT-X, Sentai Filmworks, Bushiroad Inc., Showgate, screenplay writer Yousuke Kuroda, and director Tatsuyuki Nagai have a real gem under their belt.


---
Who Should Watch
The main audience for this heart-subduing romance fantasy slice of life anime original is going to be the ones who can empathize with the emotions of others or can understand the philosophical undertones and irony presented by the series. Without being able to feel the emotions or understand the philosophy presented, you only have the plot. However, the plot is interesting, so you may still want to watch it if you just want to watch an anime but are not one to be subdued by emotions or empathy, nor do you like to think about the philosophy or irony presented. Conversely, if those aspects or the plot don't interest you, perhaps you liken yourself to a robot who wants to study human emotions, childhood, or philosophy, so you can still get something out of watching it. There is something for everyone, I suppose, except the deceased.


---
Similar Anime

Beck is a story about a young boy who, similarly to Kaito, discovers his passion, music and singing, and goes through this phase also with his group of friends, and develops close relationships with a hint of romance. This series is a bit more mature and realistic, containing adult aspects and an older animation style. Beck does not contain any overt philosophical quandary, but it does contain the psychological aspects of growing up and interpersonal relationships within the common folk and the poor. It is more laidback and cool, refreshing your mind after watching the brighter Ano Natsu de Matteru, and giving you a great viewing choice.



Onegai Teacher follows a similar story, with a similar school and rural setting, and the two stories are related. However, the romance focus is the scandalous relationship between student and teacher. Other than that, it has a more mature feel than Ano Natsu de Matteru, and the visual style and animation have an older look and feeling.



Clannad is an amazing and actually quite similar story. It follows a romance between two characters. The characters star in a play, similar to how Kaito and friends star in his film. The differences lie in the visual style and animation and the character personalities, whichfor Clannad is more moe when compared to Ano Natsu de Matteru. The male lead is aloof, compared to the go-getting of Kaito, so the romance does not blossom in Clannad until much later. The female lead in Clannad is similar to Ichika from Ano Natsu de Matteru, and even the female lead from Clannad also invokes otherworldly ideals, although she is not otherwordly. Clannad doesn't seem to have any overt philosophical aspects, although you can see some, and it's more focused on the emotions coming from the slice of life aspects, like the interpersonal relationships, with little to no personal reflection invoked.