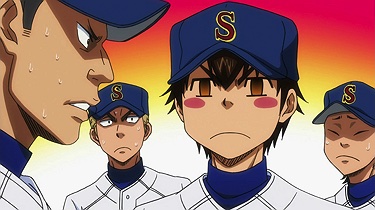 The first thing I need to do with this week's Diamond no Ace is give credit where it's due. I've been railing against Kataoka's incessant bunting for a long time, but never more than last week. That's why it did my heart such good to see Go-chan say exactly what I'd be thinking - "Don't you want to do me a favor and bunt? I could really use a free out here!" At least we're getting an acknowledgement that this strategy has serious flaws.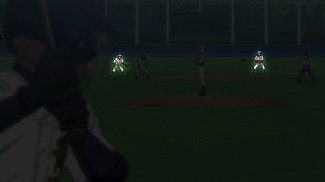 Unfortunately for Ouya and Go-chan, though, Kataoka doesn't bail them out when they get into trouble in the top of the 6th. Turns out Go-chan was tipping his pitches after all - after a fashion, anyway. It was the movement of the fielders that Nabe picked up in the video - when a fastball is coming, they quickly shift away from the hitter's pull side. It's the sort of thing you'd never get away with in pro ball - frankly, it seems fairly blatant even at the high school level - but once that secret is out, it's "Katy, bar the door" time for the Seidou hitters.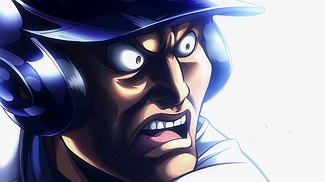 My favorite moment of this inning comes when Haruichi gets a big hit to tie the game, then gives his characteristic bashful fist pump from first base. It's the third straight hit off Go-chan thanks to Nabe's tip, but the damage is going to be limited because Ouya's manager has figured out what's afoot. After an intentional walk to Miyuki to load the bases (an intentional walk with runners on first and second is ultimate respect) Maezono manages one more bloop hit thanks to being better against the inside fastball that Ouya's scouting indicated. But that's the last damage Seidou does, as Ouya turns their inside info against them to coach a double-play from Tojo, and Go-chan gets a weak grounder with his forkball.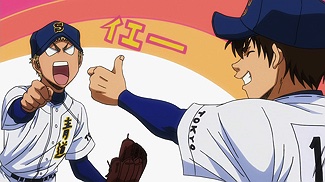 That clears the decks for Eijujn to take center stage again, now tasked with preserving a fragile one-run lead. Ouya is a pretty arrogant bunch - though that mostly comes down to Go-chan - and they seem to be mining their resentment at not being a glamour school for motivation. But when push comes to shove they're still a dangerous and well-coached team, and they don't try to do things they're not capable of doing.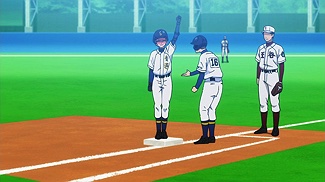 How does that apply here? Simplicity. With a metal bat, you can do things with outside pitches and ones that jam you that simply wouldn't be possible with a wooden bat. So rather than worry about theory like a team than can perfect their approach with thousands of practice swings every week, Ouya just lets the metal bat level the playing field - swing hard on every hittable pitch, because if you connect with aluminum it might find a gap somewhere. It's a clever approach, well-suited to this team, and it causes some problems for a pitcher without overpowering heat or great breaking pitches.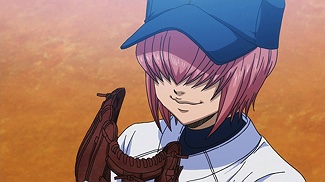 It's not as though Ouya hits the ball hard in the sixth, but after a leadoff 5-3 groundout they do get two seeing-eye hits, and all the pressure is really on Eijun now. What follows may be the longest conference on the mound since OoFuri (the home plate ump must've fallen asleep), the gist of which is that the Seidou infield confides in Eijun that they've started to develop some confidence in him. I'd just once love to see Eijun get a compliment that isn't a back-handed one, but his reaction to this unexpected praise is still pretty hilarious.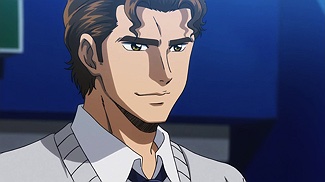 The time has come, it seems, for Miyuki to swallow his misgivings and call for the change-up once again. Eijun has come about as far as he can in this game with just fastballs, moving or otherwise - ironically the Ouya players lack the experience and skills to be fooled by Eijun's stuff the way better players would be. Location can only carry Eijun so far in this time, and it's time for him to prove he really has moved to the next level if he wants to be considered a serious candidate for the ace number.