Now who would want to watch an anime that involves history? Many would turn their backs and rather watch something more exciting and thrilling. It's the usual scenario with any given historical show. Maybe you're into the romance genre, or possibly horror. Stop right there! Don't give up on history shows just yet. Sometimes it's best to expect the unexpected!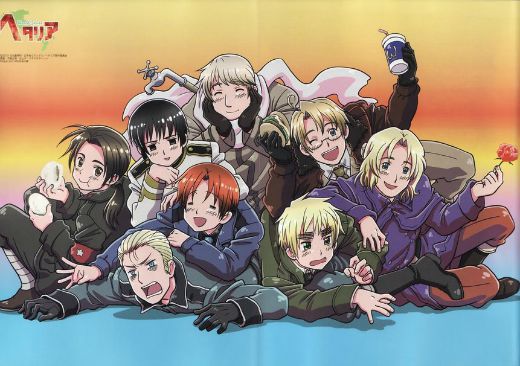 Hetalia is a historical anime that has actual characters representing various countries and territories. Throughout the show, several connections can be made from real-life scenarios, including major historical events and political happenings. This may seem boring at first, but once you sit down and watch a single five-minute episode, you won't regret having clicked the play button.
It first started off as a web comic, created by Hidekaz Himaruya. In 2008, there was announcement that an anime adaption of the series would be released. It wasn't even a year later when they decided to create another 26-episode season, quickly followed by another season the same year. In 2010, the title of the anime had been changed to Hetalia: World Series, and a fourth season came out the same year. With this new season came new characters: Denmark and Norway.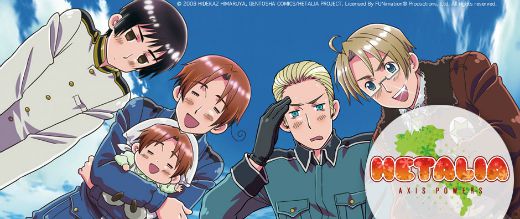 The year 2010 was also the year Funimation obtained the rights to broadcast both the first and second seasons of the show in the US and Canada. In the English dub version, the characters all have accents according to the country they are from. In late 2010, the show began airing on the Funimation Channel. A fifth season of Hetalia was created, which is known as Hetalia: The Beautiful World, and Romania was introduced into the series. That series was dubbed and released in English in 2014. Surprisingly, a sixth season was announced early in 2015, and began airing in July.
Not only was there a TV series, but there was also a feature-length movie. It was titled Paint it, White!. The characters included in the movie are Liechtenstein, Romano, Belarus, Greece, Baltics, Spain, Prussia, Sealand, Finland, Austria, Hungary, Poland, Cuba, Ukraine, Canada, Iceland, and Switzerland. Wow! That's quite a mouthful! The movie plot is quite interesting, involving the characters transforming into face-less pale grey aliens known as Pictonians. The movie was released in 2010, and 2011 in English.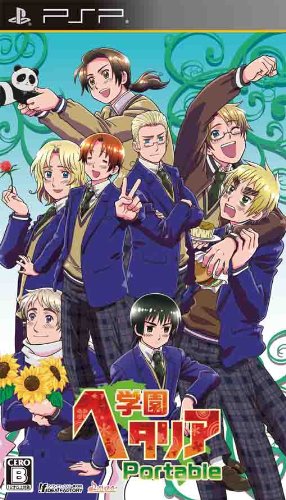 In 2011, a single-player video game was also released. Gakuen Hetalia Portable was released for Playstation Portable distinctly for Japan, and was developed by Otomate as well as published by Idea Factory. It is rated as an action/adventure-comic video game.
The anime itself is not far from perfect. Each episode contains monstrous amounts of laughter and hilarity, not to mention the character roster blows through the roof! There are so many characters, I sometimes lose track! The anime is centered on the allied powers and axis powers set near the World War II era. Need a history refresher? The axis powers consist of Italy, Germany, and Japan, while the allied powers include America, France, China, Russia, and England. In almost every episode, the two powers end up in some sort of quarrel, which can be expected. One of my personal favorites? To be honest, Japan is my favorite character of the show. He's both charming and wise, I just can't help but love him! (Ah, let me count the ways...but that's another article entirely!).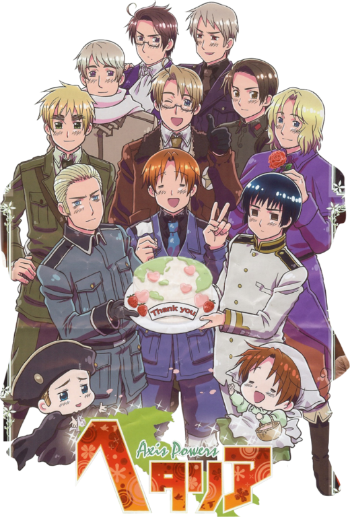 Ultimately, there isn't really a "plot line" to the anime. In fact, one might think of all the episodes as a jumbled mess. The point is not to think too much about what will happen in the next episode, but what is occurring in the episode you are watching. If you pay close attention, you can spot out the various historical references and events that had happened in actual war-times. True, war was no laughing matter, but Hetalia changes that completely. Having the countries portrayed as people, most of the depression and tragedy of war was long forgotten, and history had finally become humorous.
This anime truly is a unique masterpiece. Who else thinks of using people to represent countries? Someone has finally created a history show that ISN'T boring. The anime's uniqueness is right in your face. Are there any other shows out there that would depict historical events in such funny ways? When I had first heard about the anime, I had told myself that it wouldn't be any good. Even after looking it up on Google, my hopes for the show being any good were slim. But when a friend bugged me to the point of madness, I sat down and watched the first episode. I had assumed wrong. Even though the episode was merely five-minutes long, I was already on the brink of tears from laughing so much. Nowadays, every time I re-watch an episode, I sing along with the end theme! History has been made exciting because of this anime.
Similar Anime?


Now I can say there are hardly any series of anime out there that are both short and historical, as well as humorous. But I can definitely share some other anime series that have a short duration in the comedy genre, because who doesn't like to laugh every now and then?! These shows will surely get you to let out a giggle.
Chi's Sweet Home: Atarashii Ouchi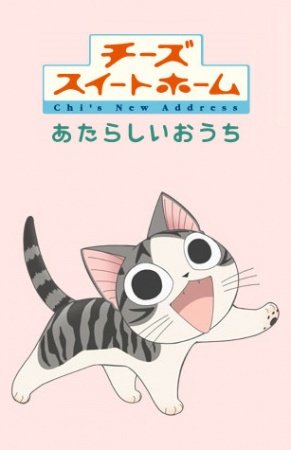 I can definitely say this is no anime about history. Instead, this show is lead by (believe it or not) a kitten! Chi is her name, and almost every day is like an adventure to her. No matter rain or shine, this little kitten is determined to discover every single object around her, whether it's the next-door-neighbor's dog, or the vacuum cleaner. She meets many new friends, and almost every episode showcases their blooming friendships.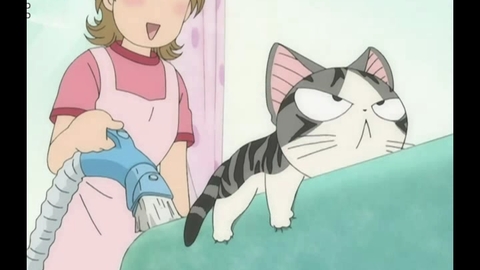 Unlike Hetalia, Chi's Sweet Home: Atarashii Ouchi only has two-minute long episodes, but each one is filled with cuteness-overload and adventure. It is a comedy as well, but without the history references. Who knows what that little kitten will discover on her adventures?
Bonjour♪ Koiaji Pâtisserie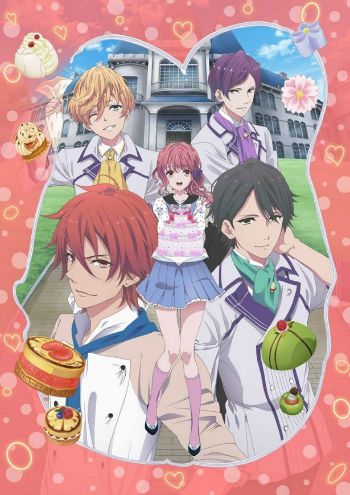 Do you like food? That was a stupid question. Who doesn't?! Sayuri is the main character of the series, and is in love with baking. She begins attending a culinary school in hopes of someday being able to open her own pastry shop. While attending the school, she learns that the instructors there are rather charming young men.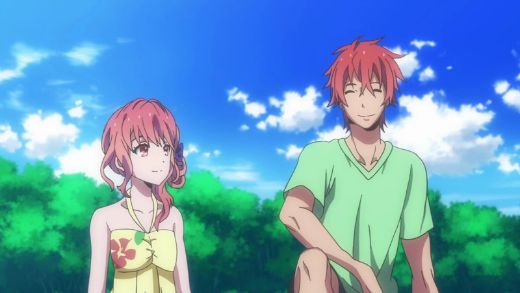 Each episode is approximately five minutes long, and there is almost always a cliffhanger at the end. Now, there are only twenty-four episodes in the series, but it can be completed in roughly two or so hours. The duration is nearly the same as Hetalia, but this series is more of a romance, with a little humor mixed in along the way. Will Sayuri crack under the pressure of being taught by attractive young men?
Senyuu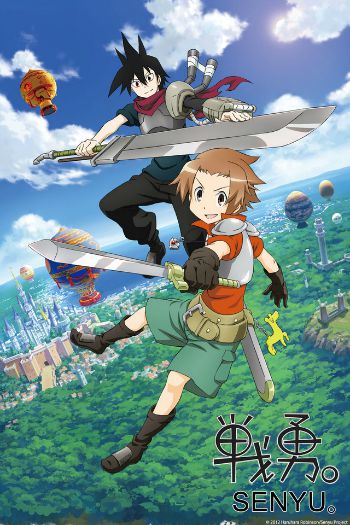 When evil arises, there's always a hero to save the day! But, whom is the true hero? Alba is on a quest to prove that he is the one and only true hero, along with his warrior partner Ross. They travel to many places and meet many new people. But can the two less-likely heroes prove themselves worthy?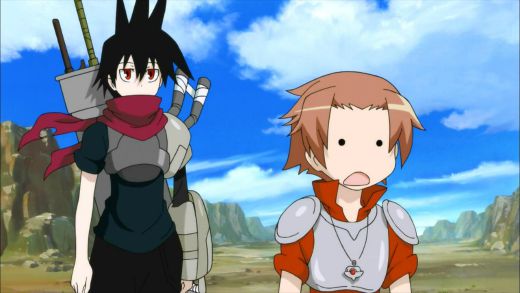 This anime is a little more similar to Hetalia than the others, but still not historical. There is comedy every which way and each episode runs at four minutes. There are only thirteen episodes total, so finishing the series would only take a little more than an hour.
Who Should Watch It?
There is a reason why Hetalia is rated TV-MA. Not necessarily because of anything explicitly inappropriate in the show, but the humor itself. Sometimes the jokes can be hard to miss, and every once in a while you'll hear the occasional cuss word. To be honest, I wouldn't rate the show MA. I mean sure, there are a few instances where I would rate it that, but not for the ENTIRE show. The rating is mostly there to caution for profanity, crude humor, and (rarely) adult situations. But having to pick an audience, I would say older teens and young adults would be best fitted to watch the show. They could easily understand jokes more than a younger teen might, and still remain mature about the situation. Even older adults would probably be interested in watching the show. It's both educational and funny all at once!
Want to know more about Hetalia? Just watch the show! It might be intimidating to look at the long list of episodes, but trust me, it will go by fast. With having every episode only five-minutes long, it didn't take me an extremely long time to finish. I can promise you that you won't have any regrets watching this anime! True, there are some people out there who don't find history exciting in the slightest, but introduce them to this show and they are bound to become a history fanatic! I admit that I have fallen in love with the show after watching it so many times, and I'd buy all the merchandise if I could! Enough reading! Go and look-up Hetalia! You won't be disappointed!