Play through Bell's Season 2 adventures! Pre-register DanMachi - Memoria Freese in Europe now
---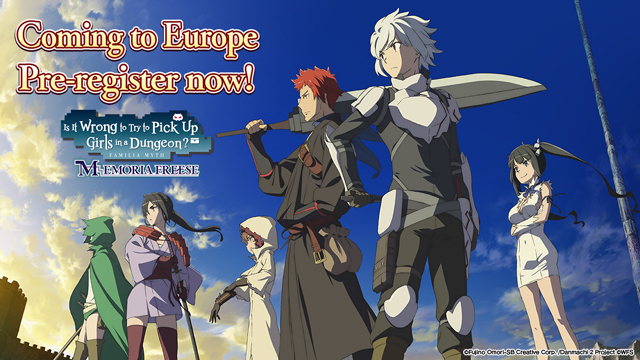 Join millions of fans of the fantastically popular anime Dungeon ni Deai wo Motomeru no wa Machigatteiru Darou ka (DanMachi) in its first-ever fully-localized mobile RPG, Memoria Freese! The game will soon be heading to Europe, but fans in North America can download it now—for free!
Season 2 content has just been added to the main story in-game, so DanMachi fans can play through their favorite scenes and fight against powerful villains and monsters. Popular Season 2 characters are also available to pull from gachas, including Haruhime, Aisha, Cassandra, Daphne, Hyakinthos, Apollo and more!
Memoria Freese transports you to the world of Orario where you can build your own powerful team to battle through a sprawling dungeon! Play in a dynamic timeline that changes everything from environments to character dialogue depending on the time of day you play.


Features:
Level up your favorite characters and unlock new skills!
Exclusive stories written by series creator Fujino Omori!
Original voice actors from the anime!
Online PVP battles!
Dress up your favorite characters in unlockable special costumes!
Create your own tactical team with your favorite characters!

Join millions of players worldwide in this global mobile RPG sensation!
Unfamiliar with the Dungeon ni Deai wo Motomeru no wa Machigatteiru Darou ka story, or just curious about the hype? Watch the anime on HIDIVE, Crunchyroll, or other streaming platforms today!