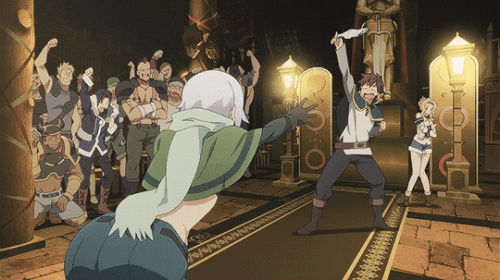 GIF from KonoSuba 2. Studio Deen.
In collaboration with the studio MAGES. and its subsidiary 5pb, Konosuba is set to release a full length visual novel. This may not be Konosuba's first foray into the video game market, having released a megaman-like game for the second season's first DVD and Blu-ray release on the PC, but it is the show's first major release on a home and portable game console.


A lot of visual novels are jokingly referred to as "panty quest" games, and this particular visual novel seems to stare that joke right in the face and take it unto itself. As Gematsu states, "The protagonist, Kazuma, puts on a cursed ring that steals the underwear of those around him. The following day, he finds a large amount of underwear in his possession, but doesn't know who owns them. After asking Vanir for his expert opinion on the ring, Kazuma learns that a vast sum of money is required to lift its curse. From there, a new adventure begins to gather the funds to remove Kazuma's cursed ring."


The game is titled KonoSuba: God's Blessing on this Wonderful World! Judgment on this Greedy Game! and is due out on the PlayStation 4 and the PS Vita on September 7th. For those that manage to get a first print of the limited edition, there will also be a bonus shooter game included.


https://youtu.be/UwKEmhESt3A Video is region locked; Click here for alternative link.


Source: Gematsu