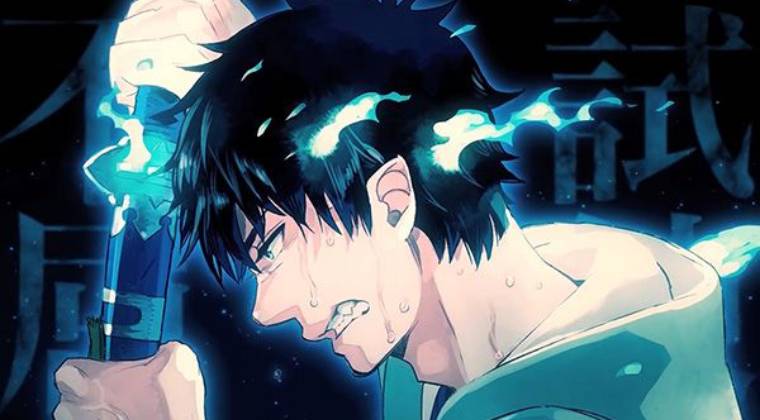 Well, it's no secret that the Blue Exorcist series enjoys a respectable amount of popularity. It's certainly a hit with readers of this fine site given its impressive MAL ranking. So, it's always great to hear about new updates to this supernatural shounen series.

An English dub of Blue Exorcist: Kyoto Saga with the voice talents of Christine Marie Cabanos, Kira Buckland, and Johnny Yong Bosch premiered at Sakura-Con in April. And during May's Anime Central Convention, Aniplex of America announced its plans to stream the Blue Exorcist: Kyoto Saga dub exclusively on Hulu. Aniplex of America first announced that they licensed the series in October 2016, and later streamed a simulcast on Daisuki and Crunchyroll.

Kouichi Hatsumi (Deadman Wonderland OVA, Berserk: The Golden Age Arc I - The Egg of the King, Gangsta.) directs the latest iteration of Blue Exorcist and Shigeki Kawai is the assistant director. Toshiya Oono (Gatchaman Crowds, The Perfect Insider, Tsuritama) is responsible for the script and series composition, while Keigo Sasaki (ERASED, The Seven Deadly Sins, World Conquest Zvezda Plot) is handling the character design. Hiroyuki Sawano (Aldnoah.Zero, Attack on Titan, Guilty Crown) is the music composer, while UVERworld (Bleach, Blood+, D.Gray-man) performs the opening theme song "Itteki no Eikyō" and Rin Akatsuki (The Silver Guardian, Kindaichi Shounen no Jikenbo Returns 2nd Season) performs the ending theme song "Kono Te de."

The Blue Exorcist: Kyoto Saga anime is an adaptation of the "Kyoto Impure King Arc" in the fifth volume of Kazue Katou's Blue Exorcist manga. Aniplex describes the story of this new series as follows:

"Assiah, the realm of humans, and Gehenna, the realm of demons. Normally, these two dimensions would never intersect, but having possessed all material substances, the demons are now intruding on the material world. But among the human race, there are those who can exorcise such demons—the exorcists.

Rin Okumura kept the fact that he was Satan's offspring a secret from everyone and decided to become an exorcist. He began his training at True Cross Academy but following the incidents involving Amaimon's raid, his lineage became apparent. Fearing his true nature and the blue flames marking his connection to Gehenna, Rin's classmates all distanced themselves from him. Meanwhile, the academy was on high alert when they realized that the "Left Eye of the Impure King" had been stolen! What lies ahead for Rin and his classmates?"

Phew! Rin's definitely going to be busy battling all those demons, which should keep fans glued to their screens!