Have you ever wanted to look like your favorite anime character? Sure, you need the outfit. But just as important is doing the correct makeup . And since the eyes are the windows to the soul, you'll want to check out these tutorials to get your makeup looking just right.
---
Anime Eye Makeup Tutorials
---

There are plenty of anime eye makeup tutorials on YouTube and other websites. So where should you start? Depends on the look you're going for. Do you have a specific character in mind? Are you looking for simple, everyday tips? Or do you want an outlandish, involved style to complement your handmade cosplay outfit? Maybe you just want to give people nightmares every time you close your eyes. No matter what you're looking for, there's an anime eye makeup tutorial for everyone.
---
The realistic style
---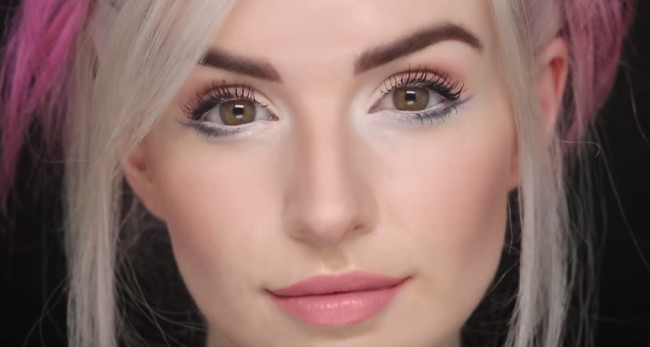 Some anime eye makeup tutorials show how to achieve that perfect blend between reality and cartoon. These tutorials don't try to completely reproduce the typical anime eye exactly as it is. Instead, they use some makeup tricks to make their eyes pop.


---
Now entering uncanny valley territory
---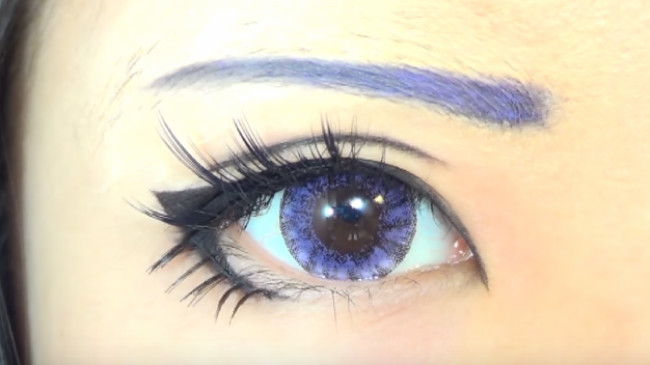 Sometimes, a tutorial will go a bit too far in the direction of the anime look, and wind up with a hauntingly realistic result. These eyes look halfway between belonging to an anime character, and a human -- resulting in a finished product that's, well, kinda creepy.


In this video, YouTuber zWinnieYap doesn't need to use any words to make her tutorial crystal clear. Within three minutes, Winnie transforms her right eye into something realistic but somewhat haunting, complete with stunning blue eyebrows. Thanks to a couple of makeup tricks, the eye is enlarged and pops out, making it look like an anime character just stepped out of the computer (we can only dream…). Winnie has an entire collection of other makeup tutorials, for any character you might want to cosplay. Simple, but effective!



Christina Ushi uses similar tricks in this tutorial, which shows how to make your eye look like a large anime eye.
---
More anime than person
---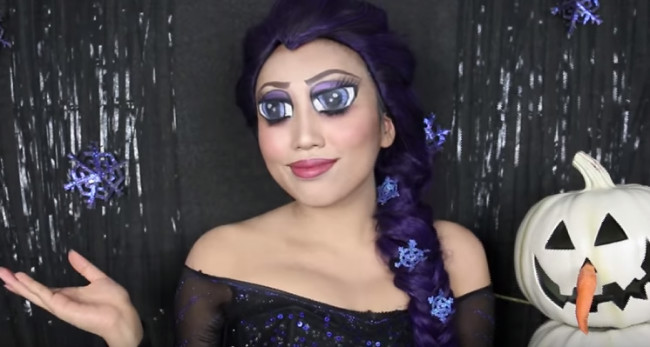 If you want to really look like an anime character, at the expense of your eyesight, you can follow a different kind of tutorial. These makeup tutorials draw the anime eyes directly on the eyelid. Keep your eyes closed, and you too can have eyes that take up half your face.


This tutorial by Dope2111 shows how to turn yourself into an anime version of a Disney character. User Itsthefa has a similar tutorial here. Just remember if you use this for your cosplay, you'll be walking around with your eyes closed to complete the illusion.
---
The most amazing cosplay anime eye makeup
---
Sometimes, the difference between a great cosplay and an amazing one is all in the eyes. These cosplayers clearly put thought into their eye makeup, ending up with a final image that is absolutely stunning!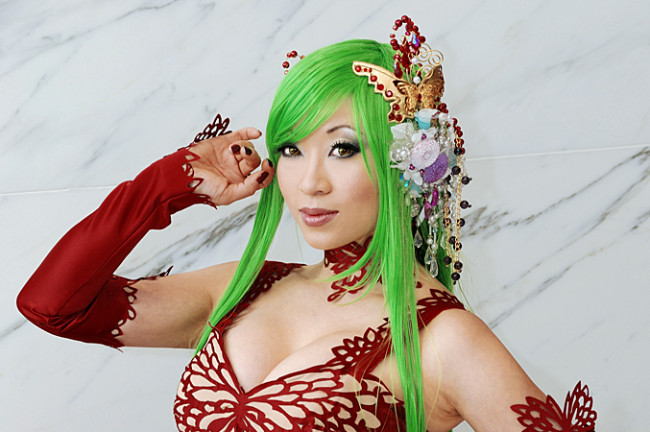 Visit the source for the full image: YayaCosplay on DeviantArt, as CC from Code Geass: Hangyaku no Lelouch


Decked out in a stunning dress, cosplayer Yaya Han completes the look with some stunning eye makeup. She doesn't overdo the look, instead opting for a strong dark outline, and some bright eyeshadow to bring attention to her gorgeous eyes.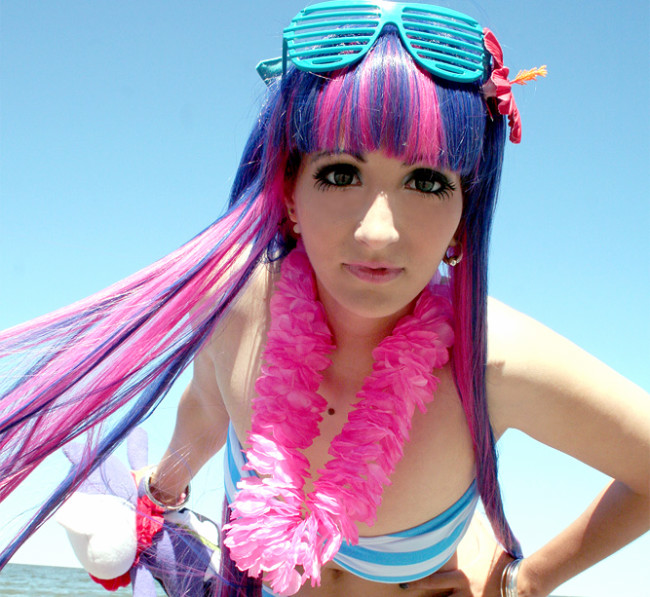 Visit the source for the full image: HezaChan on DeviantArt, as Stocking from Panty & Stocking with Garterbelt


If you can take your eyes off the shimapan bikini for long enough, you'll be draw into HezaChan's humongous eyes. Enlarging contact lenses and some large eyelashes make her appropriately doll-like.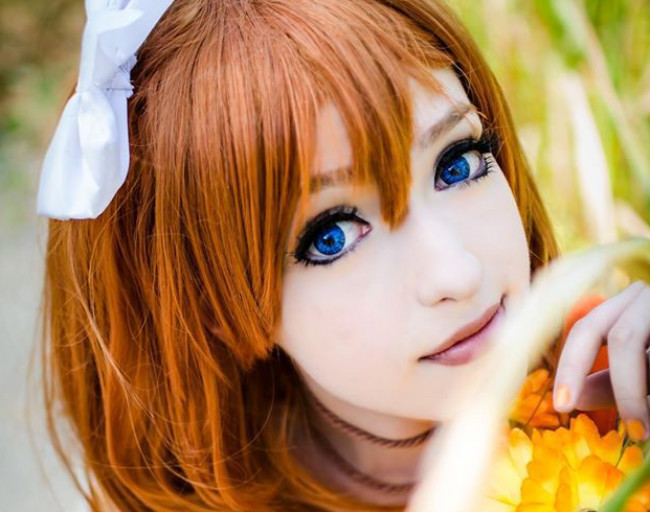 Visit the source for the full image: Yushi on World Cosplay, as Honoka Kousaka from Love Live! School Idol Project


Honoka is pretty cute, but Yushi is even cuter in her cosplay of her. Just look at those incredible eyes! All it takes is a bit of eyeliner to get her looking the part; simple yet effective.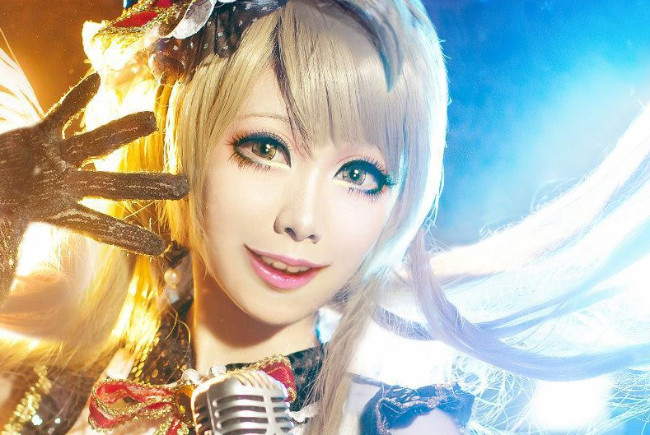 Visit the source for the full image: Mon on World Cosplay, as Kotori Minami from Love Live! School Idol Project


Cosplayer Mon uses the eye enlarging trick here, and in many of her other awesome cosplays.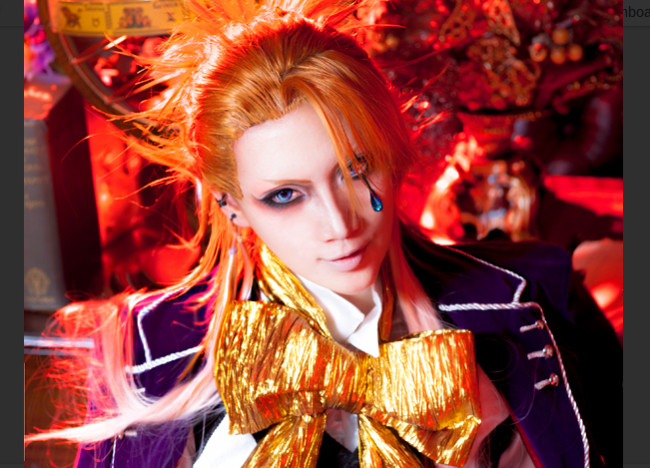 Visit the source for the full image: Reika2011 on World Cosplay, as Joker from Black Butler: Book of Circus


Did you think this would be a list of only cute girl cosplay? Check out the eyes on this one. This cosplay looks even better than the character it's based on, using wispy makeup in a complementary color scheme.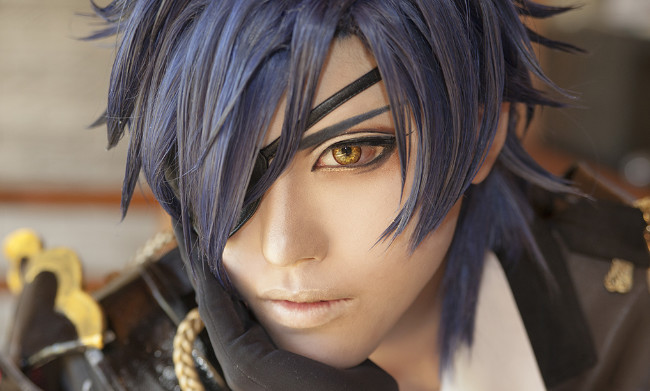 Visit the source for the full image: Sakuya on World Cosplay, as Shokudaikiri Mitsutada from Touken Ranbu


Sakuya uses eyeliner to extend the eye to the side, making it appear larger without looking cartoonishly so. Add a line in the crease for effect, and a dash of white on the eyelid, and you have one eye-catching uh.. eye.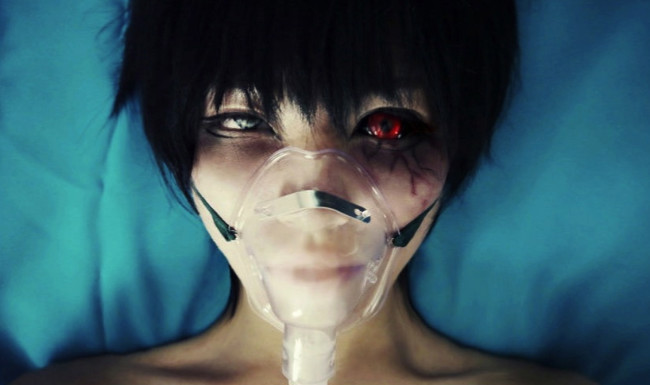 Visit the source for the full image: Zeal XV on World Cosplay, as Ken Kaneki from Tokyo Ghoul


Wow. Just.. wow.