---
Don't worry! These anime dogs don't bite!
---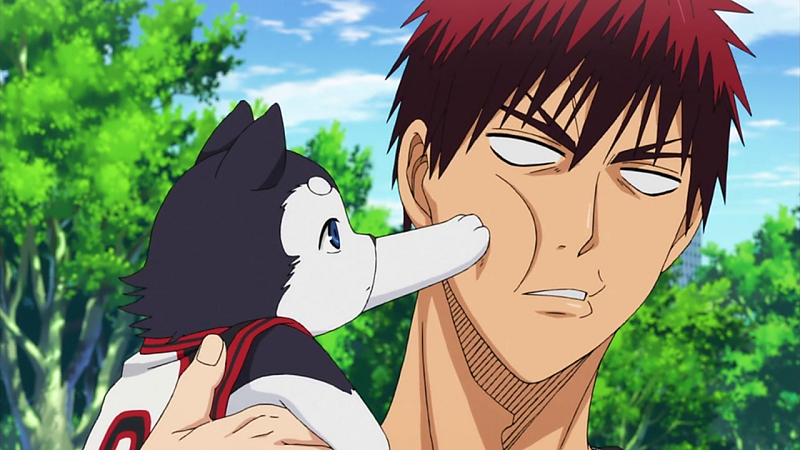 What's better than an anime waifu or an anime husbando? Well, an anime pet, of course. And what better a pet than otaku's best friend: the anime dog. But with so many adorable anime dogs out there, how could you ever choose just one? Come check out this collection of the best of the best to help you decide.
---
Here are 20 of the best anime dogs in existence!
---
---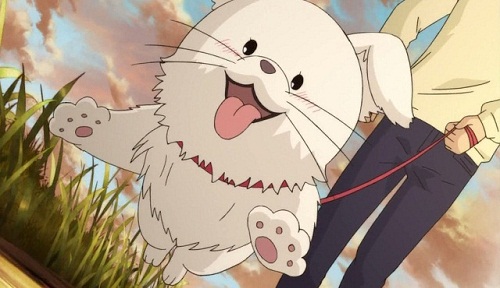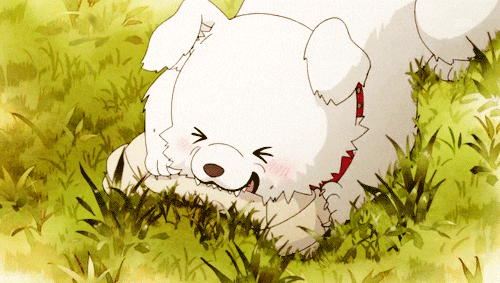 Maru, also known as Pedro Martinez, is a cute stray dog which Sawako and Kazehaya found on their way to school. Kazehaya takes this adorable anime dog in, and their homeroom teacher Pin names him Pedro Martinez after the legendary baseball pitcher.
---
---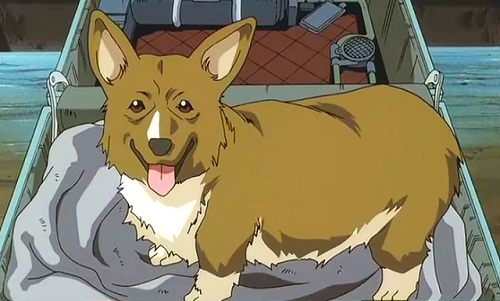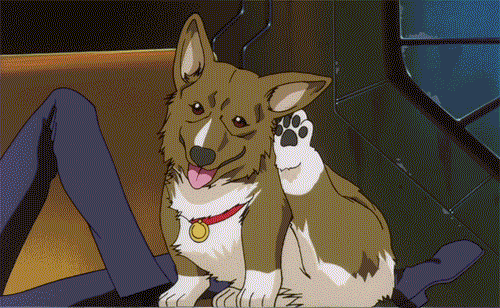 Ein is the cute "data dog" of the Bebop crew. Despite being intelligent, he does not have the ability to speak. But luckily for Ein, Ed seems to understand him through his body language and adorable barks.
---
---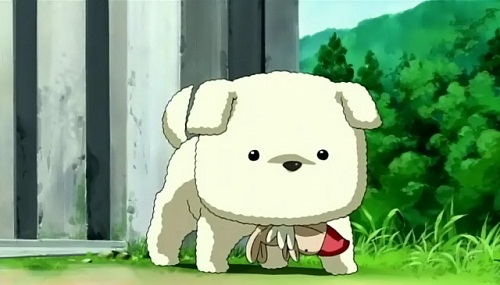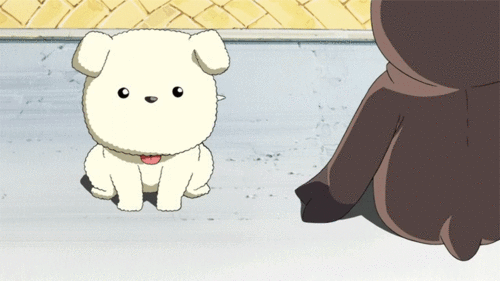 Potato is a cute and fluffy stray puppy. Aside from following Kano around, this anime dog also enjoys playing with Yukito and stealing his puppets.
---
---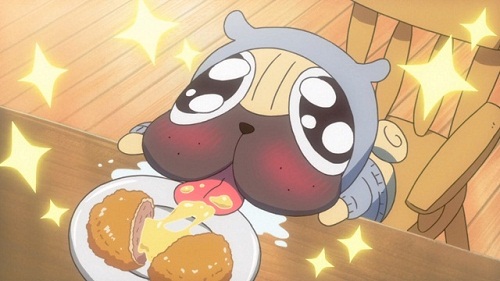 Guts is the pet pug of the Mankanshoku family. His name was inspired by his eating habits - "he eats with a lot of gusto". Don't be fooled by his adorable appearance. Guts is a mischievous anime dog who is quick to steal your food once you turn away!


---
---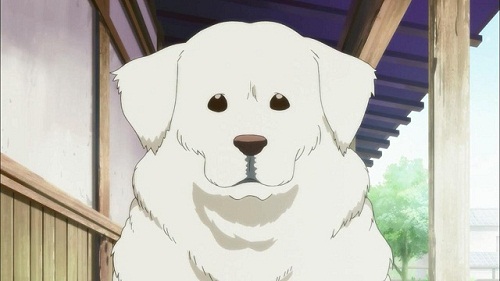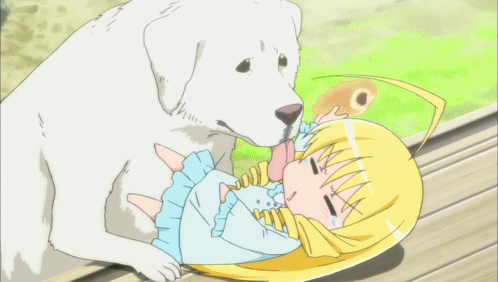 Armageddon is Fumi's adorable pet pooch. He takes a liking to Alice, as her hair drills resemble his favorite food - chocolate cornets.


---
---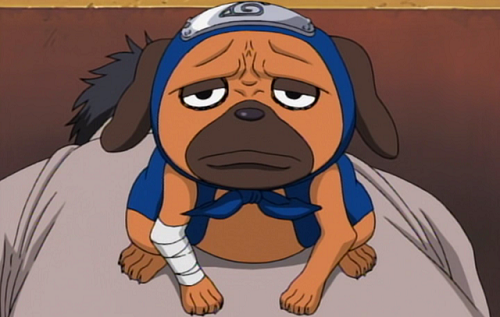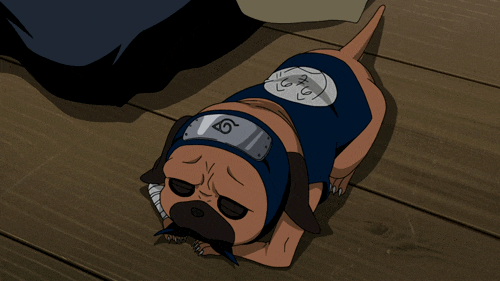 Pakkun is Kakashi's adorable and loyal ninja dog. Despite his cute appearance, Pakkun's voice is very deep. The secret to his glossy hair is a Floral Green shampoo, which Sakura also uses. There are plenty of other anime dogs in the Naruto series, but none smell as nice as this stylish pooch!


---
---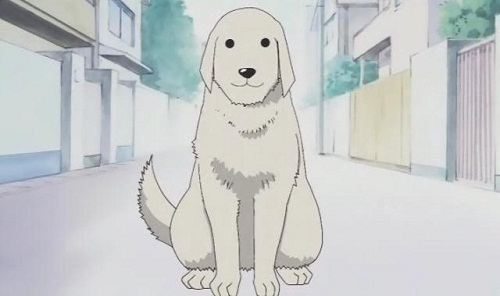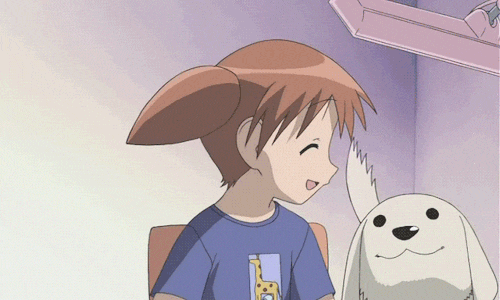 Tadakichi-san is a white Great Pyrenees dog. His playful owner, Chiyo, loves riding around on him.
---
---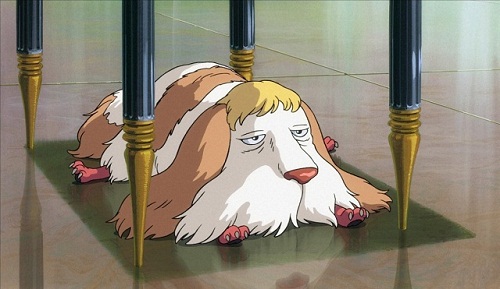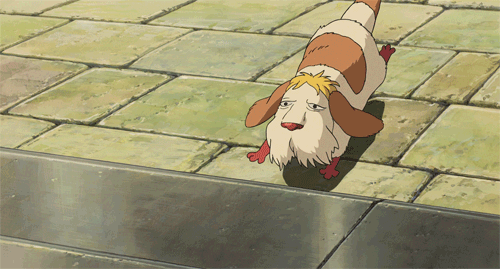 Heen is the errand dog of Madam Sulliman who is both silent and well-behaved. Although he is often lazy and can't climb stairs, he does his best to help Sophie when she gets in trouble. You could also read more about Heen here!
---
---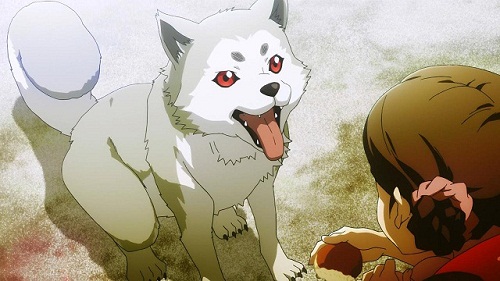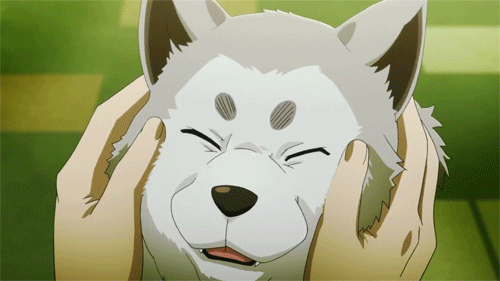 Koromaru is an albino Shiba Inu who is watched over by Fuuka and Yukari. Not only is he cute, but he is also a very talented anime dog that uses daggers when attacking instead of his fangs and claws.
---
---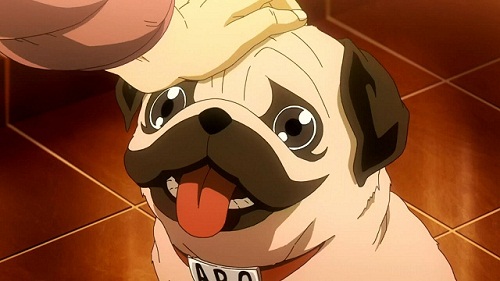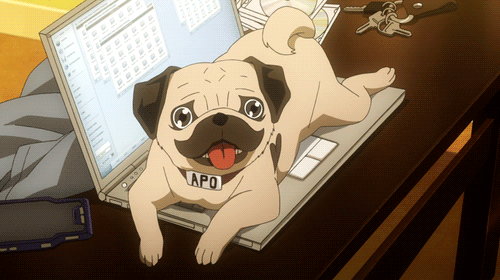 Apo is Hibito's pet pug. Aside from eating hot dogs, this anime dog's hobby also includes serving as Hibito's alarm clock by licking his face until he wakes up every morning!
---
---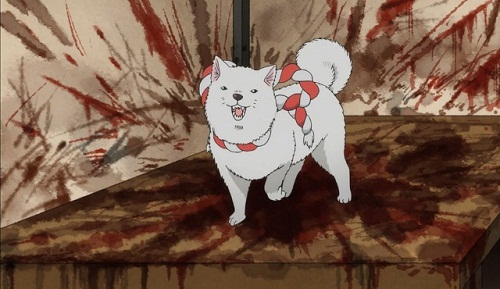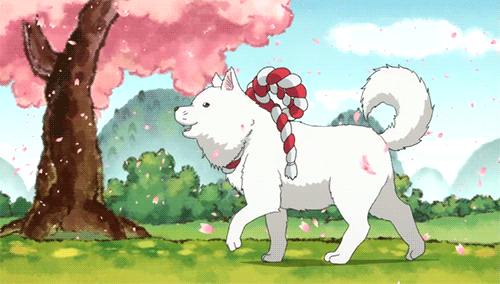 Shiro is Momotaru's fluffy anime dog. He works in animal hell and helps punish deceased people who previously abused animals.
---
---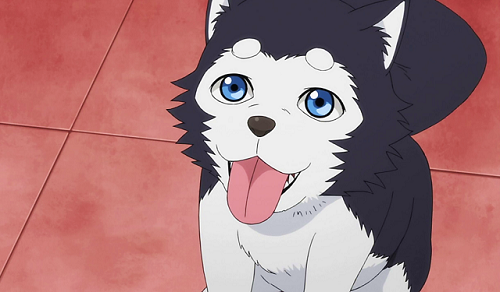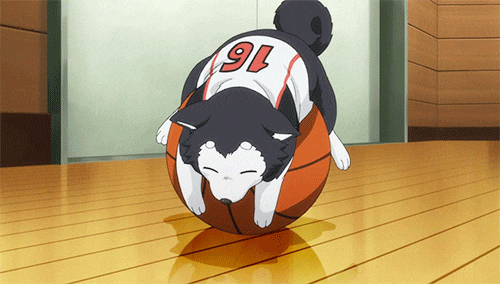 Tetsuya #2 is Tetsuya's cute pet dog, as well as the mascot and cheerleader (cheerpuppy?) of the Seirin Team. He is shown to have developed a liking for basketball, as he can't help but cheer on the team when they score a goal.
---
---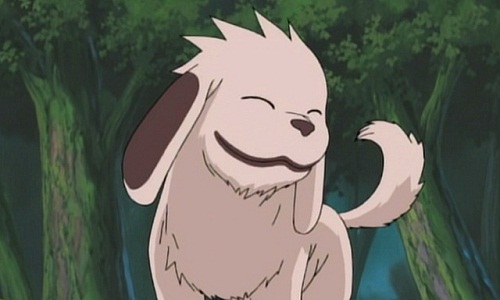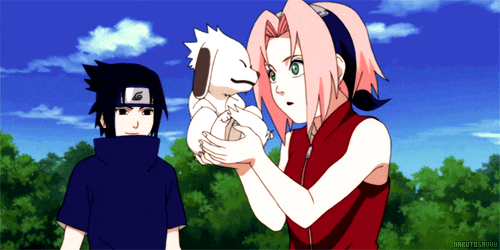 Akamaru is Kiba's loyal partner. This adorable anime dog may not look like it, but he is extremely wise and has a bunch of special abilities: he can boost his skills with soldier pills, track opponents in a flash, and even turn into a clone of Kiba during battles!
---
---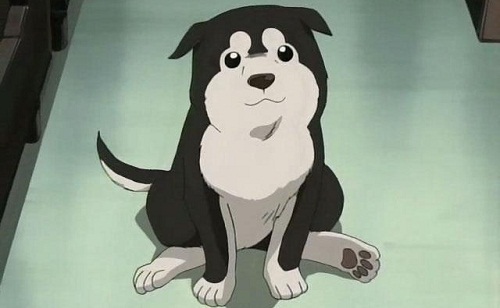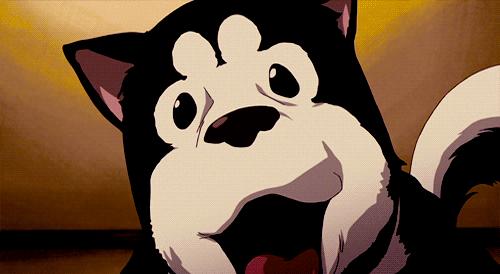 Black Hayate is Riza's cute and very well disciplined anime dog. While Riza shows him some tough love using gunfire when training and has a strict training routine (sit, shake, lie down, eat), Black Hayate never fails to follow her commands and will jump into action without a hint of hesitation if his master was in danger.


---
---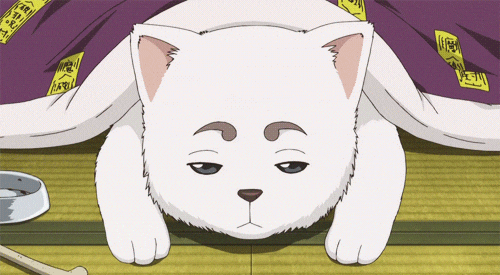 Sadaharu is Yorozuya's pet dog, even though he looks a bit like a cat. Despite his cute appearance, Sadaharu is actually a dog god who grows larger when fed strawberries and milk. When he is not biting people's heads off, he is usually playing doggy rock-paper-scissors with Hijikata or relaxing under a kotatsu.


---
---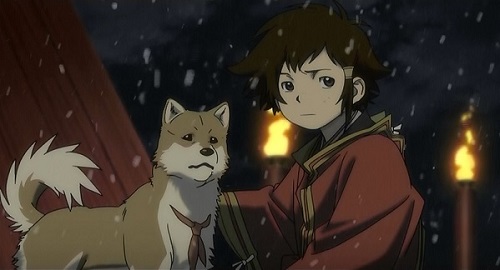 Tobimaru is an anime Shiba Inu. This adorable dog has proven himself to be a helpful and faithful traveling companion of Kotaro and No Name when he helps both of them to escape from their mysterious pursuers.


---
---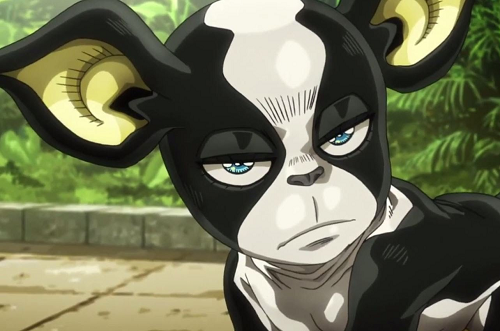 Iggy is a Boston Terrier from New York. When he is not helping the protagonists of the show, he is off chewing on human hair and farting in human faces. In order to keep him calm, he must be given his favorite treat - coffee-flavored chewing gum!


---
---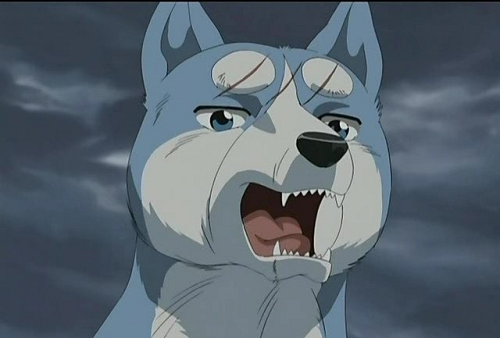 Gin is the Akita Inu eponymous character of the show. He is the courageous and loyal leader of a pack of wild dogs who have organized themselves to kill the bear, Akakabuto.


---
---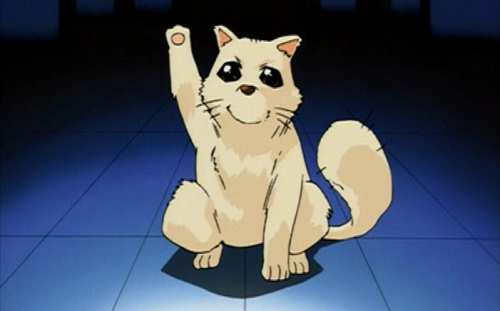 Menchi is the adorable anime dog of Excel. She was previously a stray dog whom Excel took in. She constantly escapes from Excel and Hyatt as they both see her as an 'emergency food supply.' This tender and soft pooch also sings the ending theme of the show!


---
---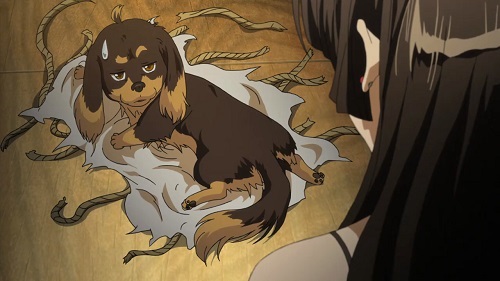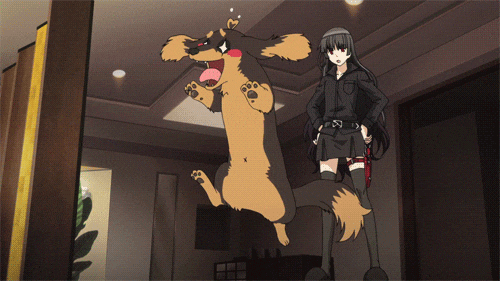 Kazuhito Harumi used to be a book-loving third-year middle school student who died after protecting a girl. He was then reborn as a dachshund and was later bought by Kirihime, who turned out to be his favorite best-selling author.
---
The world of anime is filled with a variety of amazing animals: some cute, some majestic, and all loyal to either their master or their cause. If you enjoyed this article, why not come visit our "anime zoo" filled with all kinds of wonderful anime animals!