---
Team Rocket's Rockin'!
---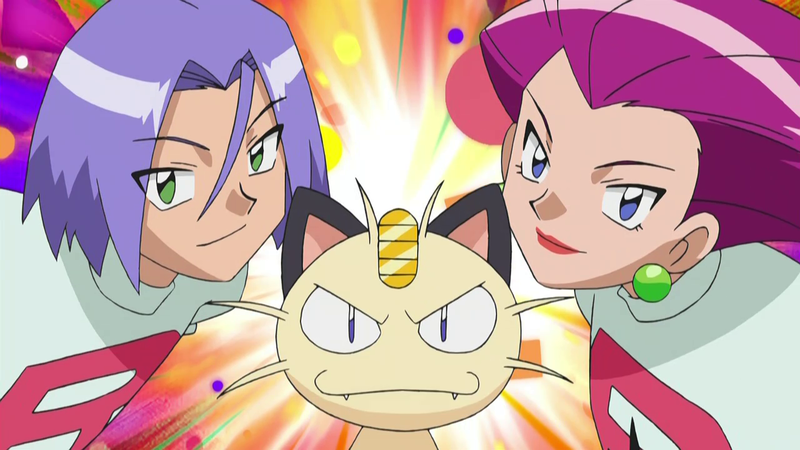 In 1997, during the first broadcasting of Pokemon, some of the viewers felt a connection to Ash (Satoshi) and the other twerps. However, for some of the viewers, their hearts were captured by two particularly silly villains and their talking Pokemon, Meowth. Of course, there are also those viewers that wanted to know more about the actual Team Rocket corporation. The bright red 'R' on the front of Jessie and James's uniforms stirred curiosity in fans worldwide. Thankfully, the further along we got into the anime, the more we learned about these infamous villains.


---
Meet the Members!
---

Geovanni (Sakaki) is the head boss of the Team Rocket industry. He always has his pet Persian by his side, along with his orange suit and demanding personality, of course. Geovanni also happens to be the leader of Viridian city's gym. Not much is known about the leader of this villainous team, but that is to be expected, as he probably tries to keep his identity very well hidden. He seems to have a soft spot for Domino, who reports directly to him.
Jessie (Musashi), James (Kojirou), and Meowth (Nyarth) are the original Team Rocket trio that fans of Pokemon are most familiar with. They debuted in the very first episode of the anime as a wacky and funny trio, but ended the episode with a vendetta to capture Ash's Pikachu. In fact, they became so obsessed with his Pikachu that they started to follow Ash and his band of friends around. Their adventures have gone under the sea and into the skies, and they have never given up, despite being thrown into the clouds at the end of every episode. However, Geovanni refers to them as "the bumbling idiots", and while they have perseverance, they have a lack of logic to their schemes. The names Jessie and James are a play on Jessie James, a famous cowboy.

Cassidy (Yamato) and Butch (Kosaburou) are a high ranking trio of the Team Rocket organization. They almost have exactly the same personalities as Jessie and James, although they don't seem to be as close to each other as the other pair. Everyone messes up Butch's name, even Cassidy, who should probably have it down considering they spend every day together. Cassidy and Jessie are in a long lasting rivalry with each other. Butch and James usually stand aside and watch the two girls bicker, able to relate with each other about the girls' outgoing personalities. The names Butch and Cassidy are a play on Butch Cassidy, another famous cowboy.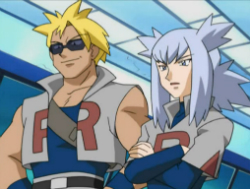 Hun (Bashou) and Attila (Buson) made one appearance in the Pokemon series, in the episode The Legend of Thunder!. Their names are a play on Attila the Hun. Both Hun and Attila seem to know how to keep their cool, even when losing, which is probably what makes them high ranking officer material. Hun has caused controversy over his gender, as in some dubs, he is referred to as a woman. Both Hun and Attila are to Jimmy and his friends what Jessie and James are to Ash and his friends.

Domino is an Elite officer of the Team Rocket organization, and it shows. She has a direct relationship with Geovanni, to the point of which she can argue with him and reap no consequences. However, when Geovanni does get angry with her, she takes it out on the lower agents, who also seem to take orders from her. Domino goes by many names, such as 009 and Black Tulip.


---
The Three M's
---
In Japan, there were three Rocket members that debuted on the Pokemon drama CD. These three members were never introduced in the anime, nor were they introduced in Western countries, so there aren't many people that are aware of their existence.

Madame Boss is the mother of Giovanni, and also an ex-leader of Team Rocket. She has a very close bond with Miyamoto, as Miyamoto seems to report directly to her. Madame Boss seems to be very interested in whatever can make her more money. Whenever they found traces of Mew, her first words were, "Can we make a CD out of it?". Her relationship with her son, Giovanni, seems to be very hostile, as she calls him her 'Brat Boy'. However, none of this squanders her ability to be a good and effective leader of Team Rocket.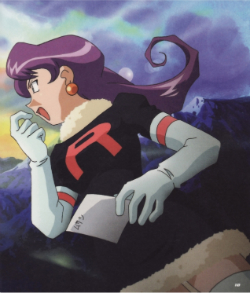 Miyamoto was Jessie's mother, and loved her daughter very much. Miyamoto kept a photograph of Jessie in her pocket. However, considering she was a high ranking Rocket, being a mother was put on the back burner. In the dubbed episode of Snow Way Out!, a scene of someone presumed to be Jessie's mother was shown on the screen, but this woman did not resemble Miyamoto in the slightest. Miyamoto has magenta hair and wears the uniform of a high ranking Rocket. She went missing after going on an assignment given to her by Madame Boss. Her instructions were to find Mew, which led her into the snowy mountains. However, there was a heavy blizzard, and an avalanche, which is believed to have swallowed her into its icy depths. She still makes reports, which questions whether she is alive or dead, but it is hypothesized that she is still trying to find Mew. It is speculated that she was named after Musashi Miyamoto, a Japanese swordsman.

Mondo is a member of Jessie, James, and Meowth's team, but not in the way that many people would think. Mondo supplies them with meals and mechas, but isn't assigned to any field work himself. It is speculated that this is because he is much younger than the rest of the Rockets, although it's not proven to be true. He looks up to Jessie and James, calling them both senpai. Mondo also seems to have a puppy crush on Jessie.


---
Maybe One Day...
---
Team Rocket has yet to succeed. No matter what, there is always someone who ruins their plans and catches them at the last moment possible. They've yet to give up, however, and there are still many theories and secrets about the Rocket corporation that have yet to be answered. However, it's for certain that they will continue to be their weird and wacky selves.